Ponte Vecchio
by Mike Van Houten
Now this was a beautiful concept. It was perfect for the neighborhood. Two old homes were relocated because of this concept, which never really came to fruition in its originally proposed form. I say originally proposed form, because the empty lot now serves as a parking lot for the mixed-use development home to Beaujolais, Biggest Little Group, Dorinda's Chocolates, The Hub, and more.
Read through the history of this project below, and check out the amenities that were to accompany this project.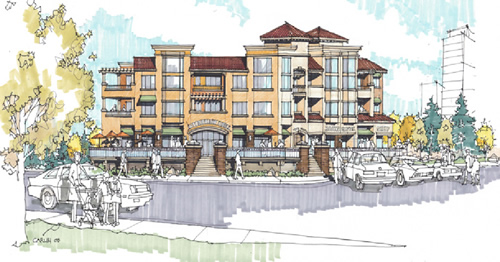 This project is going to create a link between Idlewild Park and downtown, and give Lundsford Park an amazing makeover, complete with a clock tower and fountain. New! Click here for photo gallery. (note: the gallery is probably not mobile friendly, not going to bother updating it at this point since the proejct is dead.)
UPDATE 5-06-09 - Project on hold indefinitely, not going to happen in its current form. Web site no longer working.
UPDATE 8-14-07 - Web site and luxury amenities announced for Ponte Vecchio. - The list of amenities with this project is exhaustive and feature rich. Just check some of these amenities out:
ENTRY:
Magnificent entry way with a large wood door and custom wrought iron scroll
KITCHEN:
Miele Steam Oven - The Miele 24" Convection Steam Oven is perfect for anyone who is passionate about healthy cooking. This sleek model features an external steam generator, which allows you to get the most out of your daily foods. Cooking with steam ensures that your foods retain the vitamins and minerals that are essential for good health, while colors and flavors are also preserved allowing for a beautiful presentation and of course delicious overall results.

Wolf 48" Duel Fuel Range - Gas rangetop with 6 burners and 11" griddle with large capacity dual convection electric oven. Classic Stainless exterior finish, Red control knobs, Dual-Stacked Sealed 9,200 and 15,000 BTU burners, Porcelain coated cast iron top continuous top grates, Pivoting hidden touch control panel, Self cleaning ovens, Cobalt blue porcelain oven interiors, Coaxial temperature displaying oven selector knobs, Eight cooking modes- bake-Roast-Broil-Convection bake-covection roast-convection broil-convection and Bake Stone(with bake stone accessory)

Miele Coffee System - Represents the first built-in capsule coffee system, programmed to deliver a variety of perfectly brewed coffees in the comfort of your own luxury condo.

Custom Lyptus Cabinetry (Heirloom Collection) by DuraSupreme - Lyptus is a plantation grown, premium hardwood desired for its rich, beautiful color and fine grain texture similar to Mahogany. Heirloom is a collection of finishes with a specific stain/glaze color that is hand-detailed with softened corners, wormhole and distressing to create an antiqued appearance. This finish employs artistic, hand-detailing techniques that will have unique, subtle variations with each application.

Miele Subzero Refrigerator and Drawers – This side by side unit features four adjustable glass shelves, one high humidity compartment, storage drawer, adjustable door shelves, adjustable dairy compartment, adjustable wire shelves and ice maker with storage bin. The subzero refrigerator drawers have infinite possibilities. Combined, they give you over five cubic feet of storage and feature removable drawer dividers and a crisper cover.

Copper Wet Bar Sink - Hammered Copper Sinks are the perfect compliment for individual Kitchens, Baths or Powder Rooms. Each handmade copper sink is hammered into a work of art by wonderful artisans.
Franke Professional Series 12" Deep Kitchen Sink and Chef Sink Stainless Steel - If an authentic restaurant kitchen is fancy, the Professional SeriesTM is the real thing. Sturdy commercial grade stainless and very deep to accommodate the bulky equipment of the serious cook.
LAUNDRY:
Miele Touchtronic Washing Machine and Dryer - Forged from the very best stainless steel, Miele provides washing machines and tumble dryers with the groundbreaking, patented HoneycombTM drum. This unique design creates ingenious "air cushions" to ensure the gentle movement of laundry and the reduction of contact friction with the stainless drum.

Laundry Sink - Elkay Deep Single Bowl Undermount Sink - Constructed from 18 gauge, type 304, nickel bearing stainless steel. Exposed surfaces are hand-blended for a lasting beauty satin finish. The underside of the sink is fully protected by heavy duty Sound Guard coating.
MASTER BATHROOM:
Bain Ultra Meridian 55 Bathtub – This Thermomasseur undermount bathtub features 42 jets, a heated backrest, hydro-thermo massage, chromatherapy and aromatherapy for the ultimate bath experience. This top of the line tub is the perfect way to indulge after a hard day.

Kohler One Piece Elongated Toilet - One-Piece Elongated Comfort Height Toilet From the Kathryn Collection. Features Include 12" Rough-In, Left-Hand Trip Lever, 1.6 Gallons per Flush, Seat, and the Ingenium Flushing System.

Kohler Vitreous China Lavatory Sink - Bring a modern interpretation of retro styling to the kitchen or bar with the Kathryn undercounter entertainment sink. This rectangular sink is available in a palette of stylish Kohler colors to complement any décor.
GUEST BATHROOM:
Kohler Caxton 17" Undermount Sink - Durable vitreous china that complements both traditional and contemporary décor.

Toto Drake Comfort Toilet – Comfort height toilet with wood composite soft close elongated seat

Moen Showhouse Waterhill Lavatory Faucet - Waterhill Lavatory Faucets have a time-honored presence that gives your bath traditional charm.
POWDER BATHROOM:
Robert Jones Glass Vessel Cooper River Sink - This brilliant piece is layered in deep, earthy color tones under a bed of cyan copper dicro that glitters like ancient minerals in a river.

Newport Brass Rustic Suite Lavatory Faucets - Legends live in the cultured lifestyle now commonly associated with the bath. Make your own history. Enhance your fortune, and your bath, with the distressed elegance found in the newest faucet series from Newport Brass. Featuring the luxuriously distressed Rustic Antique Copper finish, these faucets and accessories are exceptionally beautiful in traditional, period and rustic bath settings.
More on Ponte Vecchio:
You may have heard about it about a year ago during the approval process. It has already been approved by the City of Reno (Beginning of '06) and has been in the works for about 2 years. Why so long?? As part of the approvals, they agreed to move 2 existing homes to an alternate location instead of demolishing them. They ARE NOT historical buildings. They have finally secured the new location and are scheduled to move them in the next month or so. This is a smaller and more reasonable size project on 2/3 of an acre which includes Lunsford Park on the East end. It will be a 3 story building with 11 single family condominium units on the 2nd and 3rd floor- very high end. The first floor will be a 4,000 sq. ft. restaurant and 3,800 sq. ft of retail. Total Size of the building will only be about 36,000 sq. ft. Lunsford Park (owned by the City of Reno) will be part of this project- the developer has an agreement to do about $300k of improvements at the park including a Clock Tower, Fountain and Picnic Tables that all fit in with the architectural design of the project itself. Click here for brochure and contact details.
Related News