What's Up With the Golden Phoenix?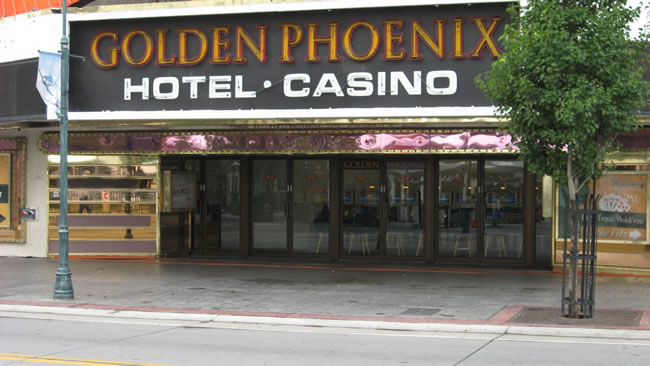 Some of you may have noticed that the Golden Phoenix's plywood has been taken down and a few slots set up and lit up facing the street. I received a flurry of emails about it, and the rumors are it's everything from the Golden Phoenix meeting part of their obligation of holding a gaming license, to that the Nugget is taking over Golden Phoenix, to that it was set up simply to make the street look better.
I should be meeting with one of the owners this week to get some answers. In the mean time, wow it makes a big difference walking down Virginia Street and not having a bunch of plywood stare you back in the face. Whatever their reason for doing this, I hope they leave it this way, a nod to the time period when Virginia Street was thriving with casinos from the Riverwalk to 4th Street.
Comments:
Post your comments
Posted by: Matt - 10/5/2010 10:46:08 AM
Now all they need to do it light up the exterior like they've been doing at the Fitzgeralds and it will look really good
Posted by: Anakin-Marc - 10/5/2010 12:46:10 PM
Drive by the station at night. It's absolutely beautiful (great job to the architectural firm), and the amount of light in the area makes that entire part of town feel a *lot* safer.
Posted by: Anakin-Marc - 10/5/2010 12:47:22 PM
That last comment was for the bus station, *not* the Golden Phoenix, BTW. The comments seem to be linked for both articles...
Posted by: Mike D - 10/5/2010 1:38:43 PM
Looks super, can't wait to use it!
Posted by: remano - 10/7/2010 12:47:08 PM
On my lunch time stroll today I noticed a black Audi with Nevada plates "FL" parked in the alley at the back of the Golden Phoenix. Could that be "Fernando Leal?" Could he have been working on something inside the Phoenix? C'mon, Mike, inquiring minds want to know.
Posted by: Nick - 10/7/2010 10:00:20 PM
There was also someone inside the Fitz today, near the doors on Commercial Row
Posted by: Matt - 10/8/2010 12:59:40 PM
Who else in downtown would have a black audi with the letters FL on the plate be behind that building? It's got to be Fernando Leal! I knew he hadn't skipped town, that man will someday reopen those heaps and they will be the turning point of revitalization in this city
Posted by: Anakin-Marc - 10/8/2010 2:29:33 PM
He did it once with the Montage (only thing that went wrong with that was the timing with regards to the housing collapse, but at least he saw it through unlike some other projects in town during the same time period). Let's all back him with this and hope he can accomplish the same feat in time for the economic turnaround. With the recession, now is probably the best time to get all this done because, while the banks may not be lending, the cost of the labor to get the job done will be a lot cheaper due to the lower demand.
Posted by: oldjohnny - 10/12/2010 9:11:04 AM
I'm still convinced Fernando Leal is just a sleaze. Hopefully he and the mayors son will get the Primadonna property running like they had planned a few years ago. His Reno makeover consisted of closing 3 viable casinos, borrowing a huge amount of unrepaid money to construct unsold condos built by laborers with questionable citizenship, back room negotiations with the mayor and property swaps that always end up in his favor. The liquor license for new Golden Phoenix was applied for in the mayors son's name...coincidence??? hmm...
Posted by: DowntownMakeoverDude - 10/12/2010 9:41:45 AM
Hi OldJohnny, not sure who you are but I think you need a history lesson. L3 Development bought the Golden Phoenix outright, there was no land swap or backroom negotiations. The Mayor was not involved at all. L3 Development received ZERO tax increment financing, ZERO STAR Bond financing, and ZERO government subsidies for the Montage. The Condo Project was one of dozens Corus Bank financed throughout the country, there is no conspiracy here. L3 Development also bought the Fitz, which was losing tens of thousands of dollars on a monthly basis and was destined to close anyway. The property was in receivership after a bankruptcy, and was going to close within a matter of months anyway. Then the bottom fell out in the hospitality industry, and if you notice, EVERYONE stopped building hotels throughout the entire country. Even Vegas with the exception of CityCenter which was already underway. L3 Development built the Montage project lien-free, which means unlike other developers in town, they paid off every single sub-contractor who worked on the project. You won't find a subcontractor who worked on that project that has anything bad to say about L3 Development. L3 Development did not want to be in the business of running a casino, which is why the gaming license is in Cashell Jr's name. So am I missing something here? This web site is not here to slander people with half-truths.
Posted by: doofus - 10/12/2010 8:07:08 PM
DMD, I know you and I will take this discussion private, but I sort of have to agree with oldjohnny. Nando may have started out a well meaning greedy developer bastard, but the charred remains he has left behind in Reno puts him solely into the bastard category in my book. Hopefully, there can be some redemption. Supporting oldjohnny's position, both Montage (Golden Phoenix) and the Fitz involved land swaps with Reno. You and I have discussed the Fitz swaps in the last week. The Montage swaps are a little more esoteric and you have to know what you are looking for, but they did occur regarding street right of ways, air rights over the trench, and encroachment issues. In support of DMD, I don't see evidence of any collusion in either development. No STAR bond for Montage (though Nando tried) and none for the Fitz (though Nando tried). Archives search of downtownmakeover should should show this pretty clearly. And any construction project in Reno has workers with questionable citizenship standing, but it is the employers' and not the clients issue to address. But wait - there is a new liquor license application for the "Golden Phoenix"? I don't care if it is for Jr. who also owns the gaming license for the site. This is BIG news!
Posted by: DowntownMakeoverDude - 10/12/2010 10:05:34 PM
Hmmmm charred remains? L3 Development closed two casinos that were on their way to closing anyway. I'm not sure any new hotel / casino in Reno is 'viable' right now or in the next few years. If one is built, it won't bring new tourists it will just split up the same size pie even more. The Montage looks light years better than the Golden Phoenix/Flamingo ever did. I was pretty pissed about the parking garage fiasco, but I've been told that problem is being remedied so. There was a little thing called a BANK COLLAPSE lol, and I think anyone in Reno would be hard-pressed to find funding for a major hotel project, gaming or non gaming. Like I said in my above post, no one is vastly expanding their hotel empires right now. Check out today's guest on Nevadanewsmakers.com, he hit the nail on the head.
Posted by: oldjohnny - 10/13/2010 6:17:07 PM
Hi Downtownmakeover Mike, Didn't mean to ruffle your feathers. The site stated "post your comments" so I clicked and did. Doofus, I apologize, the gaming license is in Cashell jr's name, not liquor license, has been since 2008. I have been able to find nothing recent for the 241 Virginia St. property. Mr. Leal came to Reno to make money, and there are some swaps that took place, some that perhaps you and I could not have negotiated for ourselves. I am merely curious why the Mayor's name and the guy running the gaming at Fernando Leal's property is the same. Fitzgeralds to my understanding was in bankrupcy receivership for several years before Mr. Leal bought and closed it, apparently turning some kind of profit, or the receiver would have simply pulled the plug. The Golden Phoenix was bought as you say, but not with cash, with the same kind of financing that brought about the bank crash to begin with. The Montage was a bad real estate investment idea, in my opinion. One look at the performance of the smaller old Comstock property next door would have told any bystander that doing the same thing to another old hotel would be very risky. The Comstock property still has vacant downstairs retail areas, that look as empty as the Montage's. I do not fault Fernando Leal with trying to make a buck, but I do think that he has had way too much sway in his dealings with the city for a guy that made no real tax revenue out of the properties. He is not Reno's savior by any means, he is here to make money pure and simple. That's my comment and opinion. And I am suspicious. On a sidebar, I like you site and think you do an extremely good job at covering the Reno areas and current goings-on here. Thank you for that. The town needs supporters like yourself.
Posted by: Matt - 10/13/2010 7:34:47 PM
All this nonsense talk about Fernando is ridiculous! Sure he came here to make money, but there's reasons BEYOND that. He believed and still does believe in our CITY and will see it through to the end. Sure, there is no money readily available to reopen the Fitz but if there was, you could be DAMM sure that Leal would've had construction underway on something and I am a firm believer when the economy turns around, even slightly, he will jump at the chance. That says a alot about him, ordinary developers would've skipped town YEARS ago but he stayed, I respect for that. I also respect him for having the brains to turn the lights back on at the Fitz while it's closed, nobody talks about that. The parking garage got out of hand but it looks like he going to fix that in the very near future. And really, if he wanted too, he could reopen the joint and it would make money just not a lot. There is a new casino on the horizon, Legends Bay and it will help a lot in jumpstarting our economy and then Leal's projects will follow. Have some hope people, Mike I know you still, deep down, believe in Leal.
Posted by: doofus - 10/13/2010 8:43:39 PM
If DMD still believes in Nando;s dreams, he still believes in peanut butter (Peter Pan). oldjohnny, thanks for the mea culpa on the liquor vs. gaming licenses on Club 241. I probably blew 8 hours of on line time hoping to find the application - it would have been really good news for North Virginia Street. matt, Nando came to the Reno not because he believed in the region, but because he believed he could make money here. If he could make a dime on the Fitz by reopening it, you gotta know it would be open. He hasn't bailed on Reno per your analysis, but he totally punted on the garage to the point it may get landmark status as a graffiti art object and it took DMD to call him out on it? Legends Bay? Dude, it looks like you believe in peanut butter, too. Is it going to attract new room nights or just dilute the market further? How about that IMAX for Christmas?
Posted by: DowntownMakeoverDude - 10/13/2010 9:22:40 PM
You are both partially right. I don't have anything bad to say about Leal. No developer in town engaged me more than he did, I consider him a friend, if that makes me a bit biased on the issue so be it. As I mentioned above, all developers develop to make money, it's their profession...their income. No one builds a building to lose money except maybe the federal government. Most developer's projects were put on hold because of the economy, including 10 North Virginia (Pappas), the Hyatt/Marriot/Whatever by the ballpark, Legends Bay (which I still have reservations about) etc. I will agree to a certain point that building something new only splits up the same size pie even further among the existing hotels, BUT, I also believe that if Reno offers a product that exceeds what Indian Casinos offer, and we actually get a casino 'strip again, combined with light rail to scoot tourists along our tourist corridor between downtown and the south casinos, tourists would bypass the Indian Casinos for that experience, especially Bay Areans. Hopefully something will be done with the Fitz soon. I think it's possible to make Reno appealing to tourists again while at the same time diversifying our economy. The first step is cleaning up the mess on Virginia Street downtown.
Posted by: Anakin-Marc - 10/14/2010 9:04:30 AM
I myself, as well as my family in California, make it a point to avoid the Indian casinos there. The way the law allowing the casinos is set up, any land/structure purchased by a tribe is considered tribal property. Due to Federal law, tribal land is exempt from zoning and planning ordinances within the city where they are located. In addition, the casinos, which put additional strain on public services and infrastructure, do not pay state or local taxes as a result of being operated by a separate government. Add to that the fact that Nevada gaming is *heavily* regulated to ensure "fairness" in the system (as fair as one can make something that is purely random), California Indian casinos lack said regulation, and can, for all intents and purposes, set and change payout percentages to whatever value they choose, whenever they like. Until things change to make things more fair for the taxpayers around and players in Indian casinos, I think Nevada could use these facts to emphasize that we have a gaming industry that is both reputable, and makes a positive contribution to our region by paying their fair share of taxes to support the added strain on infrastructure and public services that such large attractions create. Once things start to turn around, I can almost guarantee that Nevada gaming will come out on top, and Downtown's complete redevelopment and rise from the proverbial ashes (as well as that of the region in general) will be leading the way.
Posted by: oldjohnny - 10/15/2010 12:48:31 PM
I think this might be my last input on this subject here. Does anyone else think that a "casino zone" downtown would be a good idea? Ideally, the Fitz would stay a casino, perhaps a swap between the Sands and Fitz, the Sands becoming a Fernando style boutique hotel or condos. I really hope Fernando looks at what the profitability future is for the Sienna, as it is now basically gaming free, and is pretty close to his idea for a non gambling boutique hotel. The Fitz, in my opinion needs to retain gambling, for the sole reason of location. Perhaps the rest of that block could be redeveloped with Cal Neva in exchange for the shuttered portions of their holdings...just seems like it's all peicemeal to the average tourist after the casino meltdown in the downtown area. Just the last of my 2 cents...
Posted by: DowntownMakeoverDude - 10/15/2010 1:10:40 PM
I agree OldJohnny. I dont think Reno should shun gaming entirely, there will always be a limited market. I receive a lot of comments, feedback, emails from those who remember downtown when Virginia Street was a lively strip of casinos. Imagine if the Virginian and Nevadan and Harolds etc were still open. It would provide an almost nostalgic experience compared to the flash of Vegas. If people only wanted flash then the non-strip areas of Vegas like Fremont would be suffering, which isnt the case. I agree with you, Siena could in theory remain non gaming. I was told once that a casino, when you include costs for security, staff, bankroll etc, comprises 80% of the operating budget for a hotel/casino. Thats one reason L3 was looking at a non-gaming option for the Fitz. But I think having outlying casinos spread across the valley (Nugget, Atlantis, GSR, Peppermill, Sands, Boomtown) does little to help the region as a whole. Theres soemthing about consolidating things into neighborhoods or districts that people like. The City Council realized this a while back and thats one reason why they are pushing to create a mass transit system that connects downtown to Peppermill/Atlantis/Convention Center and possible future Hard Rock casino. Theres only so many things you can do with 20-story towers: We know condos are done for at least 10 years, office space is out of the question with 20%+ vacancy rate downtown. I would rather see them as hotel/casinos. I wish the Siena would look closely at a non-gaming option...the place would smell better, the rooms are actually really well-decorated, and from what I am told, the casino is what is dragging the property down.
Posted by: Anakin-Marc - 10/15/2010 1:31:49 PM
Hate to change the subject, but speaking of "charred remains" as one of the prior posts mentioned, what's going on with the Belvedere? Walking around downtown today, I noticed what appears to be construction going on to repair the portion damaged in that fire a while back. Also, it looks like the building that used to be occupied by the jewelry store seems to have a new occupant, what appears to be a theater group. Any thoughts?
Posted by: DowntownMakeoverDude - 10/15/2010 1:54:42 PM
Hi marc! You are talking about the space next to Woolworths building right? That space was temporarily rented (for a month during Artown) by an artist. I believe the theater group now going in is Goodluck Macbeth, who will be showing this show http://www.downtownmakeover.com/calendar/event-details.asp?ID=1586 there and I am not sure how long they plan to take up residence there.