So it's almost 2012!
First, ring in the new year with a little food perhaps?
Midtown Eats
Limited availability for their New Year's Eve feast. Call them at 324-3287 and make your reservations today! Food includes cinnamon poached oysters, seared scallops and fuyu persimmon duck confit.
Hill Street Grill Masquerade Dinner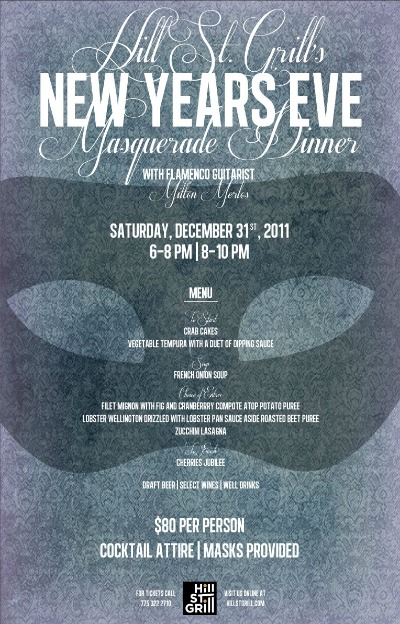 Old Granite Street Eatery
$60.00 per person, call (775) 622-3222 to make reservations for this special NYE Pre-fixe menu includes lamb meatballs, miniature crab cakes, pumpkin soup, persimmon salad, wood fired flat iron steak, poached Fulton Valley chicken, seared scallops and more.
Downtown Chocolate Bar
Offering 4-course meal with wine, champagne and tax included for $75. Call 337-1122 for reservations.
Wild River Grille
Ring In the New Year, with their "Exceptionally Prepared 4-Course Gourmet Dinner" December 31, 2011 4-11pm. $55 per person. Seatings available from 4 pm to 11 pm. Dinner Includes a complimentary glass of champagne. Reservations recommended – space will be limited
http:// www.wildrivergrille.com/ menus.html
Parties
St. James Infirmary Fireworks Watching Party
Few bars have the advantage of a rooftop deck, but St. James does! Avoid the crowds downtown and ring in the new year at St. James atop their deck and watch the fireworks. Cocktail attire, free champagne toast, and late night dancing afterward.
Reno Public House Lock-In Party
Reno Public House at 22 St. Lawrence in Midtown will have a good ole' fashion Lock In party. From ten till midnight the doors are locked as they ring in the new year with bottomless proseco. Dress code: Fancy pants. $10 advance, $15 at door gets you appetizers, bubbles and dancing.
Downtown Chocolate Bar
Dj DTR will be spinning at the downtown Chocolate Bar on Sierra Street, free Champagne toast for everyone at midnight.
Knitting Factory VIP New Years 2012
They've got world class DJs direct from ULTRA playing, Chelsea Chen and her wonderful group of dancers and theatrical performers rehearsing right now to entertain, delight and inspire you, including Dragonfly Aerials which will also be performing their amazing strength and acrobatic skills AND hopefully their latest star performer who is now on loan to the Eldorado and performing in Peter Pan! After Hours Party For only $10 (Pre-sale) HYPNOSOUL is doing a RECORD LABEL LAUNCH with DJ SULLI, DJ 5657 and DJ ERIK LOBE performing at the new After Hours UPSTAIRS at the Knitting Factory and will be giving away albums for everyone through the door.
Event Details
New Year's Eve at the Eldorado
BuBinga Lounge: New Years Eve Black and White Bash featuring (((xm fredie))), Roni Romance and Jessica the Ripper spinning. General admission is $45 in advance or guests can upgrade to a $65 advance admission that includes a hosted premium bar from 8-10:30pm including brands like Black Dot Vodka, Grey Goose, Ketel One, Three Olives, Patron, Jagermeister and Crown Royal. For table reservations call Denielle at 775-378-4569. Fashionable attire required.
The Brew Brothers New Years Eve: Crashers and DJ D.Rek. $15 cover includes entry to The Brew Brothers and Roxys. Roxys Bar and Lounge: Gil and Darcy at the piano bar from 4:30 to 10pm with DJ JT.
New Year's Eve at Silver Legacy
Rockin the Dome Dance Party featuring DJ Kentot. $30 Cover includes one drink.
Metal New Year's Eve at Underground
55 East 4th Street
Nine Reno Metal bands come together to help those in need, Evelyn Mount. Two stages, drink specials all night, food, prizes, raffles and more. All proceeds and can donations will benefit the "Evelyn Mount Foundation"
BANDS: Ethereal Reaping, Envirusment, Soul Lobotomy, Secerned, Soultorn, Determined, Walk Away Alpha, Demension 13, Knightfall
Visit their web site for more details.
New Year's at CommRow
DJ Max will be spinning top 40 to keep you dancing until the ball drops - and then they'll have a complementary champagne toast to go with the fireworks downtown. Free!
Downtown Fireworks at Midnight
Join the big crowd downtown at midnight on Virginia Street and watch fireworks launch off various downtown casinos including Silver Legacy.