I arrived at the first Food Truck Friday in downtown Reno around 5:50, and there were already small lines forming at the food trucks. Suffering from a light lunch, myself and my dear friends Jim and Shelly popped into line at DishTruck with about four people in line in front of us, including Dave Aiazzi. I have caught DishTruck in my neighborhood enough times to know it would be about a 10-minute wait or so based on the number of people who ordered before me. Not a prob, it was worth the wait.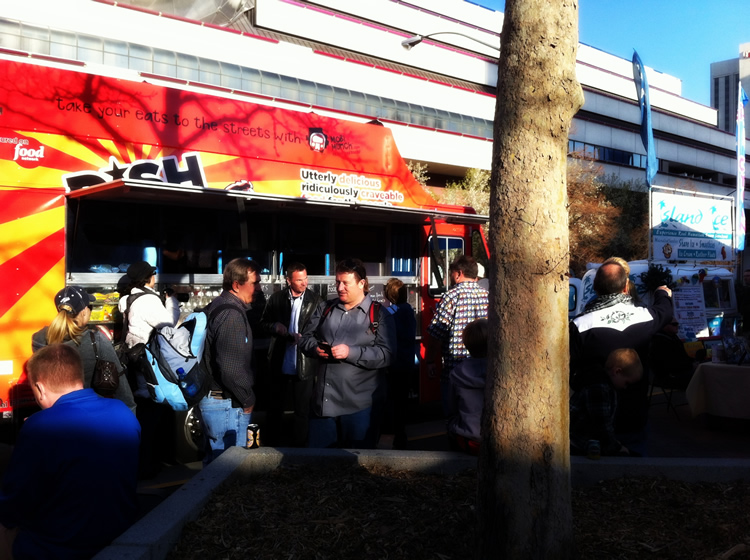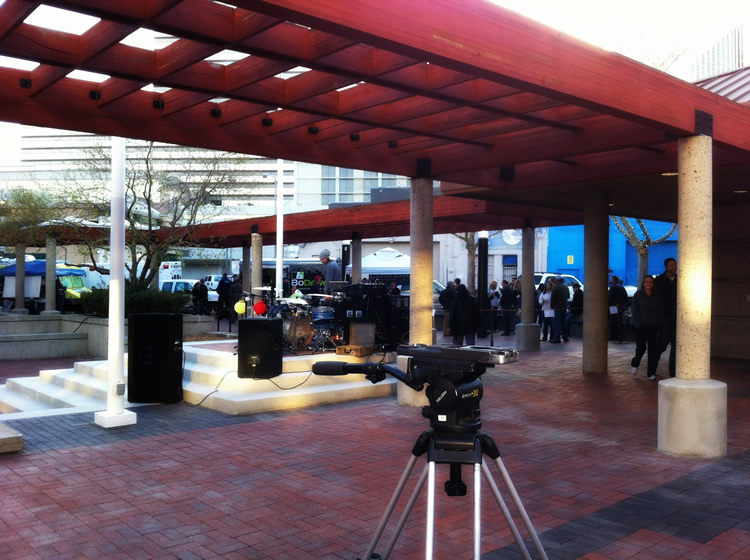 As you can see in the photos above, not a whole lot of people...but it was early
In the 10 minutes it took our food to be prepared, a flood of new people arrived, enough to create a snaking line at each truck.
Not long after that, the former CitiCenter site was jam-packed with people, and we sat in awe as lines for every food truck swelled to Disneyland-ride size. And yet, I heard few complaints about the wait times.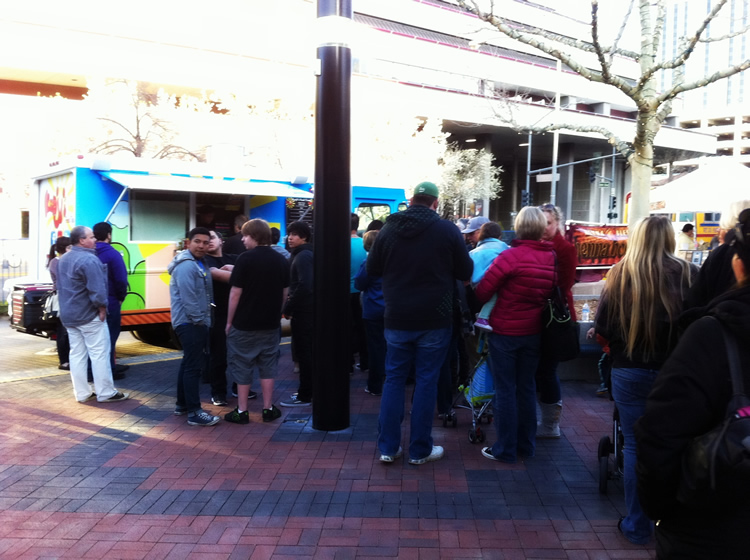 Kenji's becomes popular early. Each food truck immediately attracted dedicated regulars.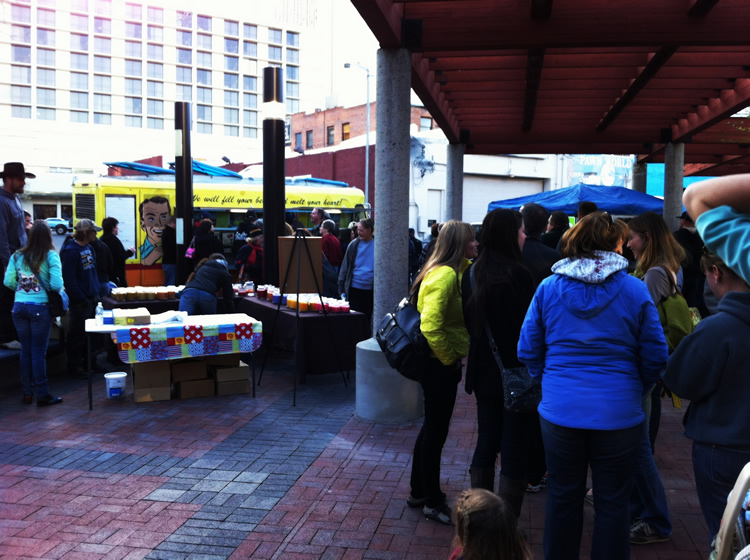 GourMelt attracted legions of followers as you can tell from this photo.
This will make a great venue in the summer with trellises and shade trees.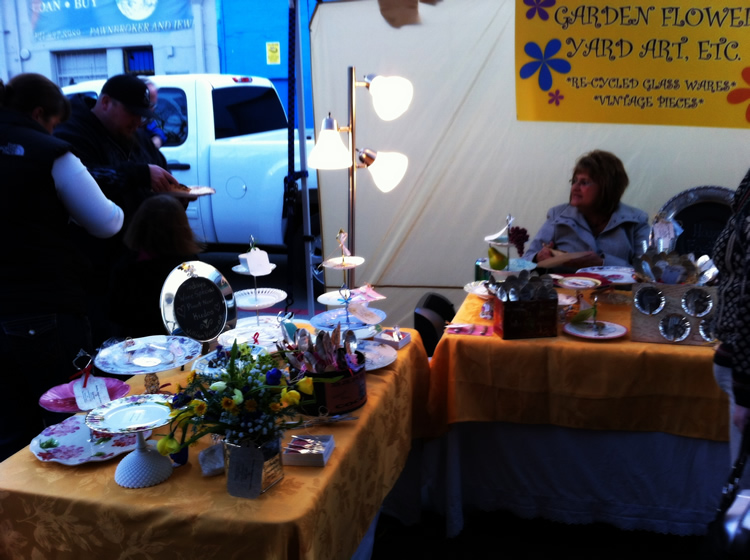 There were several craft booths, ranging from candles to glass art to vintage recycled art as above.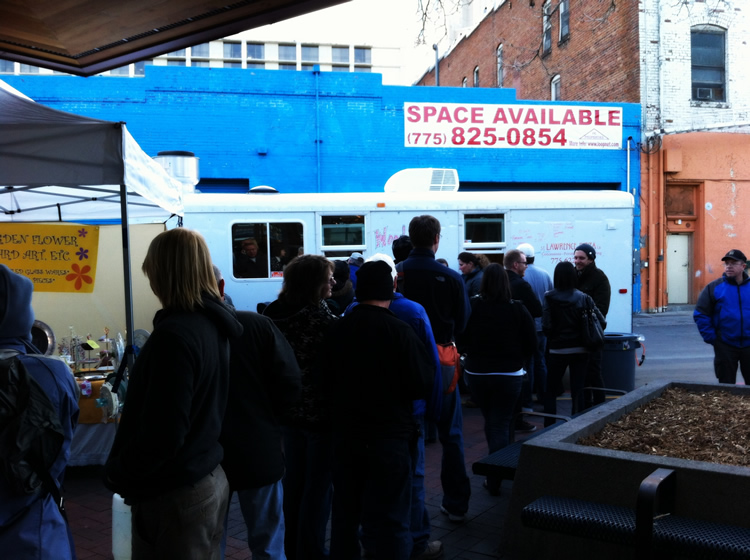 St. Lawrence Pizza truck. Yum.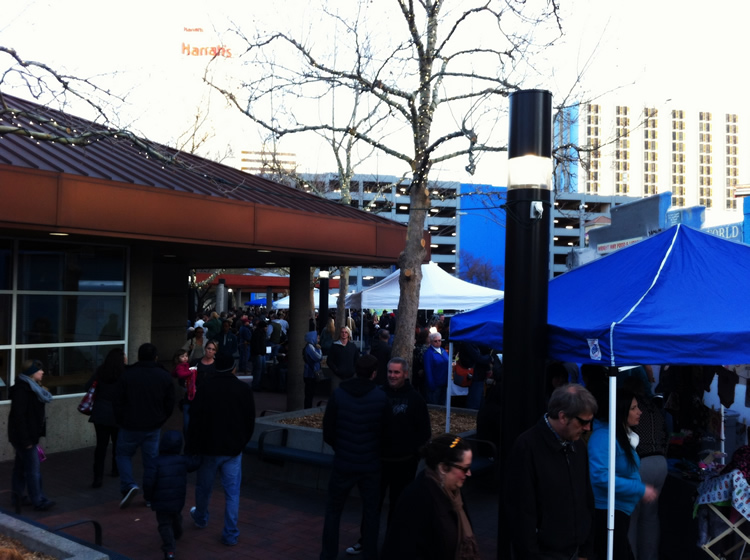 It was great seeing so many families at the event, a demographic missing from downtown in years past.
I was able to try three different food trucks before the cold got the best of me and I craved indoors. DishTruck was yummy as usual, though was surprised they were only serving 'mini' versions of their sandwiches at mini-prices while the other two food trucks I tried were serving full portion at full prices. The Sauce Wagon and St. Lawrence Pizza were equally as good, and I can't wait to come down next month and partake of some of the food trucks I didn't get a chance to try, and I hope the Hawaiian Shaved Ice trailer returns. I so wanted to get one of those, but it was just a tad bit too chilly this time. Even with a nippy breeze in the air, the shaved ice truck still had a line every time I passed by it.
When I left around 7 pm, lines were still just as long at the trucks, and left in amazement each truck had a seemingly endless supply of food. Both DishTruck and GourMelt served 300+ people.