News article here
App Serves As Local Tourist Guide
Downtownmakeover.com is just about seven years old now. Can you believe that? I started this blog/web site back in 2005. Thus far, it's been a fun, often controversial, and deeply rewarding journey that has taught myself and others the value of community service, marketing, and redevelopment. I've done it all as a free agent, unpaid by anyone, and under no entity's control (ie City of Reno, RSCVA, developers, etc).
So on the eve of my seven-year anniversary of promoting downtown and now midtown, it's only proper I take this gig to the next level! So I present to you, one of the coolest apps to hit Reno in a while - Downtown Reno for iOS.
This app was born out of a necessity to push downtown and midtown on a new platform and appeal to the iGeneration. Click here to get the app!
Much to the disappointment of downtown's harshest critics and curmudgeons, after ten years of consistent downtown redevelopment, downtown Reno and the midtown corridor are now the go-to-places for the most creative drinks, the best eats, and some of the best shows in the region. Whether you like comedy, punk or the Reno philharmonic, they're all within the biggest little downtown.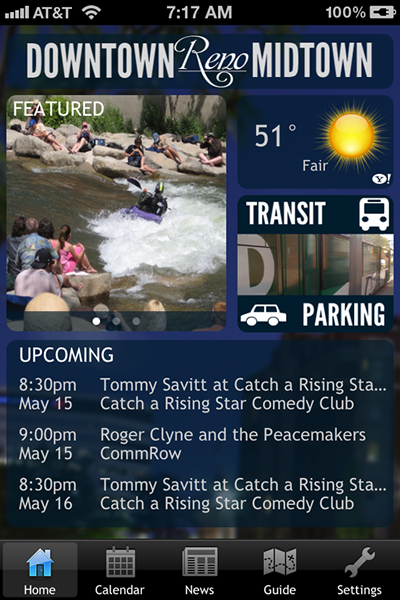 Designed and maintained by people who have lived and worked downtown for over 10 years, this app features all of the core neighborhoods to explore including downtown Reno, the Riverwalk, California Avenue, East 4th Street and Midtown. This isn't a generic pay-to-play guide that lists any business willing to pay up; these are places we have been to, frequent, and would take our friends to. Some of the app features include;

• Almost exclusively locally owned businesses! Are you new to the area or visiting and like to shop local? Discover the best shops, eats, and drinks. Skip the fast food this time, I'll show you where Reno's foodies gather.

• Calendar! Add each event to your personal iPhone/Google calendar. See where each event is happening with map features, and you can share each event on Twitter/Facebook without leaving the app. It's the same calendar that is on downtownmakeover.com. If you add the event to my web site, it will be pushed to the app to. Want to add an event? Use my form here! Event-approval is moderated of course, but I check at least once every two days for new events.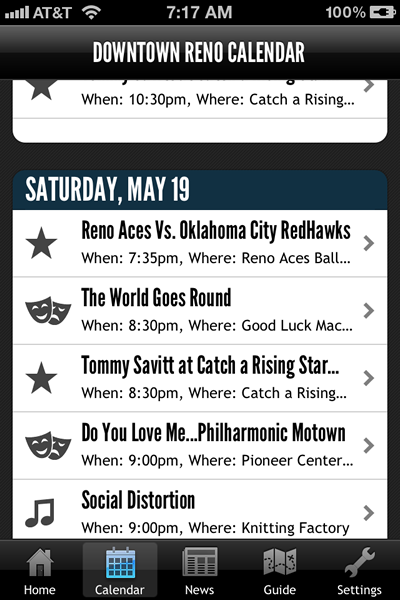 • Be an adventurer! Designed with the urban explorer in mind, our color-coded icon map guide will help you easily differentiate restaurants, bars, attractions and entertainment venues. Discover the hottest concert venues, where they are, and what's happening at them in just a couple clicks. A fully integrated calendar and guide shows you what's happening at each venue as you browse through the guide.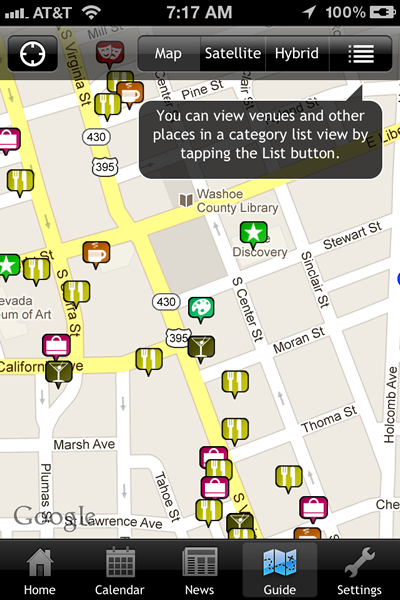 • Transit Map to guide you to the best parking spots, bus stops and downtown bike racks. There are three main bus routes to connect you to all of Reno's downtown districts. For visitors, we'll direct you to downtown's primary transit station where you can catch the RAPID line to Midtown for some of the best boutique shopping in town. This is the newest section of the app, and might be a bit thin on map locations but I'll be adding new content weekly.

• Weekly and daily content updates – No need to update the app to see what's new and hip, venues are added to the map as we (or you) discover them.

This app was born out of a love for this beautiful community we live in, work in and visit, and as a big thank you to the businesses this development team knows and loves; the places that make this community so cool. It's designed by locals for those who wish to discover the underlying current that makes Reno special.

Features:
• Designed and maintained by local Renoites
• Retina ready for crisp images on retina ready devices
• Multitask support
• Optional landscape support
• Metric/Imperial unit support
• Share calendar events on Facebook and/or Twitter
• Save calendar events to iCal
• Readability mobilizer support
• 100% dynamic content
• Completely Ad-free
Attention Business Owners
If you are located in midtown/downtown and would like to be featured in my guide, it doesn't cost you a thing! Just contact me and then be prepared to send me a few high resolution photos of your business when I reply back. I'll probably end up stopping by as well, say hi, make sure you really exist etc.
MORE INFORMATION