Reno Street Food Joins Food Truck Fridays to Create Weekly Event at CitiCenter
If I were the city, I would come up with a formal name for the CitiCenter Property, or maybe we continue calling it CitiCenter. Has a nice ring to it and I don't think RTC trademarked it or is using it as the name for the new transit station. It's quickly becoming a favorite spot to hold events, and in fact the City of Reno is encouraging people to use that site over other downtown locations, and now a new weekly event will be joining Food Truck Fridays at CitiCenter, located on the corner of 4th Street and Center Street.
Named Reno Street Food, the event was created in response to the overwhelming demand of the first few Food Truck Friday events. It will be happening the other three Fridays when Food Truck Fridays isn't occuring. The first Reno Street Food this Friday will feature Dish Truck, Roundabout Truck, Red Truck, St. Lawerence Pizza, Men Wielding Fire, Java Sushi, Brothers BBQ, Hot and Healthy Crepes (Savory and Sweet), Burger Me, Full Belly Deli and One World Coffee and the Beer Garden by Great Basin Brewery! More trucks and Trailers each week. Trucks that will be coming in will be Mamasake Truck, Tahoe Creamery Truck, Battle Born Truck, Lazy Sundae Truck and more pop up vendors to be announced soon.
I'm happy to be seeing the CitiCenter property being used weekly, and perhaps soon the interiors can be utilized as well for an indoor element for those that want to escape the heat.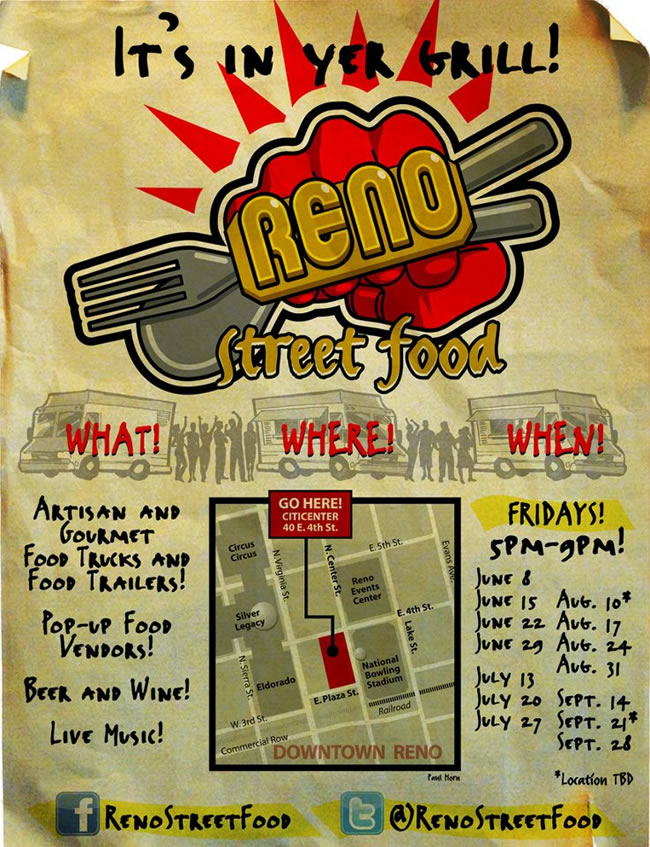 More Info