Lots going on so let's get right into it:
Belvedere Towers
The sleeping giant awakens! Looks like the penthouses and remaining upper floors will be built out soon:
BLD12-02153 for completion of the 11th floor = $500,000.
TENANT IMPROVEMENT. ALL SITE IMPROVEMENTS,COMPLETION OF NORTH TOWERS FLOOR 11; MECH, PLUMBING, & ELECTRICAL, WALLS & FLOORS FINISHES; ADDING MECH EQUIPMENT CHILLER ONTO EXISTING ROOF OF SOUTH STAIR PENTHOUSE (REFER TO LDP06-01974)
BLD12-02942 for 12th Floor $500,000.
TENANT IMPROVEMENT. COMPLETION OF NORTH TOWERS FLOOR 12; 1 - 1 BD, 8 - 2 BD UNITS; MECH, PLUMBING, & ELECTRICAL, WALLS & FLOORS FINISHES; (REFER TO LDP07-03752)
BLD12-02943 for 14th Floor $500,000.
TENANT IMPROVEMENT. COMPLETION OF NORTH TOWERS FLOOR 14; 1 - 1 BEDROOM UNITS; 8 - 2 BEDROOM UNITS; MECH, PLUMBING, & ELECTRICAL, WALLS & FLOORS FINISHES (REFER TO LDP07-03752)
The Patio Generation
Zephyr Bar and Newman's Deli have joined the patio generation, along with Sup, Midtown Eats and the new Chapel Tavern. I'm all about patio dining particularly when it's shaded or in the early evening...sun does evil things to me.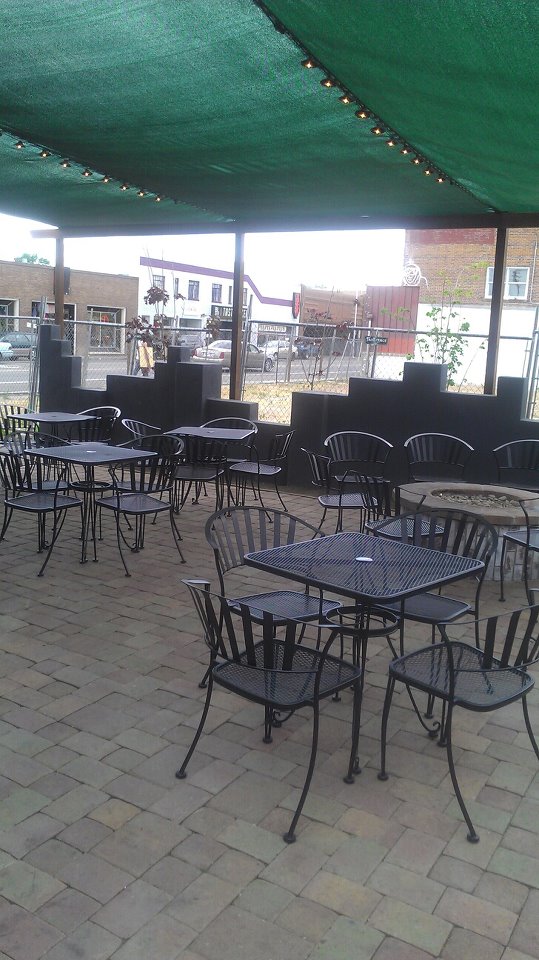 Patio at Zephyr Bar
Reno Redevelopment Agency Advisory Board: Post Office Sale
Remember 'the ole days' when it used to be fun going to these advisory board meetings? Well here's an item worth checking out! Tuesday June 5 will be a redevelopment agency advisory board meeting at 3 pm in the 7th floor caucus room. Click here for the agenda and to add the meeting to your calendar (new feature on the City Calendar!) On the agenda is:
Presentation, discussion and potential recommendation to the Agency Board regarding the potential Purchase and Sale Agreement between the Redevelopment Agency and 50 South Virginia LLC, or other entity as directed by the Council and Board, relating to 50 South Virginia Street, APN# 011-605-01 and, located on the north side of Mill Street, west of Center Street and south of the Truckee River.
This is regarding what is essentially the middle-step in a transfer process that will ultimately put the downtown post office in the hands of development group 50 South Virginia LLC, of which midtown developer Bernie Carter is part of. If you aren't aware, the post office is moving into the old Cavanaugh's space downtown next to Reno Envy and the new Visitors Center. The USPS is kind of over being in a 30,000 s.f. space that houses 5 on-site employees. The sale of the downtown post office has quite a few history-enthusiasts very concerned about the future of the building, and plan on showing up to this advisory meeting to learn more about the deal. My take? I'd like the new owners to pursue what the City wanted to do...a plaza on the river-facing side similar to this and restoration of the building including the opening-up of the three-story atrium that once graced the center of the building. We all went through an extensive public process to narrow multiple post office river plaza designs down to one, and I'd hate to see all that work have to start over (ala Virginia Street Bridge designs.)
Dozen @ the Deluxe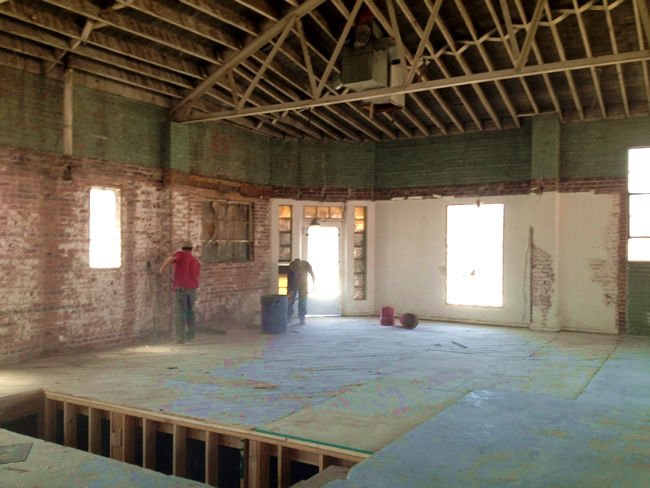 Work is happening at feverish pace now. The renovation project consists of 10 residences, an artist gallery and a restaurant space, already leased. Dozen @ the DeLuxe residences will boast 24 foot ceiling heights with beautiful exposed steel trusses and wooden ceilings. Each resident will have a full loft at 300 square feet, two bedrooms, one bath with fullsize washer/dryers, dishwasher, stained concrete floors and diamond plated steel backsplashes in kitchen and bath made from the steel found in the floors of the building during construction! If this sounds like home to you please join their waiting list by emailing info@haberae.com. The homes will rent for $970.00 per month and the security deposit is $600.00 Their expected completion date is November 01, 2012 and they already have taken deposits on four residences.
Midtown Gets Official
Planning Commission meeting June 6 looks to solidify Midtown as an official district. Click here for the plan details and policies and map.
Scampi Sets an Opening Date
June 20 is the official opening date for the new pasta restaurant Scampi, located in Amendment 21's old space in the BofA building on the corner of South Virginia and Liberty. I don't know much about Scampi, but I love good pasta so I look forward to it opening!
Rise Night Club
Rise Nightclub, to be located at 210 North and currently in a heavy renovation stage, is opening July 6 and 7. "More than a Club, It's a Culture" is the tag line, and we'll find out what that means in July! I'm all for reactivating the corner of Sierra and 2nd. One idea 210 North had before they closed was to build 2nd-floor dining on a bump-out facing 2nd Street and one facing Sierra Street. That would be an awesome idea for Rise nightclub to pursue as part of their renovations...that and some really cool lighting on the exterior. While 210 North was cool on the inside, the exterior's bland red finish left something to be desired.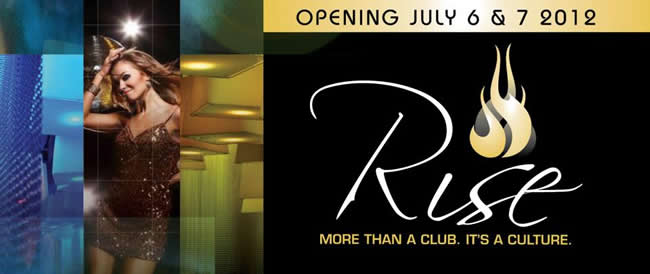 The Never Ender, Classic Skate Shop, and Recycled Records open Midtown Locations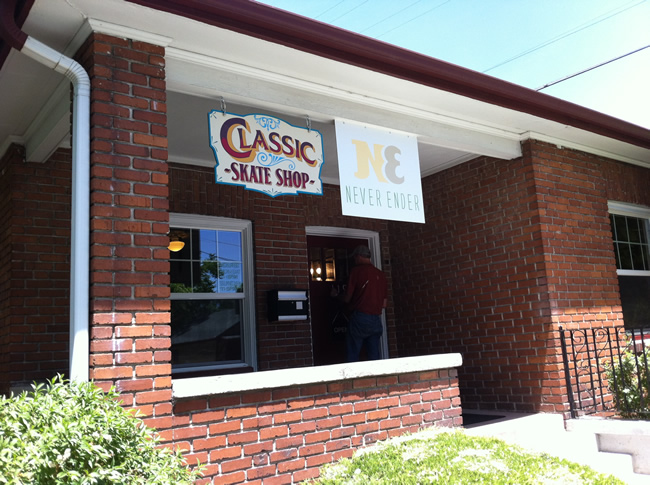 Recycled Records has opened a Midtown location at 822 South Virginia Street, just south of Cheney next to Twisted Minds Tattoo Shop in the building with the red neon "Antiques" sign on the 2nd floor. Their current store will remain open through November, and the Midtown store will carry a smaller selection until the old store closes and fully moves over after Thanksgiving.
The odd-but-perfect duo Never Ender and Classic Skate Shop has found a new home on Thoma, just east of Center Street in a gorgeous brick bungalow.
In the Pipeline: Urban Farming Changes in Code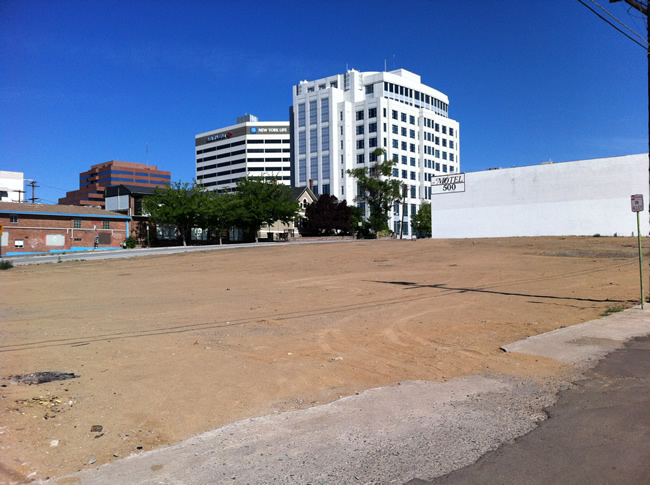 Expect the city council to soon (perhaps next council meeting) address the fact that urban farming is not currently allowed in city code/ordinances/land use, currently being the key word. Why? It might have something to do with this piece of land on the corner of Center and Moran, and an in-ground urban farming operation...Ssssh that's a rumor though...even though I spotted people digging around collecting dirt samples last week. Now how cool would that be? I'm all for it and support a massive shift in food source locally.
A Pair of Brewers
And finally, a couple of shots from two new brewery concepts, one in Midtown and one on Arlington Avenue. The Brewer's Cabinet on Arlington (formerly the Chocolate Bar) is using reclaimed wood from a barn as its exterior.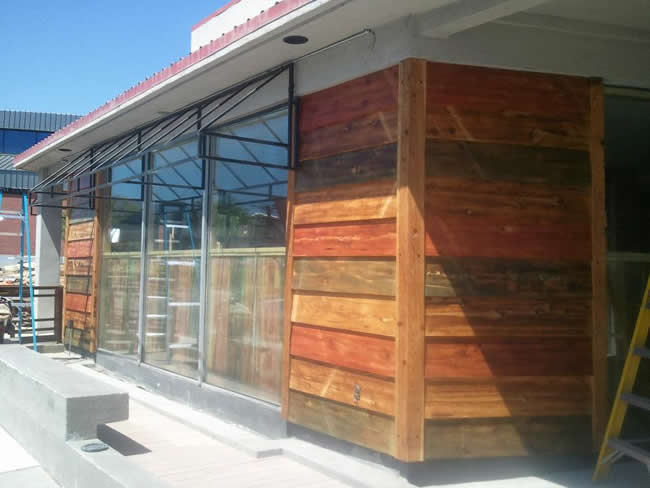 A photo of the reclaimed wood exterior on Brewer's Cabinet, courtesy their Facebook Page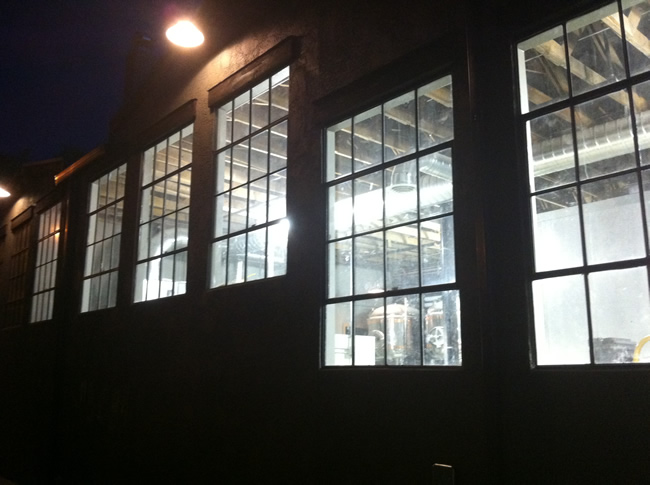 A photo I snapped of Brasserie St. James, a restaurant/pub/live-work concept under construction on Center/Taylor in Midtown.