Reno Street Food Tonight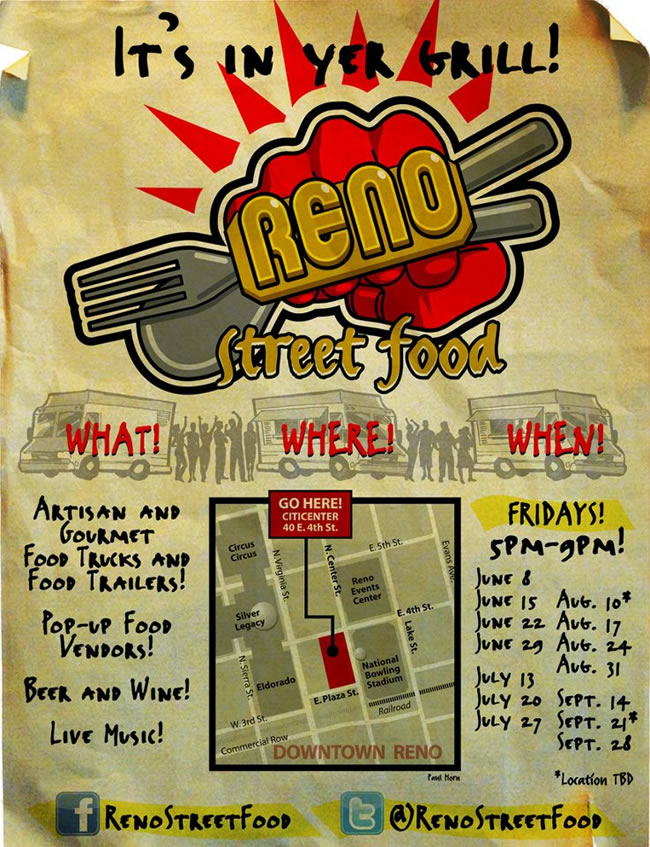 The first Reno Street Food this Friday will feature Dish Truck, Roundabout Truck, Red Truck, St. Lawerence Pizza, Men Wielding Fire, Java Sushi, Brothers BBQ, Hot and Healthy Crepes (Savory and Sweet), Burger Me, Full Belly Deli and One World Coffee and the Beer Garden by Great Basin Brewery! More trucks and Trailers each week. Trucks that will be coming in will be Mamasake Truck, Tahoe Creamery Truck, Battle Born Truck, Lazy Sundae Truck and more! Great Basin Brewery will be serving wine as well for those that don't do beer.
Riverwalk Dining District Food Tour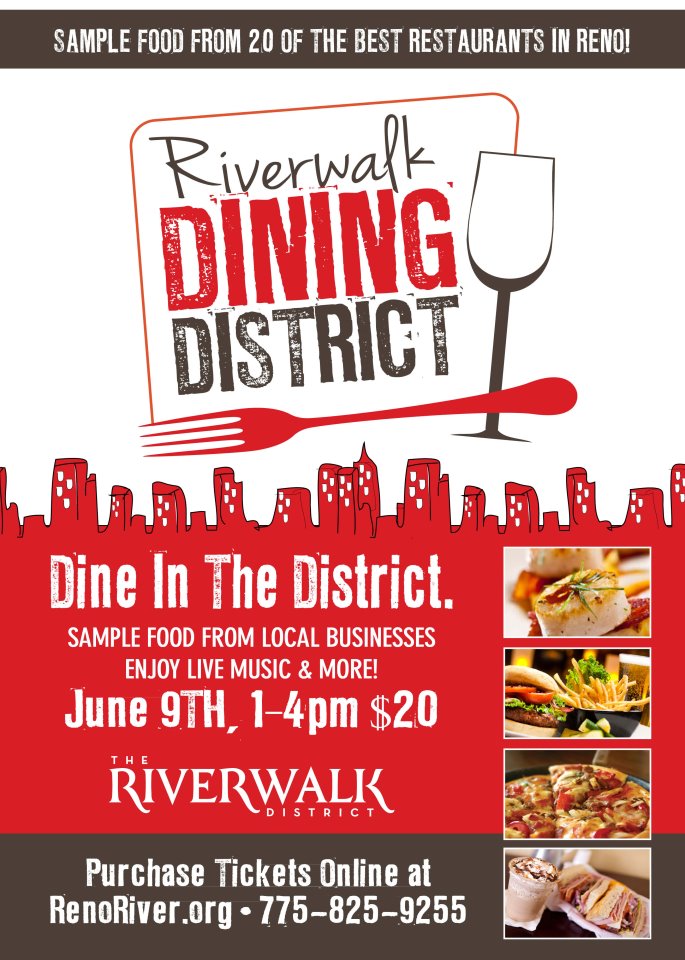 In a recent post, I introduced you to the Reno Dining District, formed by the Riverwalk Merchant's Association to highlight the new dining options along the river corridor. One of the first events they are rolling out as an official dining district is the Dine the District Food Tour on Saturday, June 9th 2012. Not only will you have an opportunity to enjoy a variety of culinary delights from the best restaurants in the Reno area, you will be supporting continued development of the Riverwalk District. Just like the Wine Walk, redeem tickets by presenting receipt to a participating merchant during the day of the event, you will receive a food tour map as your formal admission to the self-guided tour.
PARTICIPATING MERCHANTS:
Wild River Grille, Java Jungle, West St. Wine Bar, Pie Face Pizza Company, Old Granite Street Eatery, 5 Star Saloon, Campo, Fuego for Tapas & Vino, Bumble Bee Blooms, Imperial Bar & Lounge, Sierra Tap House, Beaujolais Bistro...and more!