Hello! I am back from taking a little break from being Mr. Downtown. Taking short breaks here and there is how I keep my sanity after maintaining this site for 7 years ha! Lots of tidbits so let's get right into it.
Wedge Cheese Shop Opens in Midtown
The Wedge Cheese Shop opens for business today at 11 am! The cheese shop is located at 18 St. Lawrence Avenue. Come by and support local owners Laura Conrow and Peter Burge and they embark on a journey of cheese.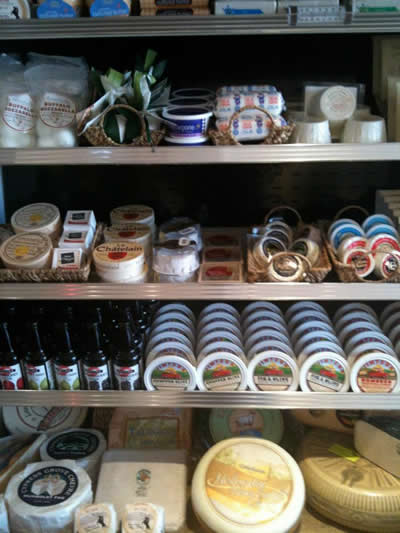 River's Edge Cafe Opens Downtown
A new cafe has opened downtown, next to Slice of the Peak, conveniently located across the street from the Reno Aces Ball Park. The cafe features fresh sandwiches, breakfasts, brunch and coffee. Owner Brian Depew is well known and well-liked in town, and he is no stranger to opening cafes, nor his first venture downtown. Make sure you swing by and grab a cup of joe at the River's Edge! Their first day open was yesterday and it was busy. To reach the cafe you have to go INSIDE the first floor of the Jones Vargas Tower.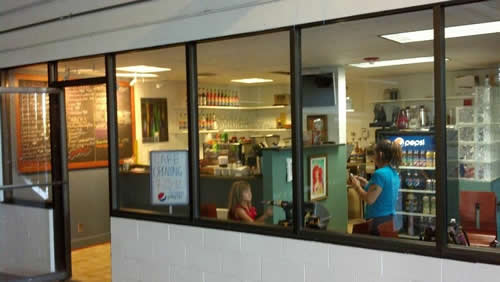 Chapel Tavern's New Location Now Open!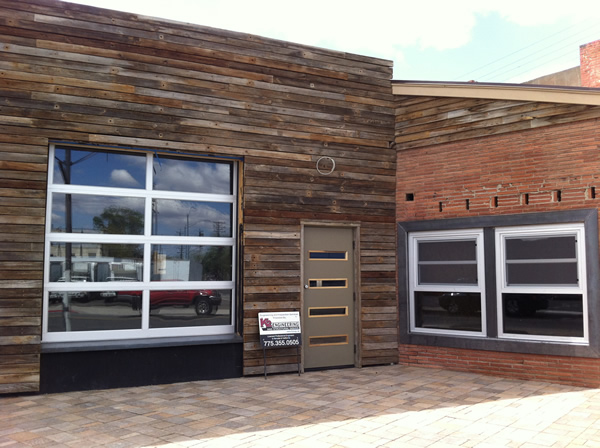 Chapel Tavern's gorgeous new location is now open at 1099 South Virginia Street. They put a lot of hard work into renovating this building from drab to uber-cool. Stop by for a drink!
City Has New Plans for River Gallery Space
You might have heard that the River Gallery, located downtown on the first floor of the Parking Galleria, is closing at the end of the month. There was a blurb in the RGJ about the River Gallery being 'kicked out' of the Parking Galley so that the City could put in new use. I wonder what the new use will be? It had better be good, because art is rad, and an art gallery seemed like a perfect fit. Speaking of the Parking Galleria, no sign yet of construction beginning on the new post office.
Midtown Multi-Block Clean-up Continues
The Marmot Companies continues to renovate 17+ properties in a two-block area in northern Midtown that includes Sinclair, Moran, Holcomb, Stewart and Center Streets.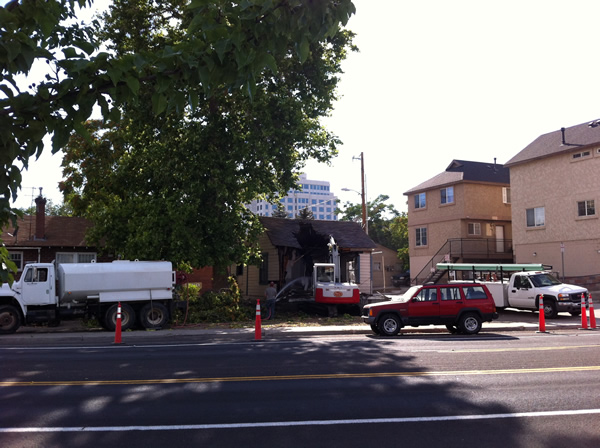 Top photo: Unsavable home being demo 'd. Photo below: the home is gone!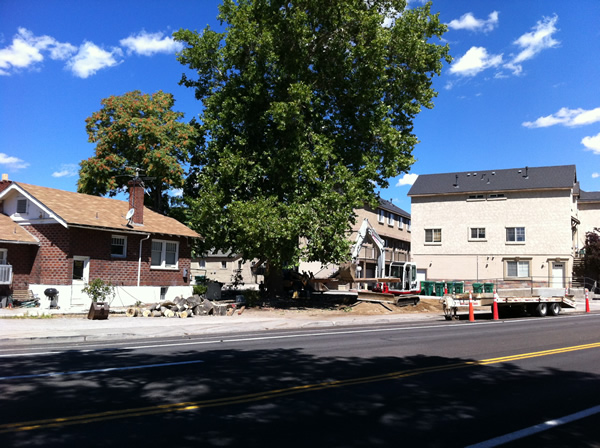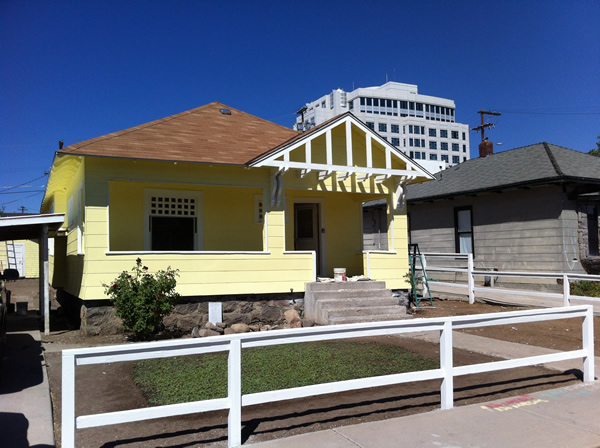 A dramatically improved home on Sinclair Street has been landscaped, repaired and painted.
CommRow Begins Hotel Redevelopment
A great read in Northern Nevada Business Weekly about CommRow. The hotel renovation portion of the project will begin October 22 and conclude in March 2013. I have always felt the hotel is an essential piece of the CommRow puzzle, and that the building would struggle until the hotel is open. Looks like they are headed in that direction again so yay! You may have also noticed they have cleaned up and painted the surrounding buildings, including the Old Reno Casino and old Golden Phoenix buildings. That is just the first phase of a $10 million renovation project that will gut the buildings to their shells. The plan is to combine the Old Reno Casino and Masonic Building into about a large restaurant space. Vino's will be gutted to its shell as well. There is talk of a skybridge spanning Douglas Alley as well.
Work is expected to be completed in the next four months on the satellite buildings. Expect a gambling hall or sports book of some kind in the old Golden Phoenix casino building fronting Virginia Street within the next year or so. The 8,800-square-foot property has an unrestricted gaming license attached to it that must be activated by the end of 2013.
If you haven't been in CommRow lately, stop by and check it out!
Dressed Like That Opens in Midtown
Dressed Like That is now open at 711 South Virginia, and is the first business of the six planned for the former CoCo Boom night club building to open their doors. Dressed Like That is the place to go if you're looking for retro pin-up style fashions, including Bettie Page Clothing, Stop Staring, Bernie Dexter, Heartbreaker Fashion, & more. Whatever your inner style is, from bombshell to rockabilly, owner Cynthia Lewis aims to make every woman who walks through her doors feel like the sexy star they truly are. This isn't Romantic Sensations…we're talking true retro authentic style; classy, not trashy. They also carry a line of purses and parasols to go along with your retro fashions. The store, along with BL City Tastemakers, Junkee, Penny's Midtown Mercantile, Melting Pot and Polyester's Costume Boutique, turns Midtown into quite the little fashion district.