Hey it's that time of year again! The time of year where you drive through Old Southwest of West of Wells and start to see extra RVs pull into town, and art cars coming out of hibernation state and poking out of garages and backyards as they are prepped.
The burner buzz is beginning too, a little earlier this year than prior years. Perhaps we're all overdue for some playa time. Burner buzz is that elevated level of energy and awareness that the massive event is just around the corner, and permeates through late night bar conversations and organized fundraisers like the recent event for Burn Wall Street and the Galleon art pieces. The buzz really gets going when the Compression event arrives, the official signal that's it's time to freak out and realize someone in the camp still has to make evaporation ponds, engine tune-ups and 500 blinky lighter gifts.
But hey, why do now what you can put off until after the weekend? So check out some events below you might be interested in attending, starting with a fashion show tonight and ending of course with Compression. Have fun!
PolyEsther's Light Up Burner Fashion Show - Thursday at 6-9 pm, 655 South Virginia Street
Things get started TONIGHT with PolyEsther's Light Up Burner Fashion Show. Do you like glowy things? How about a vest with 300+ LED rgb lights in it, programmable via computer? If you were hunting for a show which mixes fashion and high tech, this is it. I've seen some of the pieces, and if you are into high quality Burner fashion, vibes, and more, don't miss this! Prepare to be amazed by their Tron inspired show featuring: LIGHT UP L.E.D. and E.L. wire clothing made by designers PolyEsther Dunaway & Tara Davis of Firefly Lighting, glow hoops, glow fire spinners, dancers and more. A free watermelon bar hosted by SUP. Live music by Mojo Green, music starts at 6:00, fashion show at 8:30. Part of the MidTown Art Walk so why not come down before-hand and check out 40+ artists in 34 venues before hitting up the fashion show!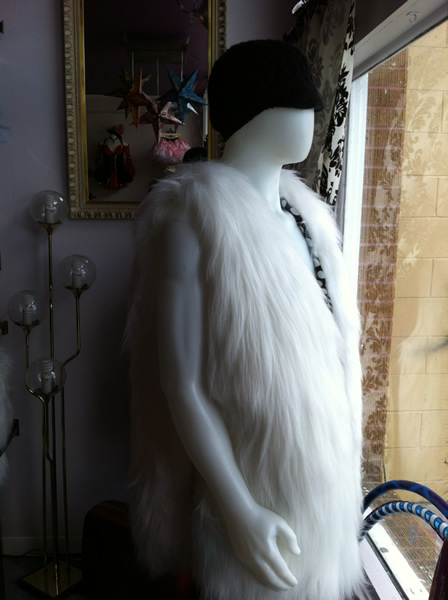 Reno Street Food Featuring Sean Murray - Friday at 5-9 pm - Idlewild Park - 1900 Idlewild Drive Reno
In the mood for some amazing food and amazing beats? This week you'll find St. Lawrence Pizza, Dish Truck, Red Truck, Traffic Jam, Hot and Healthy Crepes, Brothers BBQ, La Botana, Full Belly Deli, Pie-Face Pizza Co., Tahoe Creamery, Lazy Sundae, J&J Italian Ices, and Great Basin Brewing for beer and wine! Amethyst Salon will offer face painting and local puppeteer Bernie Beauchamp will entertain the kiddies. And this week's entertainment is DJ Sean Murray. So if you end up feeling a bit guilty wolfing down food from 4 different food trucks, hey you can dance some of those calories off with supreme beats from Sean. Sean is a local dj who spins in SF and Reno regularly, is known for his deep tech house sets. As a CRR90 (Certified Retired Raver from the '90s) I dig his sets, they are consistently fresh and not dub-step.
Compression Event - Saturday at 3-9 pm - City Plaza Downtown Reno, 1 East First Street
This is it folks! Well not IT, I suppose the Burn itself is it. But this is the Compression Event! A full day and night of Burner fun. Check out the schedule below.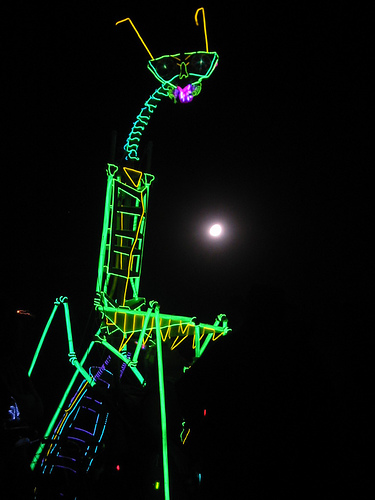 3:00 PM Opening Ceremony Thanks for coming to our Festival! (5 min)
3:05 PM Object Manipulation Featuring members of Vulcan Crew and Controlled Burn! Poi, staff, fans, anything you can think to or have, bring it and play! (40 min)
3:50 PM Hoop Jam Lisa Rizzoli and BohoHoops fun with hula hoops!(40 min Jam)
4:30 PM Martial Arts Demonstration Featuring David Hirshman (10 min)
4:35 PM Dragonfly Aerials Reno's own flying Aerialists (20 min)
4:55 PM Portal of Evolution Dedication Collaborators (10 min)
5:10 PM Modern Gypsy Deeta Pasero's belly dance troupe from Redding, CA (10 min)
5:20 PM Anahata Local Bellydance troupe born from TMCC dance class (5 min)
5:25 PM Destynee Howell Solo performance (10 min)
5:35 PM World Dance Collective Cloudlight (5 min)
5:40 PM Dragonfly Aerials Chelsea Chen directed Aerial perfection (20 min)
6:05 PM World Dance Collective Large Piece, Afro-Belly Fusion(10 min)
6:25 PM Le Cirque VagabondBen Pierson directs Reno's acrobatic offering (20 min)
6:50 PM Modern GypsyCirque Set (15 min)
7:10 PM eNVision Performing ArtsReno percussion awesome sauce (20 min)
7:30 PM Modern Gypsy as elephants (5 min)
7:40 PM BoHo Hoops LED hooping! (10 min)
7:50 PM Devil Stick Dave David Hirshman showcasing his talent (5 min)
7:55 PM eNVision Performing ArtsPercussion group featuring propane flame effects by Dave King of Controlled Burn and programmed by Stu D'Alessandro (10 min)
8:15 PM Temple of Poi Welcome GlitterGirl and her Bay Area School to Reno! (25 min)
8:45 PM Oregon Conclave New this year, BIG fire, from Oregon (15 min)
9:05 PM Vulcan Crew Precision fire spinning from the Bay Area (15 min)
9:25 PM Controlled Burn Ladies and Gentleman…set (20 min)
9:45 PM Glam Mantis/Mini Man Battle! (15 min)
10:00 PM Controlled Burn Fire Finale featuring Flame and Finesse (20 min)
10:20 PM Black Rock City All-Stars Close down our festival with a rockin' dance party! (40 min)
In Dust We Trust - Saturday - 10 pm - Freight House - 250 Evans Avenue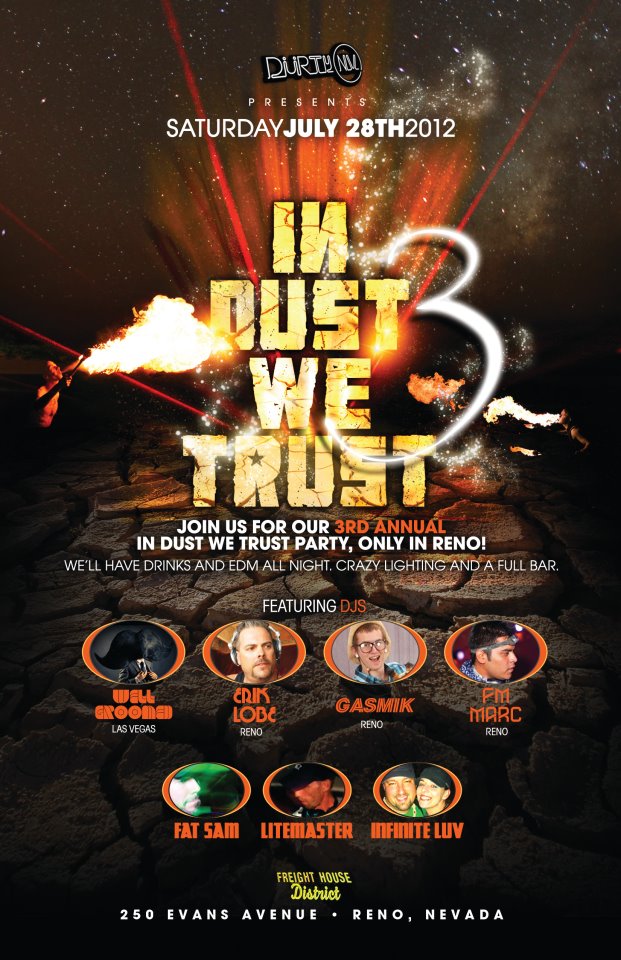 Still have some energy left over from Compression? Keep the dance fire lit under your feet well into the early morning hours with In Dust We Trust, with djs ready to make you move.
In Dust We Trust Afterparty at Top Shelf Lounge - Saturday - Midnight until ? - 211 North Virginia Street
Miss the In Dust We Trust Party want want to get your groove on? Or maybe you are hardcore and can dance for 10 hours straight. Go to the afterparty at the Knit with no cover!
>NO COVER
>Cheap Drinks
>House Music
>Killer Food
-Great Friends=)

Special Guest DJs
Alex Maartinez
Mener
F-N Marc
----------------------
And Residents:
Erik Lobe
Sam Kane
Serg Rockwell