The Midtown Art Walk returns for Artown! The event featuring local artists and musicians hosted by Midtown merchants. Participants explore the area south of downtown and enjoy cool art while discovering new places. The event is free and participants can pick up maps at either Junkee Clothing Exchange at the south end (960 S. Virginia St.) or Living Stones Church (445 S. Virginia St.) at the north. The Bank of America parking garage will be open for people to park. Both lots will be closed to host bands and artists.
DETAILS
The free event takes place July 28, 2011, from 5 to 9 p.m.
Pick up a map of locations and start at either:
• Junkee Clothing Exchange, 960 S. Virginia St.
• Living Stones Church, 445 S. Virginia St.
WHAT IS AN ART WALK?
Have you ever been to an art show? At an art show, an artist displays their works of art in a gallery, and offers that art for sale. Now . . . imagine an entire street lined with art shows inside different businesses, all at the same time! That is an art walk.
At the Midtown Art Walk, each business that chooses to participate hosts one or more artists. The event is free to the public, and artists and merchants will have the opportunity to market their products during the event.
HOW IT WORKS
Participants pick up a map like the one below and visit Midtown merchants to enjoy the work of local artists and performers.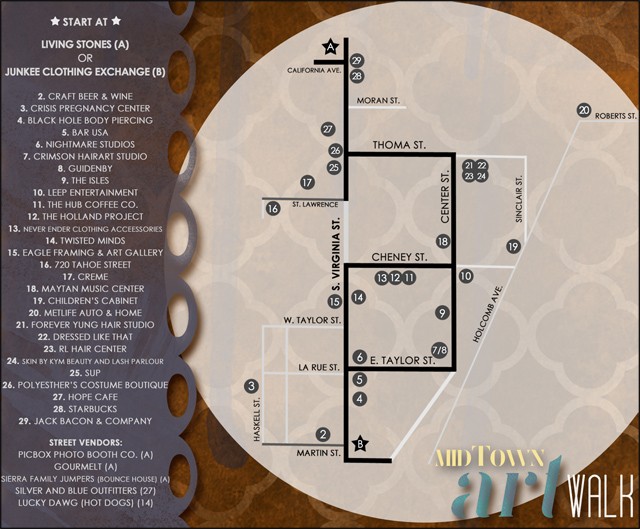 Featured Artists (many more are at other locations)
(A) Jason Spencer, Dotty Molt, Matthew Lahtinen, Tom Shearer, Alex Fleiner
(B) Sunshine Schneider
(2) Matt McDowell
(3) Julia Jones, Sheila Affonso
(5) Richard Jackson, Micano
(8) Abby Burns, Clint Sleeper, Glenda Mahin
(14) Jo C Rock
(15) Christa McLoughlin
(16) Nate Clark, Kelci McIntosh

(17) Elizabeth Ward
(18) Josiah Hassler, Jeffrey Horodko
(20) Michael Raybourn
(21) Robert Karnes
(22) Sabrina Bolster
(24) Linda McMillan
(25) Valerie Lamieux
(27) Bridget Kamps, Veronica Diament
(28) Gina Peraldo, Ginny Ritchie
HOW IT BEGAN
Aaron Pedersen and Mike Cutler created the Midtown Arts District Project in October 2009. The project was born out of an idea to further propel the emerging local arts and cultural scene in the area south of downtown Reno, a region commonly known as Midtown.
The Midtown Art Walk — as it came to be known — is a celebration of the commerce and culture of Midtown and the creations and work of our local artists.
More Info