A most-unique art event graces motels downtown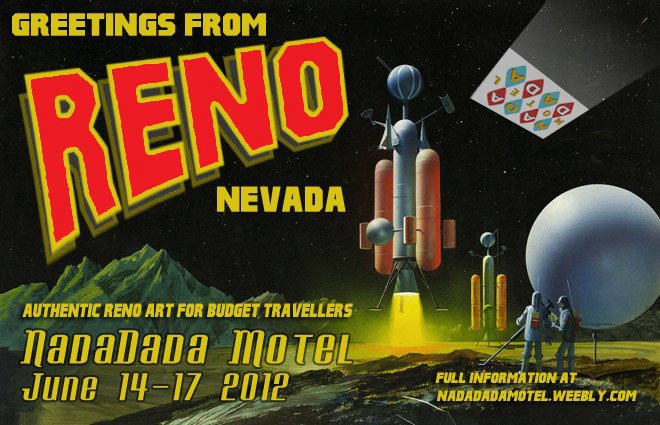 Reno-based artists will again celebrate and create at the annual NadaDada Motel art event in specific downtown motels and venues, June 14 through 17, 2012. One of the most innovative and unique grass roots arts events in the nation, NadaDada Motel is perhaps best summed up with the six-word statement: "get a room- make a show".

Nada-artists rent motel rooms in Reno and transform them into individual galleries, performance spaces and surrealistic art installations. It's their own space, to express whatever they chose, and create whatever art comes to mind. I've attended this event every year since its inception, and am pleased at how the event has expanded and taken on its own life.
People were worried the event would fizzle after being kicked out of El Cortez Hotel, but in fact the opposite has happened, expanding across several blocks and including several motels downtown.

Nearly one hundred artists will be participating this year, with each artist independently renting rooms and creating shows. It will be one of the larger NadaDada's we've experienced.
Locations for NadaDada 2012 include the Townhouse Motor Lodge on 2nd and Arlington, the El Ray and Lido Motels on North Arlington, the Rancho Sierra and In-Town Motels on 4th St, Wildflower Village at West 4th St. near McCarran, Strega Art Bar at 310 South Arlington, and the new Reno Art Works Studios and Gallery at 1995 Dickerson.
If you plan on drinking during the event or making a couple of bar stops along the way between motels downtown, I suggest hiring a peddie-cab, and doing the downtown motels in one night, and Dickerson and Wildflower Village on the second or third night. I only suggest this to deter drunk driving along the 4th Street corridor between locations.Even if you aren't drinking, they are a convenient alternative to biking or walking to each motel. I don't really recommend driving from motel to motel downtown, particularly with other special events happening simultaneously.

Pedicab Links:
Pedal Express
1 (775) 954-3697
http://www.facebook.com/pages/Pedal-Express/135630706465583
NadaDada Motel 2012 will officially begin on Thursday, June 14 with an opening event at 6:00 pm at the Townhouse Motor Lodge, 2nd and Arlington. The general hours of all rooms at the various locations will be 7:00 pm to 10:00 pm Thursday June 14, 10:00 am to 10:00 pm Friday and Saturday June 15 and 16, and 10:00 am to 6:00 pm on Sunday June 17. Some rooms may have more extended hours. Music Friday night at Reno Art Works, and Saturday at two stages Wildflower Village, 1:00 pm to 11:00 pm. The event is free!
NadaDada Photos From Previous Events