A group of stakeholders have come together and formed the Reno Streetcar Coalition, with a plan to study the feasibility of bringing back a streetcar service to downtown Reno and Midtown.
Here is their web site, sparse on content for now but does include a nice report on Transit-Oriented Development.
Reno was once home to a pretty sweet trolley system. Here's a hsitoric map of it, below. Click the image to enlarge.
I don't know anything about the deets or the proposed area for the trolley, but the obvious choice for a trolley line is South Virginia street. Prior to Midtown wanting to take Virginia Street in a more 'Main Street' direction with street parking, the original plan was to, and probably still is, to make South Virginia Street a transit-oriented corridor.
When RTC built the fancy stations along Virginia Street that accomodate the green double-length RAPID line buses, they built the stations so they could eventually be used as stops for a light rail, tram or trolley line. This is one reason why their platforms are raised.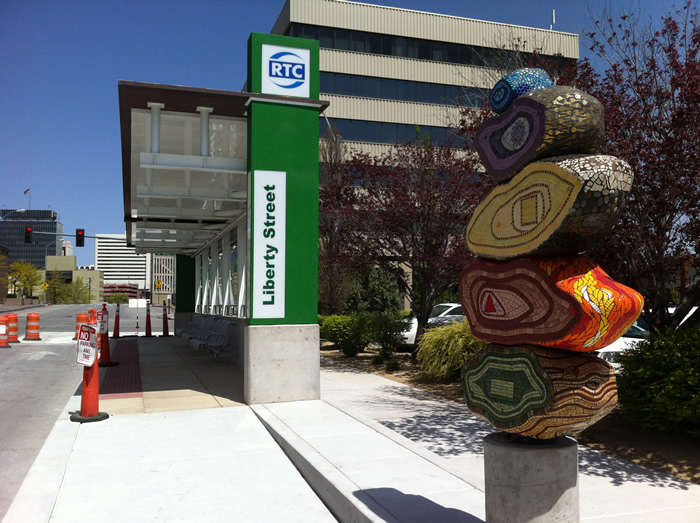 Since RTC within the next couple years is going to completely redo South Virginia Street as a major overhaul, why not take the opportunity to throw down some rails in the process, right?
I don't know much about the Streetcar project, but my guess is, this is along their line of thinking. I can't imagine it would be feasible to rip up Virginia Street twice in a row and completely re-pave it.
I don't know much about the route, but if I were planning it, I'd make it go from the University down to maybe Mt. Rose Street then travel back down Holcomb Avenue, which would serve Wells Avenue easily. Or another route could be Virginia Street down to Center Street then back up Center Street, over to Lake Street to hook up with the ballpark, then up Evans to the University, or up Virginia Street to the University.
Either way, I'm stoked people are at least thinking about this. Public-private partnerships can be challenging...but I'd love to see this happen.