In the 10 years that I have been doing DowntownMakeover, I've written about a lot of projects that never came to fruition. For some of these projects, that's probably a good thing. For others, I still wish they would happen.
Number One on my list would be the Facade Improvement Program on Virginia Street. It was an awesome collaboration of private businesses and the City of Reno, but ultimately the funding just wasn't there to do it. What was amazing about this project, is that for the most part all of the building owners on this block came to a consensus on the building improvements proposed. Check it out below, it's one of many projects that maybe should be given a second look.
Here we go!
10 North Virginia Street (retail and canopy)
This is the plaza in front of City Hall that served as an ice rink in the winter prior to moving it to the Reno Aces stadium so the bridge could be constructed. It has some landscaping, really cool art depicting the history of the Mapes, and is home to special events such as Compression and concerts throughout the year.
Early in its history, after the Mapes was demolished, the City went through requests for proposals (twice) , and the second time around a San Francisco firm was selected to build a retail building on the south side of the property. The City was going to pay for a beautiful canopy (see below) but in the end opted for train trench covers instead, if my memory serves me right.
The developer (arrg I forget his name and can't find it on my site) put his plans on hold soon after, and the plaza development was never fully realized. HOWEVER, it was mentioned in the last RAAB meeting that the city council may entertain the idea of accepting proposals from developers, because now that the property is torn up from the bridge construction, now is the best time to possibly add something to it.
Arterra
Arterra was a beautifully designed architectural masterpiece that was going to be constructed on the corner of Sierra and Liberty Streets. It was going to be a LEED certified, $90,000,000, 16-story tall residential tower with a kinetic wind sculpture spanning the entire width and height of one side of the building, public plazas, lush penthouses and more. Like many projects, it was proposed at the peak of the real estate cycle in 2006-ish, approved by the Planning Commission, but was never realized when the market fell and no one wanted to pay $300,000 for a studio condo.
Chambolle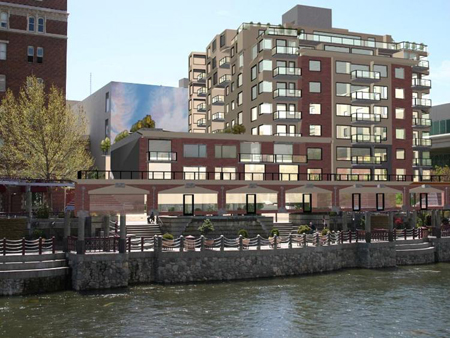 Chambolle was a project proposed by BCN Development, who constructed the Palladio. It was to be a condo project very much resembling Park Tower, but escalating costs on raw construction materials like steel made it unfeasible. Located on the south riverside adjacent to Sierra Street, the land remains vacant to this day. Due to the small size, cost of construction materials, and current market real estate values, it remains a challenge to pencil a project here that pencils financially. It almost needs to become a public park or art area that's a little more finished than a dirt lot. This lot is often home to large-scale Burning Man art installations such as the Spire of Fire.
Eco-Channel/White-Water Park Extension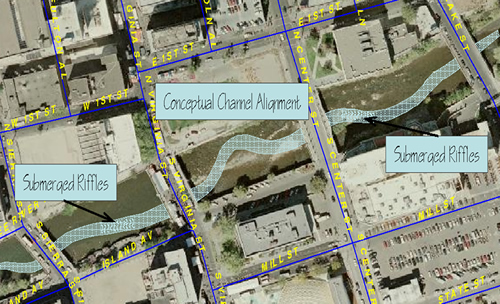 This project started as a narrow eco-channel winding through the Truckee River channel from Sierra Street to the Automobile Museum. It would enhance aquatic life by digging a narrow deep channel for the water to wind its way through, while enhancing plant life on the rest of the original channel bed. It's very similar to the plan to enhance the LA River in Los Angeles by converting it from a concrete channel to a river channel rich with wildlife. Over time the project morphed into a whitewater park extension, even though previous studies showed the river might be too flat in that area to provide for whitewater park-like elements featured by the Arlington bridge.
The LA River Improvement Project shown below.

Facade-Improvement Program
The Facade-Improvement Program was one of my favorites, and it was hard to see it killed off. It was an excellent example of collaboration between public and private entities, but after it was 'designed' and went to planning, it came back way over budget and thus never came to fruition. The City of Reno staff worked with property owners on Virginia Street between 2nd and 3rd Streets. At the time, the Knitting Factory was Rocky's Sports Casino. After several stakeholder meetings with the designer, a specific plan was laid out, in the images below, for some of the buildings. Though Rocky's has since become the Knit (which I hear will soon become a new venue) and the Golden Phoenix Casino becoming Siri's, and Whitney Peak redoing their facade, it really only leaves a few buildings as the ugly ducklings of our strip downtown. This project is still on the City's priority list, but remains unfunded.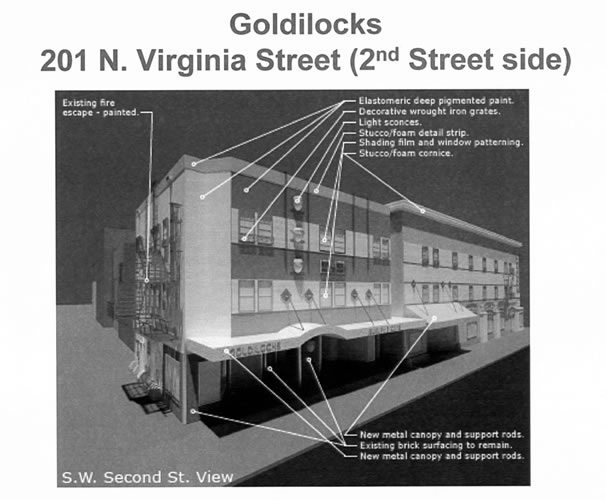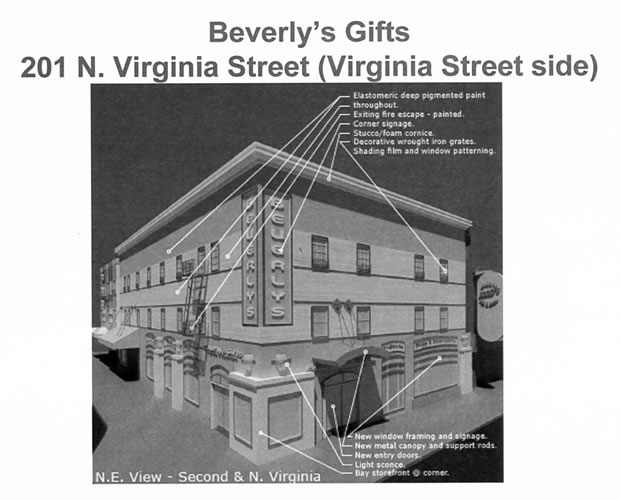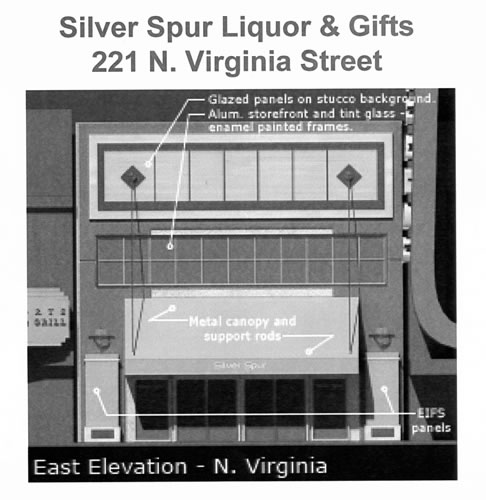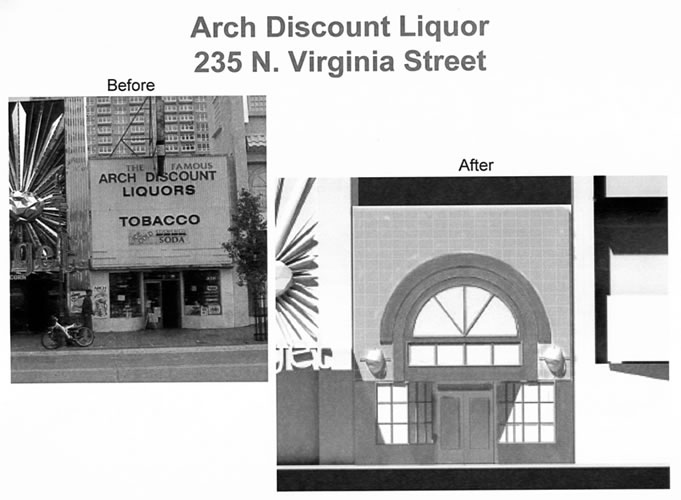 Denovo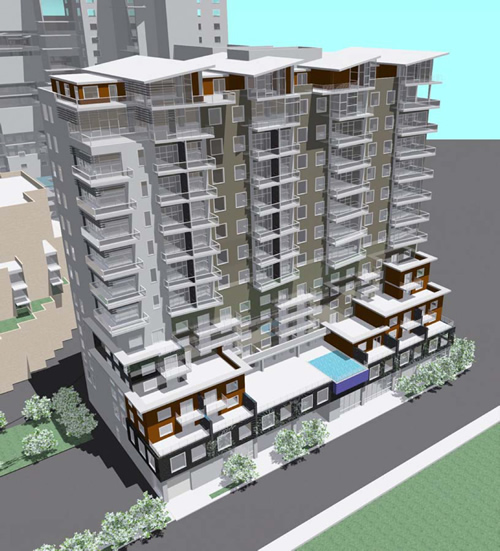 The Kings Inn as long-time Reno residents knew it, is history. The long vacant hotel casino is being converted into luxury apartments called 3rd Street Flats. For the longest time, it was downtown's ugliest eyesore. But did you know a previous concept for it involved adding stories onto the building? That was the plan for Denovo, a stunning building conversion concept for the Kings Inn on 3rd Street. It was designed by Cathexis. You can find a history of that old project here. The good news is, the Kings Inn is finally being redeveloped.
Freight House Lofts
We're going waaaaay back in our wayback machine on this one, to just a few months after I started this blog. Siena Communities was a developer who did a lot of planning and not much building. One of their planned projects was the Freight House lofts, to be located where the Reno Aces Ballpark sits today. The project took the historic Freight House building (pictured below in Freight House District Phase 3 and 4) and expanded it to include residential lofts and mixed-use residential. The project was never built, because the land was sold to either the Redevelopment Agency or the City (I can't recall which) in part in exchange for the vacant land next to Riverside Artist Lofts, so that the Reno Aces ballpark could be built. Fun fact: Did you know that Grand Sierra Resort was briefly looked at as a possible location for the Reno Aces ballpark?
Freight House District Phase 3 and 4
New Reno-ites who have moved here in the past few years might not realize that the Reno Aces Ballpark and Freight House District were actually built in stages. Construction began on the Freight House District in 2009, and includes all the bars and restaurants on the west side of the stadium you see today. It was a great expansion to the stadium and made it more like an entertainment complex. But did you know there was/is also a Phase 3 and Phase 4 planned?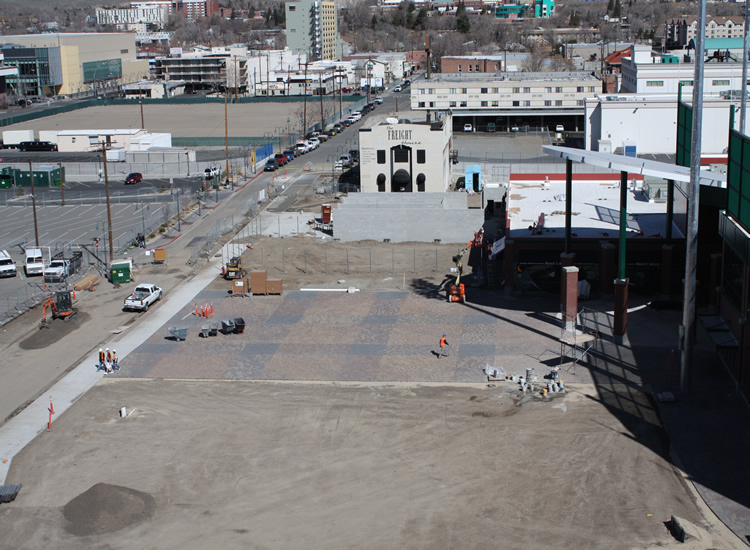 In the photo above, check out the Freight House Building, beautiful and historic in nature. It still stands today, though still unused. Phase 3 involved turning this space into a restaurant. Phase 4 involved turning the vacant lots between Lake and Evans and 2nd and where the Men's Club is, into a multi-block entertainment and retail complex (see below.) It's unknown if these future phases will ever be realized, but I am thankful to have a ballpark to take my nieces and nephews to. Most recently, Herb Simon and partners purchased the vacant piece of lance to the southwest of the ballpark, once home to the planned Waterfront Project. He has not announced any firm plans for the property. It's currently being used as a staging area for the Courtyard Marriot build-out. It will be interested to see what the property will become once construction of the Marriott is complete.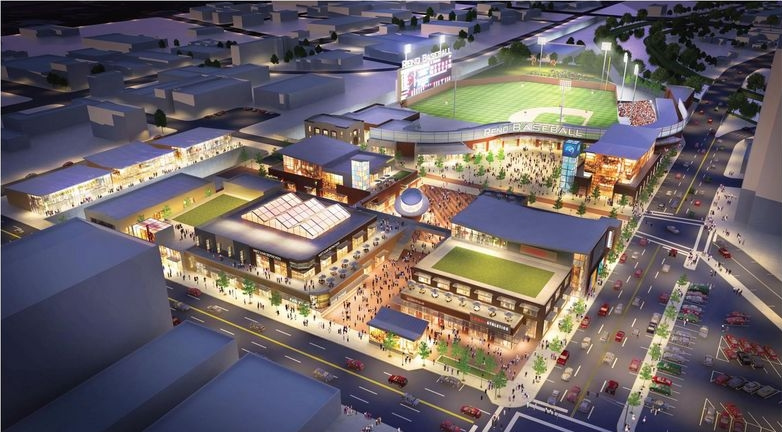 Grant's Landing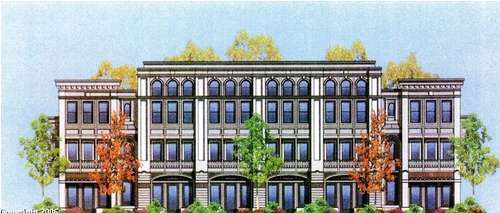 If you have ever gone to an Aces game and parked south of the river, you have probably noticed the large empty lot adjacent to the automobile museum with the two very lonely looking lampposts in the middle of the lot, seemingly very out of place. Those lamp posts were a symbol of one of the more bizarre pull-outs of a project downtown. Grant's Landing, originally called Village on the River, was supposed to be a 5-acre development of riverfront townhomes done in kind of a hybrid colonial style. The townhomes concepts were decent looking and were three stories tall. The project, proposed by SilverStar Development, who also built out Virginia Lake Crossing, made it to the advanced stages of design and planning, going as far as laying down all of the infrastructure including sewer, water, paved driveways and roads, the infamous lampposts installed, and were just about to pour foundations when boom, the project stopped dead in its tracks. Around the same time, a fire destroyed another one of their projects, Nightengale Manor, located over by Renown. The lot adjacent to the auto museum on Mill Street remains vacant to this day, and has since had its zoning changed from residential to commercial. There were rumors flying around that a new project having to do with the auto museum was being planned, but it hasn't panned out yet. Currently it's being used as a staging area for the Virginia Street bridge project. Who knows, maybe there are plans for it after the bridge construction is complete?
The Mapes
To many residents and Reno natives, the Mapes is the ultimate tragedy project that never was. Unless they're viewing historic photos, newcomers to Reno would never know the beautiful art deco brick masterpiece that proudly stood along the river, with a rich history connected to Hollywood and beyond. What happened to it? It was before my time here, but this Wikipedia entry matches what city council members in office at-the-time have told me...the building was not savable, and no one came forward with the money to restore it. So, in the year 2000, it was demolished, and eventually the plaza you now see in front of city hall downtown, was built in its place. It is argued to this day whether the Mapes was truly salvageable or not, and remains a sensitive topic among history buffs who cherished the building's history and architecture.
Nightengale Manor
This project went up in flames, literally. It was to be a clone of Virginia Lake Crossing, San Francisco-style row-housing intended for those who work at Renown. It was going to be located on Second Street, across from Renown Medical Center. It was a SilverStar Communities project, like Grant's Landing and Virginia Lake Crossing. Much like Grant's Landing, infrastructure was put in place, sewer, water, power, roads, driveways, and five or six units began framing when somehow the project caught fire and it all burned to the ground. The lot remains vacant.
I loved how the project was going to partner with Renown to provide reduced housing costs for employees. Would be great to see a similar replacement project there.
Ponte Vecchio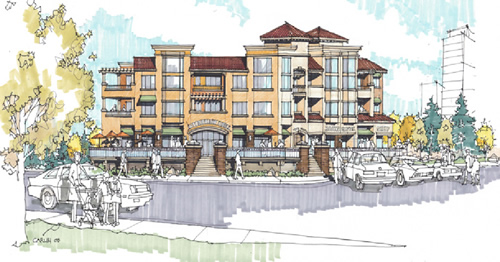 This opulent residential concept was proposed for the corner of Riverside Drive and Winter. Two older homes were moved in preparation for the project but alas, it never happened. This project concept was luxurious in every sense of the term. Check out this list of proposed amenities. As with most development proposed around this time, it fell through. BUT, this story does have a happy ending, as the space became home to the wildly successful mixed-use development where the Hub, Dorinda's Chocolates, and Beaujolais now sit.
The Waterfront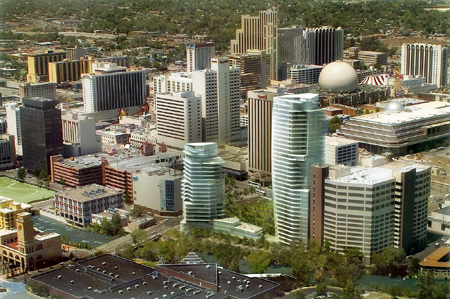 This drool-worthy project first started as a pristine glass 30+ story residential tower and park complex. It was gorgeous, and something you'd expect to be along the Truckee River. It was to be located in the vacant lot on the corner of Lake and 2nd, on the south side bordering the Truckee River. The lot remains vacant to this day, and you can see the remnants of what used to be First Street cutting over diagonally to 2nd Street. That portion of 1st Street was closed so the developer could have the entire lot for this project. The project went as far as a sales office being half-built on 2nd and Lake across the street from Harrah's, but like every other project in this list, was never built. It's a good thing in th end, that it wasn't built, as it helped the projects that DID get built such as the Montage, Palladio, Riverwalk Tower and other to slowly absorb buyers.
Wingfield Towers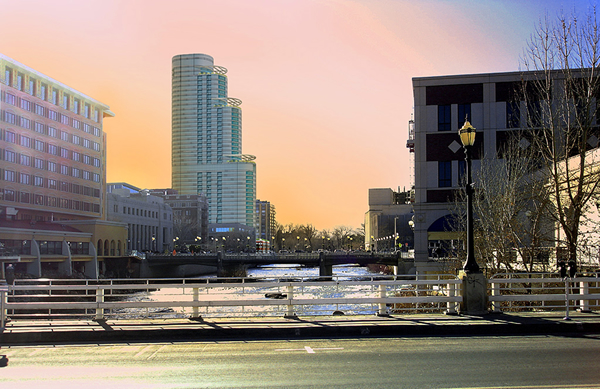 Oh man, what were we all thinking with this one? Yes, there were a few die-hards who knew from the beginning this project was never, ever feasible, but for the rest of us, including the Reno City Council and Planning Commission and all the other boards who approved it, it was a shot in the dark to put hundreds and hundreds of residents downtown in a short period of time. It gained national attention as a proposed project. To me, a new transplant from downtown Los Angeles raised in a residential tower, it was like a piece of home. This mammoth twin-tower 40+ story beast was to wrap around Park Tower on the corner of Island Drive and Arlington, rising up in multi-level goodness to Court Street. You can see more photos here. The $400,000,000 it was estimated to build this beast was never produced, and the lot sits empty to this day.