Ne
I just finished adding a suite of features that will make this site's calendar of events not only more readable, but highly usable as well.

1. Added RSS Feed for Calendar! This allows you to subscribe to the calendar in your favorite RSS reader apps such as Google Reader or My.Yahoo.com, or any other RSS type of portal Page. Here is a link to the feed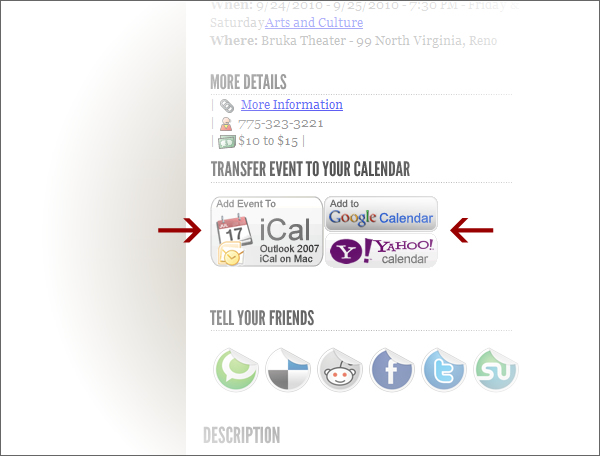 2. New Calendar Download Tools! Now it's easier than ever to bring my calendar into yours, with the ability to add any event in my calendar to your Google Calendar, Yahoo Calendar, or download as an iCal file which can be saved into all modern desktop calendar applications such as iCal on Mac, Outlook 2007 on pc, and others. Simply click on any event in my calendar to access its details page, where you will find the buttons. Once the event is in your calendar, you can edit it, add alerts, email it to friends, and more.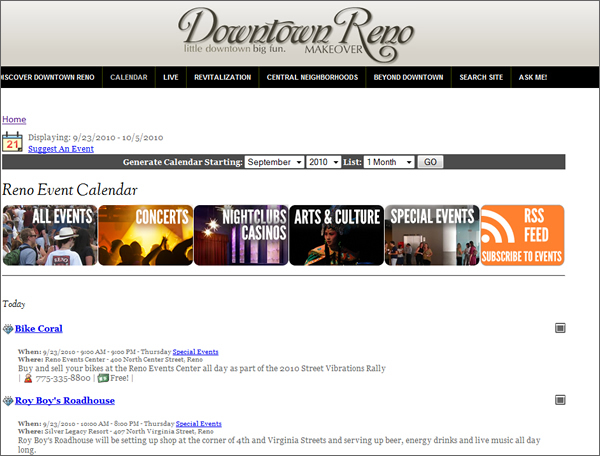 3. Easier to sort! The calendar is now easier to sort by Arts and Culture, Nightclubs and Casinos, Concerts, Special Events etc with large buttons at the top of the calendar.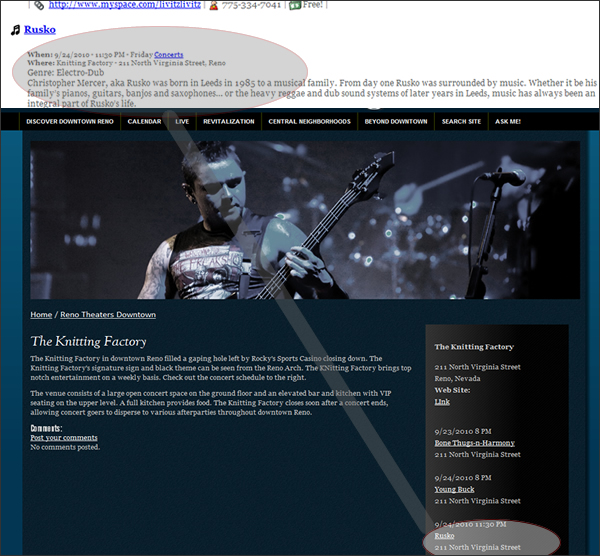 4. Events Spidered Throughout Web Site! I've developed a unique system which allows each of my 'Discover Downtown" pages to feature that location's events, pulled right from the calendar. For example, when web site visitors land on the Knitting Factory page located in my theaters and concert venues guide, they will see only the events for Knitting Factory, pulled right from my main calendar. So now, whether someone visits my calendar page, or browses through my Discover Downtown pages, they will always have downtown Reno events right at their fingertips, and know downtown Reno is full of life, and has events every week.
These new features are about creating a unified presence for downtown, and making my calendar not just readable but usable as well.
For such a small downtown, there's an unbelievable amount of stuff to do on a weekly basis.
Don't forget, you can suggest your own events by clicking the 'Suggest an Event' link on my calendar, and you'll get a nice form to enter your event.