Older / Archived News
12/31/08 - UPCOMING CITIZENS ADVISORY COMMITTEE MEETING - Happy New Year all! I was supposed to be downtown tonight, with 7+ friends who all planned to go downtown to watch the fireworks. Alas, that is not happening. Fireworks cancelled. Oh well. Maybe next year. Let's ring in the new year with a tantalizing upcoming Citizen's Advisory Committee Meeting. I WILL be attending this meeting. It's January 6th, 3:00 p.m. 7th Floor Caucus Room, City Hall, 1 East First Street. Some of the items include:

C. POTENTIAL INCENTIVE OFFERS THE REDEVELOPMENT AGENCY CAN MAKE TO CVS OPENING ITS LOCATION DOWNTOWN.
_________________________
VI. PRESENTATION OF THE PROPOSED STAR (SALES TAX ANTICIPATION REVENUE) BOND DISTRICT FOR L3 DEVELOPMENT.
_________________________
VII. PRESENTATION OF THE PROPOSED STAR (SALES TAX ANTICIPATION REVENUE) BOND DISTRICT FOR THE TESSERA DEVELOPMENT.
V. PRIORITY PROJECT UPDATE:
A. AAA BASEBALL STADIUM
B. ENTERTAINMENT CORE RETAIL
C. DOWNTOWN PARKING
D. BEAUTIFICATION
E. 10 NORTH VIRGINIA STREET
F. POST OFFICE
G. RETRAC COVER – PHASE I
H. WEST STREET MARKET
I. WHITEWATER PARK EXTENSION

12/30/08 - MONTAGE LOOKING FOR REAL ESTATE AGENTS - Hello all, I am back! Sorry for my lack of posting the past 10 days but the holidays were crazy times for me. So, from the tiny snippets of info I am hearing, things are apparently going well over at the Montage; better than expected given the situation. Cory, the broker for the Montage, emailed me in a frantic state because things are so busy in the office. They are looking for a few qualified real estate agents. He asked if I could put up the snippet below, since a significant number of my readers are agents, brokers, etc.
The MONTAGE, Reno's premiere urban development, seeks fulltime licensed real estate sales agents to start immediately. Applicants must have new home sales experience while being enthusiastic and knowledgeable about downtown redevelopment. Compensation details will be shared with qualified candidates.

Forward resumes and references to cory@themontagereno.com. No walk-ins or calls.

12/20/08 - DOWNTOWN WALK - CONSTRUCTION UPDATE - High resolution construction pictures of the Ballpark, ReTRAC Cover, State Street Project, Montage, Townhouses at Holcomb Place, and the Center Street office project. Click here for the gallery, and for a high resolution version of any picture, click the enlarged version in my gallery for the 12 megapixel version. You can really see details of the ballpark in particular this way.

12/17/08 - BREAKING NEWS: FIRST STREET ABANDONMENT - It appears the Waterfront folks will begin grading the site for construction, cleaning it up, and putting the green fences back up as early as next week and a monthly maintenance staff will be assigned to keep it cleaned up until construction begins. Men Wielding Fire is very interested in occupying the building that was supposed to be a sales office for the Waterfront, on the corner of 2nd and Lake. The Waterfront folks intended for that building to be temporary, and it will most likely be torn down in 2 years, but in the interim, RDA staff will see what it takes to open the building for Men Wielding Fire for temporary permits instead of permits for a permanent building, since it's really not a permanent building.
Timeframe moving forward - subject to tenants and general market, two restaurants on riverfront portion of the property will be first to go vertical construction. They will start building out the master plan on tenant by tenant basis. Vertical construction won't happen until they have the two tenants finalized, but they will start grading and prepping the property early next week. Economic conditions are holding up acquisition of tenants, but they do have interested parties for the restaurant spaces.

12/17/08 - VARIOUS TIDBITS - Lots of tidbits so let's get to it;
GOTCHALKS - Yes I was a little slow in reporting this, a slightly bigger issue seemed to take the stage. Gotchalks will be closing next week, but they did find a new location in South Reno so yay for them. The building will be demo'd in January to make way for the plans shown below. These plans may have changed since I came across them.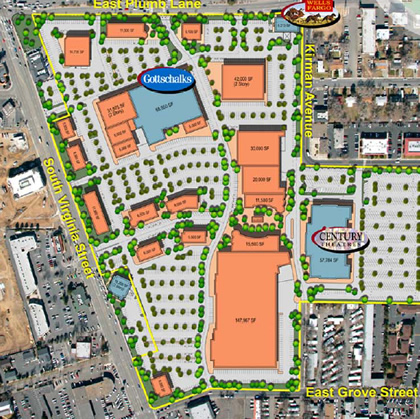 LONGS DRUGS: Longs Drugs future continues to be on hold as CVS Pharmacies, who purchased Longs Drugs brand/chain, works on their expansion plans. I believe Longs has an 8 year lease in the building.
NEVADA DISCOVERY MUSEUM: As you can probably guess, this recession is affecting most projects out there. In NVDM's case, it's slow but steady. They continue to raise money for the project, nearly $9 million. They are now working with several local banks on a financial package that will allow them to begin construction early next year. The building is ready to go, click here to see my tour from a while back. They need your support. If you would like to volunteer, donate, be a supporter or would like a tour of the building, the folks at NVDM are MORE than accommodating. Call Gretchen at 775-786-1000.
BASEBALL UPDATE: Despite freezing temperatures and snowfall in Northern Nevada, construction on the Reno Aces brand-new, $50 million downtown ballpark has continued, and the project remains on schedule to be ready for the club's April 17, 2009 home opener against the Salt Lake Bees. Devcon Construction has worked at full force on the stadium throughout the winter in the face of weather-related challenges. Where temperatures have prevented the pouring of concrete and the application of stucco at times, crews have worked efficiently to make major strides toward the completion of the underground clubhouses located down the third base line and the building's exterior framing.
The metal framing around the box office area is now complete and is readily visible from the roadside. Additionally, metal framing for the home and visitor clubhouses are nearing completion. The ballpark's sprinkler heads have been installed and all heating, ventilating and air conditioning units are now in place. Crews are now in the process of shoring up the entire perimeter of the ballpark structure, another important aspect to construction as the stadium takes shape. And yes Bugsy, I will get pics as soon as I can :)
RUBICON DELI - 445 California Ave across from My Fave Muffin - Nice. Ate here for lunch yesterday. Check them out. This deli was previously located in Tahoe City and has a large following. They use fresh ingredients, fresh meats...you know...a real deli! Here's a pic;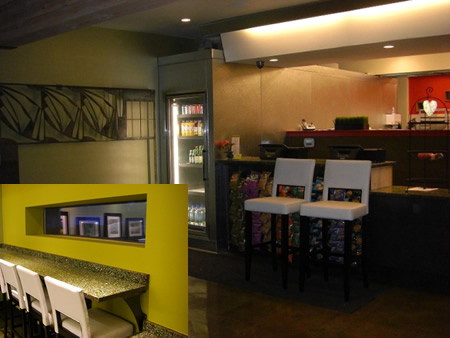 NEW BOUTIQUE STORE ON CAL AVE - Speaking of new finds on Cal Ave, a new boutique has opened.. It originally had the name 'The Park' in front of it, but has since changed to something more exotic sounding but couldn't catch the name on my quick drive-by.
RSCVA LEASE - Supporting retail for the baseball district moves one step closer with the lease agreement being presented to the city council today for the first floor of the National Bowling Stadium. This would allow Nevada Land II to develop retail on the majority of the first floor, and I believe the empty incomplete space south of Plaza St. as well.

12/15/08 - STATEMENT FROM FERNANDO LEAL - Hello all. I received this email from Fernando today;
Mike:

I was not able to do the interview on Friday due to legal reasons, not known to me prior talking to you on Wednesday. In the interim, I am sending you the opening statement that would have preceded my answers. It appears below.

I believe this statement is very relevant because it frames the context of what I deemed as "good news". Our present situation with The Montage is less than optimal, but let's keep things in perspective. The building is 100% completed and we have numerous buyers who can't wait to move in and will now receive discounts I would have never been able to offer. There is no drama here. No one died. Nobody was cheated. No corners were cut. We invested, we delivered, and we lost. That's business. There will be time in the near future that I will be able, and happy, to answer your questions.

Opening Statement

First of all, I want to make clear that I do not speak for Corus Bank, but only my situation as it relates to The MONTAGE.

The purpose of this statement is not intended to be a marketing vehicle. It is intended to provide information to the numerous people who depend on Downtown Makeover for the latest news on the redevelopment of downtown Reno. Numerous stories are developing about the status of The MONTAGE.

I am not an economist, attorney nor can I predict the future. I am simply one of many people who have invested their time, money, heart and soul into helping transform downtown into an area we can all be proud of. I am also a person who does not like to state the obvious, but in this case it is warranted.

The economic conditions that currently exist are horrendous. The world has changed from when we first envisioned and planned The MONTAGE. I am not happy about our situation. I spent the last three years building a project that I truly believe in, and managing, to the best of my ability, the things that were in my control. Now, when I am at the finish line, we are confronted with unprecedented economic challenges that I have zero control over.

In economic times such as the ones we find ourselves in, I am learning that the definition of "success" is relative. Success to me today is the enormous pride I have in being part of an incredible Team. A Team that transformed a rundown property into one of the most incredible residential buildings in the United States. A Team that developed an incredible relationship with each and every subcontractor that worked on the job. A Team that will deliver a project free of any mechanical liens or lawsuits from anyone who worked on the project. A Team that was never late on a payment to the bank. A Team that got to the finish line with a vast majority of the people who joined us at the starting line. A Team that was very active in championing many of the redevelopment projects currently underway. A Team that may have tripped along the way, but always got right back on their feet and kept moving forward.

Most importantly, a Team that remains committed to this community and to supporting anyone or any project that contributes to the redevelopment of downtown Reno.

Fernando Leal
12/14/08 - WATERFRONT DEVELOPMENT - Wow quite a roller coaster ride last night in the comments area yeah? Before I move on I wanted to say I appreciate all of your support and kind words. Regarding the Montage, we'll all know soon enough what is going on as the deal is finalized. And for the record, I don't believe it was Fernando that actually cancelled the interview, it's my logical guess that someone on one of the parties' legal teams didn't want anyone talking to the public until all of this was done. I was told it was for 'legal reasons' so that makes sense. In the meantime, there's news to report.
So here's the run down: As most of you know, Waterfront stalled out a few months before it was to break ground, because the design ended up being over budget. However First Street was still abandoned by the city, and one of the conditions of abandonment was a requirement for Waterfront to secure an-least-$10,000,000 construction loan by December 31, 2008 or else the city could record the deed. (not sure what that means but I think it means they could take back the street). After the Waterfront Tower project stalled, there were rumors Specialty Finance went back to the drawing board and soon they whipped up these, which I reported on previously. Well now, according to city documents, the design has been scaled back even further to something manageable (see below), and describes it as "a phased-in commercial complex consisting of restaurants, retail, office, and eventual residential living units (see architectural renderings). The new Waterfront Complex would provide commercial amenities designed to complement the urban riverfront character along the Truckee River Esplanade and would serve as a catalyst for attracting new commercial businesses to the riverfront and ballpark district."
The City documents go on to say that correspondence has been received by City Attorney's Office from Mr. Nello Gonfiantini (the Waterfront) legal counsel declaring the conditions of the Deed of Trust have been met, although he has yet to show verification.
So what does this mean? Well, it sounds like the Waterfront is still very much active, even though it's now tower-less, that's ok, it looks great (see below). Now it could be that the loan was secured just to appease the city until a larger chunk of financing could be secured. I have learned to never rule anything out. But the documents wording is phrased differently; something usually isn't coined a 'catalyst' unless its something that promotes or causes rapid change. Also, I have googled 'Waterfront Reno' a million times throughout the past couple of years, and the only thing that came back in the search results was this site and Reno Discontent. Now all of a sudden this site turns up in the search results. hmmm....you can click the image below for larger version.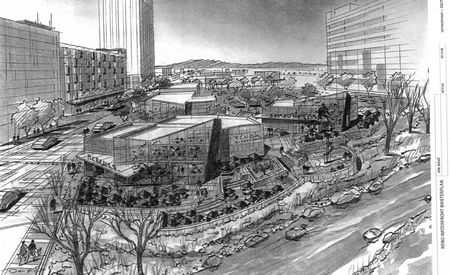 12/13/08 - MONTAGE DISCUSSION - So that's that. I didn't get my interview, so all we have to go on is the letter a buyer emailed me. I tried to at first find some positive news in this, but was immediately struck down on other blogs as trying to spin information. Definitely not something I was trying to do. I was told this was good news by L3, but its hard not to get around the core fact that it's returning to Corus and L3 is no longer in charge of it. I'm hoping soon we'll learn more details. In the meantime, what do you all think about it?

12/13/08 - MONTAGE BUYER LETTER UPDATE: Well due to legal reasons, I wasn't able to get an interview with Fernando after all. Hey I tried. However I did get ahold of the letter sent out (thanks to a Montage buyer who sent it in). Read below:
Dear Buyer,
It is with a heavy heart that I inform you that L3 Development will no longer be the owners of The MONTAGE. The loan with our lender, Corus Bank, is up for renewal in December and my partner and I have made the very difficult decision to return the project to the bank once completed. This was a business decision strictly driven by the uncertain economic conditions that currently exist on a global scale.
In the coming weeks, we will complete a "deed in lieu of foreclosure" transaction, which is essentially an amicable transfer of ownership back to Corus Bank, thereby avoiding any foreclosure procedures. A Deed in Lieu is very rare in that it requires two willing participants and a project that is free of mechanics liens or other encumbrances. We have had an incredible relationship with Corus Bank and hold them in the highest regard, which has helped make this difficult situation very amicable.
Corus Bank is full of incredibly bright, experienced and ethical business people who are experts in the development of for-sale condominiums. It is my sincere belief that Corus Bank understands and values the goodwill that has been established by L3 Development over the last three years and will do everything possible to preserve and expand on it.
Now on to the good news: I am very excited to say that we have enthusiastically accepted an offer from Corus to assist them in the management of the project going forward. This will help make the transition seamless to our buyers and will ensure that every aspect of the project moves forward expeditiously. Managing other people's projects is not our business. But, in this case, given our commitment to the redevelopment of downtown, our neighboring projects, and most importantly to you, our buyers, we felt it was the right business decision.
We will have certificates of occupancy for the entire building no later than next Wednesday, December 17th. We originally had planned on phasing occupancy, with floors 6-22 being the first delivered in November. However, we felt it was in all stakeholders' best interest to take this time to complete the negotiations with the bank and to deliver the building in its entirety. We invested significant amounts of money to further upgrade numerous aspects of the exterior of the building, interior finishes and common areas throughout the construction process. I am very proud to say that many aspects of The MONTAGE have been completed to specifications that exceed the original architectural plans.
And now some fantastic news: several weeks ago I provided to Corus Bank for their consideration an analysis of recommended pricing adjustments of all existing contracts, as well as the balance of the unsold inventory. They have agreed to my recommendations and will be providing a final sign off in the next few days. This will allow us to contact you in the very near to disclose the dollar amount of discount that will be extended to you. I also want to be clear that Corus Bank is not obligated to reduce the price of existing contracts. In my opinion, the fact that they have agreed to do so is clear evidence that they are aware of the current economic climate and will do their part to achieve the highest degree of customer satisfaction possible.
I am also currently working with Corus Bank and other lenders to explore the possibility of creating a program to provide interim and end loans to buyers who are struggling to obtain financing. I want to be very clear that Corus Bank has made no commitment to provide any credit programs at this time, but is giving serious consideration to this request and should decide within the next 30 days.
Now that the building is 100% complete, and we are very close to having final direction from the bank as it relates to pricing adjustments, we will be moving aggressively to initiate closings and occupancy of the building in January. It will be an exciting time in downtown Reno.
I sincerely believe that The MONTAGE is in a very unique situation compared to countless new projects throughout the country. The MONTAGE is the premier vertical residential property in Reno, a market not over-saturated with similar or like product. It will be many years before a building with the variety of living options, amenities and quality of The MONTAGE will be developed in downtown Reno. I believe that this is a unique opportunity for every buyer.
I realize that numerous questions will arise from this letter, many of which I may or may not be able to answer at this time. However, I will do my best to keep you up to date as soon as information and direction from the bank becomes available. In the interim, I am available to you, as always, via phone or a face-to-face meeting.
In closing, I would like to assure you that our commitment to this community, specifically the revitalization of downtown Reno, is not diminished by this very tough situation. It is our intention to remain very active in the community and be staunch supporters of all the new projects that are expected in the coming years. We are very proud of the product that we have delivered and hope that it will serve as both a catalyst for continued development, and as the bellwether that all future projects will be judged by.
Sincerely,
Fernando Leal
Managing Partner

12/10/08 - MONTAGE NEWS - GIVE ME YOUR QUESTIONS: I've been getting a lot of comments and emails lately regarding the Montage, from both buyers and residents alike. I just left a meeting with Fernando Leal, and I am happy to report that the rumors of his/Montage's death are greatly exaggerated. He had just finished 2 days of negotiations with his banker, Corus, and was very positive about the outcome. Although I know some of the details of these negotiations and resulting outcome, he asked me to take a vow of silence until he first communicates the good news to the existing buyers, which he intends to do on Friday morning. He has offered me an exclusive interview Friday afternoon which of course I'll post right away. I have an open forum for questions, he invites your participation, so I'd love to hear any questions you have for him. You can put them in my comments area by clicking the orange button below, and I'll ask Fernando the questions when I interview him.

12/9/08 - MAIN STREET STIMULUS TO BE DISCUSSED: On December 10 and 11th at 10 a.m. in City Council Chambers at City Hall, 1 East First Street, the Redevelopment Agency and City Council will be holding special meetings to discuss the current fiscal situation with the City, and to prioritize projects for a special Main Street Stimulus Package. What is the Main Street Stimulus Package? Upon coming to office President-Elect Obama will provide an economic stimulus
package as one of his first orders of business. The terms of the Main Street Stimulus Package have yet to be finalized but many local, state, and national organizations, lobbyists, congressional delegates and others have speculated from President-Elect Obama's weekly addresses that this package will request projects that 1) are ready to begin construction within 3-6 months, 2) will create jobs, 3) support green technology, and 4) support general industry and economic growth. Some of the organizations that have begun compiling lists of possible projects including the US Conference of Mayors, the American Public Works Association, and the National Association of Counties. Several cities in Southern Nevada have also begun compiling lists.
On December 2, 2008 staff submitted a list of City of Reno projects to the US Conference of Mayors to be included in their lobbying activity. In this upcoming meeting, City Council will review President-elect Obama's comments and prioritize the list of City projects based on the four criteria listed above. City staff noted that if funds become directly available to the City for construction projects, the projects ranked as the highest priority should be those bringing the most long-term benefit(s) to the community.
These strategic investment projects would continue to serve the public after the initial funds for the project have been spent. So what projects are on the list?
See below or click here to print a pdf. Let's discuss! Of course, me being me, it's hard not to favor downtown related projects on the list such as replacing all the bridges, doing the South Virginia Facade, Downtown Events Center Solar Project, etc. So what's your opinion? What projects should be at the top of the list? Perhaps a Virginia Street Light Rail project? Demolishing the Kings Inn? Covering even more of the train tracks downtown? They are all on the list. Comments button is below the project list. You can zoom in and out of the flash document below by clicking the far right arrow in the icons below and click Zoom In or Zoom Out.


12/9/08 - BUSINESS TIDBITS: Slightly off topic, I'm not sure what Amendment 21's secret is, but to have a bar packed to the brim on a Tuesday night in this city is pretty amazing. Just picked up a pizza from there. Anyway, I noticed a new shop setting up space where Starbucks previously was, on the corner of Sierra and 1st Street. Wow that didn't stay vacant for long! It looks like a boutique store of some kind. Also, 7 people now emailed me about a deli that opened on Cal Ave behind St. James Infirmary, called Rubicon Deli at 445 Cal Avenue. Me thinks I'll have to check this place out for lunch tomorrow! Also, according to NNBW, the Legends Hotel/Casino project at Legends at Sparks Marina has been put on hold indefinitely until financing can be secured, and when it is finally built, it will be a slightly scaled back version of the original concept.

12/6/08 - DOWNTOWN RENO CONSTRUCTION PICTURES: In additional to the West Street Market opening coverage in the post below, I have some construction pictures as well' pictures of a nearly completed 275 Hill Street with an active construction crew around it, and also the State Street Project, whose construction crews were just leaving when I arrived. All of the foundation is complete. Hill Street is not on my normal walk pattern downtown and I was surprised to see the building nearly complete. I didn't even know the project, which has been listed on my site a while, was even active. Click here to see the pictures

12/6/08 - WEST STREET MARKET PICTURES: Opening day at West Street Market on West Street in downtown Reno was fun. The place looks amazing, even with not all the tenants ready yet. West Street Wine Bar had a nice clean design to it, mixing in with the old portions of the building well. Brickhouse Bakery was yummy as usual, and Earthly Delights looked like they had some really yummy sandwiches, although I didn't try any at the time, the line was a bit long. I love the open beam ceilings everywhere, and the entire market has a real urban downtown feel to it. Click here to see the pictures.

12/6/08 - MORE WEST STREET MARKET OPENING PICTURES: Project Eco-brand posted some great shots of the opening of West Street Market as well. Click here to view.

12/4/08 - HOLIDAY SIP AND SHOP: In addition to the events listed below, also check out the Reno Riverwalk Holiday Sip and Shop event, also on Sat. Dec. 6 downtown, starting at 2 p.m. Click here for the flyer info.

12/4/08 - VARIOUS TIDBITS:
WELLS AVE CHRISTMAS LIGHTS: Stories like this make me giddy with excitement. The businesses of Wells Avenue teamed up to purchase and install their own Christmas lights on every candycane light pole along the redeveloping avenue, with no help from the City. In particular, Engravers of Reno, Mr. Magic car wash, "Blue" hair salon, Rapscallions restaurant, Truckee Meadow Herbs, Papi Anastassatos, HAWC Health Center, Dandelion Deli, Nevada Camera Repair, Taco Johns, Bill Glaser Hair salon, PJ & Co. Restaurant, Sierra Repair, UPS driver Terry sponsored the lights. The lights look great, and I plan on getting some pictures of the festive avenue this evening to post. Neighborhood Pride!
LEAVE REDEVELOPMENT AGENCY ALONE: It's probably not a shock to my readers that I think it's a bad idea to eliminate any staff from the Redevelopment Agency. Mark Lewis, in a recent Citizens Advisory Committee meeting, mentioned with 8 redevelopment priority projects in RDA1, and several in RDA2, plus the time required to process the various bond applications on the table (I count at least 4), that he wish he had MORE staff on hand. Cutting staff from this agency could slow redevelopment to a crawl. Jobs are created from redeveopment projects, and if we have some in the pipeline, all of which would create construction jobs, reducing staff would slow down the process of getting these reviewed and pushed forward. It doesn't make sense when just last month they wanted additional members for the Citizens Advisory Board, which reviews redevelopment projects every month, so that 'Redevelopment Area 2' projects get proper attention and discussion.
WEST STREET MARKET FESTIVITIES: Don't forget, this Saturday is the grand opening of West Street Market. There will be activities all day long, along with some amazing performances. The festivities are too extensive to list here so click here to get a full schedule and directions.
LEAR THEATER HOLIDAY FESTIVAL: Right around the corner from West Street Market will be a fun filled day on the grounds of Lear Theater. If you get a chance and you're downtown, stroll over to the Lear Theater. Click here for details on this event.
WATERED DOWN: There are several areas in town, mainly my neighborhood, where an obscene amount of liquor stores have opened. 14 to be exact, on Wells Avenue. The council has taken notice, due to concerned residents. Wells Avenue has 10 well-established bars and those aren't the problem. The problem is packaged liquor, and the type of people who tend to lurk around those stores. So the City wants to issue a moratorium on issuing new liquor licenses.
However, I completely disagree with Dan Gustin's comment in yesterday's meeting on the number of bars that have turned up on California Avenue and downtown. Unsavory bars on California Avenue? Certainly he can't be referring to Saint James Infirmary and Satellite and Strega lounge, can he? I can think of a couple of 'unsavory' bars downtown which shall go unnamed, but the majority are decent bars. Some of my faves? Amendment 21, Strega, Red Rock, 210 North, Satellite, Sierra Tap House, Silver Peak (downtown location). Be careful about stifling one of downtown's primary reason for the 20-30 something crowd to come downtown in the evenings and socialize. The popularity of wine walks, beer crawls, santa crawls, zombie crawls, etc grew immensely over the past year.

12/1/08 - AN INTERESTING HISTORY: Ok I am going to rant here a bit. As noted two months ago, the Fitz quietly closed its doors over the weekend. It wouldn't do Reno residents justice not to mention it and pay tribute to a casino that has been open over 30 years. On my walk today, I had a discussion with a couple of Reno natives in their 60's today, two guys outside of a coffee shop on Cal Ave who happened to be talking about the Fitz closure, old enough to know the demise of several Reno casinos downtown. After some discussion, they pointed me towards this web site, which is one of the more fascinating reads I have had in a while. If you don't feel like reading the whole thing, scroll down to 'The Cause of Casino Deaths' passage. This was written before L3 Development purchased the Fitz, but still relevant. It is based on a book by the University of Nevada Press on the history of gaming in Reno. According to this, Fitzgeralds was basically sacrificed by its parent company to try to save other properties in Vegas from going bankrupt. The Reno casino was its only profitable operation, so that profit was siphoned to other failing properties while at the same time making little to no maintenance upgrades or improvements to the building. That ultimately caused Fitzgeralds to file for bankruptcy, almost close, but remained a ward of the court until it was purchased by L3. There were a couple of failed attempts to purchase it in between that time as well. What's fascinating is the Fitz wasn't the only casino this happened to. You'll have to excuse me if I am pointing out the obvious, I have only been here 14 years or so and didn't quite know the history of downtown casinos to this extent. Is this an accurate portrayal of what really happened? If so, this, combined with Ken's theory of corporatization mentioned in my comments area, is your answer to the beginning of the end of private casinos downtown. What annoys me a bit is none of this was mentioned in local media coverage of the Fitz closing over the weekend. I look forward to seeing new life given to this aging building. After everything the Fitz has been through, it deserves to be reborn and given a top-to-bottom facelift.

11/30/08 - ULTRA-HIGH RESOLUTION BALLPARK CONSTRUCTION PICS: Greetings all! Sometimes webcams just aren't enough, so here are some high resolution full size Reno Aces Ballpark construction pictures taken today. I also included a few of the Townhouses at Holcomb Place; I was impressed with the street lighting they installed.
I don't normally upload the full original images, but it helps to see detail when projects have a very large footprint. As the gallery runs, click any full-size image when it displays to get the high resolution version. All pics taken with Canon Digital Rebel Digital SLR 12 Megapixel EOS Camera. Click here to access the gallery and see pictures.

11/30/08 - BRICKHOUSE BAKERY NOW OPEN: I hope you all had a great Thanksgiving. Brickhouse Bakery, located in the West Street Market on West Street between 1st and 2nd Streets, is NOW OPEN! That's right! The wait is over! I have been waiting for their lemon cookies ever since the farmer's market shut down to make way for the indoor market a few months back. It's been a long-time dream for these folks to open up a bakery, so please please make your way downtown and make them part of your shopping routine for fresh breads, pies, cookies, and more.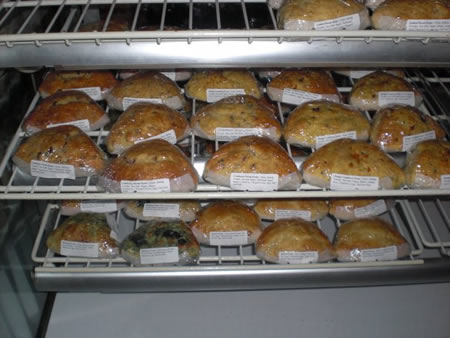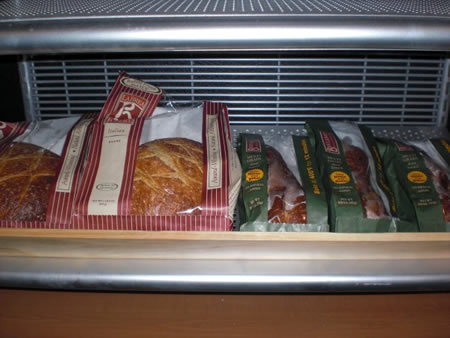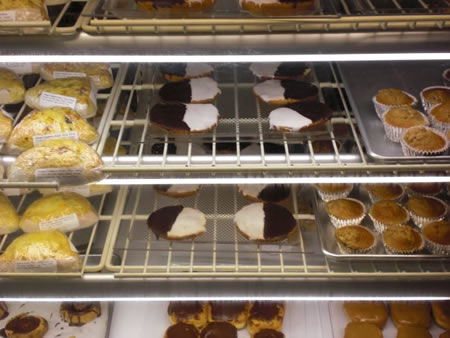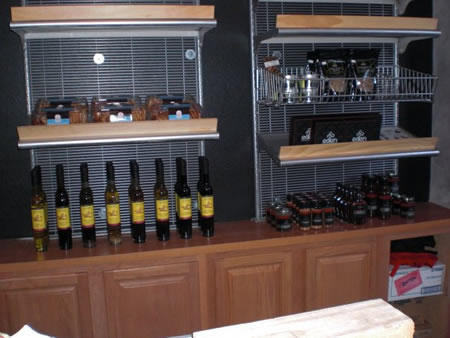 11/25/08 - 100 NORTH SIERRA: LET'S DISCUSS - So I received an interesting email the other day, from someone associated with or interested in 100 North Sierra. This building, located on the corner of 1st and Sierra, across from Silver Peak, is on my list of eyesores for downtown. So this person who emailed me thought it would be good to gauge public opinion on what you feel would go best in that building, to quote him 'I think this property is missing the creative inspiration from the people who would benefit most from it. It would be interesting to see what the people, who frequent downtown, would want this property to become. I'm a full believer in the downtown redevelopment process and would love more reasons to go there. Most great downtown areas are jam packed with bars, café's, boutiques, and eclectic shops, this property can accommodate all of the essential elements to a vibrant downtown." If you've never been in 100 North Sierra (also known as the PC Penney Building), it's three floors plus a full basement floor. I'm never one to deny a reader some discussion, so let's talk about it in the comments area! What would be ideal here? I'm not sure just more plain ole retail is the answer, I'm thinking some service oriented businesses, like a dry cleaners, dog groomer, perhaps a Trader Joes. Maybe a museum? A science center?
It would be my guess that since interior renovations haven't started yet, that little to none of the space is leased yet, thus delaying the project. I remember something about a beauty school going in the upper level, however I haven't heard anything new in months.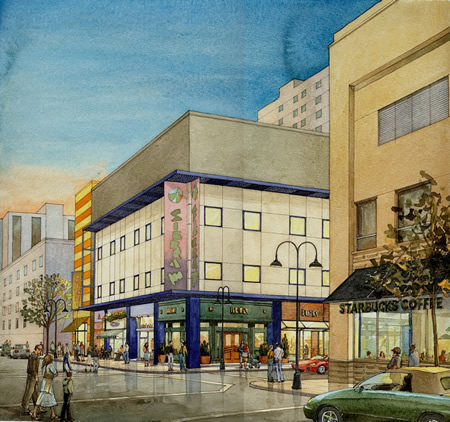 11/25/08 - EXPANDED LIST OF HOLIDAY FUN:
Here's an expanded list of stuff to do downtown this weekend:
Wednesday
City of Reno Tree Lighting and Ice Skating Rink Opening 4:45pm City Plaza
Over Vert 9pm $TBA Satellite Cocktail Lounge
Turkey Crawl - Follow-up to the Zombie Crawl, starts at Amendment 21 at 8pm
Thursday
Sam Hui 7pm $78-$168 Reno Events Center
Thanksgiving Potluck Feast w/ Guest DJ 9pm No Cover Satellite Cocktail Lounge
Friday
Overun DJ Night Steven King, Trox, Eric J, Imaj, more 9pm No Cover - Red Rock
Green Jelly, Rosemarys Billygoat, The radioactive Chicken Heads 9pm $TBA Tonic Lounge.
5thirty5 9:30 Free - Davidsons Distillery
Mark Castro Band 9:30 Free - 3rd Street
Saturday
Nevada Backwards w/ Sleepy Sunshine 9:30pm Donations Accepted - Red Rock
Jelly Bread w/ Nevada 10pm $5 - Tonic Lounge
Dirty Load Party 9pm - 5 Star Saloon

11/24/08 - GET INTO THE SPIRIT:
GET YOUR ACES GEAR: Get your Reno Aces gear at the Reno Aces kiosk inside Meadowood Mall. Purchase sweatshirts, short-sleeve and long-sleeve T-shirts, hats and winter knit caps in addition to collectable baseballs and miniature bats and youth apparel.
NBA D-LEAGUE OPENER THIS SATURDAY: I had the privilege of attending a VIP party to watch the Reno Bighorns practice and meet the team dancers. Judging from that, we're going to have some serious gameplay happening! Come out and support your NBA-D team. First team to get gouged by the Bighorns will be Bakersfield, Reno Events Center, 7 p.m. Saturday. Tickets: $10-$40.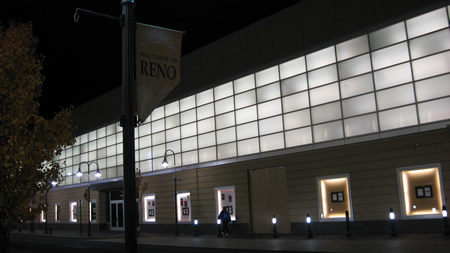 HOLIDAY TREE LIGHTING AND RINK OPENING - Join Mayor Bob and City Council members as they light up the holiday tree at City Plaza. Prior to the tree lighting, Billinghurst Middle School Choir will serenade attendees with holiday carols. Immediately following the lighting, the ice rink will be open for the first skate of the season. Yeah! Sounds like a nice family outing. It's Wednesday, 11/26/2008 4:45 PM - 5:30 PM. Ice rink opens right after that. (sorry Lofty in Reno, forgot to post the times initially.

11/15/08 - OTHER NEW RENDERINGS: Below are some additional renderings including the proposed facade improvement on Virginia Street. Click the image to enlarge.



Facade Improvement on South Virginia - click to enlarge




Shopper's Square Expansion - No larger rendering yet sorry :(

11/15/08 - BETTER 10 NORTH VIRGINIA IMAGE: Someone at RDA was gracious enough to send me a high rez photo of the new 10 North Virginia design. Click the image below for the high rez version. I like the colored bar lights that face the plaza. Check it out! What are your thoughts? I think its awesome this Pappas guy has been so aggressive about pursuing this project; many developers would have given up in the first go-around. If you are new to this site or to Reno, the history of this project is very long, very controversial, and laden with mistakes on everyone's part involved. The Mapes Hotel once stood on this property, located between Virginia and Center Street, and between 1st Street and the Truckee River. Efforts were made to try to save the historic hotel, but no investor wanted to touch it with a ten foot pole, saying it's bones were not salvagabe...so amid much controversy it was demolished. The City of Reno vowed to build a public space. Alas, what you currently see on the property was built. However the next stage was not without its fair share of controversy and anger as well, by all parties involved. To make a long story short, it involved many many redesigns, last minute revisions, substantial construction cost increases, many many canopy redesigns, and city officials became so frustrated the project was halted and put out to rebid. Then, money set aside for the 'landmark' ice rink canopy was diverted to other redevelopment projects (I 'think' it was the ReTRAC cover or the Virginia Street beautification, I can't recall which one). Even still with the 'landmark' style canopy in jeopardy, 3 new developers submitted bids, and two ultimately pulled out, leaving John Pappas. He was chosen, and came forward with a design that, well, was less than well-received by the City Council. They wanted something with pizzazz, something with some punch to it. At the time I felt maybe they went a little far with their criticism, but I also understand that this is prime riverfront property that serves as a 'gateway' to city hall. So skip to present. After a substantial redesign, this is what we have (click below for high rez image). What do you think? I say it looks great, let Pappas build it already.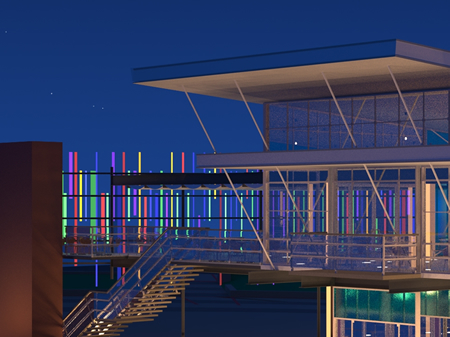 11/9/08 - DOWNTOWN PROJECTS CONTINUE: Here's a great article by Susan over at RGJ on downtown. As a bonus, I 'think' this is a new rendering of the 10 North Virginia building after going through a vigorous redesign. RGJ didn't label it but the inset looks like 10 North Virginia plaza. I like it! Mr. Pappas did a good job with the design. Now it's up to the CAC and City Council to approve it. A Lake Tahoe based restaurant is rumored to be on board with the project. Also mentioned is the Montage and myriad of other projects.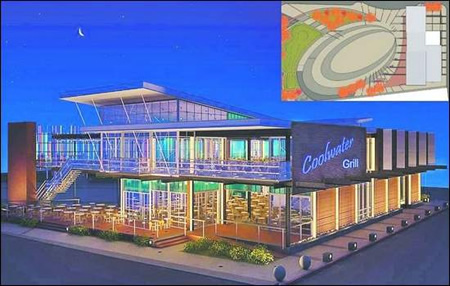 11/8/08 - DOWNTOWN CONSTRUCTION WALK: I ventured out this morning to take some pics of downtown for yall. Included are detailed pics of the Ballpark construction, ReTRAC, 4th Street Transit Station, Townhouses at Holcomb Place, West Street Market and State Street Center. Click here to see the pics.

11/8/08 - CENTER STREET WALK: Tucked in between Virginia Street and Holcomb is a lively little street that has managed to hold its own. It's not really in any neighborhood plan or redevelopment district, yet its high percentage of businesses adaptively re-using old homes for offices and restaurants gives it a historic feel that's hard to find in other parts of the city. So I took a stroll down Center and snapped some nice pics showing off the mature trees' fall colors. Click here to check out this cute little neighborhood!

11/6/08 - VARIOUS TIDBITS: Greetings all! Hope everyone had a happy election. Let's get to business:
CITY COUNCIL: First of, congrats to all the incumbent council members for retaining their seats, including Pierre, Jessica, Dave and Dan. It seems Reno feels these guys are doing a decent enough job to re-elect them...so congrats!
WINGFIELD TOWERS: Look what project crawled out of the woodwork again. Wingfield Towers is asking to extend the time to submit their final tentative map from 2 to 4 years. It's been about 2 years already, so extending it to 4 years would give them 2 more years to get their act together and find funding.
EVANS AVENUE: There is a request to abandon only the east side of Evans Avenue for the Ballpark project, between the train tracks and East 2nd Street.
DONATIONS: $150,000 from the Nell J. Redfield Foundation and $1,734 from the Convent of Carmel of Our Lady of the Mountains for FY 08-09 Operations at the Community Assistance Center. I think that's great.
KINGS INN: Our favorite luxury pigeon coop will be up for auction again on the courthouse steps November 26. $3.5 million will buy you a lovely 60's chic 'fixer upper' adorned in a retro-classic mustard yellow color scheme.

11/6/08 - REDEVELOPMENT AGENDA ITEMS: Some goodies buried in here:
WEST STREET MARKET: Items continue to flow through the RDA pipeline for West Street Market. Looks like they will be starting phase 3 soon. I wasn't able to attend the CAC meeting because it was on election day, but as far as I know, this will still be soft-opening late this month.
BASEBALL DISTRICT: Approval of a Consulting Agreement with Meridian Business Advisors in an amount not-to-exceed $48,000 to assess the economic and financial feasibility of a mixed-use project for the Baseball District being proposed by Nevada Land II, LLC.
GSR: Now this is perplexing. I was told by a couple of sources that Nevada Land II was no longer a player for GSR but apparently those sources are wrong because an approval of a Consulting Agreement with Meridian Business Advisors in an amount not-to-exceed $48,000 is on tap to assess the economic and financial feasibility of a mixed-use project anchored by a tourism destination center specializing in retail and entertainment venues surrounding the Grand Sierra Resort being proposed by Nevada Land II, LLC. So what's really going on at GSR? So many mysteries.
JOB EXPO: The Redevelopment Agency will be holding a job expo Wednesday, November 12, 2008 between 10:00 a.m. - 4:00 p.m. I haven't received a press release yet on it, but I think it will be at the Ballroom downtown.

11/3/08 - ZOMBIE CRAWL - DOWNTOWN RENO: This was a fun night. 19 bars participated downtown, although I only made it to 5 or so before I was zombied-out. Every stop on the Zombie Crawl was packed to the brim with people having fun. Click here for a few pics. Also, click here to view pictures from the Haunted Courtyard event at West Street Market.

10/31/08 - THE MONTAGE: Yesterday, Northern Nevada Business Weekly published a blurb on Corus Bank. The blurb was short, and basically said "Corus Bankshares, a Chicago lender, says it's placed a $126 million condo construction loan in Reno in the nonaccrual category. Corus doesn't identify the borrower and doesn't say what it plans to do about the problem loan."
Within a few hours of that being published, before I even knew about it, people connected the dots and I received scores of emails about it, and I overheard a particularly nasty conversation while eating lunch at one of my mid-day haunting grounds. "Is the Montage closing?" "Is the building shut down?" Those are the questions being floated around, and it's apparent from some of your emails that a lot of you, myself included, don't know what a nonaccrual category means, or what the article in NNBW means.
I tracked down Fernando Leal from L3 Development, who is on a bicycling trip. And he said "The fact is we are and always have been current with our loan. We have zero financing issues as it relates to completing the project. The article simply means to state that our loan is up for renewal in the coming months and we are working diligently with Corus Bank to try and structure a relationship going forward that makes sense for all parties involved, most importantly our buyers."

10/30/08 - VARIOUS TIDBITS:
THE BUG: The black Volkswagen Bug has been removed from the old firehouse building just to the east of the Wells Avenue Overpass. The 'art' was removed at the request of a developer who will be converting the building to lofts (schweet!).
ARLINGTON RETAIL: The skateboard shop that occupied the front part of Arlington Towers is gone, the space once again vacant. Also, with Se7en moving over to West Street Market very soon, I hope these spaces fill up with more retail soon.
ZOMBIES AND TREATS: The two big events Friday night, and where you will find me, is at the West Street Market Halloween bash and construction preview, from 5 until 8 p.m. at the West Street Market Plaza in downtown Reno. Go and check out the construction progress thus far and get some fun treats. ALSO, DO NOT MISS the Halloween Event of the night, the much-anticipated ZOMBIE CRAWLdowntown. 19 bars, can you handle it? It starts at 8:00 p.m., click here for details. Don't miss it! Or Tommy Inglis will come after you.
HOTEL/CASINO NEWS: In the next planning commission meeting Atlantis is asking for a 4 year extension on expansion projects. Also, anyone notice that the Holiday Inn on Sixth Street has changed to Reno Plaza Hotel? (The vinyl paste-over sign is first-class lol).
WELLS AVENUE TIDBITS: Lots of stuff going on in my neighborhood. Various portions of our newly passed Wells Avenue Neighborhood Plan are coming to fruition. Many residents volunteered for the Roots for Wells program, where 100+ trees will be planted first east of Wells, then later west of Wells Avenue. Volunteers surveyed the entire neighborhood for properties with parkways (the piece of land between the sidewalk and street in older neighborhoods) most suited for the new trees to be planted by the Urban Forestry Division. Also, nearly all of the east-west streets between Holcomb and Wells (Taylor, Wonder, Moran, Stewart, Thoma, Roberts etc) will be getting new streets, curbs AND sidewalks very soon. And even more exciting, volunteers who live in this area are currently surveying properties to turn our neighborhood into a conservation district. This further solidifies this area as an up and coming historic district. Next year, we'll get bungalow district signs! I heard a rumor an independent hardware store will be calling Wells Ave home soon too....stay tuned!

10/30/08 - ADDED GREAT BASIN FOOD COOP PAGE: Tucked away just of of Wells Avenue in the bungalow district, The Great Basin Food Co-op is a food cooperative that involves many local farmers and vendors. Basically, you become a lifetime member, and you get access to the store and direct fresh produce, vegetables and other goodies from local farmers and vendors. It's an amazing concept for locavores, people who like to consume locally grown foods and products. Click here to learn more.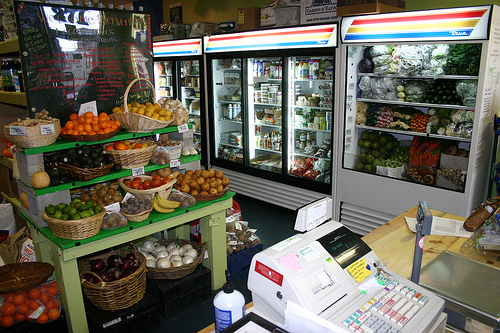 10/30/08 - RENO ACES: Reno Aces season-tickets go on sale today. Nice! There are five packages available for the Triple-A baseball team that will begin play downtown in April. Prices range from $8-25 per game, and tickets are available now.
Category
Season Ticket
Price Per Game
Single Game Price
Home Plate Premium
$1,800
$25
$29
Infield Premium
$1,368
$19
$23
Infield Reserved
$864
$12
$15
Outfield Reserved
$720
$10
$12
Right Field Reserved
$576
$8
$9
General Admission
N/A
N/A
$7
General Admission-
Kids 3-12, Seniors 62+, Military
N/A
N/A
$6
10/22/08 - BRICKHOUSE BAKERY: I hope Brickhouse Bakery doesn't mind me borrowing these from their facebook page, but I couldn't resist, it's a rare glimpse inside one of the buildings of West Street Market in downtown Reno as construction progresses to the November soft opening.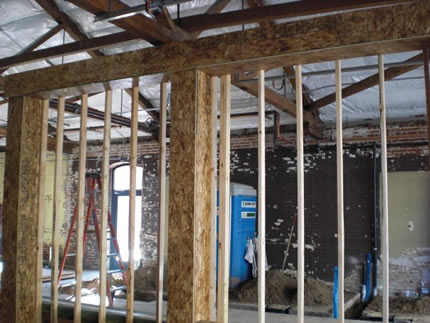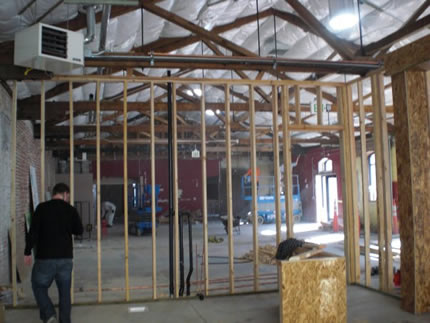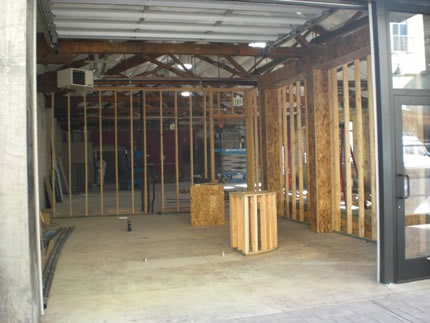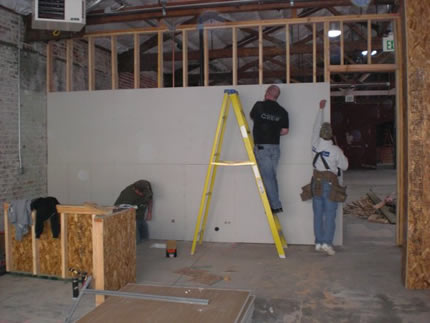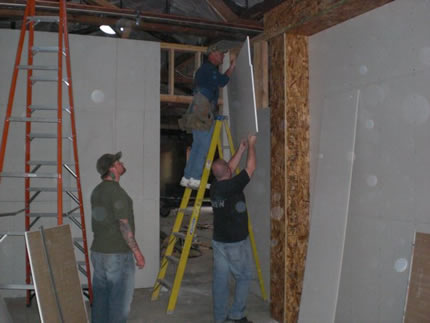 10/20/08 - DOWNTOWN WALK: CONSTRUCTION PICTURE UPDATE: Greetings all. I ventured out yesterday to take some pictures of what's going on downtown. Included in this batch of construction updates is the Ballpark, Townhomes at Holcomb Place, ReTRAC Cover, 4th Street Transit Station, Montage, West Street Market, the State Street project, and more. Click here to view the pics (slideshow will launch automatically when you click link).

10/20/08 - DERMODY LOOKS TO REHAB DOWNTOWN OFFICE BUILDING: Northern Nevada Business Weekly has a great article on an office building at 445 S. Virginia which was recently purchased by Dermody Properties, and plans include an exterior re-do on the facade and a courtyard on the portion that faces Sierra Street.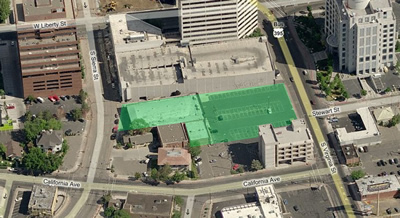 10/17/08 - NEW GREEN STORE DOWNTOWN: On my every-so-often trek to Newman's Deli on California Ave, I noticed a new little eco-store opened shop just north of the Starbucks on Stewart Street. It's in the back of the green building across from the Federal Courthouse on Stewart, and you can clearly see it from the Starbucks parking lot. So, I had to check it out. It's called EcoReno, and they have a suite of earth-friendly products. Co-owners Marc and Morgan Tiar decided that they needed to help effect change in the world by supplying people with goods to help reduce waste, buy recycled, and live in more sustainable ways, so the husband/wife team decided to open a store downtown. EcoReno carries a variety of goods including household products, pet supplies, and composting aids, as well as an extensive selection of natural personal care products. The emphasis is on practical items that will reduce waste, encourage conservation, educate, and avoid pollution in the environment. Go and check them out! They are located at 18 Stewart Street, Suite B (around the back). For store hours or further information, they can be contacted at 775-GO-ECO or on the web at www.goecoreno.com.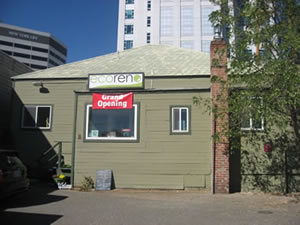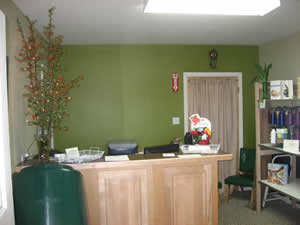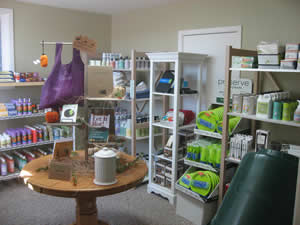 10/11/08 - MONTAGE APPRECIATION PARTY PICTURES UPLOADED: Montage appreciation pictures have been uploaded check them out by clicking here, you might see yourself! Overall it was a great party, and I think everyone, from the future owners to the construction workers who worked so hard to build the Montage, felt appreciated. The building is breath-taking. There's no other way to describe it. Eva, Fernando, Melissa, Larry, Cory, Patti, Bree the interior decorator, Sasha, Ron and the rest of the Montage staff went all out. Silver Peak was there doing beer, Imperial serving wine and food, Brickhouse Bakery, soon to be in West Street Market, had desserts covered.

10/08/08 - CITIZENS ADVISORY COMMITTEE MEETING REPORT: Updates include Facade program, 10 North Virginia, Post Office Project, Whitewater Park, and more. Click here to read all of the updates.

10/6/08 - FIRST LOOK: FACADE IMPROVEMENT PROJECT DETAILS: Sorry the pictures are in black and white, I extracted them from the City of Reno's staff report links pdf. I'm sure I'll get hold of the color ones shortly. Here is a first look at the details proposed for the Virginia Street Pilot Facade Improvement Program. It calls for facade improvements for buildings between 2nd Street and Commercial Row on South Virginia. Click here for the pics.

10/4/08 - GSR ACQUIRED BY JP MORGAN - THE DEEPER STORY: This isn't super surprising news, I had reported a while back that JP Morgan had taken financial control of Grand Sierra Resort, but now it looks like one of its subsidiaries will be taking official ownership over it, according to RGJ. Right before the credit crunch happened, there were 3 or 4 buyers vying for the resort. I'm not sure what happened with those deals, or if they weren't able to happen because of the credit crunch.
A while back, in July, I got two emails from two different shareholders apparently from one of the companies looking to acquire GSR. They were both surprised that in a previous post, I had named Nevada Land II LLC as a company interested in acquiring GSR, because these two shareholders thought THEIR company was the only one putting in a bid to buy it. That's why they contacted me via this site. After a little investigative reporting on all our parts, we discovered there were at least 4 parties interested in buying GSR, and that JP Morgan had given Tom Schrade an ultimatum to sell the property within 60 days 'or else.' Hmmm a coincidence that now it's almost exactly 60 days later? I wonder if this new breaking news is the 'or else' part and NONE of the interested buyers were able to come up with financing to buy it, including Nevada Land II LLC, who was rumored as having difficulty coming up with the cash to buy GSR. We knew at that time Schrade was on his way out, whether he sold the property to a private party or, as this article states, JP Morgan acquiring it. One of the shareholders learned that Nevada Land II LLC was interested in more of a partnership with GSR (probably acquiring a portion of their 145 acres), and the other buyers wanted to purchase GSR in its entirety,
So now JP Morgan owns it. This to me means one of three things, based on the information I received from those shareholders...either none of the parties on the table were able to come up with financing due to the credit crunch, so JP Morgan pulled the plug on all of them and acquired it, OR, JP Morgan acquiring it is part of a transition to one of these buyers, OR, these shareholders were actually from JP Morgan's subsidiary, Credit Markets Real Estate Corp, who ended up acquiring it.
I know these two shareholders aren't full of hot air, because they sent me the quarterly report from their company that listed GSR as a property their company is/was aggressively pursuing.
In any case, so what now? As rosy and positive as that RGJ article is, I doubt JP Morgan has any interest in running and operating a casino for an extended period of time. I don't believe anything that spews out of GSR's mouth at this point, because there was ANOTHER GSR article in RGJ when I broke the news Nevada Land II was interested in acquiring GSR, in which Tom Schrade said the water park was still being built, yet he knew GSR was soon going to change hands. Back in that post on this site, I had used the analogy that it would be like me selling a house, and promising to surrounding neighbors that the new owners will spend gobs of money improving the property. You just can't make promises like that, especially when you don't know who the new owners will be, which Schrade didn't at the time.
So, say goodbye to our indoor waterpark? Probably, unless a private corp comes in and snatches the property up. I doubt GSR will receive any major property upgrades while JP Morgan owns it. I can't imagine the number of lawsuits from the owners of those hotel-condos.

9/30/08 - FITZGERALD PROPERTY PREPARES TO ENTER NEW PHASE – CLOSES NOVEMBER 25 - I was really excited back in November 2007 when it was announced L3 Development acquired Fitzgeralds, because it made perfect sense at some point in the future they would do something special to the Fitz because of its proximity to the Montage. It looks like L3 Development is setting those plans in motion by closing the Fitz on November 25, 2008 as part of its transition to a non-gaming centric boutique hotel. 475 employees were notified this morning, and will remain employed until Fitzgeralds closes. They will have resources on hand to assist with new employment opportunities.
The 351 room hotel has an interesting history, starting in 1976 and then spending years in bankruptcy. When it was purchased by L3 Development in November 2007, it was the first time in years private hands owned it. Being bank/conservatorship owned, you can imagine the maintenance nightmare L3 Development inherited when they bought the building. Since then they've put in $3 million improvements to Fitzgeralds and the acquisitions of adjacent properties.
Rob A. Cashell Jr. stated this has been an extremely difficult decision for the management team. "We recognize that Fitzgeralds is a place embedded in deep history, nostalgia and significance for downtown Reno," he said. "Many of our team members have been with Fitzgeralds for many years and each one has contributed heavily toward what made Fitzgeralds a success in its day."
"These type of decisions are painfully difficult," said Cashell. "However, there is momentum building in the revitalization of downtown Reno and we believe that the Fitzgeralds and associated properties are critical components to continuing the redevelopment started by The Montage, and most recently by the covering of two blocks of the railway corridor by the City of Reno."
At present, L3 Development is nearing completion of the former Golden Phoenix Hotel and Casino into The Montage, a 380-unit luxury residential and commercial development. The Montage is scheduled to open late-October 2008.
"Taking into consideration the completion of The Montage and the initiation of the Retrac Plaza, it is now time for us to turn our focus on the transformation of the Fitzgerald's collective parcel," said Fernando Leal, managing partner of L3. "There is never a good time for people to lose their jobs, but we sincerely believe that now is the time to shift to a different business model and that the ultimate result will be a net gain in jobs and economic vitality for the community." he added.
I'll be having a sit down one-on-one again with Fernando, probably next week, to discuss the plans for the Fitz. Stay tuned.

9/27/08 - DOWNTOWN CONSTRUCTION PICTURES: EAST DOWNTOWN: I took a stroll around east downtown today, taking some great overhead shots of the baseball stadium being built, progress on Townhomes at Holcomb Place, 4th Street Transit Station site work, some downtown shots, and State Street Center project. Click here for the pictures.

9/26/08 - VARIOUS TIDBITS - Construction is continuing at full speed ahead at the Baseball stadium. I'll be going and grabbing some pictures this afternoon. Also, construction continues at the State Street Project, and site work has started for both the 4th Street Transit Station and the Hyatt Summerfield going in on 2nd street across from the Ballpark. Construction is in full swing at the Townhomes at Holcomb Place again after a bit of a lull, and construction continues on the LEED certified office building going in on Center Street across from 8 on Center. The Montage is looking very sleek with its exterior lighting now functional, large white columns installed on 2nd and Sierra Streets, and more landscaping planted. I'll get pics of all this today, but I wanted to give everyone a general construction update as well.

9/23/08 - NEWSFLASH: The Triple-A baseball team will be named the Reno Aces.

9/15/08 - CENTRAL RENO WALK - Justin W, who regularly contributes to this blog in the form of pictures, comments and scoops, recently went out on a stroll around central Reno, including Virginia Lake, Idlewild Park, downtown Reno, Old Southwest, Wells Avenue, and Rancho San Rafael Park. Virginia Lake is looking really nice with a pier, gardens, walking paths, and Virginia Lake Crossing compliments the area perfectly. I can see why they sold 19 units last month. In this age of sprawling cookie-cutter subdivisions outside of the McCarran loop, it's great to see so much diversity in architecture, art and style, and reminds me why I chose an older fixer-upper with great bones in the bungalow area of Wells Avenue. We have a really beautiful mature city core with some amazing parks for this city's size. Click here for the pictures. Thanks for letting me post these Justin!

9/15/08 - DOWNTOWN WALK - Hi folks! Time for another construction progress gallery. I have some good close-up interior shots of West Street Market, some shots of the now-resumed State Street Center project, various downtown shots and the Montage, which is looking really nice. Click here for the pics.

9/11/08 - BRIDGES, LOBBYISTS AND EXPANSION OH MY - Hi readers, sorry I didn't get this up yesterday, I am on a massive deadline for web site I am working on. This is a LOT of info to report so bear with me.
From the RDA Meeting: First item up was Longs Drugs. Only addition to what was I reported in a previous post below was a comment that Longs has a 15 year lease on the space. They are hoping for some resolution within a month or two when acquisition is finalized. Last item was the Bug on top of the building next to where the new post office is supposed to be located. Jessica wants the bug relocated - because "developer of 8 on Center is interested in redeveloping the building underneath the bug." Nice! Dick Scott's comment about scrap metal might have been a bit extreme but thats ok. Everyone has a different idea of art. Everything else was kind of a free for all. Mark Lewis started on B1, then went to B3 an B4 and B5. They kind of all got mixed together so here are the highlights (in no particular order).

Expanding the Redevelopment Districts : Peppermill wants to be ADDED to Redevelopment Area 2. So does Atlantis and probably (though not mentioned by name) soon-to-be-Stations Casinos. They also probably want potential target acquisition parcels included. At one point, in the discussion of what ought to be added, Cashell said "both sides of Virginia all the way down to Kietzke." On the west side, that would add parcels from Peppermill on the North down to Kietzke. On the east it would add in the Atlantis parcels and perhaps the surrounding real estate over to Kietzke. Another area mentioned by Lewis in regards to possible RDA activity was the "Linden Grove" area (which is already in RDA2). Grove is just south of the Park Lane parcels and Linden in the next street south that runs parallel to Grove (east of Virginia). The three casino interests WANT to get RDA help. My guess is the two existing and one potential new Convention Center casino interests they are ticked off by the proposed Baseball/NNUD type deals and want some "equality." The focus of the meeting quickly turned to doing something to "help infill and redevelopment" along South Virginia.

Now, with me seemingly being downtown's most known unpaid unofficial lobbyist, you would expect me to be up in arms and throwing a fit about this. Normally I would, however there are some things to understand about how redevelopment agencies function before drawing up any quick conclusion about this. This is how it was explained at a recent CAC meeting; Redevelopment Area 1 has a limited life span. I can't recall exactly when it expires but I think it's about 20 years or 15 years from now. It's life span cannot be extended. That may seem like far into future, but in terms of issuing bonds, tax increment districts, and other redevelopment tools, it's right around the corner. Redevelopment Area 2's life extends well past that. Eventually, RDA1 will be choked on its ability to use these tools and become a 'lame duck' of sorts. So, by including the Peppermill, Atlantis, and future Stations Casino across from the Convention Center and a slew of smaller businesses along Virginia St in RDA2, that increases the tax base dramatically for the agency, bringing in much more tax revenue into the coffers for RDA2. In my opinion, if we have no choice in RDA1 expiring, I would like to still have the Redevelopment Agency around in some capacity helping neighborhoods that are in far worse condition than downtown. Perhaps at some point in the future 'RDA3' can be created for downtown to continue its development streak when RDA1 expires.

Citizens Advisory Board Expansion: The Peppermill and the others also want "adequate representation on the CAC" OR another CAC for RDA2. The Council seemed to prefer one CAC, which is what I agree with as well. Dick Scott and Jim Hunting (CAC Advisory Board members) wanted a small addition to the existing CAC - to go from 7 to 9 members. Jessica and Karaselli wanted it increased by "at least 5 members." Council finally opted to advertise for new members, then take a close look at who applied and then make a decision as to how many new members might be added. It was pointed out that two members would have to leave in Dec (term limits?). My guess is that they will end up with 11 members on the new Citizens Advisory Board - 5 existing and 2 replacements and 4 new. In my opinion, I don't think we need two different Citizens Advisory Boards. I go to the CAC meetings, and can tell you firsthand there is room on the agenda to hear RDA2 projects as well. Most meetings only last 30 minutes or so, unless a really good discussion begins, and the CAC Board itself discussed this at the last meeting, and all agreed they can handle the extra load without an additional CAC.
They also discussed a "Master Plan" for all of the RDA area that would allow the creation of a more inclusive plan. Again, Peppermill clearly wants the RDA to shift its focus SOUTH.

HEEEEEELP: RDA is swamped with projects and needs staffing help. Community Development personnel who are not busy with the building downturn will be reassigned to help. RDA has a lot of irons in the fire with different UNR gateway related projects or potential projects. RDA is also exploring a possible mixed use affordable housing deal on RR property somewhere along the trench. Lewis proposed a $500K or so Master Plan RDA study. Council liked the idea of "a plan" but had questions about spending a lot more money on an outside consultant. Dick Scott said "use CAC" we can hold meetings and sort through ideas. Others suggested internal study. Jessica wanted more code enforcement. City may try to reassign someone from another department to help out.

City Hires Lobbyist - The other big outcome of the meeting is the city has hired a lobbyist consultant. The city is VERY WORRIED that the governor and state legislature - faced with a huge state budget crisis - will start rewriting revenue sharing agreements to siphon money away from the local governments (like the city) and augment the state's revenue. They are not only hiring the consultant... they are also hiring a paid staffer who will also perform lobbying duties. Several comments were made that this is going to be the toughest legislative session in state history. Faced with a governor who refuses to raise taxes in any way (let's save politics for great blogs like Reno Discontents ), they expect a bloody battle between state and local interests over who gets what out of the shrinking revenue pie.

(Downtown Bridge Visioning Presentation) - The presentation discussed various bridge types and possibilities and gave some rough cost estimates. Two types of "above supported bridges" were mentioned - "Tied arch" http://en.wikipedia.org/wiki/Tied_arch_bridge and "Cable stayed" http://en.wikipedia.org/wiki/Cable-stayed_bridge . However, the picture of the cable stayed bridge that he presented essentially looked like HALF of a normal cable stayed bridge with the tower on ONE SIDE of the river and the cables extending across the river in only one direction. The rendering had two towers on one side of the river - one supporting angled cables along the west edge of the bridge - the other supporting angled cables along the east edge of the bridge.
He also showed a rendering of a "below supported" bridge that looked much like the current Center St bridge with a single bridge piling in the center of the river.
He presented two cost projections - for 74 year protection and 100 year protection. 100 year protection was the so-called locally preferred alternative. Both protection levels require replacing FOUR bridges - Sierra, Virginia, Center and Lake.

Below Supported 74 year - $54.2 million
Below Supported 100 year - $57.8 million
Above Supported 74 year - $63.1 million
Above Supported 100 year - $66.3 million

These costs assume 2 foot clearances above the respective flood stages. If that freeboard is increased to 3 or 4 feet it will add $2 million or $4 million more to the respective total costs.

Considerations of above vs below supported bridges:
* Above supported have higher initial cost
* Above supported create more visual impairment (supports block the view)
* Below supported will have to be cleared of floating debris in high water (long term cost and traffic obstacle)
* He seemed to downplay the earlier concern about a below supported bridge needing to have a higher ramp. Ramps for a 100 year flood protection with 2 feet of freeboard were said to be from 1 foot to 5 1/2 feet depending upon the individual bridge with Virginia St listed as 3 feet. For 74 year protection Virginia St needed a ramp height of only 1' 7" - so the other bridge ramps would probably drop by a similar amount.
Feds will pay most if not all of the cost to replace Virginia St bridge as it is in bad shape. They will pay some of one other bridge and virtually none of the costs of the other two. Replacement would be spread over several years with Virginia St (worst condition) first, then Lake (biggest clog), then Sierra, then Center St (best condition) last.

9/7/08 - UBER-GREEN BUILDING MOVING FORWARD - HAS TENANT - Northern Nevada Business Weekly reports that the uber-green office building now has a tenant slated for it when its done. The building is really cool looking (see rendering below) and will be one of the first GOLD LEED certified buildings in the area.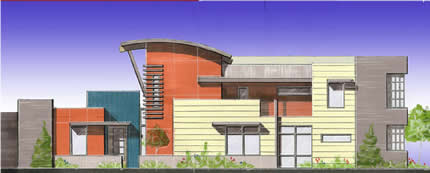 9/6/08 - LEGENDS RGJ ARTICLE - Great article on Legends, on track for opening Spring 2009, except the part about the hotel casino is a little worrisome. Click here to read.

9/6/08 - MANGROVE ART INSTALLATION - When you get a chance and are walking downtown, check out the Mangrove, a collection of interactive urban art located at Sierra and Island Avenue.

9/6/08 - MONTAGE OPENS NEW WEB SITE - So after much hard work, both on my behalf and my fellow coworkers, JM Studio has built a new web site for the Montage! I think it's much more user friendly now that the entire thing isn't in flash, and hopefully it will help increase sales.

9/6/08 - LONGS DRUGS UPDATE, SO CLOSE, YET SO FAR AWAY - Some answers are given in the upcoming RDA meeting on what happened/what is happening with Longs Drugs.
A while back it was reported that there were some issues with gaming licenses and that was holding up the opening of Longs Drugs. In the last update to the council in July, this wasn't mentioned so I am assuming it was solved. The City Council, growing a little impatient with the whole situation, requested that Longs Drug show some good faith toward the opening of the store by applying for a permit to build some kind of forklift enclosure in the alley. It was also requested that staff continue to work with Code Enforcement and Community Development to legally permit the parking lot for use. A Longs Drug representative was contacted after the July 16, 2008 City Council meeting with those requests from the City Council. At that point in time the representative for Longs Drug agreed to continue progress on the store opening and apply for a forklift enclosure building permit. This was one of their last issues that kept the store from opening according to the representative. Recently however, plans for opening were dealt another blow when Longs Drugs was notified of a possible acquisition of all Longs Drug Stores by CVS Caremark Corporation. Due to this new development the Longs Drug Company has put all expansion plans on hold, including the Reno store. Until the acquisition is complete, the status of all Longs Drug Properties is unknown. The merger will likely be complete at the end of September, so perhaps we'll finally know the fate of the ill-fated Longs Drugs downtown sooner than later. Let's hope CVS sees the value of opening a Longs Drug/CVS downtown.

9/6/08 - RDA2 PRIORITY PROJECT SELECTION - The City of Reno's redevelopment districts are actually split up into two primary maps, RDA1 and RDA2. RDA1 is the traditional downtown area we discuss so much on this site. RDA2 includes parts of east downtown, South Virginia Street, Grand Sierra Resort and a few other areas I am not sure of because it's been a while since I have viewed or been able to find a map of the districts.
In the next RDA meeting, the Redevelopment Agency Board will soon classify and select priority projects for this area, primarily at the request of Jessica Sverazza, who wanted to know what projects were going on in this area when it was proposed RDA2 loan RDA1 money to pay for the CitiCenter property. So below is a list of current and proposed projects that fall within the RDA2 district. Which ones would you like to see as priority projects?
South Virginia Street Beautification
The first project suggested by Council for this list was Virginia Street Beautification, and this was brought up as a priority at the July 16, 2008 City Council/Agency Board meeting. This project extends along Virginia Street from Liberty Street to Kietkze Lane, representing approximately six miles of sidewalk and other possible improvements. The project seeks to create a unique pedestrian-oriented environment to support the South Virginia Street economy, improve the scale and lighting to create a memorable "public living room" and encourage increased business activity. This project involves the creation and implementation of design standards including improvements to streets and sidewalks and placement of street furniture, lights, and trees. The estimated cost for this Priority Project is $20 million. It should be noted this could easily be split into sections to be completed over time as funding becomes available.

UNR Gateway
Eighth/Ninth Street Retail Development This project extends north along North Virginia Street from Interstate 80 and will create an inviting entrance to the City and University area. The project involves improvements to North Virginia Street with the addition of street trees, lighting, street furniture and architectural features. The estimated cost of the project is $6 million.

Gateway: Plumb Lane
This project extends along Plumb Lane from the Airport to South Virginia Street and will create an inviting entrance into the City from the Airport. The project involves improvements to approximately three miles of sidewalk with the addition of street trees, lighting, street furniture and architectural features. The estimated cost of this project is $9 million.

Small Business Development
This project will assist in the business development throughout RDA 2 through the possible assistance of small business loans, grants or other necessary economic development mechanisms. The estimated cost of this project is $3 million.

South Virginia Retail Development
This project extends south along South Virginia Street and seeks to create a thriving business district south of downtown. This project will assist in business development through the possible assistance of small business loans, grants, façade improvement assistance or other necessary economic development mechanisms. The estimated cost for this project is $3 million.

Northern Nevada Urban Development Company
This project could be a public/private partnership to develop a mixed-use project anchored by a tourism destination center specializing in retail and entertainment venues within the RDA 2 boundary and is a suitable, viable project that would be a catalyst for economic development and tourism improvement for the region. There is also the opportunity to partner with this development to build the parking garage on the east side of Virginia Street, which has been identified as necessary in the Downtown Parking Study of 2006. Staff is now analyzing the costs of these partnerships.

Whitewater Park Extension (Sierra Street to Second Street)
The concept of recreational amenities for the Truckee River Channel in downtown Reno was first considered in the Truckee River Recreation Plan prepared on behalf of the Nevada Commission on Tourism. Wingfield Park in downtown Reno was chosen to be the first implemented and was constructed in 2003. This proposal would extend the Whitewater Park from Sierra Street to below Second Street in the vicinity of the proposed baseball stadium in downtown Reno. Although this portion of the Truckee River White Water Park is located in RDA 1 it is important to note that the majority of summer users are coming from neighborhoods in the surrounding RDA 2 area. Therefore it has been included as a possibility for a priority project. The cost is estimated at $6 million.

Master Planning for the RDA 2
It is important to work with the community and plan for the development of RDA 2 into the future. To this point no master planning has been done for the entire area. The costs are estimated at $500,000.

So there you have it...which ones would you like to see established as priority projects?

9/3/08 - CITIZENS ADVISORY COMMITTEE MEETING UPDATE - It's time for the novella that is my monthly CAC Meeting update. For newcomers, the CAC is an advisory committee of citizens that the Redevelopment Agency is required to report to. The CAC includes great folks like Jim Hunting, Dick Scott, Jim Litchfield, and others who care about redevelopment. An increasing amount of Reno residents are attending each meeting. There are a lot of important updates here so I'll get right into it. Special thanks to RenoSteve for attending when I couldn't make it.
Item V - RTC IN TROUBLED WATERS - Derek Morse gave a very good - but pessimistic - presentation regarding the massive underfunding of Reno Transportation Commission. By 2040 he says that waiting times in traffic will increase from an average of 2 minutes per person in 2000 to 47 minutes if much needed and underfunded improvements are not made to the transportation system. Total underfunding is estimated at about 6 Billion - 5 billion for roads and 1 billion for mass transit. He wants voters to pass two RTC 2 and RTC 5 in the upcoming election to help alleviate the underfunding. One adds 1/8 percent to sales taxes, the other adds an inflation adjustment to fuel taxes (he says that federal gas taxes have only increased 2 cents per gallon in the past 15 years - from 52 to 54 cents per gallon - which is absolutely nothing as compared with the cost of road construction and repair). Morse added that 9% cuts were now (October) being implemented to the mass transit system as a result of tax funding shortfalls and that the system faced another 25% cut on top of that in coming months if alternative funding could not be identified (or procured thru the two upcoming ballot measures).
Let me just thrown in my two cents here; Mass Transit is essential to any growing city. The cities that don't invest in mass transit are the ones which ultimately falter. Look at the mess Las Vegas is in now. A city is only as good as its core infrastructure. As ridership on our mass transit is setting new ridership records, we have to cut bus service because of lack of funding. There's something wrong with that. Reno is slowly but surely diversifying it's revenue sources with less gaming, and more manufacturing and tech businesses coming here. But businesses won't relocate here if we have a crappy transit system.
Item VI - COMMUNITY ASSISTANCE CENTER - RDA might be taking over the entire Community Assistance Center. Apparently - at a recent meeting - Reno, Sparks and Washoe County agreed to some kind of interlocal agreement to share funding for the operation and - at the upcoming Sep 10 meeting of the City Council - it is going to task RDA with running the whole thing. RDA is apparently going to seek RFPs for entities to run the various shelters (hoping to get one entity to handle them all) and they plan to replace Reno Police with private security contractors to lower costs. There was also discussion about trying to get private funding (an endowment maybe?) that would cover the large anticipated costs. They plan to try to get the entire "Tent City" removed by Nov/Dec and into other housing.
ITEM VIII: PRIORITY PROJECT UPDATE -
A) Baseball Stadium - Stadium itself is on track for April opening. When asked about the reported feud between baseball and RTC over bus access (or abandonment of the right of way) - by an attendee at the meeting - Jessica said that "as far as she knew" Evans would be closed to regular traffic but open to bus access. The questioner then said something like "can I quote you on that" or "is that a guarantee" and Jessica said "that is the way it is on the maps". Perhaps Jessica isn't aware of the new amendment to appear before the Planning Commission to eliminate bus access on Evans, because the maps included in THAT staff report show Evans as a pedestrian plaza south of Plaza Street. I'll say it again, I think it's a huge mistake to significantly reduce how the 4th Street Transit Station can be utilized when they have been planning that station for years now. In some more positive news, the ballpark retail is currently going thru design approval stage. Yay! Can't wait to see the designs. Hopefully they somewhat match the rendering below. Please, nothing 'plain Jane' or strip-mallish.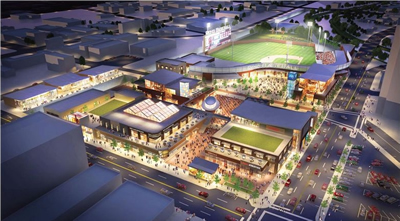 B) Entertainment Core - RDA has closed on the old RTC station known as 'CitiCenter' on Center Street across the street from the bowling stadium, and RTC is using the sales proceeds to start construction of the new transit station on 4th Street/Plaza Street/Lake Street. The plan for Retail under the bowling stadium will be unveiled at the Sep 10 City Council Meeting, however I didn't see any agenda items regarding this for the Sept. 10 meeting. Perhaps it will be included in a liaison report.

C) Two Downtown Parking Garages - If you aren't familiar, RDA is dedicated to building two parking structures downtown, one on the west side of Virginia St. and one on the east side. The 'West Side Garage' is almost a done deal - working through the final financial details. In the next week RDA guru Jessica Jones said they would be approaching "property owners" (which I took to mean that some properties will need to be acquired); perhaps the two or three remaining owners (other than Eldorado) on the southwestern portion the block that contains the Eldorado parking garage and parking lot??? As most of my regular readers know, I have consistently guessed it was the Eldorado that is the 'private entity' the city has been partnering with to build the garage (parking garages are simply too expensive for RDA/City of Reno to built it on their own). On the east side she said they were still exploring a "few" opportunities.

D) Both the Facade and Gateway Art (Savoy Motor Lodge Site) projects will be going public to some degree in the next month (I think).

E) 10 North Virginia Retail - Presentation to the subcommittee will happen shortly and will go before council in the next month or so.

F) Post Office - Sale to RDA will close in 3 weeks. Hoping to have parking lot relocated to north of the building in Winter/Spring. Hope to have Plaza construction start in summer 2009.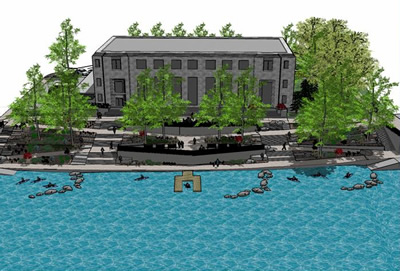 G) Retrac Covers - Phase 1 - one block mostly covered, expect project to remain on schedule. Phase 2 - Requests for proposals go out next month.

I) West Street Market - Next week or so they will install windows and "roll up doors" (perhaps on front of Northernmost building). Outdoor weekend markets are slowing and will soon end. Indoor construction is falling behind a bit and a later opening date is likely. Definitely not an October opening date however. Official opening date will be announced "relatively soon." Asked about the clock; It was originally depicted in the concept drawings but the council wants it placed somewhere on Virginia St instead. Permanent market spaces are 100% leased.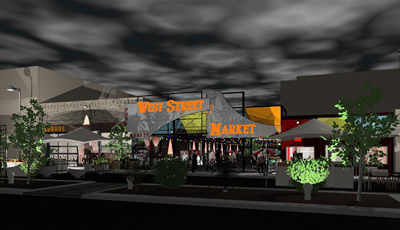 J) Whitewater Park Extension - Fluid Concepts (Jim Litchfield) has been selected to build the extension. Yay! If anyone knows water it's him. Funding is not yet secured but will be addressed at the Sep 10 City Council Meeting. I didn't see any agenda items regarding this, but that doesn't mean they won't discuss it. NOTE TO COUNCIL: Think long and hard about how much of a catalyst the first whitewaterpark was for bringing people downtown, and additional businesses downtown. Now, imagine the whitewater park 4 times the size it is now, and what that would do to downtown. Pleeeeeeease find funding for this :) It's estimated it would cost in the $4 to 6 million range for the addition. Why so much compared to the $2 million price tag of the original? Construction costs, raw material costs have increased dramatically since then, and it's a whitewater course 3 to 4 times the size of the current one downtown. With a whitewater course that size going through downtown, it would have a seriously positive impact on tourism.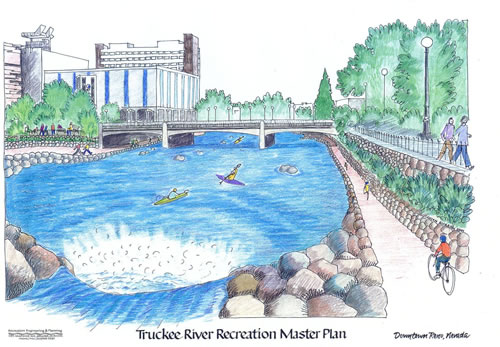 BONUS INFO: Hyatt Summerfield: In order to speed the project through complicated approvals, it has been separated into site work and building. Site work is approved - and expected to begin very shortly. Building plans are proceeding thru approvals and building construction will follow site work. Sounds like Basin St and RDA are both anxious to keep the project on schedule.

9/1/08 - OUTSTANDING ITEMS - I may or may not be able to make it to the Citizens Advisory Committee meeting on Tuesday, Sept 2. I have a pretty tight schedule. However there are some outstanding items of which I haven't heard much from the city on, so if anyone happens to go, including my normal tipsters, I would love to know the following; or if anyone from the city happens to be reading this and wants to chime in anonymously in my comments section, feel free to! :)
1. What's going on with the pilot facade improvement program? When can we (the public) see some concepts?
2. What's going on with the Bridge Lighting Project? The two Wingfield Park bridges look great, let's keep the momentum going.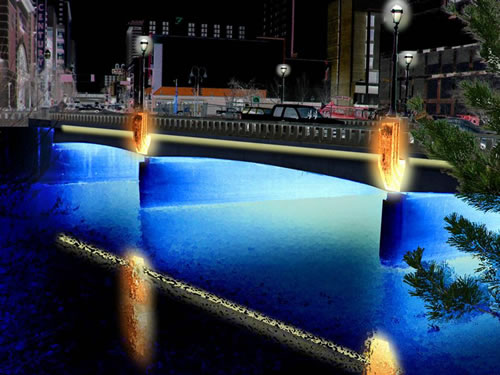 3. What's going on with the Hyatt Summerfield planned for 2nd Street across from the ballpark? It was to break ground in August...August is over and I didn't see any crews on site last week.


4. How did the recent 10 North Virginia Design Subcommittee go with Mr. Pappas and the proposed retail building? When can we (the public) see the revised renderings, of which the Redevelopment Agency is pretty impressed with?
5. Is the Ginsberg Clock from Park Lane Mall still a part of the West Street Market design?
6. Has an artist been chosen for the Savoy Motor Lodge site for 'gateway art'?

9/1/08 - BASEBALL FOLKS WANT EVANS TO BE PEDESTRIAN AFTER ALL - In Sept 2's Planning Commission meeting, the baseball park folks have an amendment to basically delete the provision that provides rights-of-way on Evans for buses to enter/leave the soon-to-be-built 4th Street Transit Station, and to make Evans a pedestrian-only plaza. However, RTC is saying not-so-fast. Eliminating their access on Evans makes the east-west orientation of the transit center less effective, only giving them Lake Street to enter and leave the transit station, and they also report that it will raise operating costs for the bus system. RTC has been planning the 4th Street Transit station for years, and the baseball folks chose the baseball stadium site knowing the transit station was going to be there. The baseball folks seem to think that buses and pedestrians don't mix, even though RTC sites successful examples in other cities that blend transit oriented development and pedestrian oriented development on a single street. Click here to read the specifics on why RTC thinks this is a bad idea (opens 13 megabyte pdf). So what do you think? Should Evans become Pedestrian Only below Plaza Street? Or should RTC have the say in what happens with Evans Avenue since their project was active loooong before baseball even came into the picture?

9/1/08 - LEGENDS AT SPARKS MARINA CONSTRUCTION PICS - Legends at Sparks Marina is starting to look like a real mall now, and Scheels is just enormous. Click here to see the pictures.

9/1/08 - DOWNTOWN CONSTRUCTION PICS - West Street Market progress, train trench cover progress, Montage progress, random downtown pics and some things that need cleaning up. Click here to see the pictures.

8/26/08 - THOMA LOFTS BACK ON THE RADAR - Interesting. Thoma Lofts may not entirely be off the radar yet, they are appearing before the next Ward 3 Advisory Board Meeting, and looks like they will be submitting a new tentative map on the September 3 Planning Commission meeting. They want to make the front setback a little smaller and reduce some kind of landscape buffer between them and a property south of them. LDC09-00016 (Thoma Street Lofts) - This is a request for: 1) a tentative map to develop a 33 lot work/live condominium subdivision; 2) a special use permit in lieu of a site plan review to develop more than 4 units and less than 100 units; and 3) variances to: a) a reduce the front yard setback from 18 feet to ±13.8 feet; and b) eliminate the 5 foot wide landscape buffer between the on site parking spaces and the adjacent property to the south. The ±1.29 acre site is located on the south side of
Thoma Street between South Virginia Street and Center Street in the MU/SVTC (Mixed Use/South Virginia Street Transit Corridor) zone.
8/26/08 - DOWNTOWN CONSTRUCTION PICS - Great pics of ballpark construction, train trench cover construction, and exterior construction on the Montage, as well as a couple humorous pics of the Kings Inn Guards. Click here to see the pictures.

8/24/08 - NEW POLL! - Ok it's been a while since I put up a new poll question. Not because of laziness, but because I like think of really good questions. Nearly 300 people voted on the last poll, and overwhelmingly, people would prefer a non gaming hotel downtown for both dining and entertainment. My new poll question involves malls. Given my post below about the new Park Lane plans, and Legends at Sparks Marina coming along nicely, and the major expansion of Shopper's Square, I'd like to know what kind of mall people like the best.

8/24/08 - NEW MONTAGE PICS - The Montage has posted new pics of construction on their web site. I 'borrowed' a few for the sake of this post below. Since the firm I work for is redesigning the Montage's web site, I have easy access to pictures! Click here to see all the pics. After seeing these pics, Montage definitely gets the award for best pool deck in Reno. Isn't it wild how close to the original renderings this building is turning out to look? We're not used to that in Reno lol. What that essentially means is L3 Development isn't skimping on any of the promised features or amenities.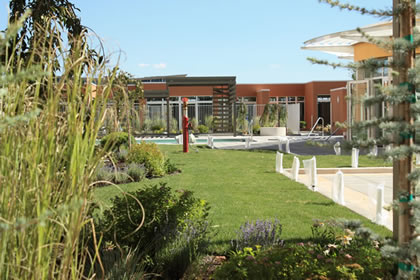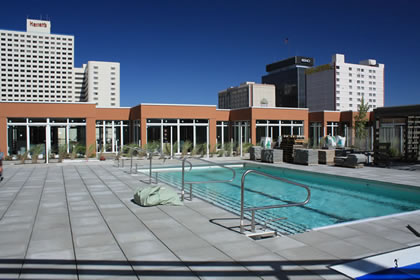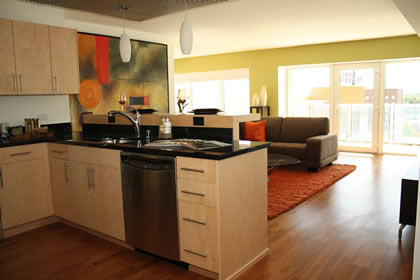 8/24/08 - PARK LANE PROMENADE? NOT EXACTLY WHAT I WAS HOPING FOR BUT... it's better than a vacant lot. A tipster did a little googling for me and found this pdf brochure of 'Park Lane Promenade', to commence construction this fall. I am a particular fan of completely indoors malls, like the old Park Lane and Meadowood Mall. It seems to make more sense in a climate with extreme temperature swings. However I am glad SOMETHING is planned for that property. http://www.merlonegeier.com/ these people seem to be in charge of filling the retail spaces. Click here for the full pdf or click below for a larger image. This should provide a real boost to Virginia Lake Crossing across the street. I am very interested in seeing what the actual buildings will look like, as the pic below is simply a layout/site plan rendering. We'll soon see!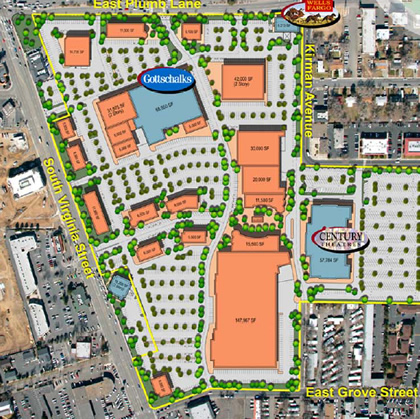 8/21/08 - DOWNTOWN WALK - West Street Market improvements, Montage exterior work and Townhomes at Holcomb Place. Take note of the captions for each photo, where I talk about little tidbits of info here and there. Click here to see the pictures.

8/21/08 - NEW POST OFFICE CENTER LOCATION - Redevelopment Director Mark Lewis teased the CAC for months on this item. "Nope can't quite divulge that yet" "I should be able to say that at the NEXT CAC Meeting" "Nope not quite comfortable enough in the process to say where the new location is." Well, the cats out of the bag in the newest Redevelopment Agency Meeting Agenda. B.2 Staff Report: Discussion and ratification of the Option Agreement between the Redevelopment Agency of the City of Reno and the Destiny Center for the option to purchase certain real property located at the corner of E. 6th Street and Morrill Avenue (APN 008-341-04), as the relocation site for the main post office. Also in that same meeting is the Discussion and approval of a Purchase and Sale Agreement in the amount of $5,100,000 for the downtown post office. The Post Office will keep operations there until their new facility is done...however the plaza might be started before that, I am not entirely sure on that.

8/21/08 - KUDOS TO SILVERSTAR COMMUNITIES - I'm not sure if it was because of my previous rant about their weed-ridden lot, or if they had planned to clean it up before I mentioned something, but the Grant's Landing lot is totally cleaned up and de-weeded. I had to do a double take when I walked by. So thanks! It's amazing how a bit of effort makes the difference between night and day in a neighborhood.

Before pic: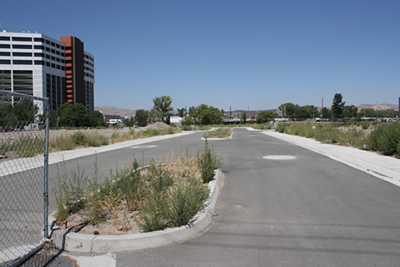 .
After pic: Yay!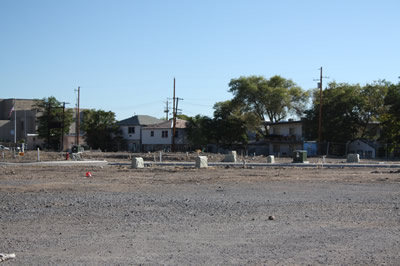 8/18/08 - WEST STREET MARKET PLAZA WORK - At the same time the trench cover is being installed, West Street Market work is feverishly underway, with half the plaza concrete laid already. Notice the texture work done on the concrete in the lower left of the pics below. I also noticed a stage-like footprint, or a possible kiosk area. Check the pics out below, you can click any to see a larger version.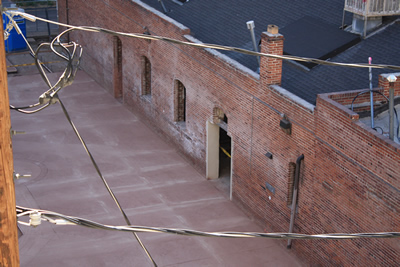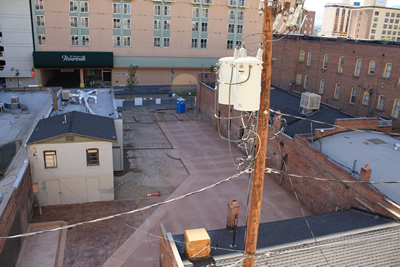 8/18/08 - TRENCH COVER CEREMONY PICS - I attended the trench cover first-girder laying ceremony today, which was kind of funny because half of the first bock of the cover has already been installed. As Dave Aiazzi said in his speech, it's rare a city has the chance to create new real estate...new land out of thin air. Fernando Leal and Greg Carano both gave passionate speeches about the coming transformation of downtown because of this project. Both played a very active role in getting it done. It will be exciting to see Phase II go in. Here are some great pics of the trench and Dave Aiazzi, Bob Cashell, Fernando Leal, Dan Gustin and Sharon Zadra speaking, as well as people signing the girder. Click here to view the pics from the event.
Also, click here for great pics of what Phase 2 of the trench cover project might look like.

8/15/08 - TRUCKEE RIVER EATS AND SWEETS - Received a nice write up in Reno News and Review. If you haven't stopped in yet, they have just about everything you could ask for including a lot of local foods.

8/15/08 - FINALIZED WEST STREET MARKET TENANTS - Alrighty here is a list of the West Street Market Tenants. The indoors spaces are now 100% leased. These don't include the traditional local farmers that will show up on Saturdays; these are the indoor tenants.
1. West Street Wine Bar: Featuring a wide variety of wines.
2. Brickhouse Bakery: Chris Tisdale will make his own baked goods and also offer "the best of Reno" products from bakeries around town.
3. Burger Me: Featuring the food from Mark Estes, chief of entertainer, Paul McCartney. The eatery features seasonal, locally grown ingredients including all natural beef and turkey burgers. Estes, a local restaurateur, recently opened a Burger Me in Truckee and the lines are forming outside the door.
4. Earthly Delights: Prepared fresh foods, including all kinds of fresh salads.
5. Nikos Greek Kitchen: Serving simple authentic Greek food.
6. Nutty Boy: Offering nuts, trail mixes, dried fruits and some cooked foods.
7. Se7en Teahouse and Bar: Offering a wide selection of teas from Asia and around the world, a full bar and a variety of pastries and appetizers.
8. La Marenda: Ralph Marenda has returned from Italy to share great Italian cooking he learned while in Italy.
9. Nevada EcoNet: This non-profit will serve as a primary source of environmental information for Northern Nevada providing programs and exciting events.
10. Great Basin Basket: This Cooperative Association will be offering local, organic, and whole foods to a membership of over 900 in both retail and special order formats.
11. Downtown Market Place: Independent grocery for fresh, healthy, quality foods.
12. Jada's Jewels: Hand made jewelry
13. Silver Trends: Hand made jewelry.
14. Reno Envy: Sale of merchandise including items with the West
Street Market logo.

8/15/08 - QUICK CORRECTION - Oops sorry 210 North! I got an email from them kindly letting me know it's not their club that's for sale, but Club Bliss on 4th Street. In fact 210 North will soon be or is already starting a 2nd Phase remodel. Perhaps that explains all the boxes stacked up on the ground floor underneath 210 North. Again, 210 North is not for sale, the listing I linked to is for Club Bliss.

8/14/08 - VARIOUS TIDBITS -
1. Lots of Interesting Things for Sale Downtown - A quick search on Loopnet for zip code 89501 returns some interesting properties for sale. Grant's Landing's land and Ponte Vecchio are both for sale on Loopnet, as well as the white 1 East Liberty U.S. Bank Building on the corner of Virginia and Liberty. The 2 restored Victorian homes they moved from the Ponte Vecchio site are for sale too. A half-city block dense-residential zoned is for sale in the Moran/Sinclair/Holcomb area between Holcomb and Sinclair St, which includes 9 old homes and 2 duplexes. The Riverboat Hotel and never-opened Longs Drugs space is for sale.
2. City Council Meeting Agenda Items - Some goodies for the 8/20 meeting popped up here;
A. New Gaming License - Club 241 Casino, Robert A. Cashell, Jr., 241 North Virginia Street. Hmmm very interesting indeed. This is property owned by L3 Development, and is the old casino annex of the Golden Phoenix that fronts Virginia Street. Could it be opening as something new sooner than later?
B. C.14 Staff Report: Approval of a Consulting Agreement with Meridian Business Advisors for an amount not-to-exceed $50,000 to assess the economic and financial feasibility of a mixed-use project for the area bounded by Third Street, Second Street, West Street, and Center Street proposed by L3 Development Company.
C. C.15 Staff Report: Approval of a Consulting Agreement with Meridian Business Advisors for an amount not-to-exceed $75,000 to assess the economic and financial feasibility of a mixed-use project anchored by a tourism destination center specializing in retail and entertainment venues proposed by Northern Nevada Urban Development Company.
D. Items F2 and F2.1: F.2 Staff Report: Case No. LDC08-00219 (Brighton Manor Amendment) Request for a zoning map amendment to modify the Brighton Manor SPD (Specific Plan District) to allow for: (1) the addition of an attached single family residential product on a portion of the site; (2) the addition of 23 units for a total of 129; and (3) modifications to the SPD design standards related to the site plan, parking layout, landscape plan, setbacks and other changes necessary to allow the attached single family product. The changes affect 8.08 acres of the original 13.53 acre site, located on the northwest corner of the West Moana Lane/Plumas Street intersection in the SPD zone. In real people terms, this means Brighton Manor is going to fill in the remainder of their open lot with attached single-family residences rather than detached homes like the first phase (see pic below for new attached home concept for Brighton)



L.11 Discussion and potential direction to staff regarding augmentation to Code Enforcement for walls to block blighted conditions.
L.13 Discussion and potential direction to staff regarding the Public Works Design Manual as it relates to development at 855 South Center Street. I'm not sure what this means, but I think it has to do with the yet-to-be-built uber green and funky office building across and down the street a bit from 8 on Center (see pic below)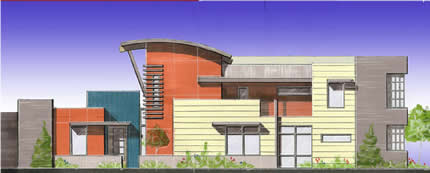 8/14/08 - DOWNTOWN WALK - SIERRA AND FIRST STREETS - See some night shots of the first platform laid across the train trench, as well as some cool shots of Sierra Street, First Street, West Street Market's courtyard, the Montage, and Palladio. Click here to see the pics.

8/12/2008 - DOWNTOWN WALK DAY AND NIGHT - So a few notes about this particular walk; First and foremost, to Silverstar Communities, clean up that mess of a lot you decided to abandon downtown called Grant's Landing. It's atrocious and embarrassing that every single person using the bike path has to see that. 3 foot tall weeds aren't acceptable and break city code laws. It just doesn't jive next to the meticulously groomed automobile museum property. Be a good neighbor and maintain your property. :) It's not hard to pull weeds I do it all the time. There, got that out of my system. By stark contrast, I have some amazing shots of ballpark construction going on, and some great night shots of Reno as the evening progressed. Click here to see pics of how not to maintain your property, great ballpark photos and more.

8/11/2008 - NEW CITY WEB CAMS - The City of Reno has put up some additional web cams. There's a Virginia Street Cam, a Reno Skyline Cam and how many construction vehicles can you count in the AAA Baseball Cam?

8/11/2008 - PREP WORK FINALLY BEGINNING FOR 4th STREET TRANSIT STATION - Finally, site work has started on the 4th Street Transit Station, which will be our new CitiCenter. The current CitiCenter property is now owned by the Redevelopment Agency.

8/6/2008 - CAC MEETING REPORT - Lots of goodies were unveiled in this CAC meeting, including solid timelines for many of these projects. Let's go through them.

Baseball Park - Concrete is now being poured for the walls. RGJ has a great overhead pic of the site construction.

Entertainment Core: Mark commented on the closing of the purchase of the RTC parcel (by the city) and mentioned the property should close today, which means it's in RDA's hands now, but made no comment about the status of the Mizpah blocks and whether or not the baseball folks have completed their "required" purchase of that block. I was a little discouraged to learn the baseball developers have 5 years to develop the RTC property, I hope that 5 year countdown starts as of now, and not as of when the developers get their hands on the property. It will take 2 years for RTC to finish the 4th Street Transit Station and move to that location. No retailers have been announced yet for the baseball retail district.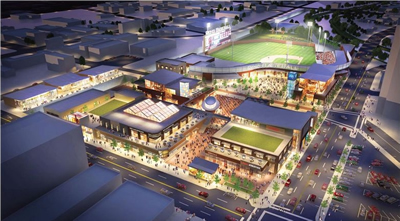 Beautification: Mark Lewis seemed to focus his beautification comments on the UNR / Downtown "connection". He spoke of the Savoy Motel purchase and future gateway art going there, and seemed to suggest that the RDA was considering additional "gateway" type land acquisitions NORTH of the freeway along Virginia. He also mentioned the possible expansion of RDA 2 "to UNR." He then went into a discussion about UNR wanting to build some competition-class sports facilities, possibly a tennis complex - presumably in the existing RDA 2 area. He gave two clues to the possibly location of this, and it seems to be the 9th Street-to UNR area, north of I-80 but south of the University. He also mentioned a possible addition to RDA 2 along South Virginia . A little birdie told me that staff is seriously looking at the corner of Moran and Center Street for the new permanent Fire Station 1 (there is a huge swath of vacant land here where some old homes once stood). I wondered if he was considering the area around this property to be included in RDA2.

10 N Virginia: Encouraging that this seems to be progressing. The developer John Pappas has come back with refined renderings of the 10 North Virginia building, and Mark Lewis seemed to be impressed by them. Your first chance to see them will be August 18, with the 10 North Virginia Design Sub-Committee meets to go over the renderings before it goes to City Council. He commented the new design was iconic and fun. John Pappas still has a major Lake Tahoe restaurant (I am predicting Garwoods) in tow for this project. Personally, I think the council was a bit hard on him in the last go around, and I am glad he is still on board.

Downtown Parking - Not much new here. Lewis mentioned the deal is still solid and moving forward with a private partner downtown. Would like to get first parking structure under construction next year.

Post Office: Exciting that this deal seems to be done and will be in the August 27 council meeting. All the loose ends are wrapped up. The deal should close by end of September and the post office will become RDA property, and the Post Office will begin construction on their new property. 2 years to build and occupy new facility. Plaza construction should start next summer. I wonder why he is so secretive about where the new post office will be located (since he indicated that the new location is also a done deal). The only reason that I can see for continued secrecy, is that the PO relocation must be part of some larger redevelopment deal that is not done yet. There are lots of possibilities, but his continued silence sure makes me curious.



West Street Market: Right on target. October 24 target date…The market is now 100% leased. He mentioned a few tenants previously unnamed; Burger and Me (a restaurant that just opened in Truckee to great reviews) is on board. Earthly Delights from Northstar is signed on. There'll be Greek, Mexican, Italian, and a wine bar. They might consider folding the ecomarket into Friday's artisan market…so that would make a year-round Friday and Saturday market. Some of you might be wondering why our urban market has so many restaurant options included. This is actually a standard with most permanent farmers markets. The L.A.'s Farmer's Market on Third and Fairfax (of which if you have never gone, you MUST go) has 35 restaurants, compared to 14 actual 'grocery' stands which would include vegetables, fruits and the other standard farmer stuff and 21 shops selling soaps, jewelry etc.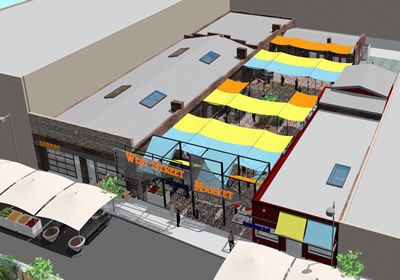 White Water Park Extension - Lots of new details emerged here. RDA has interviewed 3 great engineering and consulting firms who submitted proposals, and on August 27 should announce the final firm. This project was previously a low-flow eco-channel but has since morphed into an extension of the current whitewater park. Lewis mentioned this whitewater park extension is THREE TIMES THE SIZE OF THE CURRENT WHITEWATER PARK. Yeah baby now that's what I am talkin about! However, before we get too excited, this the one major priority project that doesn't have funding secured. Mark Lewis presented the opportunity to use a loan from RDA2 to RDA1 to pay for the whitewater park extension, but that wasn't well received by the council (to say the least). Also, construction materials and costs for projects of this type have risen dramatically. The first whitewater park downtown cost a little under 2 million (best 2 million investment EVER). This time around, I 'think' they are looking in the 4 to 5 million range. If all goes well, construction would begin in 2009/2010. So, if any of you happen to have 4 million laying around, just look at what the first whitewater park did to downtown. Imagine it extended all the way to Lake Street and what that would do to revitalize east downtown.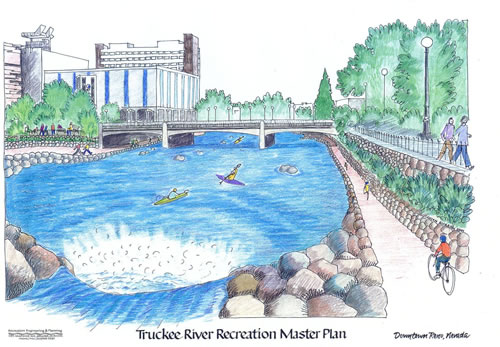 Community Assistance Center - All assistance center facilities will be open and running October 1st.

Retrac Cover – PHASE I - Now under construction - girders should start going across retrac at end of the month. There will be some kind of Girder Laying Ceremony. Phase 1 should be done by end of December. RFP for phase 2 (the retail) is drafted and should be released shortly.

7/29/2008 - WHEW! I WAS HOPING PEPPERMILL WAS GOING TO DO THIS - NNBW has a great article confirming the Peppermill is changing its facade fronting Virginia Street. When the Tuscany Tower and ball room opened, it looked oddly different than the rest of the casino, and really clashed with the whole Tuscan look. Looks like that will be changing soon.

7/29/2008 - GRAND SIERRA RESORT - This is an interesting article. However a lot of questions still are left answered;
1. Grand Sierra Resort has had an MOU in place to explore the feasibility of a STAR Bond since April 2007. If that MOU lasts 150 days like the others I have seen for STAR Bonds, then it expires in August. What happened with those studies? All the feasibility studies and retail impacts and so on that were part of the MOU? How is the old MOU being 'rolled' into the new one? Why would Nevada Land II need a new MOU? Why does the new MOU contain no specific wording of what the bonds would be used for? Not even a definition of the term 'project' in the MOU like in the previous one.
2. Interesting about the 2 or 3 parties in addition to Nevada Land II pursuing GSR. I actually heard a rumor it was closer to 4. In fact I have heard way more about GSR than I feel comfortable publishing on this site, from reputable people in town, and it all leads to the same story over and over again.
3 I got a lot of emails from people wondering what wording exactly the original April 2007 MOU contained. Well here you go:
Section 5. The Project. The negotiations hereunder shall be based on a development concept consistent with the following points:
(a) Indoor Water Park. Development and construction of a 150,000 square foot multilevel indoor water park featuring state-of-the-art play features and amenities, including Rocket Water Roller Coaster, Wave Rider Surf Simulator, a wave pool, zero entry depth children's pool, family raft ride, multiple tube and body slides, action river, arcade and redemption center, food court, locker rooms and other amenities related to indoor water parks; and
(b) Water Show. Development and construction of a state-of-the-art water show feature; and
(c) Exotic Auto Collection. Development and construction of a facility to house a new automobile collection; and
(d) Professional Health Spa. Development and construction of a professional health spa; and
(e) Retail Development. Development and construction of a retail store facility with one or two anchor stores with entertainment facilities, restaurants, and corporate office space.
The new MOU with Nevada Land II doesn't list any specifics of what the STAR bond would be used for.

7/29/2008 - BELVEDERE FIRE - The Belvedere caught fire tonight, RGJ has photos and coverage. Click here for photos and click here for article.

7/26/2008 - RENO BEER CRAWL - What an intense week of reporting! I may need a beer tonight. Good thing there's the Reno Beer Crawl tonight! It's the 4th Saturday of every month, and it's downtown's answer to the age-old question, 'why isn't there a beer walk downtown?' Start at 2pm at Amendment 21 (425 S. Virginia) or The Waterfall (134 W. 2nd). Sixteen great beers at 16 diverse downtown taverns. Yours truly is the featured business, so go!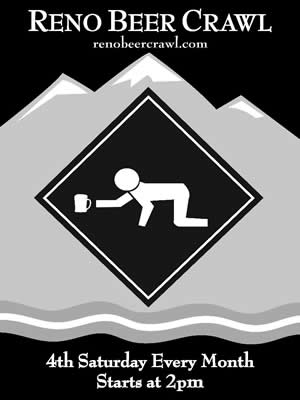 7/25/2008 - THE PULSE OF DOWNTOWN: 8:45 p.m. - Yippie got a new camera and it rocks. I ventured downtown, without the dogs, and there was definitely an urban vibe going on. Check out downtown on a Friday night. With some special treats like a concert on West Street, glass going on the BOTTOM FLOOR of the Montage, and new colors at Townhouses at Holcomb Place. Click here to view.

7/23/2008 - STAR BONDS: KEEP THEM DOWNTOWN AND ADJOINED - Recently, I spent a couple of days researching STAR bonds, and how the only other state in the nation that used them implemented them; Kansas.. There is a clear parallel between Kansas City's 3 STAR bond issuances, and the 3 STAR Bond requests downtown. I'm sure this post will upset some people, but it needs to be said in a time when council is considering 5 STAR Bond requests, combined with some drama that went down at last Wednesday's redevelopment meeting. I think it's important to look at how Kansas City used them (and used them successfully), and how they should be used downtown. I also question if STAR Bonds should be issued to one particular developer downtown who has already received so many perks. It's long, but important. Click here to read.

7/20/2008 - DOWNTOWN WALK FOR BUGSY - Alright Bugster, ask and ye shall recieve. Here is a downtown walk showcasing the Montage, the baseball stadium, West Street Market, and more. Click here to view.

7/18/2008 - NORTHEAST DOWNTOWN PROJECT TAKES ANOTHER STEP - Well it's probably about time I put up a permanent page for the NNUD project, because it seems to be advancing quickly. Northern Nevada Urban Development, LLC has named General Growth Properties (GGP), as the leasing and managing folks for the retail component of a new mixed-use multi-block project located in northeast downtown Reno.
GGP already has several local ties, including the 950,000 s.f. Meadows Mall, and several other large 1+ million square foot retail developments in Vegas. NNUD also recently selected world-renowned Callison as the architect.
"General Growth properties has all the qualities we were seeking to assist us in securing just the right mix of high-end, better to luxury tenants for this vital Reno project," said Nicholas Pavich, principal of Northern Nevada Urban Development Company, LLC. "General growth is known throughout the retail industry, here and internationally. They have strong relationships with retailers, experience in mixed-use developments and a successful history in Nevada. It's a win-win situation for us." It sounds like NNUD is pulling in all the right players to make this project one of the most exciting and realistic projects in Reno.
If you aren't familiar with this project, it's a mixed-use development (as yet to be named) which will span nearly six square blocks downtown between Virginia Street, Evans Avenue, 5th Street and 7th Street. It will include more than 446,500 square feet of retail. GGP and the project will focus on outlet divisions of luxury retailers and designers, with the goal of establishing the project as a high-end outlet shopping destination offering luxury merchandise at accessible prices. The project will cater to both locals and visitors alike and scheduled to open Fall of 2010. In addition to retail and a variety of restaurant concepts, the development will also cater to the University of Nevada, Reno, offering 230 housing units and a link between the two facilities over I-80 via a pedestrian bridge. The restaurant concepts will include several street-level cafes and natural gathering places for students and visitors alike. Complementing the retail will be office space, a non-gaming hotel, a luxury spa and live performance and entertainment venues, all on a multi-block pedestrian-oriented environment geared to link downtown and the University of Nevada Reno.

7/18/2008 - VARIOUS TIDBITS -
- Looks like the Starbucks will be closing in the Palladio at 50 North Sierra Street, thanks to some on-top-of-it readers who noticed. The store is listed in Starbucks' store closure list.
- Where is all the other media out there? I have noticed, unless I missed it, no one seems to be reporting on the fact that the Baseball Folks are actively engaged in acquiring the GSR site and adding a new STAR Bond to the mix. And no one reported on the drama that went down at the RDA/City Council meeting on Wednesday (I'll be writing an opinion piece on this tonight), and no one has reported on the 5 STAR Bond requests on the table and how it could impact over half of downtown. Hello news people wake up! You missed one of the most exciting and dynamic weeks of redevelopment news thus far. Or, maybe I just have a different opinion on what is newsworthy.
- Montage is looking better and better. Looks like they may be done with the exterior and able to remove the rest of the scaffolding in a couple weeks or so. Adding the metal work around the top of the tri-level poolside residences to match what is at the top of the big towers REALLY dresses it up.
- They are busily working away over at the Urban Market, digging big holes in what used to be the paved area between the buildings- probably hooking up utilities of some sort. It will be really cool when they get to the point of adding that new front facade, moving in the clock and finishing it all up.
- They are drilling a whole bunch of holes through the tops of the train trench walls where the plaza will be added. Looks like they might be preparing to bolt on some kind of lifting attachments so that a crane can support and lift out each section as it is sawed away.
- They seem to be working everywhere at the stadium site. What will eventually become the sloped seating concrete seating areas along the first and third base lines is starting to take shape and they are also preparing the pads for the future new buildings along Evans. Along the river there is a crew installing what appears to be the beginning of a new very wide riverwalk path that is supported by a concrete base with rebar coming up and then three rows of landscaping style concrete retaining blocks - probably right at and just above anticipated high water levels in a flood situation. Then they are putting in a lot of DG (decomposed granite) to complete the path and packing it down vibrating compacting equipment. Looks like it will be a first rate job.
- I also noticed that Basin Street is now starting (on the river side) to begin to extend the primer - and eventually the new paint - around the sides toward the the front of the office building.

7/16/2008 - STAR BOND DISTRICTS GUIDE - Today there is a very important RDA meeting at 2:00 p.m. in City Hall chambers and the main items on the agenda everyone is talking about are the 5 STAR Bond districts proposed. So, I broke down the individual districts for you, complete with maps, renderings of each project if available, and more. It's quite impressive when laid out, and the three downtown STAR Bond districts end up comprising nearly half of downtown. Also, I have a great step-by-step process from the city explaining exactly how the STAR Bond process works. Click here to check it out. This is 'must-read' material.

7/15/2008 - SHOPPER'S SQUARE PROJECT ON TRACK - Northern Nevada Business Weekly is reporting that the new Shoppers Square expansion is 90% leased. Construction is currently underway on this massive project, which you can check out right next to Shopper's Square. On a side note, Shopper's Square is home to one of my most frequented stores; Kona Girl. She sells everything Hawaii, from drinks to food to clothes and books. MMMM lilikoi juice.

7/14/2008 - A SUNDAY DOWNTOWN - I had the chance to spend Sunday downtown with friends and relatives, and introduce the nieces, ages 4 and 5, to the Truckee River. Playing in the south channel on the east side of the park, the water is shallow enough and slow moving to wade all the way across. Also, the water seems a tad warmer in this area, or maybe I just imagined it was warmer so I could tolerate being in water that cold haha. The day included people giving away free hugs and a marionette show as well. Click here for the pics.

7/12/2008 - A PEEK AT WHAT MAY BE TO COME - NORTHEAST PROJECT
Here is a peek and more information about the architect chosen by NNUD, with some project-specific renderings and info. The project on their site seems to have the name 'Téssera', kind of exotic and cool so I'll call it that for now. Click here for some preliminary 'vision stage' information on the project.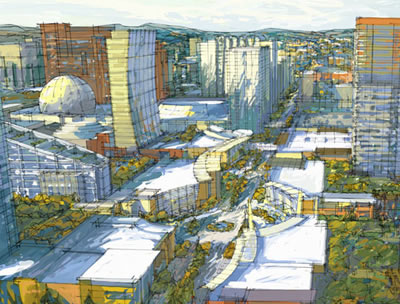 7/11/2008 - ARCHITECT CHOSEN FOR LARGE NORTHEAST DOWNTOWN PROJECT
So check this out! Here's a major peek into what the developers Northern Nevada Urban Development Company LLC have in mind for their northeast downtown blocks of property. Callison has been selected by NNUD as lead designer of the new downtown mixed use development. The multi-block plan includes destination retail, entertainment, hospitality, residential and office components. Callison has extensive experience in downtown revitalization projects including City Creek Center (video fly-through below) in Salt Lake City and CityScape in Phoenix (picture below).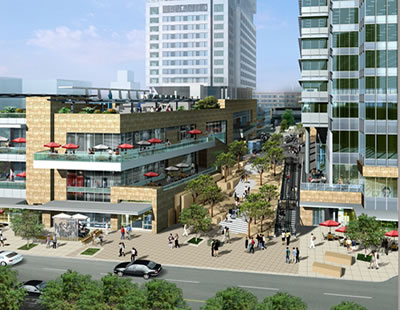 Northern Nevada Urban Development Company LLC owns property in downtown Reno proximate to Interstate 80, the University of Nevada and the city's event and entertainment core. The City of Reno's Redevelopment Agency recently entered into an agreement with the company to explore the feasibility of the city's assistance in the financing of the mixed use project.
"This project is a wonderful opportunity to redefine Reno. The development will expand on the city's current hotel, gaming and entertainment core to create a dynamic mix of retail, dining, and residential uses that will appeal to both tourists and residents." - Steve Dwoskin, Principal at Callison
So this gives us the scale and style of what NNUD has in mind for the multi-block area. This could revitalize one of the more blighted areas of downtown. I am all for it.
7/10/2008 - REDEVELOPMENT AGENDA MEETING ITEMS:
B.1 Staff Report: Presentation, discussion, and potential direction to staff regarding the creation of Sales Tax Anticipation Revenue ("STAR") Bond Districts within the City of Reno. This is a continuation of the discussion at the previous meeting of the five STAR bond requests on the table.
B.2 Staff Report: Discussion, direction and potential approval of a Memorandum of Understanding by and between L3 Development Co., LLC, the Redevelopment Agency of the City of Reno, and the City of Reno to explore the financial feasibility of assisting in financing a portion of the costs of the project area bounded by Third Street, Second Street, West Street, Center Street. This company has poured hundreds of millions of dollars into downtown Reno. The City should help him in any way possible, in my opinion. This could be regarding any one or more of his three major projects downtown; the Montage, the Fitz remodel coming up soon, and the train trench cover Phase II retail.
B.3 Staff Report: Discussion, direction and potential approval of a Memorandum of Understanding between Nevada Land II LLC, the Redevelopment Agency of the City of Reno, and the City of
Reno to facilitate the issuance of Sales Tax Anticipatory Revenue ("STAR") bonds and/or other forms of financing for projects located within the Ball Park District, and/or within the general vicinity of the Grand Sierra Resort & Casino. This is regarding the two STAR Bond requests from the baseball folks, one for a large retail project going in the parking lot (presumably the Waterpark) and one for the retail component of the baseball stadium.
B.4 Staff Report: Discussion, direction and possible approval of amendments of certain agreements between the City of Reno Redevelopment Agency, SK Baseball, LLC, and Nevada Land, LLC,
regarding the development of a AAA Baseball Stadium, to allow the subdivision the Stadium site to support additional retail and commercial development. This is to allow the retail parts of the stadium to become their own components so its easier to secure financing for the retail projects going in around the baseball stadium
B.4.1 First Amendment to Stadium Lease Agreement.
B.4.2 Amendment to Disposition and Development Agreement (Baseball Stadium).
B.4.3 First Amendment to Ground Lease Agreement.
B.4.4 Memorandum of Amendment to Ground Lease.
B.4.5 Memorandum of Amendment to Disposition and Development Agreement (Baseball Stadium).
B.5 Staff Report: Discussion and potential direction to staff regarding Priority Projects for Redevelopment Area No. 2. This is a result of a debate that ensued at the last RDA Meeting where Councilwoman Jessica S. felt it wasn't right to take money from RDA2 (Redevelopment district which include South Virginia Street, Grand Sierra Resort, Cabella's and parts of 4th Street) and loan it to RDA1 to buy the Citicenter property and fund the extension of the waterpark. She requested a full list of redevelopment projects for RDA2.
B.6 Staff Report: Discussion, direction and potential approval of a Memorandum of Understanding Between the Redevelopment Agency of the City of Reno and the Fitzgerald Group to explore the feasibility of developing a project with the University of Nevada, Reno. This is an interesting request. The Fitzgerald Group owns land in the McCarran and Virginia area.

7/10/2008 - DOWNTOWN WALK: Ballpark, Park Center Tower, Townhouses at Holcomb Place, Montage scaffolding coming down, West Street Market, and more - Click here to view.

7/7/2008 - DOWNTOWN WALKS - So here are two downtown walks, because I actually escaped the death grip of my computer for a day on July 4th. Gallery One is of my quickly-improving Wells Avenue Neighborhood and downtown, and Gallery Two is of Art Town downtown, courtesy of my friends Juan and Kim.

7/5/2008 - CITIZEN REPORT - CAC MEETING UPDATE -
1. Pioneer Site - A project management committee has been created with 4 City staff members and four County employees. Lewis again mentioned he wanted to minimize the parking aspect of the project, mentioning that this property wasn't the right site for a parking garage. Lewis is pretty stoked about this project. When pinned down for some kind of timeframe, Lewis relented and said MAYBE an RFP will go out in six months after agreements are finalized. Dick Scott complimented Lewis on forging such a close working relationship with the County. Dan Gustin who sat in at the meeting, said 'the project is absolutely tremendous' and applauds county commissioners for coming forward for the help of RDA, and to RDA for pouncing on the opportunity. Gustin went on to say in the four years he has been on the council, this was the most impressive collaboration of government he had seen, or something to that affect.
2. STAR BONDS - This was the more interesting topic of the meeting. STAR Bonds fascinate me, mainly because they sound so exotic. All kidding aside, the omni-present RDA staff member Jessica Jones reported that five STAR Bond 'requests' are in the pipeline. I say 'requests' because they aren't really requests for the Bonds themselves, it's a request for the City to put in serious amounts of staff hours (usually months worth of work) to determine the feasibility of issuing a STAR bond. Remember, there have only been two issued in this state, one for Cabella's and one for Scheel's, so in one way, they ARE pretty exotic. Anyway, the STAR bond requests are as follows: (1) Northern Nevada Urban Development, for their mega-block of land in Northeast downtown, (2) L3 Development (which would include/explore retail portion of montage and rebranding/renovation of the Fitz and possibly Phase 2 of the retrac cover), (3 and 4) Nevada Lands (the Baseball Folks as Lewis calls them) and (5) The Fitzgerald Group, for property North of McCarren and East of Virginia St. It will be interesting to see which contenders make it through the qualification process, since I can't really see the City issuing all five. All politics aside, it should be the project(s) that will actually return the highest retail tax yield to repay the Bond. In understandable terms, a Six Flags theme park would yield a higher sales tax return and be less of a risk than a Museum of Bloggers downtown, honoring Reno's best bloggers with alters. If you were a visitor which would you go to and spend money at? That's the key question to ask in issuing a STAR Bond. Another question would be do the developers have their act together? What feasibility studies have they done on their own projects? etc etc. So on a final note, the CAC and very astute citizens attending the meeting noticed only four businesses were mentioned for five STAR Bonds, so why two for the Baseball Folks? Well, Lewis stated that the Baseball Folks are in negotiation to acquire/buy GSR. Whoah! After the ooh's and aah's settled in the room, he went on to mention the Baseball Folks have a vision of a higher intensity of usage of the GSR property, or envision making it denser, I can't recall exactly how he phrased it, but this is definitely big news. Maybe he meant they are buying part of the gigantic GSR lot..or maybe they are buying the whole thing. He didn't elaborate. Either way it's big. The two STAR Bond feasibility requests for the Baseball folks 'I think' go to Council on the 16th of July, but don't quote me on that I could be wrong. Lewis mentioned he would like to keep all these feasibility requests on the same track, for optimum usage of his staff. STAR Bonds are cumbersome, and take at least 6 to 9 months to process.
3. Triple AAA Ballpark - An army of dirt-related construction rigs are starting to dig the hole the field will go in. The Baseball Folks are beginning to focus more attention on the retail aspects of the project (which should please the Council) and should go before them on the 16th to separate out the retail portions of the project from the baseball part, which includes separating out the parcels. Planning includes a large office building where fire station used to be, plus the commercial pieces on other side of Evans. No major hiccups with the project thus far. Lewis mentioned they are selling ticket reservations 'like crazy'.
4. 10 North Virginia Street - Lewis mentioned Mr. Papas' new designs are really interesting architecturally, calling them 'Dog-gone interesting'. They are in the process of setting up meeting with 10 North Virginia Canopy Design Subcommittee, which I believe is headed up by Sharon Zadra, to evaluate the designs.
5. ReTRAC Cover - Moving along slower than RDA would like, but nonetheless moving along. Lewis mentioned the railroad is a bit of a pest sometimes…The project is delayed a bit because they had to assign flagman to the project to manage/run/direct the trains etc. As soon as the flag man gets here from wherever he is coming from, they can start to lay foundations for cover. This has held up the project by a couple of weeks, however it should still be completed by the end of December. RDA is gearing up for proposals in Phase 2.
6. Beautification - July9th is a meeting with businesses on Virginia Street to discuss extending the special lighting on the Mt. Rose-to-Pueblo block all the way up to Liberty Street. The facade improvement program is moving forward, should be back to council shortly.
7. Post Office - Lots of good news here. RDA has a tentative agreement with property owner of replacement site, after much negotiation over price. They are also restructuring the post office agreement to be in conformance of HUD which is source of funding, the deal should be council agenda in August. At the same time in August the post office plaza and whitewater park will also be on the agenda to get funding. Hoping plaza will start construction next year, and whitewater park after that. There is a 2 year time span between title acquisition and the time the new postal facility is done and the post office can relocate delivery operations..plenty of time for public process and input.

6/30/2008 - BRIGHTON MANOR - Brighton Manor, located on the corner of Plumas and Moana, is looking to fill in some of their lot with single family attached residences. This isn't too much of a change from their original plans, other than being slightly more dense. The Tentative Map shows the attached family units looking virtually identical to the detached units already built. They are cute. Now, if they would just relocate the entire thing to the Grant's Landing property, I would be super happy. All of the information for Grant's Landing has been removed from Silverstar Communities web site, except for the renderings. Grant's Landing was one of the projects I was more excited about. Oh well, you win some you lose some. Click here to view the very detailed Staff Report for Brighton Manor's attached-family concept, including renderings, site maps, etc. It's 33 megabytes, so dial-up users beware.


6/30/2008 - STAFF REPORTS: REDEVELOPMENT MEETING - Very interesting indeed. In the upcoming Redevelopment Meeting on Wednesday, L3 Development looks to be opening the door for a private/public partnership with the Redevelopment Agency. Let's take a look at the exact wording:
Summary: Staff requests direction and authorization from the Council/Agency Board to negotiate and pursue the development of a public/private partnership on a mixed use development specializing in residential, retail, and entertainment venues within the City of Reno Redevelopment boundary generally located in the downtown Reno area bounded by Third Street, Second Street, West Street, and Center Street.
Background: L3 Development Co., LLC ("L3") has acquired more than 11 acres of real property in downtown Reno, encompassing more than 75,000 square feet of commercial space.
L3 also has the opportunity to respond to the Request for Proposals (RFP) for the ReTRAC Train Trench enhancements project which covers two full blocks and could have up to 30,000 square feet of potential retail. L3 is requesting that the Agency seek and be granted authority from the Council to engage in the negotiation of a Memoranda of Understanding and other agreements to enhance the development of the 380 residential unit project known as the Montage, which will also include approximately 16,000 square feet of new retail in the same building. The project area will also include the renovation and re-branding of the current Fitzgerald Hotel and Casino and associated properties which has 351 hotel rooms and over 600 gaming positions. All of these are on properties that are owned or controlled by L3 or its affiliates through long term leases.
Discussion: L3 and its affiliates have invested over $200,000,000 for feasibility studies, acquisition, renovation, and construction activities for the former Golden Phoenix/Flamingo Hilton property, now known as the Montage and the Fitzgerald Hotel and Casino. This redevelopment is located generally between Third Avenue to the north; Second Street to the south; West Street to the west; Center Street to the east.
The development team includes both nationally recognized and prominent local companies. This team has been assembled for the purpose of developing unique concepts that brings new innovative offerings together with local elements of Reno's architecture, feel, and culture. These projects will further compliment other efforts already underway driving the revitalization of downtown Reno, while also achieving the highest and best use for these properties in the project area.
So what does this mean for downtown? Well it means pretty soon, Fernando's swath of downtown is going to get some major attention. Sierra Street with a revitalized Fitz on one side, and the Montage on the other side, and a huge two-block long public plaza fronting both properties with little mini-retail buildings. That's what Mr. Leal is envisioning. It's time some of the pedestrian-friendly energy of the Riverwalk extend north into the casino zone. What are your thoughts?

6/26/2008 - UPCOMING AGENDA ITEMS -
CAC Meeting July 1, 3:00 p.m. , Reno City Hall, Caucus Room, 1 East First Street, 7th Floor, Reno, Nevada 89501 - Items of Interest: Update on Star Bond Proposals, Update on Pioneer Site, Update on priority projects including baseball, entertainment core, downtown parking, 10 North Virginia Street, Post Office, RETRAC Phase 1, Community Assistance Center and Urban Market.
Planning Commission Meeting, July 1, 6:00 p.m., City Council Chambers, Reno City Hall, 1 East First Street - Items of Interest: It looks like Brighton Manor may be altering their master plan to include an 'attached single family residential product' of 23 units somewhere in the development. I could be interpreting all that official jargon incorrectly but thats what it seems like. If so, that's great news for that development.
City Council Meeting, July 2, 10:00 a.m., City Council Chambers, Reno City Hall, 1 East First Street - Item of Interest: Looks like the Riverwalk and water fountains may get a reconditioning.' Nice! Staff Report: Approval of bid award for Riverwalk and Water Fountain Recondition Project to Anchor Concrete for a not to exceed amount of $79,580.
Joint Reno City Council and Redevelopment Agency Board Meeting, July 2, 2:00 p.m., City Hall Council Chambers, 1 East First Street - Items of Interest: Staff Report: Discussion, direction and potential authorization of staff to negotiate agreements with L3 Development Co., LLC, and other parties as necessary to develop a Mixed Use project for the area bounded by Third Street, Second Street, West Street, Center Street. Whoah! Hmmm what could it be? Also, Discussion and possible approval of a Purchase and Sale Agreement in the amount of $6,600,000 for certain real property located at 40 East 4th Street, Reno, NV (APN 007-296- 22) known as the RTC CitiCenter Transfer Center.Nice! That's a big component to the core retail project downtown.

6/26/2008 - NOTE TO PROPERTY OWNER: CLEAN UP YOUR PROPERTY! - Hello, Mr. Waterfront Tower developer. I have received several complaints about the appearance of your property located on the corner of 2nd Street and Lake Streets. So I decided to go take a look for myself. I think the pics below pretty much tell the whole story;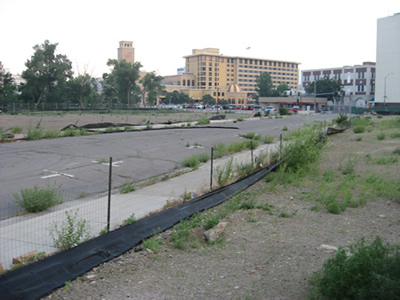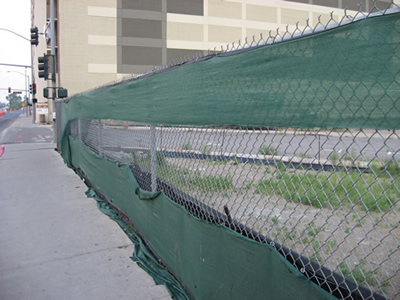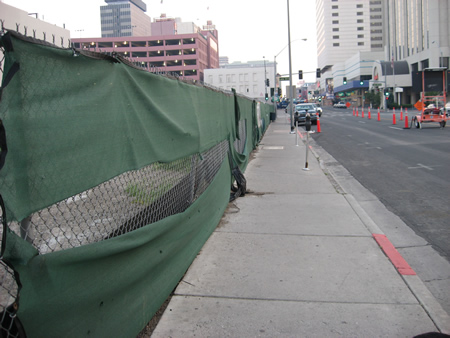 Your property is in pretty poor condition right now; weeds and plants growing up through the street, nearly all the fence coverings torn town, etc. How about you go in and clean it up a bit? Everyone around you is improving their properties, including the Park Center Tower and Baseball Stadium project. Since you don't plan on breaking ground on your project until at least 2009, we residents really don't want to look at this mess for 8 more months. So how about it?

6/26/2008 - WELLS AVENUE NEWS - Congratulations to all of us Wells Avenuvians! The overlay zoning and design standards portion of the Wells Avenue Plan passed city council with no opposition yesterday. Barrie Schuster, our fearless neighborhood leader as I like to refer to her (she's also on our NAB), was on-hand at the council meeting to endorse the proposal. She also, with the help of a slew of complaints from residents in this area, got a special meeting scheduled to discuss our not-so-red-hot sidewalks in what us Wells Avenue residents call 'the island', the group of old homes bordered by Holcomb, Wells, Vassar and Ryland.
Barry Schuster said "Our Vision for the future is of a Wells Avenue Neighborhood where pride in the neighborhood's history and character is clear-evidenced by the area's well maintained homes and yards and ongoing property owner investment in the restoration and adaptive re use of historic homes and structures. The diversity of the neighborhood is further enhanced through the integration of infill and redevelopment that is in keeping with the established character of the neighborhood." I second that motion!
The best part of the Overlay plan are the mass zoning changes it institutes. Some of the highlights include; re-zoning all of the properties on the east side of Holcomb to Mixed Use Residential, allowing adaptive re-use of the old homes along this street as small offices, something many people have been doing anyway, also rezoning the properties on Vassar between Wells and Holcomb as Mixed Use Residential as well. Some of the Action Plan highlights include enhancing Wells Avenue's treescape (something already in process with the Roots for Wells plan of 100 trees being planted along Wells Avenue this fall), historic walking tours, getting 'historic bungalow district' signs for our neighborhood, promoting homeownership in the neighborhood to reduce absentee landlords and home turnover, architectural standards for new buildings, a facade improvement program for Wells Ave, a neighborhood watch program already in effect, and so much more! I can't emphasize this enough; I love this neighborhood, I have some amazing neighbors who were all as committed to developing this plan as I was, and of course Barrie, who has become an essential beacon of communication between us and city officials. Everyone, from our councilwoman Jessica Sferrazza to the Planning Commission to Jessica Jones, the main community development manager involved, was impressed with the continuous high level of resident participation in this process.
The next issue to tackle are the streets; We have a meeting July 1, 5:30 pm, HAWC Clinic, outdoors: meeting with J. Sferrazza and Charla Honey to discuss streets/sidewalks and curbs. Also of interest to Wells Avenuvians; July 9, 6 p.m., Neighborhood Watch Meeting. Meet outside at the HAWC Clinic This will be a 'strolling meeting' where we identify locations for installation of neighborhood watch signs. This 'stroll' will also be a brief, informal historic walk of some of the homes in the neighborhood not covered in the previous historic walking tour. July 15, 6 pm HAWC Clinic, Wells Avenue Merchants and Property Owners meeting, and July 16, City Council Meeting to approve $7500.00 in funds for Roots for Wells Street Tree Project.

6/26/08 - REDEVELOPMENT AGENCY GOODIES
Sorry for the delay in reporting on this one, but I had a deadline on a major project last night to complete.
So let's review; If you remember in the post below, I referred to the large swath of Northeast downtown being owned by those two entities. And just like I had speculated, the RDA would like to trade some land with one entity, in order to work with the other entity on a large scale project in this area. We're talking about 8 square blocks, from Virginia to Evans, and from 5th to 7th Streets roughly.
One of the few powers RDA has in its development arsenal is the power of public/private land exchange, because it requires little investment and is much easier to scrambling to find millions of dollars to purchase property. Let's point out a few facts about this;
This will be the most complex project RDA has undertaken thus far.
Never before in RDA's history have they had this kind of opportunity to acquire so many connecting parcels.
Lewis mentioned he would like any project going on this land to be dense, high rises, and to 'pull the University' over I-80.
This could be a major high-density gateway into our downtown.
Comprises of some of the most valuable land downtown.
Northern Nevada Urban Development, fronted by Nick Pavich, has agreed to pay $150,000 to begin working with the city on it.
The two entities involved have poured tens of millions of dollars the past few years acquiring these properties.
The deal with the two entities only opens the doors with both of them to 'deepen' the discussion. So don't get too excited yet. I would imagine any kind of groundbreaking for this project is at least 2 years away, given the complexity and size.
Courthouse lot -
This was the other VERY exciting development. This is regarding the courthouse parking lot that is bounded by Sierra, Court Street, and Virginia Street. It used to be the Pioneer Casino, the a dirt lot for a few years, then recently turned into a parking lot. If you remember, there was a lot of squabble about turning it into a parking lot, from arguing over landscaping standards to the fact the Council did not want such a valuable piece of property sitting as a surface lot.
Both RDA and Washoe County have similar visions for the property, which is awesome and possibly what has made this progress so smoothly. They envision mixed use develop which also includes offices, restaurants and courthouse offices so the property uses its strategic location in the most effective way possible. The MOU between the County and the City creates a Development Committee, with members from both RDA and Washoe, to work together on land uses etc. The property would temporarily be transferred to RDA, so they can use their expertise for redevelopment. Dan Gustin commented he thinks its terrific two government entities can work so well together. Virginia Street would be maximized in any development on the property. And the best news? It doesn't sound like it will be a major parking garage at all, and really focus on the reatil/office aspect. Nice!

6/23/08 - VARIOUS NOT-SO-TIDBITS
Train Trench Cover - Some preliminary work has started with putting up some barriers and fences to the North of the trench where they need to remove the old Rainbow Bridge foundation.
Palladio - Slowly but surely, the Palladio continues to sell its remaining units, closing on three units in May, and some in April as well. That may not sound like much, but in this real estate market that's golden. Also, I heard one resident is combining two units to make a mega-unit.
West Street Market - Interesting items in the upcoming Redevelopment Agency Agenda. RDA is seeking an additional $300,000 to cover the cost of the Phase 2 of construction of the West Street Market. Phase 1 includes installation of the grease interceptor and all water, power, sewer and electric conduit through the courtyard to service the three buildings, renovation of the outdoor elements of all three buildings, paving of the court yard and replacements of a portion of the sidewalk on West street adjacent to the market that is in bad disrepair. Phase II construction includes renovation of the roofs and interiors of all three buildings,
excluding tenant improvements. Phase II is estimated at $300,000 including contingencies and unforeseen conditions due to the age of the buildings. Unfortunately due to some existing conditions in the court yard, the $80,000+ donated in time and materials to install pavers can't be used, so it looks like we get concrete or asphalt instead. Boo hiss. But I understand, it's not like they would willingly turn down $80,000 in pavers. I hope they at least use decorative etched concrete or something. The source for the funding has been identified from internal admin funds.
WHOPPER: This involves the new parking lot between Sierra, Virginia, Island Ave and Liberty Streets. Did you know us residents can park there after certain hours and on the weekend for free? I don't know the exact hours so check the signs. Before it was a parking lot it was a dirt field for years, and I believe the Pioneer Inn before that? A long-term local may need to correct me on that. Anyway, the City Council wasn't happy with it being just a parking lot, but really had no choice as they had to provide the parking to Washoe County as part of the new courthouse. Well Mark Lewis mentioned recently in a Citizens Advisory Committee meeting that Washoe County was very interested in utilizing the desirable lot for something besides asphalt. So read this:
B.6 Subject: Staff Report: Discussion and potential approval of Memorandum of Understanding between the Redevelopment Agency and Washoe County to redevelop certain real property owned by Washoe County located within the city block defined by Island Ave to the north, S. Virginia St. to the east, W. Liberty St. to the south, and S. Sierra St. to the west; [Pioneer Site] ... The County wants to develop the subject property to expand the existing District and Justice Court facilities and ancillary governmental uses on its property. Furthermore, the County seeks to develop the subject property site with expansive land uses, and specifically envisions a mixed-use redevelopment that includes compatible retail, commercial, office, parking and/or ancillary uses.
Now remember, MOU's in reality-check-world simply mean they are agreeing to talk about stuff, and no one is bound to obligated to do anything other than put forth some effort to develop a plan. But majorly exciting nonetheless!
Baseball Stadium - The Baseball Folks have begun closing on some additional properties in the Baseball District.
Northeast - hmmm. I debated about mentioning this or not, but the last time I didnt say anything, every major paper in town reported on it anyway and I got harassed by my faithful readers for keeping quiet. So I'll just say look at Items B4 and B5 here, and then when you see 'further help with the University vision of a gateway', look here on pages 6, 7, and 12 to see the University's vision of a gateway. This could be a VERY significant step. Coincidentally, it was June 23, 2007 when I first posted actvity going on there.

6/20/2008 - DOWNTOWN WALK - EAST - Pics of the fire station being demo'd, major progress on Townhomes at Holcomb Place, and the paint mystery on the Waterfront Tower deepens. Click to view pics!

6/13/2008 - BEEEER CRAWL! - Mark your pda/google/Outlook calendar for Saturday, June 28th for the inaugural Reno Beer Crawl. This locally brewed event is being sponsored by 13 downtown Reno taverns. The Beer Crawl spans five blocks from California Avenue to the north end of the Riverwalk District. Participants include Amendment 21 Grill & Sports Bar, 3rd Street Blues Bar, 5 Star Saloon, Ceol Irish Pub, the Chocolate Bar, Foxy Olive, Red Martini, Red Rock Studios, Satellite, Se7en, Sierra Tap House, Silver Peak and The Waterfall. A free Reno Beer Crawl shuttle will circulate along the route providing rides and information. Participants can purchase glasses and maps for $5 on June 28 from 2– 5 p.m. at Amendment 21 (425 S. Virginia St.) and The Waterfall (134 W. Second St.). Each bar will have 5 ounce glasses of specialty beer available for $1. Beers featured in the first Crawl include international favorites and four quality local offerings by Great Basin Brewery, Silver Peak, and Buckbean.
Each month's Crawl will highlight a different downtown retail establishment and a benefit a different local charity. The featured business and beneficiary of the inaugural Crawl is Reno's own roller derby sensations, the Battle Born Derby Demons (BBDD). The Demons face off against the Silicon Valley Roller Girls on June 28 at 7 p.m. at the Rink on the River. The team is offering a $10 special for game tickets and a glass and map to the Reno Beer Crawl.
The Reno Beer Crawl and BBDD are inviting 150 members of the Nevada Army National Guard to attend the Crawl and the game for free.
Free parking is available at the Amendment 21 surface lot located at 445 S. Virginia, the 50 West Liberty parking structure at 440 S. Sierra, the new Washoe County lot on Court and Virginia Streets, and the City of Reno lot at 2nd and Virginia Streets. I'll give you another reminder as the event date nears.

6/13/2008 - DOWNTOWN RENO WALK
Townhouses at Holcomb Place, Baseball Site, Downtown, Montage, and more. Click here to view pics.

6/13/2008 - PLANNING COMMISSION STUFF - Things have been pretty quite on the Planning Commission front lately, for pretty obvious reasons. However a couple of tidbits are in the upcoming meeting. Not super interesting, but enough to post about:
1. RTC Transit Station - LDC08-00216 (RTC 4th Street Station) – This is a request for:
(1) a special use permit to reduce the Floor Area Ratio (FAR) below the required 3.0 for the Entertainment District of the Downtown Reno Regional Center Overlay Zoning District; and (2) variances to: a) reduce the required setbacks for the site; and b) to modify various lighting, landscaping and screening provisions in Sections 18.08.405(4)(a), (d) and (e) and 18.12.1201 through 1209. The ±2.62 site is located at 200 East Fourth Street at the southeast corner of the intersection of East Fourth (4th) Street and Lake Street in the MU/DRRC (Mixed Use/Downtown Reno Regional Center) overlay district. cdr [Ward 1]
2. LDC05-00547 (Grand Sierra Condominiums) - This is a request
for a one year time extension on the tentative map for the
Grand Sierra Condominiums. The ±144 acre site is located
along the east side of US 395, north of Mill Street and south of
Glendale Avenue in the MU/RLM (Mixed Use/River Landing at
Mill) zones. vak [Ward 3]
I'm not sure if the Grand Sierra item is for the current condos in the main tower, or referring to the Kobi Karp towers Grand Sierra envisioned on their property, but I guess an extension is better than canceling it totally.

6/11/2008 - RDA MEETING
Yay so the RDA meeting finally started, after a pretty intense discussion of Antique Dealers. Mark Lewis began with a general overview of the history of the priority projects. I'll skip that part since most of you that have read this site know the history of most of these projects. I was happy to hear this time around solid timelines have been applied to most of these projects. Review of priority projects:
Beautification art - City hall exterior enhancements are currently underway. On July 9th there will be a meeting with business owners along the remainder of Virginia Street from Mt. Rose to Liberty to discuss possibilities, concerns etc of extending the pilot lighting project.
Facade Improvement Program for South Virginia - Architect is finalizing design plans with the business owners involved, funding for this project has been identified through the same funding source as the Post Office project. It should be before the City Council for approval in final form within next couple of months.
10 North Virginia Retail - Architect has come back with some LEED concepts, better architectural concepts, and still has 'one of the larger restaurants in Tahoe' in tow. My guess is still Garwoods. Mark didn't mention, or I missed, when it would come before Council for approval, but odds are it will hit the Citizens Advisory Committee first sometime early summer. He mentioned the council will be very happy with his revisions. If you remember, the first design the developer submitted was less-than-well-received by the Council.
Post Office - Agreements have been restructuring for HUD compliancy, which is where funding for this project and the Facade Improvement Program have been identified for a loan. RDA and the Post Office are lining up final ducks in a row, and the final agreement should be before the City Council in September. The Post Office has found another location in the downtown area they are happy with.
Post Office Plaza - Scheduled for completion in December of 09. RDA is hoping to bring final design for plaza to council for approval Oct of this year.
Whitewater Extension - Originally started as ecochannel, then converted to whitewater park extension. Three well-qualified design firms turned in proposals. Funding has yet to be identified, and staff is working with the finance dept to identify this.
Two Downtown Parking Structures - One on west side of Virginia, and one on east side. Mark Lewis mentioned parking structures are hard to build, and the city has no funds to build them on their own, and they have to be built from projected revenues of the structure itself…cost of land has been a challenge. So to get around that they have been working with a large private business downtown. I am still guessing the Eldorado. They completed financial analysis in March, and a bond underwriter is reviewing the project. The project should be back before the council for approval by October. I believe this is only for the West-of-Virginia-Street structure. No word on east-of-Virginia structure.
Entertainment Core Retail - Merged with baseball project. Council's main goal was to use baseball as economic driver to bring more retail in town. Completed negotiations with RTC to acquire Citicenter property, funding sources are being finalized for Citcenter. An agreement is in negotiation stage for the proposed ground-floor retail National Bowling stadium retail and plans should be submitted to the council no later than September. Hyatt agreement has been completed.
Baseball - Utilities still being relocated including sewer and stuff associated with the power substation on-site. Fire Station demolition is scheduled this month, and asbestos is being removed right now. An environmental plan has been approved by the County. Concrete should start pouring in August.
RETRAC COVER - The railroad has requested some revisions construction should start first part of July. December 08 completion. New UP staff came on board, has a view different perspectives on the original MOU. Has not submitted to UP the final structure design. UP will provide an EIC to start work at the rainbow bridge to repair the wall. Toward the end of April, UP decided it would not treat it as design/build project, and would not let city start building the deck until the plans are approved. Are in final changes of approval of structural design, first round of comments back from UP on ventilation system of design in a couple weeks.
Urban Market - RDA is currently working with tenants for internal improvements, including plans and license applications. UNR Cooperative Extension will design and maintain the West Street Median, which will be a unique horticulture garden and a prime centerpiece of the market. From the renderings, it looks like the clock from Park Lane Mall is also a component. The Outdoor market will begin in July. First one is July 9th!
The Grand Opening for the full interior Market is being finalized for October. A commissioning of a unique bike rack for market has been commissioned from Youth Artworks (sorry if that name is wrong, Mark said it so fast I didn't catch it).
Should have complete presentation by month of July for October Market.

6/10/2008 - NEW POLL QUESTION
- Yes Yes I know I have been lagging big time in getting another poll question up, but I don't like to just ask trivial non important questions. So here's one for you; I had some relatives in town last weekend, and we were sitting around, trying to think of a new restaurant to go to. I've been to most of the restaurants downtown, with the exception of the casino restaurants, some of which are rated really nice. I suggested the steak house at Harrah's, however my relatives wanted nothing to do with a casino, no matter how good the restaurant was. I found that odd, since usually you just have to do a quick walk-through the casino to get to their restaurants. So I asked, 'If Harrah's was Harrah's without the casino, would you go?' They answered yes, which got me to thinking about how locals feel about the casinos downtown, and how they dictate their food/entertainment options. Most people I talk to avoid hotel casinos at all costs, and yet some of the highest rated restaurants in recent 'Best Of' lists are in casinos. So then I pondered for a second...what if a 16+ story hotel tower was built downtown WITHOUT a casino? Most cities, including Denver, Los Angeles, San Francisco, NYC, Chicago, Sacramento etc have large non-gaming hotel towers downtown. Of course, I doubt one will ever be built, but one can dream! Take my poll....

6/10/2008 - VARIOUS TIDBITS
- You may have noticed, but the Waterfront Tower (I forgot the new name) on 2nd Street across from the site of the baseball stadium is getting a new coat of primer! Most of the western face of the building is covered in white primer. This building will be undergoing a multimillion dollar makeover, with retail being put in on the first floor.
- The River Festival this year drew a record crowd of over 37,000. Nice!
- A priority project update will be given to the City Council/RDA at 2:00 p.m. on June 11 (tomorrow), City Council Chambers, 1 East First Street. Priority projects include Community Assistance Center, Baseball, Entertainment Core Retail, Beautification, 10 North Virginia Street, Post Office, ReTRAC Cover, Urban Market and the Whitewater Park extension.
- The Historical Resources Commission has a couple upcoming items that mean a lot to me; The first one is discussion, location, and possible actions that may be taken to preserve and interpret the original V & T Railroad Abutments on the north and south sides of the Truckee River. If you aren't familiar with these, they are between where Lake Street crosses the river and 2nd Street crosses the river, right in front of the Grant's Landing property, and the are the old bridge supports for where the V & T used to cross the Truckee. The Around Carson dude has some amazing shots of the bridge that used to be there. The V & T also used to go right down Holcomb Avenue, past my house. You can spot the Freight House in the first photo below.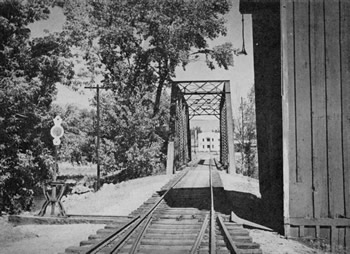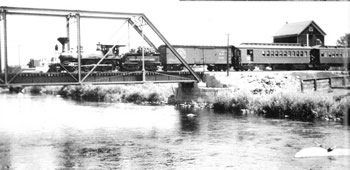 - In the HRC meeting on Thursday, they will also discuss adaptive reuse of the unused portion of the Amtrak Station, perhaps as an information kiosk.

6/6/2008 - MONTAGE WALK-THROUGH! - Alright DTM readers this is what many of you have been asking and waiting for, a full-fledged tour of the Montage! That's right, interior pics finally. Keep in mind, my mid-grade digital camera doesn't even come close to capturing the full essence and vibe of this project; you'll need to see it yourself, which you can soon when the 7th floor models open. I was blown away by the progress I saw on the interior. It's really coming together with over 300 construction workers on site, all in a synchronized dance to the finish line. The pool deck is out of control, it's insane, I just don't know how else to describe it; when completed it will have a large pool, 2 large hot tubs, trellises everywhere, an owners clubhouse, lush landscaping, on-deck fire pits, water sculptures, deck chairs, and more. Speaking of landscaping, they will be planting 35 foot tall trees from Moana Nursery along Sierra and 2nd Street. I captured great pics of nearly everything; the models, the mega-tall lofts, the terrace townhomes, the 2 main decks, the 2 primary restaurant spaces, and more. Larry, a marketing guru co-worker of mine and who helps me on this site, went with me on the tour and he fell in love with the building as well. Fernando was awesome for taking us on a tour; the more I hang out with this guy, the more I 'get' his vision for downtown Reno. Check it out by clicking here!

5/30/2008 - VARIOUS TIDBITS
- The Dairy Queen downtown is history. This is part of a much larger story unfolding, stay tuned.
- The Baseball folks have a web cam up now. It actually has a pretty good refresh rate (tech talk, sorry). http://www.cityofreno.com/Index.aspx?page=1532
- Roots for Wells - We have some amazing people on the Ward 3 Advisory Board, particularly those that live on 'the island' as it has come to be known. Ward 3 Neighborhood Advisory Board provided a grant of $7500 to fund the first annual Roots for Wells street tree planting campaign for the spring of 2009! With a generous donation of 100 trees from the City of Reno Urban Forestry Department, and with the help of volunteers, we plan to plant 100 trees in a single day in the landscape strips (planting strip between the sidewalk and street) next spring in the neighborhoods surrounding Wells Avenue. We want this to be an annual event, planting 100 or more trees each spring.
- Have you all noticed that along South Virginia Street from Liberty down to about Mt. Rose, and also on Wells Avenue, that retail spaces are filling in? A Money Tree is going where Kokopelli's used to be on South Virginia, and a hip clothing store has moved into where Resco Restaurant Equipment used to be. And on Wells Avenue, I am seeing less and less graffiti, and several remodeled storefronts. This neighborhood is really starting to turn around.

5/30/2008 - DOWNTOWN WALK 5-28-08
- New exterior features added to Montage is making it really look sharp now, plus pics of Townhouses at Holcomb Place, State Street Project ground work, and general pics of downtown. Click here to view!

5/28/2008 - GRANT'S LANDING NEVER LANDED
- So that's that for Grant's Landing, for now anyway. The land is for sale on Loopnet as id 15725396 (or just search for Grant's Landing). Thanks Mike for the tip! Oh well. Maybe someone else will come in and build something eventually. Also for sale on Loopnet is the Ponte Vecchio project. I'm not sure if it's a good sign or a bad sign when an entire project (land) is for sale. But they are for sale. Maybe Ken up at Urban Blog can buy the land and finally make his awesome Circle Square Plan come to fruition.

5/26/2008 - 2008 - YEAR OF THE BUSINESS HOTEL
- Blech it's a rainy not so warm day out. A good day to do a post! So let's talk about business travelers. I used to be one, I know the species well; decked out in mobile electronica and can pack for a plane in less than 10 minutes. It appears Reno has underserved this market, because as one of my favorite tipsters pointed out to me, there is suddenly a flurry of business-class non-gaming hotels being built. Let's review;
1. A new 96-room, four-story Staybridge Suites is being built in South Meadows next to Hampton Inn, designed for extended stays a week or more, each room will have full kitchen amenities.
2. The Hampton Inn, where #1 is going next to, was recently completed in South Meadows.
3. A new business-class hotel will break ground soon on I-80 and Robb Drive.
4. Site work is being done for a 127-room Hyatt Place hotel at the corner of Plumb Lane and Terminal Way.
5. Hyatt Summerfield will break ground in August downtown Reno on 2nd Street. Designed for extended stay business travelers, will have full kitchen amenities.
6. Others Include: Another one just opened by Costco on Plumb, one is being completed next to the Neal offramp, another just west of 395 and north of Plumb under construction, and one just finished by South Meadows and Double R.

5/18/2008 - DOWNTOWN WALK - PORT OF SUBS DOWNTOWN AND TRUCKEE RIVER EATS AND SWEETS
- It's 3:00 p.m., and there are so many people downtown it feels like downtown will burst at the seams at any moment lol. I am looking over at Wingfield Park, and there isn't even standing room. I see no special events going on, so this is pretty incredible. The city really needs to step up the pace on the extension of that whitewater park, and it wouldn't hurt to see an extension of Wingfield Park somehow...maybe northward up the Truckee a bit....people need more room! Anyway I headed out earlier today to take some pics, click here for my downtown walk pics. There are some great new shots of Montage, State Street Project, Townhouses at Holcomb Place, and First Street area. Go check out Truckee River Eats n Sweets, the store seemingly popped up out of nowhere next to Sierra Tap House on the Riverwalk near Arlington. They sell everything from ice cream to dog treats to salads and sandwiches.

5/17/2008 - LEED CERTIFIED OFFICE BUILDING TO BREAK GROUND SOON ON CENTER STREET
- Check this work of art out. Yes, I like these kinds of buildings, I guess I dig a wide range of architectural styles. Anyway, this is being built on Center Street, across the street from 8 On Center in that empty lot. They recently upgraded the utilities on that lot, and it's due to break ground this summer. It will be a 'green' building and LEED Certified, offering office space on two floors.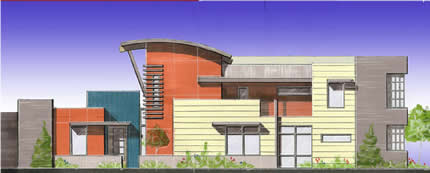 5/17/2008 - VARIOUS TIDBITS
First Street - There is serious activity going on where La Bassola used to be, on First Street between West Street and Arlington. I wonder what is going there? Anyone know? NNBW reports that Port of Subs is staking out a place on First Street, and a place called Truckee River Eats 'n Treats opened on the Riverwalk, yet I can't find a thing about it on Google, RGJ, or on Renoriver.org. Anyone have more info on that as well?
Ponte Vecchio - Well look what project popped back onto the radar! Ponte Vecchio recently had an item on the City Council agenda allowing them to proceed with the remodel of Lundsford Park. Also, Equipment and materials storage containers were on the Ponte Vecchio site today and some guys were there beginning to organize the construction site together - looks like serious site work will probably start soon.
Shopper's Square Expansion - Ground work has started again here. Perhaps construction will begin soon. The Park Lane Mall property remains eerily silent, nothing in the Planning Commission pipeline either.
Ryder Homes Project on Mill - 2 of the houses on the Willow-facing side are now vacant with no for rent signs in front anymore. A tipster that lives close to the project was told demolition could happen within 90 days. If you aren't familiar with this project, it's on the corner of Mill and Holcomb and Willow and High Streets, a very large parcel with some really run down industrial buildings used by police for raiding drills etc, and then a few old brick 1920s-1930's homes. I am on Ryder's list to get the garage doors off one of the homes before it will be demo'd, and my neighbors are on the list for the old windows, and my other neighbor has dibs on the garage door. Lots of people in Wells Avenue neighborhood like to recycle house parts for our old homes. It's a great practice for restoring homes.
Dairy Queen Downtown - The gated-off Dairy Queen downtown might see the wrecking ball soon. A birdie told me the property owners are possibly seeking bids to demo it within this month.
Tahoe Reno Industrial Center - If you haven't had a chance to go out here, OMG! I tipster told me to drive out and take a look. It's amazing, huge 1 and 2 million s.f. buildings being built everywhere, and they all seemingly already have a company staking claim to each one...i.e. they aren't just being built to remain empty, there are actual companies building them to move operations here. I know its not downtown, but this seems like the correct way to localize and consolidate industrial operations.

5/14/2008 - ADDITIONAL ITEM FROM CITY COUNCIL
- Fire Station #1 Demo - Right before the presentation of the West Street Market, a couple of firefighters addressed the council during the public comment phase of the RDA meeting. The first firefighter that got up and spoke was very visibly upset about relocating Fire Station #1's fire trucks to multiple fire stations until the temporary stations are built. See, one problem is that the firefighters have to vacate the current building before the temporary fire stations are completed in August. So, during that time frame, downtown Reno's response times would be 6+ minutes until the Valley Road and GSR temp stations are completed. He mentioned that Fire Station #1 had over 10,000 calls last year, 75% of them being medically oriented.
Then the second firefighter got up to speak, his name was Richard and he was the President of Reno Firefighters. He mentioned how downtown Reno was kind of blocked in, and that if a natural or large disaster like an earthquake ever happened, there is a high chance access to downtown Reno would be blocked. They were even willing to sleep in tents if necessary just to stay downtown. Something really has to be said about firefighters who feel that passionately about this, yeah? Kudos to them for dedication and protection of their district.
In a rare move, the City Council began to ask questions directly of the firefighters during Public Comment phase and began discussing this issue. City Council is going to look at possibly leasing a property downtown to keep some firefighters and a truck or two, until the temporary stations are completed. Sharon Zadra mentioned she would like to see a REMSA station downtown. Call me dramatic, but what the firefighters said was pretty moving, it got the council's attention for sure, and I just can't thank them enough for being so dedicated to the downtown area. Fire Station #1 you rock!

5/14/2008 2:45 p.m. - BREAKING NEWS - WEST STREET MARKET TENANTS - You saw it here first!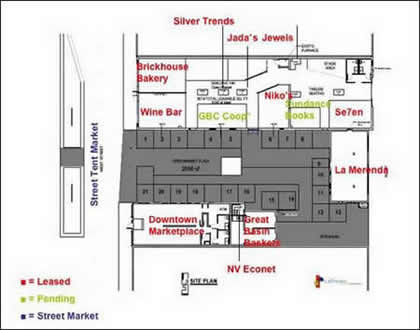 - Brickhouse bakery - Chris Tisdale will be running it, bakery in his hometown is dream come true.
La Marenda Italian Restaurant and Shop - Great Italian Cooking
Wine bar - Run by Rick Martinez, has traveled the world looking for great wines, and is happy to find a place downtown to share his passion.
Great Basin Community Coop - Will handle fresh produce. Started as buying club with few volunteers in 2006. Then operated storefront in 2006. Provide local organic and whole foods to well over 900 people. Fresh local stuff.
Mikanos Greek Restaurant - was born and raised in Greece, has run a restaurant the last 9 years. Simple authentic greek food.
Se7en Teahouse and bar – Great energy with teas and stuff.
Downtown Marketplace - Pioneers in downtown. Will handle groceries and deli downtown.
Great Basin Community Basket - Really interesting. Community Supported Agriculture. Subscription service to buy a basket a week from particular farmer with premium produce.
Sundance books and music - Second store downtown.
Jada's Jewelrry - handmade jewelry store downtown. Natural stone, sterling silver.
Silver Trends jewelry
Additional vendor booths will be available for rent by day or week. There will be outdoor stage, as well.
3 outdoor Markets will start in July, changing weekly -
Every Wednesday night at the market will feature an "Eco Market" produced by Nevada EcoNet. Topics include: Bike & Air; Trails & Land; Babies & Education; Beauty, Health, Clothes; Green Buildings; Pets & Wildlife; Cars, Biodiesel & Public Transportation; Art & Burning Man; Garden & Landscaping; Office; Energy & Sustainability; Waste & Recycling; Eco-Tourism; Truckee River & Water.
Friday nights will feature an "Artist Night" with the Holland Project providing programming with the following titles: "Ode to Crafternoon: Not Yer Granny's Craft Fair; Bazaar Bazaar; Word Up & Vertigo Pre-Party!; Old School Block Party; The Anatomy of Body; Bohemian Circus; All Things Bike!; Recycled Works; Spontaneous Solutions; Spoken Views.
Saturday mornings will feature a Farmer's & Chef's Market in cooperation with the Saturday morning Farmer's Market on California Street.
Jennifer Bushman - Market Consultant – will be charge of 'programming.'
More to come once the meeting is over!

5/11/2008 - DOWNTOWN WALK - RIVER FESTIVAL PICS
- I spent most of the day downtown on Saturday, and from the looks of it, the river festival was again a huge success. Also included in this gallery are update pics for Townhouses at Holcomb Place and the State Street Project. Click here to view the pics.

5/7/2008 - SOME WEST STREET MARKET TENANT SNEAK PEEKS
- A food angel whispered into food extraordinaire Jonathan Wright's ear that a Nick's Greek Deli is among the tenants scheduled for West Street Market downtown. The other new item not mentioned previously is Se7en Teahouse being part of the lineup. That's surprising given they have a location less than a block away. That should play out interestingly. I would have expected Reno restaurants that don't already have a downtown presence would be the ones interested in setting up shop at West Street Market. We'll see when the big lineup is announced May 14! Let's not forget that people overwhelmingly voted for ethnic-specific grocery stalls in my poll.

5/7/2008 - CAC MEETING 5-6-08
Lots of goodies packed into this meeting, including updates on 10 North Virginia, the urban market, the Truckee River Bridge Envisioning Project, Baseball Stadium, Entertainment District, and more. Click here to read.

5/5/2008 - VARIOUS TIDBITS -
1. Powerhouse Gym's stint in Reno seems to be short-lived. When I walked by today nearly half the gym equipment was gone from the building. Either they are doing improvements to the building to meet fire codes, or they bailed on the project.
2. At the Montage, they are beginning to install really large double-wide decking on the south-facing side of the building facing Sierra. A large crane on Sierra Street seems to be helping put these in place. I imagine this area really coming together in the next month.
3. Ballpark Construction - Activity is limited to a small crew doing some dirt work, but Devcon Construction trailers are there on site.
4. 100 North Sierra - Still no interior construction/renovation, however an 'office space for lease' snippet has joined the 'commercial space' for lease. Perhaps plans have changed?
5. If you haven't heard yet, District at Victorian Square has been scrapped in downtown Sparks. Ken at the Urban Blog has great commentary.
6. I heard rumors that the Belvedere project is/was in trouble, however construction was in full swing when I walked by today.
7. Granite Construction will begin the RETRAC cover on June 2. Phase 1 comprises of a concrete lid over 2.8 acres of train trench downtown.

5/5/2008 - DOWNTOWN WALK - Vertical construction begins on Townhomes at Holcomb Place, downtown shots, Montage construction. Click to view pictures.

5/3/2008 - NEVADA DISCOVERY MUSEUM TOUR - This is one of the most exciting projects downtown that isn't residential or retail-based. It's an excellent example of re-use of an existing building and central to the revitalization of south downtown. So here's a tour! If you are unfamiliar with the Nevada Discovery Museum, it's a children's museum being constructed in the former Reno City Hall building located at the corner Center Street and Stewart Street downtown, directly across from the Federal Courthouse. It's hard to tell anything has been done to the building looking from the outside in, but nothing is further from the truth. Click here to take a tour of the demo work completed thus far.

4/27/2008 - WINGFIELD? - I've received some odd emails regarding Wingfield Towers lately. One was from a person who 'would be happy to finance the project', another was from a person nearly scolding me for labeling the project as 'scrapped' on this site, and then from the people directly involved with the project itself, telling me that the project is still alive. Hmmmm, could it be one of the most talked about, anticipated project that emerged from the slew of proposed projects in 2004-2005 might see the light of day after all?

4/22/2008 - JUICY JUICE - So let's talk rumors and speculation! Remember, these are RUMORS so treat them as such.
1. One of my tipsters had a conversation with someone involved with the Masons, and he talked about pending sales of the Masonic buildings. They plan to sell both buildings - the 1960's era annex housing Bruka as well as the older building to the west of it - and are very close to a sale, but apparently want a sizeable closing delay - til mid 2009 - in order to give them time to make relocation arrangements.
2. Could Legends at Sparks Marina be getting some competition across the pond? They don't affect downtown, but consider these two transactions...On March 18, the Mayor's Cashell Enterprises sold its Alamo Truck Stop / Casino to the entity that owns the TravelCenters of America string of truck stops. The 42 Acre facility sold for $42.5 million. It is located on Gregg St in Sparks, south of I-80 between the Sparks and Vista offramps. On March 31, Peppermill Casinos took full ownership of a couple of old motel structures that are part of the its Western Village Casino - located next to the Sparks Marina on the McCarran offramp from I-80. The transaction was for $10.5 million to buy out a partnership (of which Peppermill was a part) that formerly owned the motel structures. The motel structures and casino occupy about 9 acres. The rest of the commercial acreage on that quadrant of the offramp is occupied by a TravelCenters of America truck stop that occupies almost 16 acres. I've heard various rumbles over the past year that Peppermill wanted to renovate and expand its Western Village Casino, which makes a lot of sense given what RED Development is doing with the Legends project on the east side of the Marina. If they wanted to make changes, they would certainly want to get everything under the Peppermill ownership and get rid of the old partnership ownership of the motels - so that transaction makes a lot of sense. But, why did TravelCenters buy out Cashell, when they already have a truck stop on the other side of the freeway about a mile west of where Alamo is located? Could Peppermill be in the process of buying their truck stop next to the Marina - perhaps to gain additional real estate for a casino expansion? And, might TravelCenters be preparing to expand their operation by "trading up" to the much larger 42 acre Cashell operation - which has vacant and unused parts? Looks like a lot of changes "might" happen along that stretch of I-80 over the next few years :-)
3. Property Acquisition - The group that purchased the Woolworths building downtown a while back is snatching up multiple properties in a very strange location of downtown. I don't want to say where exactly, because they still have a few properties left to acquire and I don't want to jinx them. On March 4, the Atherton-based group that have been buying properties in this area bought one more property; an old house - price $230K. In Oct 2007 the Atherton group made three separate purchases and then backed off. This time, with the ballpark and other stuff commencing, they may be preparing to buy the rest of the privately held properties.
4. To the readers that have been emailing me about RGJ's recent story on downtown, YES I am well aware of the activity going on there, I've been covering it for the past year. However at the request of one of the parties involved, I am not casting any extra attention on the project yet as land acquisition is not complete yet, and the developers don't even know what they are going to build there yet. Can you say 'premature story'? To me, it's important a project of this magnitude has every opportunity to happen, and far outweighs the satisfaction of getting 'the scoop.'

4/20/2008 - NEW PALLADIO RESTAURANT? - This one slipped by me as I am not super into food and check Mr. Wright's blog on a weekly instead of daily basis, but it looks like Starbucks on the bottom floor on the Palladio may finally have a neighbor. Canadian based Firkin & Fox might be moving in. They already have a restaurant in Carson. This has not been confirmed by the Palladio yet, and thus far at least as of last week, 'Available' signs were still on all the retail spaces at the Palladio.

4/19/2008 - WELLS AVENUE WALK - Usually I take my dogs for a walk downtown, however this time I cruised around my own neighborhood, the Wells Avenue area. It's a beautiful neighborhood, and you will be hard pressed in Reno to find a higher concentration of old 1920's and 1930's homes in such a concentrated area. Click here to view the pics!

4/18/2008 - NEW CLUBS OPENING DOWNTOWN TONIGHT - Two new clubs/lounges open downtown tonight. The first is the Red Martini, dubbed as a 'super lounge', located on the 200 block of West Commercial Row across the street from the Montage project on Sierra St., and the second is a dance club (I think) called Club Carnival, located where Vino's Italian Restaurant and Lounge used to be at 240 N Sierra Street just north of 210 North.

4/17/08 - NEW POST OFFICE PLAZA RENDERINGS AND NAME! GIVE YOUR INPUT - City officials, CH2MHILL, and the reno-ites via a few public meetings have narrowed the new post office plaza design to two main concepts. The thought process on this project has come a long way, when comparing the first concepts with these. It's gone from a basic West Street-type plaza river access to 2 final concepts which involve some really cool design elements and landscaping. Many of the new features incorporated were a direct result of public input. I described these in great detail in my CAC Meeting Update. Here are brief descriptions of the two again:
Design 1: Geometric Classic Option - inspired by geometric patterns of the building.
Design 2: River Terrace Option: The distinction of this one than previous one is center portion of the design is more curvilinear, providing more flowing forms to the river.
So, check out the two concepts and tell me which you like better. I prefer the Classic Geometric option as it seems to break up the terraces more. CH2MHill prefers the River Terrace design. Folks in the 4/1 CAC Meeting where it was presented tended to lean toward the Geometric Concept.
ALSO, the post office plaza has yet to be named, so check out my new poll and pick what you like the best :)


Classic Geometric Design (click image to enlarge)



River Terrace Design (click image to enlarge)



Both designs side by side top view (click to enlarge)

4/17/2008 - NEW RENDERINGS AND NAME OF URBAN MARKET - The urban market I think finally has a permanent name; West Street Market. Here's some new renderings with the updated name. A partial-to-complete tenant list should be released any time now.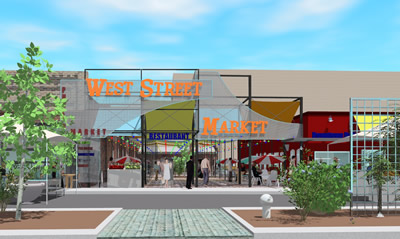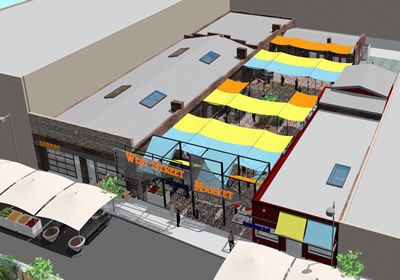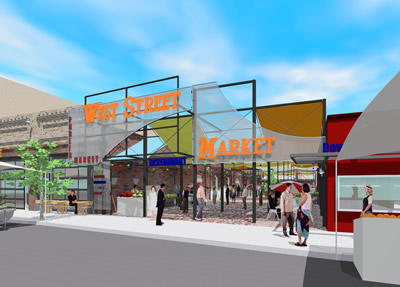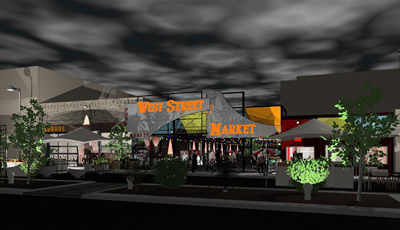 4/16/2008 - DOWNTOWN WALK - Wow what a walk! All kinds of stuff you must see, including an exposed Montage's lower floors, yoda, the demo of the Nevada Inn, and various shots of downtown. Click here to view.

4/14/2008 - WINDSTORM - Wow what a windstorm! That was nuts. I took a little drive-thru downtown and my Southeast neighborhood. There were quite a few little pockets of damage; I saw some trash dumpsters on Court Street that had smashed into the back of some parked cars, Sierra Street is closed right now due to the Montage mess, poor Windsor Motel's sign didn't make it, saw many newspapers racks, trees, flowers, signs that were damaged. In my neighborhood over by Holcomb, quite a few large branches and trees were uprooted, but thankfully and quite miraculously none of them I saw hit parked cars or homes. I lost my backyard fence, which required some creative emergency preparing using car jumper cables, clamps and some rope (don't ask lol).

4/12/2008 - ANNOUNCEMENTS AND RUMORS -
1. I heard a rumor, which was reinforced in the comments section of Diane Cohn's blog, that a non-gaming hotel might be in the works at the Sierra and Liberty corner where Arterra was to be built.
2. A new yoga studio/hang out place has opened called Vajra Yogic Lounge, located at 100 North Arlington in the heart of downtown Reno. Go check them out! They specialize in some pretty unique kinds of yoga including AcroYoga, Thai Yoga, and massage.
3. I have a few friends who live on the perimeter of the Ryder Homes project proposed for the lot on High St, Willow, Holcomb and Mill. They saw Ryder people mulling about the property the other day, and went over and talked to them. There are mumblings that the homes will stand at least for another 90 days, but after that....plans could be in the works. They still haven't submitted their maps to the Planning Commission yet.

4/11/2008 - DOWNTOWN WALK - Construction on Holcomb, river corridor pictures of downtown Reno, Riverside Market Construction, and the Montage. Click here to see

4/9/2008 - IN THE NEWS -
1. The City Council approve a pedestrian & bikeway plan for east Reno as described in a previous post of mine. One interesting note in the RGJ article is the Waterfront Condominium project 'to start by the end of the year.' That would be nice! Click here to read.
2. Stremmel Gallery fusses about the pilot lighting program on Virginia Street changing the color of LuLu's from red to terra cotta. Perish the thought.
3. The ReTRAC study is now complete. Let's start renovating.
4. Legends at Sparks Marina now has web site. Tenant list is enticing, particularly Dickenson Theaters.
5. I can't remember if I posted this or not, but Downtown Improvement Association now has a web site. They are a pretty influential organization that represents the majority of businesses downtown and issues that affect them, including crime, homelessness, development and more. Click here to check it out.

4/2/2008 - CAC MEETING REPORT - 10 UPDATES YOU MUST KNOW! - All kinds of goodies packed into this month's CAC Meeting Report, including new renderings of the Urban Market, details on the urban market, Baseball Stadium, RETRAC Cover schedule, 10 North Virginia (yes it's still a project!), detailed info on Post Office Plaza, and way more! Click here to read.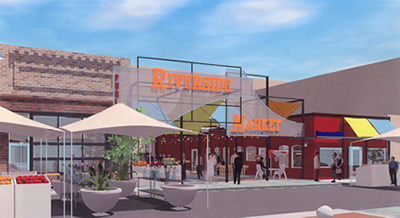 4/2/2008 - FLATLINERS SHOW TOMORROW - I rarely post actual events on here, mostly because I am a busy workaholic hermit who doesn't get out much. But a close friend of mine has been working hard on a very cool punk show that will be at the Underground tomorrow, which is Thursday. The band hails from Canada, are known to never put on a bad show, and is traveling a looong way to play for Reno. So if you like good punk music, come and check them out! Here's the flyer. I'll be there!

3/29/2008 - NEW POLL - The last poll results were very interesting. Combined, about 63% of you have been downtown the past week. To the 12% who haven't been downtown in years, get down there! I have a new poll. Given the hoopla over this Thunder Head resort expansions across the blogosphere, I figure I would put downtown casinos on the spot. In my opinion, the downtown casinos are a tad passe. The Atlantis, Peppermill, and Grand Sierra Resort have all undergone hundred-million-dollar+ expansions, and the Silver Legacy recently added an ultra-lounge. Ooooooh exciting. The exterior of Silver Legacy is architecturally pleasing, but it's interior leaves something to be desired. The Eldorado is a bit aged all-around, and the Circus Circus seriously needs some help. So take my poll! And tell me in the comments section some innovative ideas for renovations to the downtown casinos.

3/26/2008 - COUNCIL APPROVES WALKWAY PLAN - The City Council today approved a plan to link the baseball stadium, a planned transit Station, and a new Hyatt going in.
If you haven't noticed, the north side of the Truckee River starting from Lake Street up to Wells Avenue is a bit 'rough around the edges' to say the least, particularly along the proposed Waterfront District property where the edge of the embankment is crumbling slowly into the Truckee.
A walkway on the north side of the river would start at the proposed Waterfront condominium project at Lake Street and head east to the former Harrah's office tower.
Basin Street Properties, owner of the former Harrah's tower, would provide access along the west side of the building to Second Street. This will tie into Basin Street's plan to open back up the bottom floor of the West side of the building, where an Auto Garage used to be, and convert it to retail. So it makes perfect sense a walkway would go there. From there, a crosswalk across 2nd street will link over to the Stadium..
A new, wider sidewalk to handle crowds from the stadium would be east on Second Street and become a walkway along the river. Another walkway would head north, through the stadium plaza, and west on the north side of the railroad trench where SK Baseball owns land for retail. The walkway also would reach the to-be-built Fourth Street Transit Station.
According to the RGJ, "Reno Redevelopment Agency administrator Mark Lewis told the council Wednesday that SK Baseball is near finalizing purchase agreements for properties for its proposed entertainment and shopping district in the Baseball Park District." See my crude map below.
3/26/2008 - LIVING THE HIGH LIFE - Jonathan Wright has a great piece on a couple that has decided to embrace downtown living, on the penthouse level of the Palladio. Click here to read.

3/24/2008 - NEW POLL - I was talking with a City employee the other day about the phenomenon where some Reno residents haven't been to their own downtown in years. So, take my new poll; tell me the last time you were downtown (excluding just driving through). We're talking lunch, business, pleasure, dinner, a movie, the riverwalk, a bar, dog walk, theater, etc. AND/OR tell me in the comments section WHY or WHERE you were downtown last.

3/24/2008 - DOWNTOWN WALK - It was a beautiful day on Sunday, and warm weather is all it took for Reno-ites to venture downtown to soak in the sun and warmth. Click here for pictures.

3/21/2008 - DOWNTOWN WALK - Townhouses at Holcomb Place, Montage, Future site of Hyatt, and more. Click here to view.

3/19/2008 - URBAN MARKET POLL RESULTS - Wow with 231 unique votes (I track by IP) I have a viable amount to represent people's opinions. Let's take a look. The question was what would people like to see in the new Urban Market going downtown? The results as of this writing are:
Bakery - Fresh baked goodies like breads, pastries, etc - 16.45%
Produce - Local farmers selling fresh seasonal produce, carrots, onions, fruits etc - 24.24%
Local Arts and Crafts - Art, flowers, trinkets etc - 3.9%
Meats and Poultry - i.e. Butcher Boy type stand - fresh meat - 19.05%
Ethnic - Ethnic-specific stalls, like an Italian pasta/sauce stand, Oriental foods stand, Latino stand, etc. You'll find these at places like Pikes Place in Seattle. - 29.44%
Creamery - Local dairy, specialty cheeses, frozen yogurt, anything dairy. - 6.93%
First, it's pretty clear from the results above that downtowners don't want the Urban Market to be a glorified swap meet. Sorry, Arts and Crafters! Also, the cows didn't do so well with an idea of a creamery selling ice cream, specialty cheeses etc. Darn, because that was my favorite option. What's surprising is the Ethnic Stalls narrowly beating out the traditional farm stalls. So what is an Ethnic stall? Let's take a look at some that exist in two of my other favorite urban markets, Pike's Place and LA Farmers market.
Pikes Place: If you haven't been there, it's a must when visiting the Seattle area. It's a bit touristy, meaning you'll find most locals frequenting smaller-scale farmer's markets scattered throughout the area; but there are some amazing shops there to check out. Their ethnic/specialty stores include: Bottega Italiana for the best Italian ingredients, Chukar Cherry Company, for everything cherry, La Buona Tavola Truffle Cafe and Specialties Foods, Pappardelle's Pasta (self explanatory), El Merchado Latino (Latino and Spanish foods), Mick's Peppouri Pepper Jellies, Sotto Voce flavored olive oils and balsamic vinegars, and Uli's Famous Sausage.
L.A. Farmer's Market - What can I say? I spent so much time here as a kid and teen it's ridiculous. It was a family staple. The 3rd and Fairfax Farmer's Market isn't so much a farmer's market anymore as it is an urban market. It's in downtown L.A. proper, and has been open since 1934, so one has to give props for that. Their specialty/ethnic stalls include: Light my Fire, the most amazing condiments store anywhere with thousands of hot sauces from around the world, Littjohn's English Toffee House, where they make every last morsel from scratch (this guy is AMAZING to watch work through the window), and Magee's House of Nuts, and Puritan Poultry.

There are a lot of possibilities to fit the ethnic foods/specialty shops category, and hopefully the City folks and any local vendors that fit this bill are listening. What types of specialty shops would you like to see at our urban market? Click the comment button below and let them know!
The Meats and Poultry stalls and standard farmer's market produce stalls were close runner-ups, so it's definitely important to make the market diversified.

3/19/2008 - BRIDGE VISIONING MEETING MARCH 20 - Don't forget! Tomorrow is the Bridge Visioning meeting for replacing all of the Truckee River bridges in downtown Reno. This will be the second in a series of three public workshops being conducted to establish design guidelines for future engineers and planners to follow when considering replacement of the bridge structures across the Truckee River in Reno. The goal of this second workshop is to present refined concepts for replacing the downtown bridge structures and discuss the varying levels of flood protection that differing structures would provide the downtown area. This work is a result of public input collected in workshops in October 2007. It's super important the City gets your input on this, so four or five years later when the City actually breaks ground on the first bridge replacement, we won't be shell-shocked at what is going on. Are you interested in what the new bridges for Booth, Arlington, Sierra, Virginia, Center, and Lake Streets will look like? Come and check out the revised concepts!
When: March 20, 5:30 - 7:30 p.m.
Where: McKinley Arts & Culture Center, 925 Riverside Drive

3/19/08 - UPCOMING AGENDA ITEMS FOR CITY COUNCIL - The upcoming City Council Meeting and Redevelopment Agency Board Meeting are full of little goodies regarding downtown. The Meeting is March 26, City Hall downtown 1 East First Street, or if you are like me and have a job, check back here for updates or TRY to watch the City Council meeting online or on Charter Cable.
1. New bar - A new bar is applying for a new liquor license, Strega Bar, at 310 Arlington Avenue.
2. An Environmental Consultant is being brought on board for the Bridge Replacement project, as well as continuing services for the ReTRAC Cover Phase 1.
3. Reno Film Festival may get a Community Pride Grant from the City
4. Conveyance of certain City owned Real Properties to the Redevelopment Agency to serve as collateral for the Fire Station No. 1 Relocation Loan in furtherance of the Disposition and Development Agreement by and between the Redevelopment Agency and Nevada Land,
LLC for the development of a AAA Baseball Stadium. The properties include: 001-190-15; West Wash Dam parcel (3.73 acres), 006-223-04; Vacant - old Burger King site (1.00 acre), 006-223-08; Vacant - old Precision Auto site (.25 acre), 006-223-12 & 21; 265 Keystone (building) & vacant land (1.79 acres), 006-223-unparceled; vacant land between Gardner & Chism (2.80 acres), 006-223-22; vacant land between Chism & Dickerson (4.15 acres), 007-214-26; vacant - old Savoy Motel site (.17 acres), 007-292-14; old Reno Sparks Gospel Mission (.09 acres), 007-303-12; 4th & Valley - Fire Station site (.77 acres), 008-360-07; Western Sealing & Striping (1.27 acres), 011-026-03; 2nd & Stevenson - UNR parking lot (.90 acre), 011-350-01; 3rd & Keystone - vacant (1.10 acres), 011-380-05,04,03; Men's Club Parking Lot (.49 acres).
5. Staff Report: Presentation, discussion and potential direction to staff on the Second Street/River Connection Plan, the Transit Station/Stadium Concept and the Truckee River setback requirements and to use these as guidelines for obtaining easements and making pedestrian and bicycle improvements.
6. Presentation, discussion and potential direction to staff regarding Police Efforts in the Downtown Areas.
7. Staff Report: Discussion and potential direction to staff regarding a +/- 6700 square foot portion of property owned by the Union Pacific Railroad Company, in the which the City of Reno retains an interest, which lies adjacent to APN 07-030-02, formerly a portion of East Street, Reno, Nevada on certain maps identified Record Street.
8. Discussion and potential direction to staff regarding the closure of the Voila Cafe, Parking Issues and consideration of Code Changes.
9. The Redevelopment Agency meeting, which begins at 2:00 p.m., is ALL about the Urban Market and setting up Lease Agreements etc. Also, expect an update on all Priority Projects, including the Community Assistance Center, Baseball Stadium, Entertainment Core Retail, Beautification, 10 North Virginia Street, Post Office, ReTRAC Cover and the Urban Market.

3/16/2008 - VARIOUS DOWNTOWN PROJECTS GET SOME RGJ HOMMAGE - Reno Gazette rehashed the improvement projects in the pipeline for downtown. These include the Facade Improvement Program, Post Office Project and 4th Street Transit Station. Click here for article.

3/15/2008 - THE EXTENT OF THE SHOPPER'S SQUARE DEMO AND EXPANSION - For those of you who don't frequent the Shopper's Square/Kirman area, I made this graphic showing the extent of what was demo'd for the expansion of Shopper's Square to draw in more big box retailers. The Casazza family owns the block(s), and the demo included 20+ homes, a used car lot, and an old run down retailer strip. The folks who own the Park Lane property better hustle, or Shopper's Square will beat them to the punch with a huge expansion. In fact groundbreaking is next month. Owner Ralph Casazza is tight-lipped right now on the details of the expansion. You can see an older pic of the Annex being demo'd here.


3/15/2008 - NEW RENDERINGS OF LEGENDS AT SPARKS MARINA - With scores of new stores lined up for its 2009 opening, Legends at Sparks Marina is set to become a major eastern shopping mecca for the Reno/Sparks valley. I think the project, coupled with the Legends Casino will benefit the Reno Sparks region as a whole.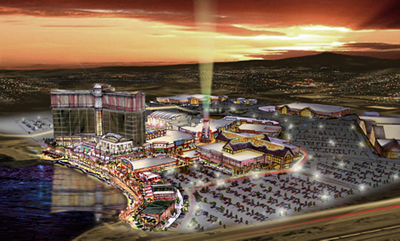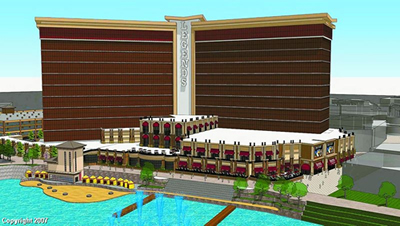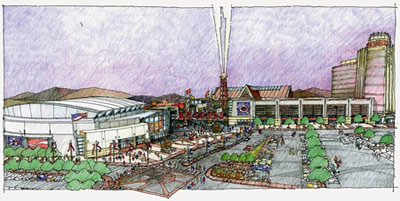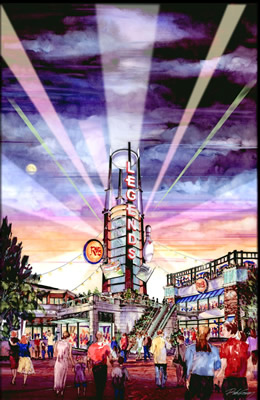 3/15/2008 - RENDERING OF HYATT GOIN IN ON 2ND, PLUS INFO ON OFFICE TOWER REMODEL - RGJ has a great article on the Office Tower being remodeled downtown. It's located right next to where hopefully the future Waterfront District project will be built, and across the street from the proposed Baseball District. Basin Street mentioned in the article that most of the first floor will be remodeled into retail. Nice, this building will finally get some TLC. As one of the taller buildings downtown it's silly it's in such a state of disrepair. Interesting also that some of the parking spaces may to go the ballpark. Below is a rendering of the Hyatt going in. The Hyatt will be breaking ground in August.

3/7/2008 - NNBW DOES BASIN STREET - Northern Nevada Business Weekly has a great article on Basin Street Properties' upcoming plans for the Hyatt Summerfield. Also, according to the article, the currently named 'Waterfront Tower' will be named 'Park Center Tower' and Basin will pump about $6-8 million into its renovation, including first floor retail catering to Hyatt guests, which would presumably include a restaurant of some kind. Basin Street Properties owns the Park Center Tower, the two properties just east of it where the Hyatt will be going, the BofA Building, the Wells Fargo building at 200 South Virginia and a shopping center down by Kietzke, and that's just their Reno portfolio. Click for article.

3/6/2008 - UPCOMING ITEMS IN THE PIPELINE - At the upcoming Ward One Neighborhood Advisory Board meeting (pdf agenda), the 4th Street Transit Center Station is on the agenda. The 4th Street Transit station is going in the vacant lot next to the National Bowling Stadium between Evans and Lake. You can see what the station will look like, and the wild rotating bus art by clicking here (wmv movie).
Also, some interesting items coming up on the next Historical Resource Commission meeting (pdf agenda) will make it a worthwhile meeting to attend. First, the post office plaza will be discussed, and it seems to be a revised concept. Second, there will be a presentation of the Facade Improvement Program, particularly discussion of the 7 properties on the west side of Virginia St. from 2nd Street to Douglas Alley. I briefly saw a first draft mock-up from the architect, and it's a substantial improvement over what's currently there. I am trying to get a rendering from Gillian to post here.

3/6/2008 - NEW LOUNGES COMING DOWNTOWN - This week's RNR has a great bars, pubs and lounge guide, pick one up and check it out. Jonathan over at the Dining Blog outlined some great new bars coming to downtown. This includes The Waterfall, at 134 West Second Street. This space was formerly Electronic Espresso, and I am happy they are keeping the wifi. Features include 'two water features (hence the name), flair bartenders, a lounge/VIP area with bottle service (a gas fireplace with carved wooden surround is already installed), live music, free wifi and, eventually, 50 beers on tap, espresso, wines by the glass and gourmet nibbles'. Lincoln Lounge will be opening very soon, at 302 E. Fourth St where the Reno Jazz club used to be. This spot is only a hop skip and a jump from the new planned Ballpark District. I love the brick building this space occupies.

3/5/2008 - DOWNTOWN WALK - Another nice spring day. Check out pics of what's going on with Townhouses at Holcomb Place, Montage, and the Baseball Site. Click here to view.

2/26/2008 - EVEN MORE VARIOUS TIDBITS -
1. Hyatt Summerfield Across from Baseball Stadium - A couple of months back you may remember me guessing that the Hyatt brand going across the street from the Baseball Stadium would be a Summerfield. I was right! Click for article. Also, click here for more info on the Hyatt Summerfield all-suites brand.
2. Ballroom - Article on Ballroom opening soon. Click for article.
3. Baseball Stadium - Groundbreaking was chocked full of people ,and the new rendering of the stadium is schweeeeet. Click for larger image below. Ken from Urban Blog was able to attend and has great commentary.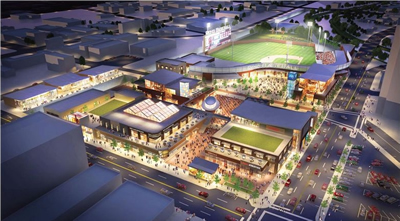 2/26/2008 - LEGENDS, URBAN MARKET CLUES AND MORE -
1. Legends at Sparks Marina - Announced new tenants and new rendering (see below post); new tenants include Saks Off Fifth, Nike, Tommy Hilfiger, Ann Taylor, AT&T, Banana Republic, Gap, Patsy Grimaldi's Coal Brick-Oven Pizzeria, Dickinson Theatres + IMAX, The Big Bang Dueling Piano Bar, Strasburg Children, Tucanos Brazilian Grill, Blowfish Sushi, Hofbräuhaus, Olive Garden, Best Buy, Deegie's Carma, Jones New York, Anne Klein, Easy Spirit, Nine West and Mountain Family RV. The Dickinson Theaters addition intrigues me the most...becaue it's not often an entirely new theater outfit steps into the Reno market. Looks like Cinemark will have some competition.
2. Urban Market - A tipster brought up an interesting blurb in the upcoming Redevelopment Agency Agenda. Looks like Cathexis may be the ones designing and building out the Urban Market. Awesome! Should look really nice. I hope they restore the brick buildings back to their original luster.
3. Giddyup - Reno has been named on the top 20 places in the West to live by American Cowboy Magazine. The magazine notes 'The Reno has preserved its unique western flair; if you aim to wet a line in a wild river, enjoy a unique annual event, or explore living history in a place where it's never been forgotten, you can't go wrong.'
4. Hyatt Summerfield - This is on the fast track, as it is already in the next Redevelopment Agency meeting agenda.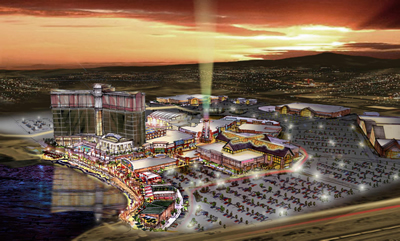 2/26/2008 - EVEN MORE VARIOUS TIDBITS -
1. Hyatt Summerfield Across from Baseball Stadium - A couple of months back you may remember me guessing that the Hyatt brand going across the street from the Baseball Stadium would be a Summerfield. I was right! Click for article. Also, click here for more info on the Hyatt Summerfield all-suites brand.
2. Ballroom - Article on Ballroom opening soon. Click for article.
3. Baseball Stadium - Groundbreaking was chocked full of people ,and the new rendering of the stadium is schweeeeet. Click for larger image below. Ken from Urban Blog was able to attend and has great commentary.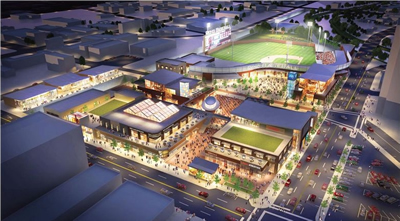 2/24/2008 - MORE VARIOUS TIDBITS -
1. Townhouses at Holcomb Place - Townhouses at Holcomb Place gets press at NNBW. Click for article.
2. Parasols Boutique is opening a second location where Bantu Spirit used to be in the Riverwalk Artists Lofts.
3. Things are a little rocky for Legends at Sparks Marina. The last thing Sparks needs is a half complete mall. I'm a little surprised this wasn't thought through a little better to begin with. One would think financing for a $1 billion project would be secured before ground was even broken.
4. Shopper's Square Expansion - Now that the 20+ homes are gone along Cazazza street to the east of Shopper's Square, they are now starting to demo the old retail center directly east of McDonalds. This is going to be quite the expansion!

2/20/2008 - VARIOUS TIDBITS -
1. Baseball Stadium - Land pieces continue to be assembled in preparation for breaking ground. According to the Washoe County Assessor there is just one piece of property left; on which stands a Sierra Pacific substation. Also, abatement work has started on the warehouse/dock portion of the Freight House. Significant interior demolition is happening with the old motel on the baseball property as well.
2. Fencing is up around the Nevada Inn on 2nd street across from the future stadium, and looks to be demo'd any day now. Basin Street Properties owns this property, the same people who own the BofA Building and Wells Fargo Bulding downtown, as well as the Waterfront Tower parking/office tower across from Fire Station #1. There is talk of a Hyatt type hotel going in here, geared for business travelers, ala Hilton Garden Inn or Marriott Suites style. Basin Street owns several franchised hotel properties already, so it wouldn't be out of their norm to do something like that, AND judging from the main opening picture on their web site, they do like riverfront development...hmmm....
3. Demo is virtually complete at Shoppers Square on Plumb Lane. It looks very different with 20+ homes, a used car lot, and other buildings wiped clean off the map. Shopper's Square is planning a major expansion of the mall.
4. Townhouses @ Holcomb Place is still on track to break ground tomorrow at 10 a.m.
5. Back and forth they go...all day long on the street in front of my office ...large construction trucks going back and forth between the Grant's Landing site. I have come to the conclusion that they are simply using the Grant's Landing site as a mini dirt processing site for other projects. I watch the trucks dump regular dirt off, get processed and separated, and then the separated dirt gets hauled away. It doesn't really seem to have anything to do with the Grant's Landing project itself. It's quite the little setup they have, I see 2 to 3 trucks every 5 minutes either coming or going.
6. Work continues on SoDo4, the quadlet of brick homes next to 8 On Center on Center Street. It's tough work restoring old brick homes ...I know because I have one!
7. A little off the beaten path for downtown, more in my neighborhood, a suite of projects being built just off Cheney Street on the east side of Wells is coming along nicely. Two of the buildings are part of the Modern on Cheney Project (sold out), and then another two are three-story Victorian/Craftsman style hybrids, but they really are turning out nice, with partial brick facades and architectural detail. These two projects are a stone's throw from each other, and together will add some real pop to this area.
8. Nevada Discovery Museum - The building purchase from Panattoni Development has been finalized, and all major abatement has been completed. It's pretty amazing when you peek in this old City Hall building...you can see right through it from one end to another. Demolition efforts are expected to conclude by the end of this month, and the Board of Directors anticipates receiving a building permit this spring so that renovations can begin. If the project continues to progress at this rate, the Museum will open mid-2009.

2/14/2008 - BASEBALL GROUNDBREAKING - Looks like SK Baseball will stick to their ground-breaking date of February 25 on the baseball stadium east of downtown Reno. There is a media event that day.

2/9/2008 - AMENDMENT 21 GRILL - Wow this place is nice. I mentioned they had opened up in a previous post, but I finally got a chance to stop by. The whole space is open, airy and inviting. It's like they gutted the previous space and completely opened it up. The food is great, and they have free wifi. Another free wifi spot! If you didn't know, the Siena also recently installed free wifi as well in Contrada Cafe. Downtown is quickly becoming a geek's dream come true. Combine this with Amendment 21's networked Xbox 360's and it's heaven. Their turkey wraps and burgers rule. There was a cool assortment of downtowners when I went. They did a good job revamping this space...come check it out! Here is their web site and blog.

2/7/2008 - CAC MEETING UPDATE - These CAC meetings are filling up with more and more people each month. Pretty soon they will need to graduate from the Caucus Room. Anyway let's cut to the chase! How about a series of good news, especially after the last post!

VI. PRESENTATION AND DISCUSSION OF THE INTERLOCAL AGREEMENT WITH WASHOE COUNTY FOR DEVELOPMENT OF THE PIONEER SITE WITH POSSIBLE RECOMMENDATION TO THE AGENCY BOARD:
This was interesting. James Graham gave the presentation, and a lot of what he was talking about was substantially different than the previous plan. This is basically an agreement to work together. The two entities involved are the County and the City. The details were kind of sketchy, but it was mentioned several times in one form or another that the City felt the land was much too valuable from a redevelopment standpoint to just let it be a parking lot. So the County and City want to work together on something. While it was mentioned there was still a parking component involved with the new plans, it wasn't the main emphasis. Parking may or may not be a component now, and parking 'could' go elsewhere. A definitive agreement will be announced shortly.

VII. VIDEO PRESENTATION FEATURING LOCAL CITIZENS "RENO IN OUR WORDS" (Terri Hendry)
This was a cool little video. It basically was to emphasize that the City does have plans and guides as they develop downtown. It's not just haphazard. It was kind of to show the CAC Board that what they do is not in vain. I thought that was nice. Then a downtown resident brought up the idea of promoting the video to Reno-ites who haven't been downtown. He brought up the really good point that there are Reno residents who haven't been downtown in 5 years and have no idea how much it has changed. Another resident brought up the frustrating fact that downtown in real estate terms is broken up into 4 or 5 different areas. There is Northwest, Southeast, Southwest, Northeast, and different condo projects show up in different districts, when really all of downtown should show up in one area called metro. I agree wholeheartedly, and in fact was complaining about that to my real estate agent 4 years ago when I was looking for places downtown. I get quite a few complaints from readers looking for places as well, that Arlington Towers shows up in a different district than the Palladio. So one of my new missions is to make this happen. I've aready put in calls. :)
VIII. PRIORITY PROJECT UPDATE
- The Community assistance center on Record St. is coming along nicely. Walls are starting to be put in.
- Baseball Stadium - Groundbreaking in February 20. Working on environmental insurance, land deal with Sierra Pacific, fire station relocation loan, rscva sublease in process.Temp fire station structures will have 20 year life…they won't just be haphazard tents or trailers.
- Entertainment Core Retail - Not much news here, other than Herb Simon continues to line up some big names for downtown.
- Parking Garage(s) - No new news here, the RDA is still working on partnering with a major downtown vendor (I am guessing the El Dorado, just a guess) for a parking garage on the West side of Virginia, and significant progress has been made on an additional parking structure 'somewhere East of Virginia, a bock or two up from the river.'
- Beautification - Mark Lewis is very happy the Savoy Motel downtown is gone. Another motel bites the dust! The Façade improvement program for the block of Virginia St between roughly 2nd and Commercial Row received initial drawings back from architect. I saw them during the presentation, but trying to get a hold of them for all of you. It looks good! All of the buildings match, both in paint and texture, and it looks like a quaint little downtown street. It was tough to tell but I think the majority of the buildings have brick facades added to them or restored. Gone on that block is everything that makes Virginia St. annoying (i.e. Horseshoe club sign etc).
10 North Virginia St - This project is still alive, and the developer is still interested in building there, canopy or no canopy. The developer has requested a 90-day extension to further refine the design and speak to individual council members etc. If you remember, the Council wasn't entirely happy with the new blocky design of the retail component. Mark Lewis said the developer STILL has a very recognizable restaurant in tow with him (I think Gardwoods from up in Tahoe but that's pure speculation based on previous discussions).
Post Office Plaza - This is becoming interesting as well. They showed refined renderings of the plaza, and it's very cool. The way it steps down to the river really accentuates the post office building itself...it almost makes it an icon; a very prominent building, much like the steps up to the Supreme Court; kind of props it up. It makes the post office building look very important, especially when viewing it from across the river or Virginia or Lake Streets. Construction is slated to begin on this in April/May.
Eco-Channel - This project has taken a slight turn as well. An eco-channel was originally proposed to go from the end of the whitewater park down to about Lake St. However, Mark mentioned the River/Eco Channel Sub Committee had a change of heart after conversing with each other and the public. NOW, they really want to extend the whitewater park itself, making more drop pools etc. It would look much more like the concepts on this page. I remember Jim Litchfield or someone equally relevant saying that part of the river didn't have a steep enough flow pattern for additional drop pools,so we'll see what happens. I would be happy with either solution. Not sure when construction on this begins.
Urban Market - Mark is happy with the progress here, with over half the tenants already reserved they haven't even broke ground on it yet. While he didn't name specific tenants, he did say there would be 'a bakery, local farmers, some arts and crafts, a market, and more.' A soft opening is slated for June, with an announced opening in July corresponding with Art Town.

2/3/2008 - TOUGH YEAR FOR RENO PROJECTS - From the hundreds (yes hundreds!) of emails I have received over the past year from readers, I get many compliments on the honesty of this site. So here's some tough love for Reno. It's no secret that as the real estate market stalls, the City and most developers have shifted their focus from residential to retail, or have postponed their projects. So let's see where everyone is at;
Projects that have stalled out, cancelled or behind schedule: Grant's Landing, Thoma Lofts, Arterra, Waterfront, Wingfield Towers, DeNovo, Brighton Manor's phases, Ryder Homes' two planned downtown townhome projects, Townhomes at Holcomb Place, Long's Drugs downtown.
Now that we have that out of the way. Let's look at what is selling or not.
Grand Sierra has not closed a single sale since 11/21 of last year. On that date a multiple sale occurred where one entity bought quite a few units. Since then nothing.
Closings continue to increase at Belvedere. Now up to 50 total. 49 are on the first three floors and the latest sale was the first unit to close on the 4th floor. Pricing is about the same as the initial sales and buyers continue to be almost exclusively from CA. I suspect all these sales were booked some time ago, but are just now closing as the units are completed. Sales continue to trickle in on Palladio. A total of 60 units out of the 92 are now sold. Interestingly, the last couple of sales were made AFTER the big real estate burst as opposed to being pre-construction sales. Sales are slow but steady at the Montage, with a slight uptick as the project comes closer to completion.
On the plus side though, if everything goes according to plan, no less than 5 public projects will be under construction simultaneously downtown in 2008, along with several retail projects, so there will not be a lack of things to report on in 2008 that's for sure. Slated for 2008 is the urban market, baseball stadium and retail complex, the post office plaza, Phase II of the Retrac cover, a whitewater park extension, groundbreaking on the Transit Station, renovation of 100 North Sierra, completion of the Montage, the Facade improvement program, a possible public parking garage, remodeling of the Fitz, completion of the Community Assistance Center, a HUGE expansion of Shopper's Square, and more. And perhaps all these public projects will inspire more people to move downtown. After all, it's a great urban neighborhood!

2/3/2008 - TRAIN TRENCH PLAN GETS RGJ PRESS - I've covered the ReTRAC Master Plan throughout it's journey from its first draft to the final public review. Reno Gazette Journal did an article on the plan in Sunday's edition. You can view the final public review draft by clicking here. Keep in mind it's a 45 megabyte pdf...but that's more environmentally friendly than requesting a cd of it. It's an amazing plan and blueprint for an undeveloped strip of land through downtown.
2/3/2008 - SOUTH CASINOS - Interesting Planning Commission item regarding Atlantis. Back in 1996, they got approval for a bunch of expansion plans - some of which were completed at the time with other changes planned for later phases. There was a 10-year limit. A year ago they got a one year extension and they are now requesting a further 6 month "FINAL" extension. In the extension request, they are committing to obtain BUILDING PERMITS by this August for:
An additional 529 hotel rooms (a new tower).
A multi level parking facility to house over 1800 cars
About 52,000 square feet of new restaurant space.
It was a long time ago, but I "think" the restaurant space - enough for several stand alone restaurants - is planned for the west side of South Virginia, while the other additions are supposed to be east of the existing casino where the east side parking lot is now located. This is in addition to their planned sky-bridge over to the convention center across Peckham Lane. Also, Peppermill recently completed their $400 million expansion, including the Tuscany Tower, Terrace Lounge, Biscotti's, and more.
2/3/2008 - HOME PAGE REDESIGN! - Well, it was time. There were some issues with some people not being able to see the previous home page correctly, and overall the information was very cramped, particularly my breaking news area which was a ridiculously small column to read some of the longer posts in. So ...I moved the breaking news to the left, since that is the most-read area on the home page, and people tend to notice things on the left-hand side of a web page first. I also widened it for much easier reading, and increased the line height a bit. I switched the home page to a variable-column format. With a little css-mastery, depending on your screen size/resolution, you will see 2, 3, or 4 columns. Regardless of how many columns you see, the information is still on the page, just bumped over to the left-most column. The interior pages will be redesigned soon enough. But first there's some news to report!.

1/28/2008 - NOTE TO COUNCIL REGARDING WELLS AVENUE PLAN - Hey no plan is without a little controversy right? There are quite a few Wells Ave area residents who feel the northern boundary of the proposed district shouldn't split Stewart Street in half, making the homes on the north side have dense residential and homes on the south side have single-family density. Some residents of this block wish to be part of the Wells Avenue plan. However the big problem is moving the boundary up one block would 'de-zone' those properties with dense residential, and there are some huge legal implications with down-zoning a property. You basically can't do it without the property owner's approval. If you live on the northern block of Stewart and want to be in the Wells Ave Plan, this is your LAST CHANCE to voice your concerns to the council. Get to the 10:00 meeting at 1 East First Street in the council chambers. This plan will be active for 20 years.

1/28/2008 - A BIG DAY FOR WELLS AVENUE - Today is the big day for Wells Avenue. After nearly 7 months of hard work, 7 public and working group meetings, and a little controversy, the Wells Avenue Neighborhood Master Plan goes before the City Council today. I was deeply involved in this process, as were 40+ other history addicts that live in my neighborhood, like Barrie Schuster, and Eric, Walking Tour Mark, and Tom from the Wells Avenue Merchant's Association. 3 years ago, when I moved to this neighborhood from old Southwest, I had a vision of it eventually becoming like the Bungalow District in Pasadena, Ca. I set up a meeting with Jessica Sferrazza, and it turned out she had the same vision, and was already in the beginning process of requesting funds to create a Master Plan that would both protect and enhance the neighborhood. The plan, which includes zoning changes, architectural standards and guidelines for new infill development, historic signs, owner-occupancy and home ownership incentives and more can be read by clicking here. Special thanks to Jessica Jones, Jessica Sferrazza, Barrie Schuster, and the people who actually wrote the plan (sorry, can't remember your company's name!).

1/28/2008 - DETAILS ON URBAN MARKET - The more I learn about this project the more I like it. Click here to find out the latest for the plans, including opening date, layout, and theming ideas.

1/28/2008 - RUTH'S CHRIS - Wow did I ever get a lot of flack from readers for not posting the official announcement for Ruth Chris steakhouse going in Montage. One reader actually called me a slacker loser for not posting it. Let me point out a few things to those who wrote me, perhaps falling under the definition of 'slacker' yourselves. On 12/30/07 I had a reader-post announcing Ruth Chris of which I referred to in a news post (see Montage page and the 1/1/08 post in Older News page). So, when RGJ came out with their announcement, I felt it would be a little anti-climatic to announce it again since I announced it 4 weeks ago. So I DID cover it, just a month earlier than anyone else. I was kind of surprised other blogs didn't pick up on it until RGJ published it. Anyway, here is your 'official announcement! Ruth Chris Steakhouse is going in.

1/22/2008 - REWORKED WATERFRONT PROJECT - Vero Development has been silently adding more details, as few as they are, to their specialtyfi.com web site. They added a 2009 ground breaking date, the project has now officially been renamed to 'Waterfront District' and as you can tell by viewing the pics on their page, the project has been reworked, the buildings downsized a bit, and a beautiful Stremmel-like structure in front of the Truckee River. The good news is, at least these people are still actively working on this project. The project has a new description, dubbed as 'A master planned micro-neighborhood on the banks of the Truckee River in Reno, Nevada by Carrier Johnson of San Diego. The project is expected to include restaurants, retail shopping, a boutique hotel and high-rise condominiums.' Click here for the pics.

1/21/2008 - URBAN MARKET PUBLIC WORKSHOP - Sorry for the short notice, this one slipped through my email. Consequently, this meeting is happening at the exact same time as the Post Office meeting, so you get your choice. From a resident's standpoint, and in my personal opinion, I think downtowners could be more influential and needed at the Urban Market meeting ...mainly because the urban market will need downtowners as part of or most, or even all of their customer base during off-season times, so this is really for you. Tell these planners what it will take for this urban market to be your new favorite place to frequent year-round. The meeting is at 6 p.m. at City Hall Council Chambers at 1 East First Street.

1/20/2008 - TAHOE ROASTING COMPANY - I finally got a chance to stop by Tahoe Roasting Company, and added a new page for them under my Coffee Houses guide. Great coffee, (even 100% Kona Coffee beans) and free wi-fi!

1/20/2008 - DOWNTOWN WALK IN PICTURES - Lots of stuff in this gallery, including Amendment 21's exterior, a rendering of the new Bibo's going in, stretchy stuff all over the Montage, and mysterious going-ons at the site of Grant's Landing. Click here to view!

1/14/2008 - NEW GYM GOING IN UNDER 210 NORTH - There is a new tenant moving into the street level space under the 210 North Club. It is a fitness outfit called Powerhouse Fitness or something like that. The equipment is in the space, temporary signage is all over the exterior and folks were in the place this morning trying to clean up the space.

1/13/2008 - URBAN MARKET INFO AND RENDERING, RGJ DOWNTOWN ARTICLE - Click here for a rendering of the Urban Market going in on West Street between 1st and 2nd. Click here for accompanying article on West Street and Click here for a great article on downtown for 2008, both courtesy RGJ.

1/13/2008 - BASEBALL STADIUM UPDATE - Time to introduce a new blog. It's so great to see more and more Reno-ites getting into downtown. Here's a blog devoted totally to the construction of the baseball stadium. His latest post includes Mark Lewis' CAC Meeting Update. Highlights include the fact that the Fire Station will now be demo'd for something new rather than be incorporated into the design. Click here to read the other updates for the ballpark.

1/13/2008 - MORE CAC MEETING DETAILS -
1. Parking Structure - The redevelopment agency is in the initial plans to partner with an existing downtown business to build one large parking garage rather than two smaller parking garages. Parking Structures are expensive to build averaging around 20K per parking space not including the land price and probably will be six or seven stories high.
2. ReTRAC COVER - Retrac cover is moving forward. The agency is in the process of buying three parcels which are owned by two different owners. There are tentative agreements in place with both owners. Phase one of the ReTRAC cover is set to start in 60 days pending commission approval. The expected timeline to finish phase one is nine months.
3. Post office construction timeline is supposed to start in August and an optimistic opening of Fall, 2009. All work should be independent of any future Bridge work.
4. Longs Drugs - My CAC attendee writes, 'Another somewhat surprising conversation was regarding longs drug store and the redevelopment director seemed to think that there was a strong chance that Longs might even pull out of the downtown location. Gaming Permits the original pro forma done by longs didn't match up with some new numbers. This and a few other reasons he didn't elaborate about were the reasons why he felt discouraged.'

1/12/2008 - URBAN MARKET DETAILS - One of my readers heeded my call, and was able to attend the last CAC Meeting. Here are some of the details on the market: The Urban Market initial investment is 450K and they are confident they can break even in the first year off of revenues from renting the 19 spaces. The Market plans a soft opening in the first quarter in order to get the wrinkles out and hopes to be in full swing by June in order to be ready for Artown and downtown events. The Friday Farmers Market was a good trial run for the agency and will merge with the Urban Market once it is in full swing.

1/12/2008 - INTERESTING DEVELOPMENT WITH THOMA LOFTS -
Thoma Lofts as a project may not totally be written off yet. At the 1/17/2008 6:00 PM Planning Commission meeting, Siena Communities will request a new set of tentative maps that allow them to split their project up into phases to accommodate for the slow market, rather than build it all at one. click image below, or click here for the Memo on the Agenda.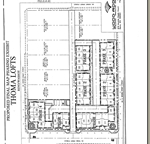 1/10/2008 - MORE UPDATES -
1. After a successful run, Electronic Espresso has been sold to new owners, who are currently renovating the space into a high end coffee shop/bar. I hope they keep free wi-fi!
2. Keystone and 5th Street Property - The old houses and the apartment building are gone. Warehouse remains - along with several dumpsters. Nothing happening yet on any of the retail buildings facing 5th st. This is the property recently included in a gaming rezoning, and there was talk of a 600-room hotel tower/casino going in there.
3. Shopper Square expansion - REA has also fenced off the many properties it intends to demo next to Shoppers Square - so the demo crews will probably move over there once they are done at Keystone. The demolition equipment is now staged beside shoppers square and the advance crews appear to be removing asbestos, dealing with utilities, etc.
4. Demolition is underway at Savoy Motel on Virginia Street downtown, to make way for some very noticeable Gateway Art.

1/10/2008 - VARIOUS TIDBITS - Greetings all! You may have heard on other blogs that Arterra is no more. They are officially scrapping the project. In other news, Amendment 21 Bar and Grill has awesome new signage up on South Virginia and Liberty...looks very classy and sleek. Also, I found out what is going in the large Bank of America building space fronting Virginia and Liberty, it will be a Wyndham Resorts office. I still have my feelers out for someone who can give me an update on the CAC Meeting I missed.

1/2/2008 - VARIOUS CONSTRUCTION UPDATES - Have you all noticed the really cool artsy see-through wall block features being constructed inside the large Bank of America Building space on the corner of Virginia and Liberty? What started as Bibos rumored to be going in has turned into a full-fledged project that is converting the once cavernous space into smaller segments with cool staggered 'blocks' cut out of the new walls going in. Also in that same building, work continues at the future location of Amendment 21 Bar and Grill. Over at the Montage, scaffolding is up around the lower area of the building now, which makes me think they are getting ready to possibly enclose this space. Also, view the comments of the Montage page to learn a little clue as to the high end eatery going in. You may remember me mentioning it my Leal interview. Work continues on the bottom floor of the Riverwalk Towers, Belvedere Towers. Lots of dirt moving still going on at Grant's Landing.

1/2/2008 - KING'S INN POPS UP ON ON AGENDA FOR NEXT CAC MEETING - I could kick myself for being out of town on the 9th when the next CAC meeting is. I am hoping one of my super secret agents can go for me (well they aren't really secret, or agents, but it sounds dramatic and covert). The meeting will be a plethora of information, including an update on the Urban Market going in on West Street between 1st and 2nd Streets, the Kings Inn, the Baseball Stadium, update on the Pioneer Site, a presentation of some artsy newspaper racks, the Post Office plaza, Retrac Cover, 10 North Virginia Street and more! Click here for the agenda.

1/1/2008 - DOWNTOWN RENO: THE SURREAL SIDE - This isn't your average gallery of downtown Reno. Zack Rawlinson is an amazing photographer, and captures downtown in a dreamy, surreal and fresh perspective. Click here to view the gallery.

1/1/2008 - HAPPY NEW YEAR! - I have to commend the City of Reno, or the casinos downtown, or whoever responsible for the fireworks show downtown last night. They were better than the 4th of July's, in fact they were by far the best fireworks I have EVER seen Reno put on, and that includes the Rancho San Rafael shows too. It seemed to last forever, with at least 3 'teaser finales' before the big finale. Click here to view pics!

1/1/2008 - TIDBITS OF PRESS - Bob Cashell was on Nevada Newsmakers yesterday, talking about downtown Reno, and what the next steps should be to keep the downtown momentum going. I agree with him; the casino properties downtown need to start renovating their properties to keep up with Atlantis, Peppermill, Nugget, etc. Click here for the interview.

1/1/2008 - READER HINTS AT RUTH CHRIS'S - I didn't get the 'official' green light from Fernando Leal to release this, you may remember from my interview from him he hinted at a high-end eatery. If you check out the Montage page, a reader commented on 12/30 that Fernando mentioned a Ruth Chris is going in. Leal told me in his interview that this is a Ruth Chris is coming but to keep it under wraps...well if he is telling prospective buyers at this point, it's pretty safe to let it out of the bag.

12/26/2007 - STILL HERE :) - Hi downtowners and other Renoites....I'm still here so no worries. Right before the holiday, there was kind of a lack of things to post on; there weren't any city meetings worth noting about, and no 'news' coming down the pipeline. However that will soon change as the construction of our baseball district soon commences, expect some announcements very shortly about Fitzgerald's, and ongoing art projects downtown. I was out of town this past week so if you heard of anything noteworthy, either from the news or RGJ, fill me in, thanks! I hope you all had a great holiday.

12/15/2007 - RIGHT NOW DOWNTOWN - It's 8:20, and thousands of Santas and Santa Babes are strolling around downtown Reno for one of the most popular Pub Crawls I have seen. It's packed, most bars have standing room only and lines to get in. It's great to see so many people downtown tonight.

12/15/2007 - DOWNTOWN WALK IN PICTURES - New pics of Montage construction, folks downtown and more. Click here to view.

12/15/2007 - KEN'S EXPANDED VIEWS ON PARK LANE - Ken over at Urban Blog created a 3d model of how he'd like to see the new retail laid out on the giant Virginia and Plumb parcel. It's quite impressive, go check it out by clicking here. Ken, you really outdid yourself this time!

12/10/2007 - UPCOMING TIDBITS - :
1. Long's Drugs - There's a City Council meeting on the 12th, and check out C.14 Approval to the Reno City Attorney's Office to research viability of filing a lawsuit relating to the uses allowed at the location of the former Riverboat Hotel and Casino, which is on Second Street, Reno, Nevada, with respect to land uses or other claims, and providing authority to file such suit.
2. WeFi Indoor Year-Round Urban Market - In a recent DIA Presentation, Mark Lewis hinted to the 'area' for the indoor urban market. Although he wouldn't name the exact spot, a very engaged audience coaxed several clues out of him: It's proposed location is between 1st and 2nd Street, on West Street, and not on the bottom floor of the Comstock.
3. CommRow - Sorry Myrna, it doesn't look like Dave Aizzi and the rest of the council is going with the name Plaza Del Sesso. I was the one who submitted that name to your name contest, BTW, so I am equally saddened as you are. Anyway lol, during his presentation Mark Lewis referred to the trench covers, and the general area following Commercial Row/Plaza St. over to the proposed baseball stadium as ''CommRow'. It's a throwback to when Commercial Row was the bomb in Reno...the place to do business and be seen, I believe he said construction would commence in January for the 2-block covers.
4. Amendment 21 Sports Bar and Grill - Will be taking over the space where Adele's, Spencer's Steakhouse and the Blue Trout formerly occupied in the BofA Building on Liberty and Virginia.
5. December 19 Planning Commission Meeting - Though as of this writing the agenda hasn't been posted yet, I know two important issue to the Wells Avenue neighborhood will be on tap. First, the Wells Avenue Neighborhood Plan that dozens of residents including me have worked so hard on will be submitted to the Planning Commission Dec 19, and also, the public hearing for Mill Street Townhomes will be on the agenda. Mill Street Townhomes is the 28-townhome project on Mill and Holcomb.

12/5/2007 - CONSTRUCTION TIDBITS - It was too dark already to take pictures on tonight's dog walk downtown, however it was light enough to see some major construction happening:
1. Grant's Landing - These guys continue to do various things with various colored dirt piles. I can't figure out if it's for the additional street they are putting in, or if they are preparing the dirt for foundation. I thought the models were going along the river, but it could be they are going on the corner of Museum Way and Mill Street where all the dirt work is going on. They are set to break ground in January.
2. Pedestrian Bridge - The pedestrian bridge connecting the Amtrak Station to where future retail is going is complete and open. I like the stamped concrete work on the floor, although the mesh fencing on the sides is kind of institution-like, but understandable.
3. RTC Transit Station on Plaza St.- The parking lot or whatever was there before is being ripped up.
4. State Street Center - Across the street from Pioneer Center, the State Street Center project site is alive with 4 giant back-hoe type machines moving dirt around. Glad to see this project didn't bail out, I'm never a fan of old buildings being torn down in vain.
5. Nevada Discovery Museum - This project has kicked into high gear, with a mobile-home-size construction office now hugging the north side of the building. It's almost completely gutted and pretty cavernous looking inside. Also, I was contacted this week by a NDM marketing guy, a sign that there is now something significant to market.
6. Mill Street Townhomes - This project of 28 townhomes on Holcomb and Mill Street goes before the planning commission December 19 at 6 p.m. So far I havent seen any renderings of it, and the staff report links for the 19th when they're posted may be our first chance to view what they look like. Judging by the giant yellow public hearing sign posted right in the front yard of one of the homes on that lot, the 5 homes (lost count) on this lot will be demo'd for the project.
And on that note, I'm sure glad I don't live in one of the homes that is situated on Mill Street or State St., because with Grant's landing next door to the north, Mill Street Townhomes across the street to the east, and Holcomb Townhomes across the street to the south, all being constructed simultaneously, can you imagine the noise level? That's ok though, it will be exciting to see all these built simultaneously.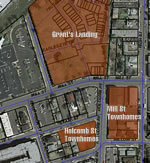 12/5/2007 - HOUSE BILL PASSED TO ALLOW RETRAC LAND TRANSFER - Here's an interesting blurb; Dean Heller passed a bill in Congress that will allow the transfer of land from Union Pacific to the City of Reno. It's easy to sometimes underestimate what's involved with transactions of this magnitude; I had no idea a national bill was required to transfer the land legally to the City of Reno. It's very rare a city has the opportunity to develop such a large amount of land in their core; we're talking 120 acres, and 78 parcels. An extensive master plan is being developed to guide the City in how to develop the land. Read the article here.
12/5/2007 - PROJECTS RETIRED - Well it's been a long bumpy road for Wingfield Towers, but I am officially retiring Wingfield on this site. I came to the conclusion long ago it wasn't being built after they missed their bankruptcy deadline at the end of October. I just haven't had a chance to remove it till now. Also removed is Thoma Lofts. Yes, sadly, the project is dead, or in hibernation for a while. So the real question is what are they going to do with the land they acquired as part of the Baseball Stadium deal?
12/3/2007 - SPRINKLERS SAVED THE DAY! IT WAS ALMOST MIZPAH: THE SEQUEL - A very close call in the building that houses the Coin Shop and Electronic Espresso on 2nd Street. One of the residents living in the units above the retail units decided to light his mattress on fire and then left the building. Luckily, this building was equipped with sprinklers, unlike the Mizpah, and the fire was contained to the man's room and mattress. In fact the sprinklers put the fire out before it really spread out from the mattress. Electronic Espresso and the Coin Shop suffered minor flood damage, and a few holes were poked in the ceilings of both retail outlets to make sure the fire was out. But it could have been much worse! It eerily happened around 10:30-11:00 p.m. as well. People were sleeping, and this could have been Mizpah all over again. This is the exact reason why old buildings need to be retrofitted with sprinklers. They work! According to the Electronic Espresso owner, the guy who lit the mattress on fire is still at large.
12/2/2007 - ReTRAC MASTER PLAN PUBLIC REVIEW - It's huge, it's detailed, and it reads like a crystal ball for the future of the properties the City acquired as part of the ReTrac process. In case you didn't know, the City of Reno acquired over 100 acres of land that parallels the train trench downtown. They weren't quite sure what to do with this land, so a massive study/master plan was commissioned to serve as a guidebook. CLICK HERE TO READ and then post comments/opinions on it. It's a pdf, and large, about 44 megabytes, so if you have dial up, Gillian Pollard over at the Redevelopment Agency will gladly mail you a cd of it. Call her at 334-3813.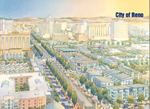 12/2/2007 - LAUNDRY LIST OF DEVELOPMENTS - It's important to take a step back from downtown occasionally and look at how Reno as a whole is developing. Ken over at the Urban Blog wrote an excellent post on this, as well as some comments underneath adding more developments to his list. It's quite impressive when you look at Reno as a whole. Click here to read.
11/28/2007 - THE COVER WILL BE BUILT! - I have to say first WOW, DTM readers definitely rallied behind this project, I think I broke my comments record for any one post. People feel passionately about this project, both residents and out-of-towners alike. Our rallying has paid off! The deal, at least Phase 1, went through. Leal broke the deal down into a $9 million dollar proposal by Granite Construction to build the raw trench covers (two blocks) - City staff estimated another $1.5 million in indirect costs bringing the total to $10.5 million. The rest of the deal - retail, covers, etc - was called phase 2. Council agreed to fund phase 1 and to write a contract with Granite to get the covers built as soon as possible. Funding came from $3.5 million in Fitz garage lease revenues which had been previously set aside, a half million in some kind of Fed Grant AND 6.3 million from revenues that had been previously set aside for the 10 North canopy ($3.8 million) and ($2.5 from something else). They would separately find another 200K to make the $10.5 total. Some kind of Federal rebate is supposed to refund a portion of the $6.8 million to the city at a later date so the canopy, etc are "just delayed" not killed. The most interesting other comments related to Simon (the mall developer). The council wanted staff to quickly approach him to see if he might be interested in quickly doing some kind of deal to get all the phase 2 trench retail built and leased so their property tax revenues could quickly increase.
One final note in this post...I have some smart readers. Particularly those who had the idea of diverting funds from 10 North Virginia, because that's very close to what happened. So to everyone, thanks for continuing to stick around and read my site :) 2008 will be an intense year of construction!
11/27/2007 - HERE IT IS! GIVE YOUR FEEDBACK ON THE RETRAC COVER - Staying true to his word, Fernando called me this morning to come by and take a few pics of his ReTrac Cover project. This is what he will be presenting to the City Council on Wednesday, and wants the support of you, the public. Click here to enter a little mini-site I built, including pics, video, and a note from Fernando. Can you tell I really support this project? There are some projects I feel passionately about, and some I don't. This one I feel is intregal to downtown development.

11/25/2007 - LEAL TO PRESENT OPTIONS FOR TRENCH COVER 11/28 - I tried to get Leal to release his version of the trench cover a bit early, but to no avail, we were never able to hook up again after I got a preview. On 11/28 we'll all get a chance to hear/see his ideas at the Joint City Council/Redevelopment Meeting at 2:00, although that time isn't set in stone. Sometimes popular items are moved up in the schedule. Tune in on Charter.

11/25/2007 - LISTEN UP RETAIL DEVELOPERS! WHAT THE PUBLIC WOULD LIKE TO SEE - The current poll regarding retail at the former Park Lane site generated quite a few votes. Here's an in-depth look at the concepts my readers chose, including video. Click here to read. I've had a few developers tell me they crave public input and often don't receive it, so here's my readers' input on retail.

11/25/2007 - MODERN ON CHENEY - Modern on Cheney, a suite of 4 modern living units on the East side of Wells, is coming along nicely. I love the different textures used on the exterior...from the worn corrugated steel to the wood finishes. These units are definitely a work of art. Some people can't stand modernism, however I can appreciate both old and modern architecture. Modern on Cheney is sold out.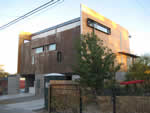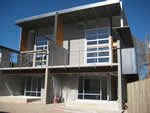 11/24/2007 - DOWNTOWN WALK - Ice Rink crowds, new art downtown, Montage progress, and more. Click here to view.

11/18/2007 - OLYMPIA GAMING MIGHT BUY CIRCUS CIRCUS - I've heard from two sources now that Olympia Gaming has agreed to purchase Circus Circus casino in downtown Reno. This could mean big things for Circus Circus, which has a tired old theme that doesn't really cater to a younger hipper generation.

11/18/2007 - CONSTRUCTION TIDBITS - Major things are going on inside the B of A building. The cavernous space that fronts Virginia and Liberty on the bottom floor is being section and walled into what looks like a couple of smaller retail spaces with a hallway. I am not sure if all of this is for Bibo's or not, or if this is additional expansion. Also in the same building, major demo work is being done inside the space that used to be Adele's, then Blue Trout, and Spencer's Steakhouse, which only stayed open for weeks. I heard jackhammers and giant chunks of debris being dumped into a dumpster. Also I am not sure, but I think the trim around this space was painted pumpkin orange recently.

11/17/2007 - DOWNTOWN LIBRARY TO GET MAJOR MAKEOVER - Attention bookworms, geeks, students, and everyone else who frequent our downtown library. It's about to get a major makeover. The architect will be having a meeting Tuesday, November 20, 5:30-6:30 p.m. Downtown Reno Library Auditorium (lower level)Refreshments will be served. Items to get remodeled include expanded areas for both children and teens, improved access to technology, new comfortable and inviting spaces for reading and browsing popular books and media, self pickup of holds for increased convenience and privacy, new seating and more. The center of the library will retain it's park-like setting.

11/17/2007 - DOWNTOWN RENO IN PICTURES - Here it is, the ultimate downtown Reno gallery. These pictures are shot by myself and Justin Waters, frequent commenter on this site. It shows how truly beautiful our downtown is...and the negatoids can't argue with pictures. This gallery will be a permanent link in my navigation as well. Click here to view.

11/11/2007 - LA BASSOLA COMES BACK HOME, AND OTHER RETAIL BITES - Seemingly overnight, Sierra Adventures on First and West is out, and La Bassola is back downtown, in their place. I'm not sure where Sierra Adventures went, or what this means for the whitewater park. I kind of liked that store there....but La Bassola is coming back to the street that made it so successful. Cutesy items in the windows have replaced the kayaks and life jackets. Sierra Adventures web site is still up..so perhaps they are working on an adventure-tour basis.

11/10/2007 - FITZ RUMORS - In a recent RGJ article about the baseball stadium , Mark Lewis named The Lucky Strike as one of the possible entertainment venues coming to downtown. Then, Fernando Leal and Rob Cashell were on Face the State this week discussing downtown Reno and the Fitzgerald. Rob kept mentioning that they would be repositioning the property and that it would not be solely based around gaming. Could Lucky Strike be coming to the Fitz...how cool would that be? For those of you who aren't familiar with the Lucky Strike concept, check out their web site. Lucky Strike is a high end bowling concept that combines lounge-chic decor with bowling, and adds in a dress code, live music, fine dining and art rolled into one experience. I could be wrong on this one, it's happened before, but not often! The Lucky Strike would sure go well with a boutique hotel concept, hmm? Speaking of the Fitz, anyone notice the view of the downtown corridor from is much nicer without the rainbow pedestrian bridge there?

11/10/2007 - TOWNHOME MOMENTUM PICKS UP - There's so much chatter in the townhomes area I can barely keep. up. Let's start with Townhomes at Holcomb Place. Days ago they put additional signage on their fences, one for a construction contractor and one for a financing bank, so this may be a sign groundbreaking is soon. They typically put up those signs right before construction begins. Right across the street, Ryder Homes' project now has an official name, Mill Street Townhomes (such a creative name), and will submit their tentative map for the project of 28 townhomes to the Ward 1 Advisory Board November 19, and the Planning Commission in December. All four of their parcel numbers are mentioned, so one can assume it would include the demolition of everything in the shaded area. And getting much less publicity but still just a relevant, the townhome project models at the end of Dickerson are pretty well closed in. Siding is on and they appear ready to be finished on the interior over the winter months.

11/10/2007 - SoDo DISTRICT PAGE ADDED - I added a page for the SoDo District, a developing urban neighborhood just south of downtown. It's one of the more striking examples of how urban in-fill development should be done. Click here to view it.

11/8/2007 - DOWNTOWN'S LONGEST OPERATING RETAIL STORE TO CLOSE, ARTICLE OFFERS GLIMMER OF HOPE FOR PRESUMED-DEAD PROJECT - First let me say that I am truly saddened Etnyre Jewelers is closing soon. Having been in business since 1949 they are true downtown natives. I can understand why they are closing, and it's not so much due to downtown's environment as the overall environment for independent jewelry stores. I cannot imagine how gut-wrenching it is to close such a huge, long chapter in one's life. Perhaps if you are in need of some jewelry, stop by and get some bling before they close in December. However at the end of this RGJ article, Redeveloper Administrator Mark Lewis mentions, "revised plans for the Waterfront condo project on East First Street are expected to be submitted any day." Hmmm....

11/7/2007 - INTERESTING THREAD GOING ON OVER AT RENO REALTY BLOG - I opened up a real big can of worms on this one. Everyone's fascinated and mystified at the Belvedere's recent closings, including Diane herself. I recently mentioned a tipster sent me recent Belvedere Towers sales data that was truly mind-blowing. Click here to follow the craziness over at Diane Cohn's blog.

11/7/2007 - NEW STADIUM RENDERING - Overall I like how it's turning out. I am wondering about sinking the stadium 16 feet right next to the river, but I like the idea of using the extra dirt to create a large amphitheater-like hill to watch ball from. The adaptive-reuse of the fire station and Freight House look great, and the overall design doesn't look as hodge-podge as some have feared.

11/6/2007 - CAC MEETING UPDATE - Lots of exciting updates on the baseball stadium retail components, beautification and more. Click here to read!

11/1/2007 - RYDER RUMOR - A little birdie told me that Ryder Homes will soon be submitting their tentative map for their Mill and Holcomb lot, which currently consist of a few commercial buildings and some homes. Rumor has it construction will start shortly after the year, units will range from 1200-1800 sf, have 2-car garages, and the exterior will consist of a craftsman theme.

11/1/2007 - FITZ/RAINBOW BRIDGE DECONSTRUCTION - A tipster told me he walked into the Fitz today to see what - if anything - was going on and was surprised to see the gaming floors (both 1 and 2) all torn up with yellow tape everywhere. An employee told him that it has been that way for 2 weeks. New owners were apparently allowed to jump the gun, and are already deep into changing out many old slots and replacing them with new machines. They are apparently also going to "update some signs" on the interior according to the employee. A week or so ago, he also happened to note three elevator service trucks in the alley - so the owners may also not waste much time getting the elevators "speeded up" - however that is done. The tipster then checked out a couple of hotel floors and was surprised to see carpet and wall treatments that looked fairly new.
Also, an update for those who have been asking about the rainbow bridge (Justin) everything is now out of the rainbow bridge - including windows, floor, roof, neon signs, and parts of the side walls - and all that seems to remain is cutting it down and removing it.

11/1/2007 - WHO IS BUYING BELVEDERE AND FOR HOW MUCH? YOU MIGHT BE SURPRISED - The first 25 units have closed for Belvedere Towers, and many more are pending. The units for these condo projects seem to close in groups. Anyway, out of the first 25 closers, 22 HAVE CALIFORNIA MAILING ADDRESSES, the majority of those being from the Bay Area...2 are from Carson City and ONE is from Reno. Interesting! The least expensive unit that closed was $125,000, 283 sf. at $442 per square foot. The most expensive unit closed at $269,000, 537 sf at $501 per square foot.

10/30/2007 - WHOOPSIES, COST OF MOVING FIRE STATION DOUBLES - It turns out that the Fire Folks need TWO temporary stations to make up for losing one, in addition to having to renovate a City Hall floor to move other operations associated with Fire Station #1. Turns out that fireman who commented on here a while back was right. We'll have to stay tuned and see how this situation develops. Click here, and here, and here for coverage of this story.

10/25/2007 - REDEVELOPMENT AGENCY MEETING, 10 NORTH VIRGINIA - The Redevelopment Agency meeting was interesting to say the least. It turns out the Council didn't like the new 10 North Virginia design much either (whew). I was hoping that would be their reaction, as the new design doesn't provide much oomph, however I was trying to be cautious being overly critical as this was the last developer for the site, but the council pretty much threw my cautiousness out the window. You have to click here and read some of the comments involved with the project.

10/22/2007 - BIBO'S COFFEE COMING DOWNTOWN - I'm excited about this in particular because I frequent this building. Bibo's coffee will be opening a downtown location inside the B of A Building on Liberty and Virginia. It will go in the cavernous lobby area of the building, which for a while has been sectioned off for construction. Now we know what they are constructing! They are set to open Jan 2008.

10/20/2007 - 10 NORTH VIRGINIA UPDATE - Here is the first look for most of the public on the new proposed design for 10 North Virginia, mainly concentrating on the retail aspect (I believe the canopy will be the last one proposed to the council). What do you think? Keep in mind I will delete any inflammatory comments, let's keep it constructive and professional on here, lol.
I am still adamantly against filling in the Virginia St. portion of the property with buildings. From the concept, we lose the amphitheater function entirely without the grassy hills on that side. So far this is still just being referred to as an option. The building itself is modern, although a bit more square than the previous building. The graceful U-shape from the previous building is gone, but I still like the design. The design is by the same architect who designed the canopy, Sheehan Van Woert Bigotti. Click the thumbs below to see.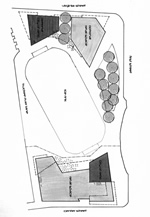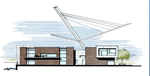 10/20/2007 - TRAIN TRENCH COVER - As you know from my interview, Fernando has some plans drawn out for the train trench cover that are quite different from the original plans, which include actually building retail buildings on the trench cover itself, along with a permanent stage and other entertainment elements. When I saw the plans and schematics, the plaza covered two blocks West of Virginia over to West St. One block would be in front of the Fitz,and one block in front of the Montage. However, in this Northern Nevada Business Weekly article, the project is described as extending East on one side of Virginia, and extending West one block on Virginia. I wonder if it's inaccurate information in the article, or if the trench covers actually moved west one block? Does it make sense to cover the portion of the trench that goes under the Fitz parking garage?

10/20/2007 - MY PALLADIO TOUR VIDEO - Yesterday I had the chance to tour the Palladio, and it's finished pool area, models, retail spaces and lobby. The building turned out much better than I thought...I could definitely live here. Check the video out, it was a fun little project to do.
- Flash Video - High 700 kbps stream
- Flash Video - Med 350kbps stream
- Windows M - High 500 kbps stream

10/18/2007 - CASHELL APPROVED TO RUN FITZ - Via Las Vegas Sun. Click here to read. This was pretty much expected, and next week on the 24th you'll see a bunch of agenda items on the City level transferring liquor, gaming licenses etc. So Cashell Jr. got his birthday present! Congrats, this is the first time in a long time the Fitz will be privately owned.

10/18/2007 - DOWNTOWN AND SUB-DISTRICTS CLEAN HOUSE ON RNR'S BEST OF LIST - Click here to see some of my favorites downtown that made it on the list.

10/15/2007 - CITY HAS DEAL FOR POST OFFICE - Wow deals are just happening all over the place; we have 10 North Virginia nearly taken care of, the Baseball Stadium, and now the city has brokered a deal they thought would take years to do. Click here to read the details. This will go before the City Council October 24.

10/13/2007 - A SIT DOWN WITH FERNANDO LEAL - A couple of weeks back I had a chance to sit down with Fernando Leal, of L3 Development and the Montage, to talk about his project, and the surrounding neighborhood. Click here to read.

10/9/2007 - SOMETHING NEW COMING TO PARK LANE SITE SOONER THAN LATER - Serious demolition has begun on Park Lane Mall, which will soon be no more. Channel 4 News reports that soon after demolition is complete (including clean up), about 3 months after that construction will begin on a new mixed used development which includes restaurant and retail space. We'll see what they come up with! The developers are known in California for building high end retail developments. This is very good news for those moving into Virginia Lake Crossing.

10/9/2007 - VIEW FROM MONTAGE - Check out the views taken from the 19th and 21st floors of the Montage. Thanks to the reader who sent these in!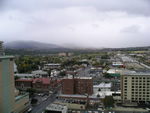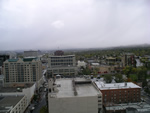 .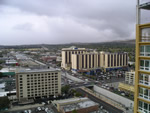 10/9/2007 - GRANT'S LANDING BREAKS GROUND - I spotted construction crews working on the foundations for Grant's Landing, along the river. Looks like they are finally moving forward with building their model units, which are situated along the river near the 2nd Street side of the property. No word yet on the fate of their other project, Nightingale Village.

10/2/2007 - CAC MEETING - Detailed info on 10 North Virginia and the final developer chosen (you'll be surprised!), interesting ballpark info, and updates on priority projects. Click to read!

9 /30/2007 - INFORMATION-PACKED CITIZENS ADVISORY COMMITTEE MEETING - Provided there are no last minute changes to the agenda this should be an information packed meeting. Everything from 10 North Virginia recommendations to priority project updates to the latest on the baseball stadium. Full list and link to agenda under Essential Meetings to the left.
9/30/2007 - UPDATE ON TOWNHOME PROJECTS - Sorry for the lack of updates the past week and subsequent monster posting of updates today, but I had an extremely rough week to say the least fighting with stubborn computers. First an update on a stalled but now on track project on Dickerson Road I first outlined here. The models are almost fully framed and they are now pouring the curbs and preparing to install the streets. The development (with working name of Truckee River Townhomes) will apparently go by the name of "Upstream - Riverside. City Side. Townhomes." The initial offerings range from 1258 sf ($243K) to 1604 sf ($287K) for building two. They are also offering the "6 models" in building one (which really appear to be three distinct models) at sizes from 1258 sf to 1693 sf and prices from $248K to $313K on a "lease back" basis - prices good thru the end of September. I haven't seen any renderings on this yet, but the units should only share roofs and foundation, and not share any walls, and is along the Truckee River near the end of Dickerson Road off 2nd street. in other townhome news, Silverstar Communities web site says that Grant's Landing's sales office is now open Friday through Sunday, 12:00-5:00pm with pre-construction pricing available for a limited time. Still no word on a ground breaking date, nor the fate of Nightingale Manor across from Washoe Med.

9/30/2007 - DEMOLITIONS BEGINS ON PARK LANE MALL - A keen tipster tells me demolition has begun on Park Lane Mall. Right now they are working on separating Gottchalks (which will remain) from the rest of the mall (which will be demolished). Active demolition (ie visible from the outside) will begin later in October. Still no plans announced for the property, although in this latest Sept 13, 2007 version of the proposed South Virginia TOD Plan, it clearly shows that property as being titled unrestricted gaming on page 19 of the pdf. Hmmmm....to be continued.

9/30/2007 - COUNTY APPROVES BASEBALL DEAL - I was out of town when it happened, but The County agreed to use the car-rental tax for the baseball stadium, so I think that's it! No more hurdles, maybe a LITTLE more red tape, because there's always red tape with a project of this magnitude, however the major hurdles are cleared, and in 3 months or so construction could/should start!

9/30/2007 - RGJ LOOKS AT FACADE PROGRAM, LONGS DRUGS - The Redevelopment Agency learned Wednesday that Longs Drugs downtown has not opened yet because of a stalled gaming license, which is pretty much the same unconfirmed reason I posted on the site a month back which I found out at a CAC Meeting. It has nothing to do with demographics, or the slowdown in sales downtown, it's purely over 15 slot machines. I kind of agree with Dave Aiazzi, is it really going to make a difference to open the store without the slot machines and then install them when the deal works out in a month or so? Are those slot machines really that profitable compared to store sales? I don't know, but I do know every time I go to the supermarket, I see maybe one or two people in the slot machines section gambling, be it Albertson's, Raley's, Shopper's Square by The Pasta Mill, etc. Also mentioned in the article is the awesome Facade Pilot Program the Redevelopment Agency is heading up. You can read extended details on that in the post below this one.

9/21/2007 - FACADE IMPROVEMENT PROGRAM - A CLOSER LOOK - An in depth look at how the Facade Improvement Program will work when funds become available in December to start the program. It could have a significant impact on the look of Virginia Street between 2nd and Douglas Alley. Click here to read.

9/21/2007 - SEE ALL THE DETAILS OF THE APPROVED BASEBALL DEAL - Click here for a Multimedia flash presentation I made converted from the City of Reno's Powerpoint presentation they just released to the press.

9/21/2007 - COUNCIL APPROVES STADIUM DEAL, LAND APPRAISALS - Groundbreaking is January 1. So that's that! It's approved, the land deals are approved, everyone's happy with what they got, the city council is almost more elated about Herbert Simon's plans for retail on several blocks surrounding the stadium than they are about the stadium. I didn't get to watch the meeting, that nasty thing called work got in the way, and trying to watch a City Council meeting successfully online is brutal. The entire project is over $90 million, and the stadium itself is $42 million roughly. Just one final stop on the government train to Washoe County to approve the car-rental tax deal, and we're good to go! The amazing thing about this deal was it was put together in a mere three months. The deal includes a land deal for Siena Communities which includes the parcel next to the Artist Lofts, the Men's Club lot, and property along Commercial Row. The City would get a loan from the developers for $10 million to relocate the fire station. I 'think' the city may be following the Trench Master Plan idea of eventually combining a police and fire station over by Keystone south of the train trench. So Siena gets decent land trades for their Freight House District parcel, and hopefully received more usable parcels out of the deal. It will be interesting to see what they do with the parcel adjacent to Riverside Lofts. Design plans can take months or even years so let's not expect something overnight.

9/19/2007 - CITY COUNCIL SPECIAL MEETINGS - Friday, September 21, at 10:00 a.m. special meetings will be held of both the City Council and the Redevelopment Meeting, with possibilities to continue the items on Saturday and Monday as well. There are ALL kinds of goodies in these two agendas so here are the links I'll let you read. For those of you who are kind enough to ask, yes I am still around and still VERY into downtown redevelopment....however one can't deny there has been a shift from residential to retail, at least until the market recovers...so there's a bit less to report on than usual right now as this shift happens...but I'm still here and around will report on anything big coming our way :) -
Friday 10:00 a.m. Meeting Agenda 1
Friday 10:00 a.m. Agenda 2
Also speaking of updates on programs, the Facade Improvement Pliot Program goes back to the Redevelopment Board on the 26th, you can find the meeting info under my Essential Meetings tab.

9/12/2007 - CITY COUNCIL TIDBITS - Thank again to one of my regular tipsters who caught the meeting...that's one big drawback about Dish Network! Here's some tidbits and highlights -
- A Reno fire fighter asked to speak publicly and cautioned the council against rushing to move the fire station in the ballpark proposal further west without a solid study. He suggested that it could adversely affect response times. Council took his advice seriously but suggested that there would be adequate time to find a better relocation spot than the initial suggestion between Vine and Keystone.
- Also, an RTC official spoke publicly to voice more concerns about what the baseball deal and the possible abandonment of the portion of Evans between the tracks and 2nd st would do to the operating efficiency of the new RTC station proposed just north of that possible closure. He was told that those concerns would be considered before a final decision was made.
- Action on baseball stadium related items F3.0, F3.1, F4.0 and F4.1 was deferred until a special meeting scheduled for Thursday Sep 20.
NOTE: Item F3.0 contains a new set of properties in paragraph D in addition to what was discussed at the last meeting. "D. Real Property commonly referred to at the "Industrial Parcels" located at 1035 East Commercial Row, more specifically identified as APN 008-360-06 and 008-360-16."
These two former RR parcels representing something like 4 acres are just south of the tracks way over by Sutro street - yet the city is may be preparing to include them as part of the deal with either SK Baseball or as part of the Siena land trade.
- On item L4 (Trench Covers) Dave Aiazzi wanted staff to come back to the Council at the NEXT COUNCIL MEETING and give their opinion on the viability and legality of a proposed scheme whereby the city would "bond" future property tax revenues from The Montage in order to augment funds available for trench cover construction.
- On item L5 (mix of downtown business) Gustin wanted staff to come back at the NEXT COUNCIL MEETING with a plan to enhance downtown - seemingly by reducing the number of new bars / liquor sales sites. Apparently the Downtown Improvement Association (merchants group) wants to see more growth in other businesses and less bar / liquor outlet growth.
- Council accepted the report on the eco channel, but did not approve splitting the project off from the 2nd whitewater park. It wants to find a way to do both and request more info in early October.
- Council wants a comprehensive plan for Post Office, eco channel and whitewater park.
- Council also wants to get back in October to the 10 North Virginia plaza deal - and hopefully actually MAKE a decision.
- Nearly all of the baseball items in the Redevelopment meeting will be continued at the next meeting.

9/6/2007 - GOODIES IN UPCOMING MEETINGS
- September 12 City Council meeting;
- J.4 Staff Report: Status report of the Downtown Low-Flow Eco-Channel and potential direction to
staff regarding proceeding with the option of the Low-Flow Eco Channel and/or a proposed Whitewater Park Extension.
- L.4 Discussion and potential direction to staff regarding an Action Plan for the ReTRAC Cover.
- L.5 Discussion and potential direction to staff regarding the desired mix of Businesses Downtown.
- Sept 12 Redevelopment Agency
- Pretty much this entire meeting is devoted to various aspects of the baseball stadium deal.
9/5/2007 - 100 NORTH SIERRA PREPPING - Driving by the 100 North Sierra Mall across from Silver Peak Brewery on Virginia and First, the Antique Store has closing/going out of business sale lettering all over their windows, and a new large vinyl sign depicting the finished building after renovation is hanging on the Sierra St. front. Renovations/Remodeling will begin once the building is vacant. Below is a pic of the rendering pictured on their sign.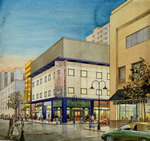 9/5/2007 - MORE ON PROPOSED BASEBALL DEAL - I am back from vacation! It was awesome, incredible. So let's get to business. I didn't have time to post this before I left, but an informant of mine was able to watch more of the meeting than I was able to regarding the Baseball Deal, so here are some extras other media may not have reported on. Click here to read

8/29/2007 - CITY COUNCIL APPROVES BASEBALL DEAL - I was able to watch part of the meeting, mostly where Jessica Sferrazza had serious concerns about moving the fire station....the current fire station allows for a time of 1:10 minutes of arrival to Wells Ave, and if it were moved the two remaining stations have about a 3:00 arrival time, yet still under their protocols for response time. In the financial part of the deal, the City really seemed to have covered itself in this case. There are various clauses included to cover the City; in case the team leaves early, the City won't get stuck with the mortgage on the stadium, and from what I gathered if the retail portion isn't built, the developers don't get the $2 million a year that would otherwise go to redevelopment property taxes. The tax breaks are completely related to the retail portion, not the stadium. So in this deal, the city would gain a baseball stadium and shopping district that could revitalize the east end of downtown. The main thing the city is giving up in this case is land, and having to pay back a $10 million loan from the developers for a new fire station. One interesting note is one of the parcels Sienna Communities would get is the Men's Club. I know a lot of people are griping about it, but I don't have a problem giving them the $20 million or so from county car rental taxes which can only be used for certain things anyway.

8/29/2007 - UPCOMING CITIZENS ADVISORY COMMITTEE MEETING - On September 4, 2007 in the 7th Floor Caucus Room at One East First Street (City Hall) the CAC will get updates about the Council's/Redevelopment Agency's priority projects, including the various beautification projects, the Post Office plaza/eco channel, and more. More importantly, we'll get an update on the 10 North Virginia Project and where they are with choosing one of the two finalist developers. I unfortunately have a conflicting meeting I can't get out of (I tried, believe me, but these 3:00 in the afternoon meeting times for the CAC are difficult to attend to say the least), so if you attend, or if are are a CAC Board Member and want to anonymously comment on the updates, here's the place to do it! I know most of the CAC Board/Redevelopment Agency reads my site, so help me out a bit and inform the public at large the exciting things going on. Thanks!

8/29/2007 - TODAY BIG TODAY FOR BASEBALL STADIUM PROGRESSION, ESSENTIAL MEETING - Well today is the big day, or one of the upcoming big days anyway; the baseball plan goes before the City Council and Redevelopment Agency at 2:00 p.m. at City Hall. Also on the table is the facade improvement program, a program I feel is vital to updating the decades-old facades on Virginia Street. I am out of town so I won't be able to attend, so if anyone watches, please post what happens in the comments section for me! Thanks!

8/23/2007 - BASEBALL ONE STEP CLOSER TO REALITY - AND WOW WHAT A PLAN! - The Downtown Baseball Stadium moved one step closer to being a reality when the Citizens Advisory Council unanimously approved a $55,000,000 plan to not only put the stadium downtown, but transform the ENTIRE EAST SIDE OF DOWNTOWN into a new baseball district. We're talking from the current Citycenter Bus Station all the way over to the Freight House and then South all the way to the Truckee River along Evans and Lake St. Now I'm REALLY excited about this. The Developers are complying with the Council's concerns they don't want JUST a stadium built downtown. Are you guys getting exited yet? I am. The deal would give developers city owned land at Evans and Second streets, including the Freight House, the downtown Reno Fire Station and a third piece of property where a weekly motel/apartments is located. Siena Communities who originally was going to build lofts there, has entered a tentative land trade deal for other land the City owns. The developers would also get the Citicenter bus terminal if the city buys it from the Regional Transportation Commission. I believe the property is currently being appraised. RTC is planning a new bus station east of the Bowling Stadium. Developers also would get a 20-year lease for the first floor of the National Bowling Stadium and would agree to finish the south end of the building, which has been left half-built for a decade.
Evans Street would close for a plaza connecting a new shopping area to the vacant block to the west, where the Mizpah was tragically lost. The Reno Gazette Journal reports Lewis said the developers are trying to buy the block.
Now here is the wild part. THIS ALSO INCLUDES THE PROPERTY WHERE THE WATERFRONT IS/WAS GOING. It's been confirmed the project is in redesign, as we had suspected The condo project will cover two small blocks at Lake and First streets.
So wow! We now have a project that has gone from 10 acres to 42+ acres. AND, it's getting very close to becoming a reality. Next step: The plan goes before the City Council/Redevelopment Agency on Wed. OK now that pedestrian bridge makes some sense, lol. I will have a graphic up this afternoon visually outlining their ideas.

8/23/2007 - STADIUM PICS FIXED - Yikes over 400 people tried to look at these unsuccessfully, I just noticed the links were broken, sorry! Now fixed, click below.






8/23/2007 - ARTERRA DOWN BUT NOT OUT - Arterra, which recently backed out of their Spring 2008 groundbreaking date, is down but not apparently out. I received an email from them asking to take a survey on what should be modified on the project. I was told by Capstone they underestimated the number of people wanting larger units. That, combined with the current real estate market, caused them to put their project on hold as reported before, however they still remain committed and hopeful for a late 2008 groundbreaking. In that same mailer, it mentions Village at Idlewild prices start at $150,000, substantially lower than previously advertised.

8/23/2007 - FACADE IMPROVEMENT PROGRAM PILOT STILL IN PROGRESS - In my opinion, the facade improvement pilot program could be one of the most dramatic changes to downtown, as ONE architect will redesign the facades of the aging casinos and buildings between 2nd st. and Commercial Row on Virginia St. On Wednesday, August 29 the RDA will meet to discuss B.1 Staff Report: Discussion and approval of the Facade Improvement Pilot Program as a Forgivable Loan Program.

8/23/2007 - MORE CLUES EMERGE ABOUT STADIUM - On Wednesday, August 29 at 2:00 the Redevelopment Agency Board will meet to discuss the two following items regarding the baseball stadium:
B.2 Staff Report: Discussion, and potential direction/approval of the proposed Memorandum of Understanding by and between Nevada Land, LLC, the Redevelopment Agency of the City of Reno, and the City of Reno, for the Development of a AAA Baseball Stadium.
B.3 Staff Report: Discussion and potential direction/approval for the proposed Memorandum of Understanding by and between Siena Communities, LLC, the Redevelopment Agency of the City of Reno, and the City of Reno for Public and Private Land Exchange.
The idea of a land exchange for Siena Communities so the Redevelopment Agency can get the large parcel of land they need is intriguing, and could possibly serve Siena Communities well; depending on which land they get in trade the land could be closer to downtown, and less off the beaten path over by Evans and 2nd.

8/21/2007 - SPECIAL CITIZEN'S ADVISORY MEETING REGARDING STADIUM - August 24, 2007, RENO CITY HALL, Caucus Room – 7th Floor, One East First Street ~ Reno, Nevada
2:00 P.M. - Presentation of AAA Baseball Deal Terms By and Between Nevada Land, LLC, The Redevelopment Agency Of The City Of Reno, And The City Of Reno, For The Development of an AAA BASEBALL STADIUM.

8/16/2007 - DOWNTOWN WALK 8-15-07 - The Montage is really going to town now installing balconies at a pretty rapid pace. I got some great pics of it, as well as one of those infamously gorgeous Reno sunsets, and Palladio and Grant's Landing. Click here to view photo gallery (in a kicken new format by the way that allows me to have bigger pics)

8/16/2007 - 8 ON CENTER SOLD OUT - Well I ended up telling everyone else this before I had time to post it on this site; 8 On Center will be closing on their last available unit in a week or so, which means they are officially sold out. That's right! All of the units went for their original asking prices too. I am told it's a nice mixture of retirees, business folks and artists. 4 of the 8 will be using their bottom floor for actual commercial/retail as well, which makes the developer VERY happy, since that's what she envisioned all along. I recently did a piece on the developer, if you missed it click here. Maybe this will inspire Mr. Thoma Lofts to break ground on his live-work units just up the street from 8 on Center.

8/14/2007 - PONTE VECCHIO NEW INFO, WEB SITE, RENDERINGS - New info for Ponte Vecchio. I added a new gallery, you can view it by clicking here. I also added an extensive list of amenities to my Ponte Vecchio page, and they launched a web site as well. Construction is set for fall.

8/14/2007 - MORE BASEBALL STUFF - Here is a color pic of the stadium concept, and a link to a RGJ article with more info.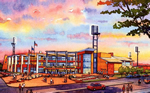 8/13/2007 - BASEBALL TOPIC COMING UP, ALSO PICS - Greetings! On Wednesday, the 15th, at 6:00 p.m. in City Council Chambers at City Hall, the two baseball plans will be discussed. I still really like the Freight House location. Below are some pics of the Freight House proposal. You can look at the meeting agenda and posted South (Freight House) and East (GSR) locations by clicking here.







8/7/2007 - MORE DETAILS EMERGE ON WINGFIELD TOWERS - From the Reno Gazette Journal: Under a proposed bankruptcy plan, the developer of Wingfield Towers has until Oct. 25 to come up with $9.7 million to pay Dr. John Iliescu for the property and possibly proceed with plans to build Reno's tallest building. Under a reorganization plan filed July 27, BSC Investment LLC intends to pay off Iliescu through a loan or sale of the property. Enough money would be borrowed to build a condominium project, including a 40-story tower, or else the project would be sold to pay Iliescu and other creditors, said Stephen Harris, BSC's bankruptcy lawyer.

8/7/2007 - THE END, OR A NEW BEGINNING FOR WINGFIELD TOWERS IS NEAR - August 27 is D-Day for Wingfield Towers. That is the day they go back to bankruptcy court. If, by that day, they have the $360,000,000 needed to complete the project, they will close on the land contract and move forward....if they don't have financing by then, they don't have a snowball's chance in you-know-where to complete the project. In May, Wingfield claimed bankruptcy so the conditions of the contract would be extended until bankruptcy court.

8/4/2007 - DOWNTOWN WALK - Downtown on a Saturday morning, including pics of the Montage, Fitz bridge, the Liberty/Holcomb area and the Truckee River Whitewater park. Click here for the pics.

8/3/2007 - MONTAGE UNVEILS NEW DECK PLANS - I was told by the Montage a while back they were redoing their two deck layouts to present a more lush, green atmosphere compared to the more arid desert-like layout currently proposed. They also added more space for shade around the pool area. It's very sanctuary-chic. I didn't think trees on a rooftop were possible, but after seeing this, and this, and this, looks totally possible to me. Oh also, on a side note, the Montage didn't purchase the Kings Inn. Click here to view pics.
8/1/2007 - DOWNTOWN WALK - We sure have a beautiful downtown. That's why I love this neighborhood. Condos or no condos, downtown has completely transformed its purpose, its image, and overall aesthetics 400%. Click for pictures.

8/1/2007 - RUMORS AND UPDATES - Happy August! So my readers have been posting some pretty interesting comments, and just in case you didn't catch them, let's review.
- Erin, who I am pretty sure I know who she is and a reputable source, mentioned Riverwalk Towers will soon be finishing the bottom floor of their building, converting it to an appealing retail space.
- A VERY interesting post by Anakin mentioned he recently saw some work being done on the Kings Inn, walked up to one of the workers and asked what was up, and they mentioned the Kings Inn would soon be under construction and that they were adding 4 floors onto the building. When asked who was doing the project, the guy pointed across the street to the Montage and said 'they are.' Of course this is a rumor at this point, but you bet I'll try to confirm it!
- The Nevada Discovery Museum seems to be entering a new phase of construction; there were fire inspectors everywhere this morning, and the place is really starting to look gutted.

7/27/2007 - RENO RIVERWALK DISTRICT HAS NEW SITE - And I love it! Especially compared to the old one they had. This is EXACTLY the kind of banding together and marketing as a 'unit' that downtown needs. The new site is fresh, nicely organizes the activities, eats, drinks etc downtown, and when you look at it as a whole, you really realize hey, there's some awesome stuff to do downtown! Nicely done. Click here to view site.

7/27/2007 - 100 NORTH SIERRA CLOSER TO CONSTRUCTION DATE - 100 North Sierra has moved closer to a construction/renovation date. I've been told a notice to vacate has been sent out to the current tenant, an antique store, which should vacate the building in September. Construction will start when the building is vacated. Paul Mitchell Beauty School has signed a letter of intent to occupy the entire third floor and they are in active discussions with major retailers and a restaurant for the remaining floors.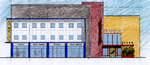 7/27/2007 - GRANT'S LANDING TO POUR FOUNDATIONS WITHIN A WEEK - I'm glad I have at least a couple positive things to report today. Grant's Landing will be pouring foundations within a week or so, with their sales office opening up in August. They expect the first units to be done in November.

7/27/2007 - BASEBALL STADIUM ISSUES POSTPONED - As if the previous post wasn't depressing enough for downtown, the two items related to the baseball stadium (one item for the GSR site, one item for the Freight House site) for the August 1 Planning Commission meeting have been postponed.

7/27/2007 - RENO'S FIRST NEW HIGH-RISE CONDO PROJECT MAY NOT BE DOWNTOWN - Well this certainly is depressing for downtown. In the August 1 Planning Commission meeting, there is a South Meadows PUD Amendment, specifically dealing with 2 buildings in a major expansion project of retail and condos at the intersection of Double R Boulevard and South Meadows. The amendment calls to allow 1,726, that's right, 1,726 condominiums units to be built, 60,000 square feet of retail space, and 70,000 square feet of office space. It also calls for the building height restriction to be moved from 55 foot height limit to a 365 foot height limit. 1726 condominium units is more than three times the number that was to be in Wingfield Towers (499). So that's that. This project should have been downtown.

7/27/2007 - FARMER'S MARKET THIS AFTERNOON! DON'T FORGET! - It's time again to buy our produce and breads at the farmer's market downtown this afternoon. Support our local farmers! Located at 10 North Virginia Plaza downtown from 4 to 8 tonight.

7/20/2007 - FARMER'S MARKET THIS AFTERNOON! DON'T FORGET! - This week it's even bigger. Workman Farms of Fallon, famous for their melons, will come with lots of zucchini, cucumbers, tomatoes and assorted vegetables. Melons should arrive by early August. Also making their debut this week , Campie's Lavender Patch will make the first of 3 appearances. Campie's sells live Nevada Grown lavender plants (they smell wonderful!), lavender products including essential oil, mist, sachets, dried and live bouquets. There will be a demonstration at about 6:30 p.m. on how to grow hydroponically at home from Tom Blount, Nevada Naturals - a Nevada hydroponic grower and market vendor. Market-goers will get a touch more of downtown as Spring in Your Step, Far East Corner, and La Terra Verte, which are downtown merchants, join the farmers market as vendors.
The Friday Night Farmer's Market is from 4:00 to 8:00 p.m. Support your local farmers, and get some groceries in the process!

7/20/2007 - DOWNTOWN WALK PHOTOS - Some exciting stuff to see downtown, including a new public notice sign for the Freight House area, color on the Montage and more. Click here to view.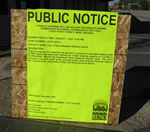 7/15/2007 - NEW STATE STREET MIXED USE RENDERINGS - This project is getting better and better looking every time I see new renderings or drawings of it. These are from the upcoming Reno Planning Commission staff report. This project is going in across from Pioneer Theater off of Virginia Street, between State and Pine Streets, behind the Memorial park. There will be 11 condos on the upper floor, and retail/restaurant space on the bottom floor. Click here to view.

7/15/2007 - SODO - GET USED TO THAT TERM, IT'S ALREADY BECOMING A NEIGHBORHOOD - What started with an eco-friendly project on Center Street, and a few businesses converting old victorian homes to offices, will continue with a very specific vision award-winning developer Kelly Rae has in mind. Click here to read.

7/15/2007 - AMAZING POSTS ABOUT RENO - Urban blogger Ken, who by the way has one of the most underrated, intelligent blogs out there about urban planning, found this amazing series of posts about a NYC theater founder/owner searching the country for cool theater and cool places. His three posts about Reno are downright amazing. Perfect example of 'what lies beneath' the surface of Reno. Click here to read, you have to click Reno on his travel map (on the left side of his page) to see the 3 Reno posts.

7/15/2007 - VARIOUS SNIPPETS, READER TIPS - Here's some quickies for you all; Spencer's Steakhouse in the BofA building didn't last long, another doomed restaurant in the seemingly cursed Adele's space, will anything be able to succeed here?; A reader told me the For Lease sign is gone from the old Liquid Lounge space on West Street, at the same time another reader mentioned Blind Onion (suffered multiple Mizpah tragedies, 3 to be exact) was eying the space for their new downtown location; another reader told me Demo work was beginning on the Rainbow Bridge, however remember this has nothing to do with the Trench Cover project, it was part of a separate deal with the City; and finally, I spotted what looks like mass amounts of gym-workout machines and the name Nakimo (I think?) in the Museum Tower space on Sierra across from Pegs. Could this be a new gym for downtown? Or a place selling gym equipment? I would love it if someone from Capstone could elaborate on what this is.

7/15/2007 - HEALTH AND WELLNESS SECTION ADDED (FINALLY) - This is something I meant to do a while back, but just became so busy I only had time to do quick updates for a while. But, I had time this weekend, so here you go! I am really into eating right, exercising etc, so, it's only natural I add a section to my downtown guide for health and wellness. Keep in mind so far I have only put up places I have been to, so if I am missing something or left a business out you think should go on my guide, let me know! I disabled comments for this post since, well, this really isnt that juicy of a post to comment on.
7/13/2007 - REMINDER: DON'T FORGET ABOUT THE FARMER'S MARKET DOWNTOWN RENO - It's at the 10 North Virginia Plaza on the corner of First and Virginia Sts.....goes from 4:00 to 7:00 p.m. with LOTS of great food. Don't miss it!
7/12/2007 - COUNCIL LIKES 8 ACRE FREIGHT HOUSE SITE FOR STADIUM - As I mentioned from the CAC meeting, Mark Lewis presented to the council yesterday their preferred spot for a baseball stadium, and the Council agreed, giving the green light to staff to file all necessary paperwork to begin looking at the 8-acre site off of Evans Avenue as the first choice for a stadium. The Council mentioned they want a retail/entertainment aspect to it as well, and I forgot to mention Dan Gustin was in Tuesday's CAC meeting and mentioned the same thing; there has to be a retail/entertainment aspect to the project. There are many possibilities with the property, which includes river-frontage on the east side where a motel currently sits. Fire Station One would need to be relocated, which no one really opposed doing, and Fire Chief Paul Wagner said several downtown sites are as good or better for the station for response time. The biggest challenge will be acquiring the 2 privately owned land parcels. The City owns the other two parcels involved already, a big plus.

7/11/2007 - CAC MEETING UPDATE - Includes status reports on Farmer's Market, Triple AAA Baseball Stadium Location Update, Beautification Projects, and more. Click here to read.

7/9/2007 - COMMENTS ISSUES - I received a rather nasty email from a reader accusing me of not publishing his comment, and it dawned on me I never received it. For some reason, I think due to the huge surge in traffic I am getting recently, my comments system is losing about 30% of the comments submitted. Normally when someone comments, I receive a notice on my pda and I approve it almost immediately unless I am traveling, so if you find your comment is not on the site soon after you submit it, resubmit it again because I mostly likely didn't receive it. I will fix the issue as soon as I can, but of course work (and paying bills) has to come first.

7/8/2007 - RGJ REPORTS ON WINGFIELD, WATERFRONT - It's basically the same information I posted on here last week, however it keys into the optimism developers still have about downtown.

7/7/2007 - THOMA LOFTS STARTS SALES PROCESS - What a pleasant surprise! A new web site and on-site signs and flags mark the next, long-delayed step for Thoma Lofts, a set of 33 live-work units on Thoma, Virginia and Center Streets. These are architecturally rich in design, with arched windows, and HUGE loft ceilings.

7/7/2007 - DOWNTOWN RENO'S FARMERS MARKET - I of course went to the opening day of downtown Reno's Farmer's Market. I'm not sure how busy it became because I had to race to pick up some goodies just as it opened, and then rush off to a dinner engagement. But it was a success for me, for I picked up some amazingly yummy items for the dinner party that received rave reviews. Check out the pics! Click here.

7/5/2007 - GET INVOLVED! ESSENTIAL UPCOMING MEETING ITEMS - Lots of goodies packed into two upcoming meetings, including update on the baseball stadium, Grant's Landing's kayak extraction point/ramp, pilot lighting bid approval for Virginia between Pueblo and Vassar, the first step in the visioning process for replacing all downtown bridges, update on 10 North Virginia, a bicycle cooperative and more. Details to the left in my essential meetings tab.

7/5/2007 - NORTHEAST DOWNTOWN: WHAT ARE THEY UP TO? -The recent City Council agenda item where an entity called "M&K" requested abandonment of the alley in preparation for a full block redevelopment project on the block bounded by Center, Lake, 6th and 7th streets prompted me to do some research into ownership concentration in that general region of downtown.
That research, combined with added input from some outside sources, results in the following ownership summary. Click to read. UPDATE: added the color map, sorry guys! It's the heat.

7/2/2007 - WINGFIELD TOWERS: OUR PROJECT IS NOT DOA - For the past six months, Wingfield Towers has been battling the constant barrage of rumors that their project is cancelled, while at the same time continuing to secure financing, which can be difficult when everyone is saying your project is cancelled. I finally caught up with Cal Bosma, general manager of Decal and asked him what's up. The downturn in the housing industry created some major financial issues for many of the lenders and capital partners and banks that are a part of their operation, causing them to think outside the box for alternatives. Cal and his crew has literally spent the better part of the last six months traveling and networking to attract new capital partners, from Vancouver to NYC and south to Atlanta, Dallas, Scottsdale with companies who are not only interested but willing to come to the table for projects in Reno.
Cal says "As far as the Wingfield project is concerned I think you, like everyone else has an air of doubt because nothing has been happening in the public eye, trust me when I say that nothing could be farther from the truth." Not much has changed with regards to Architecture but more along the amenities and internal operations of the project. "We have incorporated a redesign on the individual units to smaller square footages, increased the office commercial and designed better access to the project to help mitigate the traffic flow."
Wingfield Towers is still out there, making a name for itself (they are sponsoring several downtown events), and planning their towers in the background.

6/30/2007 - NEW WINDOWS UP, BOARDS DOWN ON CORNER OF 2nd, SIERRA - I mentioned a while back I saw some serious construction going on inside that old building with the black boards of the windows across from the future Longs Drugs and across from the Montage, on 2nd and Sierra. Well, the boards are down! The new windows are up. And a reader confirmed the rumor I heard that it will be a Mexican Cantina. The exposed brick arches in the building are amazing, and I look forward to having some chips and salsa there.

6/30/2007 - A TRIP TO THE MONTAGE - In my last post, I mentioned sales at the Montage were so-so. Well, that got the attention of Montage staff real quick! They invited me to their sales office to have talk about their progress, what they are up to, completion dates, and more. Click here to read.

6/27/2007 - WHERE DOWNTOWN STANDS - Given the market downtown I felt an update shedding light on multiple projects at once is in order. Here's a 'snapshot' of downtown, with lots of new developments tied in. Click here to read.

6/23/2007 - SIX UNRELEASED BUILDINGS TO BECOME APARTMENTS AT VILLAGE AT IDLEWILD - Citing disappointing sales of their condo units (they anticipated selling 12-15 a month and are currently selling about 4 a month) Capstone Partners plans to change the six remaining unreleased buildings into luxury apartments for lease. A letter went out to all Village at Idlewild residents to attend a townhall meeting to discuss the upcoming change. Converting the unreleased buildings to leases will allow Capstone to more quickly provide the on-site amenities and builds than waiting for the units to slowly sell.

6/23/2007 - LARGE UNKNOWN PROJECT PLANNED FOR BLOCK - Another goodie in the City Council Agenda that I overlooked is a request for alley abandonment for the block between Center and Lake, and 6th and 7th. This is a huge block of property with about 20 homes on it and a parking lot (see pic below), and in the text from staff, it reads 'The applicant is planning for a large scale project over the entire block so the abandonment of the alley is required prior to any mapping to consolidate each individual parcel into one large parcel.' I am guessing a major apartment or condo or townhome project?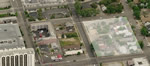 6/22/2007 - BASEBALL STADIUM MAY GO DOWNTOWN - Looks like SK Baseball WANTS to be in downtown Reno. All I gotta say is Mark Lewis brought a stadium to downtown Stockton, maybe he can do the same for downtown Reno. As Mr. Lewis put it so well, this really could be the shot in the arm for downtown. But where? Good poll question! Click here to read article.

6/20/2007 - 4 PROJECTS ADDED - I added a permanent page for State Street Center, 275 Hill Street and 250 Bell Street and Modern on Cheney.

6/20/2007 - CITY COUNCIL AGENDA GOODIES - Wow I woke up with the worst allergies this something. Something decided to bloom last night I guess. Here's some goodies in the upcoming City Council meeting, which I copied over to essential meetings as well. Do any of you go to these? Or at least find the info I post interesting? Ok here we go.
J.22 Staff Report: Discussion and direction to staff to enter into negotiations with SK/NL, Washoe County, and other parties as needed to develop a AAA baseball stadium in the City of Reno.
Staff Report: Case No. LDC07-00233 Request for an abandonment of a +/- 71,395 square feet portion of West 6th Street being approximately all that portion of right-of-way westerly of Vine Street. (West 6th Street Abandonment). I believe this has to do with the new 600-room hotel/casino going in.
Authorization to acquire property at 705 North Virginia Street (Savoy Motor Lodge) in the amount of $710,000, contingent upon the receipt of Fitzgeralds Garage revenue bond proceeds. Mark Lewis is tight-kipped about what will happen to the property, but if you look at the City's Gateway Art Master Plan, it's fairly obvious that it will become part of a gateway art project.
L.5 RESOLUTION No. Resolution donating $1,500 to the Wells Avenue Merchants Association to implement positive changes along the Wells Avenue Corridor and L.6 Discussion and potential direction to staff regarding the Feasibility of Street Light Installation on Vassar Street. Yay that's nice, this is my neighborhood! Can never have too many candy-cane lights.
Click here to view agenda, there's lots more I didn't cover.

6/16/07 - PEDESTRIAN BRIDGE IN PLACE - The big pedestrian bridge going over the train trench is now in place sans floor, and rumored glass windows and a roof. Interesting how it lines up directly with the old doors of the Amtrak Station. I sure hope they plan on building that retail center under the bowling stadium parking garage, because I am still not understanding the entire purpose of this bridge. Is it solely for the train station, maybe a new entrance?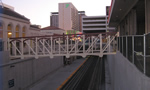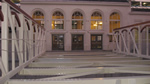 6/16/07 - ITS OFFICIAL! FARMERS MARKET START DATE - Alright people here's your chance to come downtown and support your local farmers. This is NOT the urban market planned to be completed this by this winter, it's the summer version while a location is secured and renovated for the Urban Market. What's different about this farmer's market? It's on the river, in a new location, and focuses on the farmers. There's such a quality difference when you buy local fruit and vegetables and bread, compared to ones shipped halfway across the country. There will be entertainment in the form of Art Town events, and you can check your bags in after getting your food, and go enjoy and some entertainment, come back and get your groceries. Here's a flyer you can print out and stick on your fridge to remind you to go!

6/16/07 - 8 ON CENTER - 5 OF 8 UNITS NOW SPOKEN FOR - Just a quick blurb about 8 On Center, the project which was so viciously attacked by some of my commenters. Ha! You thought they wouldn't sell any in this market and now there's only 3 available units remaining. I personally love this project; the styles, the colors, I've been in the units. They definitely aren't for everyone; they are uber-modern. I dig them :)

6/14/07 - NEW DOWNTOWN RESTAURANT OPENS - Located on First and Bell Street, I think this place JUST opened a few days ago. I swore I drove by First Street last week and didn't see it. It's called Daughter's Cafe, and it's in a restored Victorian style mansion. Their outdoor patio is so relaxing, dining among the roses, and their food is unusually delicious. You'll find unique seasonal dishes here not made anywhere else in the city. Their coffee beans are roasted locally over an oak fire, and I'm told one of only five places in the country who roast their beans in that method. Stop by and have lunch!

6/14/07 - STATE STREET PROJECT TO SUBMIT TENTATIVE MAP - The Mixed Use State Street project, still unnamed, is submitting their tentative map to the Ward 1 Neighborhood Advisory Board and then to the Planning Commission in July.

6/13/07 - WHERE OH WHERE WILL THE BASEBALL STADIUM GO? - As most of you know by now, the Sparks Marina isn't getting the baseball stadium. At the same point, the team was purchased, so now we have a team with no stadium (yet). So the burning question of course for this downtowner is, is a downtown Reno location one of the four remaining sites being considered? Where should it go?

6/13/07 - SALES AT VIRGINIA LAKE CROSSING DOING WELL - RGJ reports sales at Virginia Lake Crossing are doing well, selling the $265,000 townhomes and $320,000 single family homes without any major incentives that builders in Wingfield Springs and Somersett have to offer ot keep new homes sales going (to me Virginia Lake Crossing's low price is an incentive). At buildout, Virginia Lake Crossing will have 137 units in Camden Place, which are two-and three-bedroom townhomes, and 83 units in Glen Manor, which has seven single-family home models. In the beginning there were a lot of critics of this project, but as it comes to fruition and people actually go see the models, nearly all I have talked to come back pleasantly surprised.

6/13/07 - THE FITZ TO BE LEASED BY CASHELL'S SON - Assuming the sale goes through in October, Cashell's son will be leasing the casino from L3 Development to run. No details yet other than it will be a Boutique Hotel and that " 'tens of millions' in Fitzgerald's upgrades will help the nearly $160 million investment he already has made in the conversion of the Phoenix to Montage, which is on the west side of Sierra Street across from the Fitzgerald's."

6/11/07 - PICTURE OF NIGHTINGALE VILLAGE FIRE - RGJ finally posted a picture of the fire that destroyed the framework for 6 Nightingale Village units. Looking at the pic, you can see why flames were visible from a half mile away. Click here to see.

6/10/07 - UPDATE ON FIRE: NIGHTINGALE VILLAGE - It appears it was the frame work done on Nightingale Village that caused a massive fire late last night. I watched the fire last night as I happened to be about a half mile away just as it started. It attracted quite a few late-night spectators, more than when the Mizpah burned, probably due to the sheer size of it. Second Street was blocked off at Kirman, so couldn't get too close. I've never seen flames reach that high in the sky before, it reminded me of pine trees on fire. The flames were so large, I could see the tips of them rising into the air from over a half mile away driving on Lake St. I did a drive by of the fire scene this morning. I can't believe no major news organizations including RGJ, KTVN, KRNV etc are reporting on this on their sites yet, slow pokes! This was a HUGE fire. 2nd street is still completely blocked off as of 11:00 Sunday Morning. Power crews are everywhere, there may have been utility damage. Only a few charred pieces remain standing. So hard to tell because whatever burned there's nothing left....this could be a huge setback for this project. . It may look like it was small from the amount of damage done in the pics below, but there was a LOT of framework up for this project, enough to make the entire sky around Renown glow red and yellow. There's simply nothing left of I'd say 90% of the wood that was there.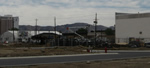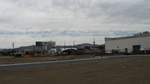 6/10/07 - SOMETHING BIG CAUGHT ON FIRE LAST NIGHT - I was on my way back to my place from a night out with friends, about 1:30-2:00 a.m., and something BIG caught on fire across the Renown on 2nd Street. I tried to get a closer look but they had it blocked off from 3 blocks away. . This wasn't a little house fire this was BIG. Anybody know what happened? As of this post, RGJ.com, KRNV, KTVN or KOLOTV have nothing about it posted on their sites. I hope no one was hurt.

6/7/07 - DOWNTOWN WALK - Pics include more Palladio roof, pedestrian bridge structure, and more. Click here to view pictures.

6/7/07 - FIRST PALLADIO RESIDENTS TO MOVE IN WITHIN DAYS - It's been a long long journey for the Palladio, but that journey is now coming to a close. The first units of the Palladio should be ready for move in June 15. Dave Clark, court-appointed receiver for the Palladio, told the Reno Gazette Journal that "five of the eight residential floors have been completed, and the other floors should be completed within 10 days." More interesting are the number of units sold at Palladio. According to the article, "Sixty-eight of the units have been sold and all but "four or five that are still pending and the rest are solid contracts," Clark said."
I'm just happy the green roof is going on, it's starting to look REALLY nice. The article mentioned what we all know, that no additional retailed has been signed besides Starbucks. There were some mumblings at City meetings about the retail spaces being too small to be practical, which I can totally understand (much like the downtown theater complex retail spaces, which some had to be combined and some stores occupy two). I'm glad to hear interest is picking up again. We don't want a Riverwalk Towers scenario on such a critical street intersection.

6/5/07 - LAND MUSINGS - Well according to Washoe County Assessor data, which is supposedly updated every night, North River Development LLC still owns the Kings Inn, and it was supposed to go to auction at the steps of the Washoe County Courthouse late May, so I am assuming they were able to pull it out of foreclosure. Now we'll see whether it becomes condos, apartments or a pile of rubble. In other interesting news, the Waterfront Property parcels on the East Side of Lake changed names, but not owners on May 30, 2007. Perhaps they are reorganization for a project, I hope? They were formally called Gonzo Triangle Investments, now called Waterfront Partners LLC. Also, according to assessor data, Wingfield Towers still does not own the land they plan to develop on, and a spokesman for them said on a News 4 story several weeks ago (talking about their bankruptcy) that closing of the land should happen within a week of that incident.

6/5/07 - RTC BUS RAPID TRANSIT STILL ON THE TABLE - I know a lot of readers are wondering what's up with the BRT rapid transit solution for Virginia Street. It hasn't been receiving much publicity lately, and I was wondering too, so I spent a little time digging over at RTC's site. It turns out they've been talking about Bus Rapid Transit quite a bit in recent meetings. Take a read here, and more recently here. It seems Route 1 is bursting at the seams with riders, and needs some kind of expansion soon. Not sure if it was discussed at all at their May meetings, minutes aren't approved yet, but it's really interesting if you follow their discussion. I'm going to throw my two cents in here. If you increase the appeal of riding a bus, people who wouldn't normally consider riding a bus might consider it, like me. If the City of Reno decides BRT is the right solution (when will they?), please pick buses like this or this (which lists RTC Las Vegas as a customer of this bus). Let's avoid ones that look like this. Do you agree?

6/5/07 - URBAN MARKET UPDATE - As reported previously, the Redevelopment Agency entered into a Memorandum of Understanding with the Nevada Farmer's Market Association, to open a farmer's market downtown. The permanent, indoor year round farmer's market will be completed in December...location is still undecided among the 3 contenders, Riverwalk, Belvedere Tower and Freight House. However, to take advantage of summer crowds, an outdoor farmer's market will begin in July, at 10 North Virginia on the plaza. New Redevelopment Agency staff member Karen Craig explained they don't want to necessarily go in the direction of the Sparks Farmer's Market, which has become more event oriented and less farmer oriented. Their concept is to truly push the farmer's products, focusing on the benefits of buying local food. To draw folks to the market during Art Town, the city plans to move some of the food venues for Art Town over to the 10 North Virginia plaza to join the farmer's market. I think this is a good plan...it will introduce Reno-ites to the concept of buying local, and it's good to have during summer, and there's no way to get one of the indoor locations finished in just a couple months, considering each location is 'unfinished' inside. You readers voted for an urban farmer's market overwhelmingly on my poll, so PLEASE go and support this when it opens. Buy some produce, fruit, meat etc. I'm going to be pushing and promoting this in any way I can, for sure.

6/5/07 - CAC MEETING UPDATE - I have to pick and choose which meetings I go to, because like most of you, I have a job, life, etc. The Citizens Advisory Meetings are ones I definitely am becoming accustomed to attending; they're a bit less formal, quick, and you learn about upcoming projects far before the Council does (officially). So let's get to the goods:
1. Post Office Project - Redevelopment Agency is awaiting space requirement document from USPS, once they get that, locations will be presented to USPS including on-site tours to pick the best place for the new post office. They expect acquisition by the end of the year. Scott Edwards toured a similar site in Vegas, and the people in charge of that project were interested in coming up to Reno to tour our site. The 2009 completion date still stands for this.
2. Retail block - City Center Site - This is a longer term project, as RTC won't even relocate to their new transit center until 2010.
3. Parking Structure Downtown - A 1000 space garage with retail possibilities on the ground floor is closer to reality, and is public-private partnership. 'West of Virginia' is the only clue to its location. Should hopefully be before the CAC for review of the plan in July.
4. Beautification Projects - Wow Gillian went through these fast! So fast I couldn't keep up with some of the details, but here goes; Virginia Gateway Project - Will go before council June 27 to purchase Savoy Motel as part of the gateway art projects. Probably will be demo'd, though not officially said. Virginia Street Lighting - Should be complete by late August between Pueblo and Mt Rose. Hanging flower baskets along recently narrowed Virginia St. to be installed by end of June, and new banners created for light poles (like Wells Ave) in association with Riverwalk Merchant Association. She talked about new planters but I totally missed where, sorry! Facade Improvement Program - Surveys of all the properties involved are complete, and RFP went out for an architect to draft a design for the entire area in the Pilot Program, and they expect the RFP process to be complete within two weeks. I can't wait to see what the architect comes up with for the redo of multiple buildings. This is an exciting program.
4. 10 North Virginia - Not much new here; the three finalists have until June 13th to submit their concepts, pro forma, and written statement that the building will be built before leasing. The latter part is interesting, it means the building will have to be built whether the space is leased or not, which encourages developers to acquire tenants going into the construction phase. The developer should be chosen by July 12. A liberal June 2009 completion date has been set, but Scott Edwards was optimistic it could be completed earlier. Edwards confirmed that the canopy and building have been 'synchronized '...i.e. further canopy design put on hold until developer is selected for retail building.

6/4/07 - DOWNTOWN WALK - Some goodies here, including further Longs Drugs construction, Montage progress, Palladio finally getting some roof tiles on, and more! Click here to view pictures.

5/31/07 -PARKLANE MALL CLOCK MOVING DOWNTOWN - The deal is done for the old clock to move back downtown where it originally came from, although city officials are not quite sure where to put it yet. Cashell wants to put it at the 10 North Virginia site but Skip Leedy is concerned it might get in the way of coming construction. Since Virginia Street's sidewalks were widened all the way up to 4th Street, perhaps it would fit anywhere along Virginia St.

5/28/07 -LATEST COMMENTS LINK REPOSTED - Lately I have been getting a lot of comments for items posted a few days back, which makes it hard for people to track comments and view them. So I posted a permanent 'Latest Comments' link in the left-hand column above my feed icons. Click here to view as well.

5/28/07 -WE HAVE AN AMAZING DOWNTOWN - I hope the City Council/Staff were downtown today to see the amazing fruits of their hard work. If not, here are some pics :) Dave Aiazzi had asked some commenters in a previous post what the Council should do post-Kings Inn if they had the money now to do something, and one commenter mentioned building the second River park and connecting low-flow channel for innertubers to float down. I'd have to agree. Click here to view the pictures.

5/27/07 - SO MUCH FOR RESTORATION - Based on a commenter's tip, I went down to investigate the State Street project site. It's definitely demo'd, gone, nothing left. I thought for sure based on their renderings they were going to save the red brick building and add onto it, however when you look at the pics below, it's easy to see that's not in the cards. I hope the lot doesn't remain empty for months or years. It seems like they have a plan and design in place though.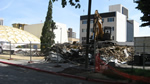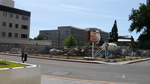 5/25/07 - POWER OF THE BAGPIPE - It's 8:00 p.m. I walk up to Little Bangla to get some much needed chips and dip for a little pre-Memorial Day gathering, and I hear bagpipes playing from Ceol's Irish pub across the street. The place is packed, no parking anywhere. So then the bag-piper, for whatever reason, came outside, bagpipes blaring good ole Irish cheer. What was funny was two different sets of tourists wandering around Virginia Street with nothing to do seemingly became hypnotized by the music, and followed the bagpiper back into Ceol's like hypnotized little mice following a flutist. It was the oddest, weirdest thing I've ever seen. Cool bar!

5/25/07 - COUNCIL SETS MORE PRIORITIES AT WORKSHOP - At a 'retreat' at the California Building yesterday, the city council accomplished some major discussion. The Council really seem productive when they do these retreats, maybe we should send them on one every other month. Anyway, their first item of discussion was getting our police officers out of the 60-year-old building on 2nd street, and are now pondering building one large police station as opposed to 3 smaller ones. It would cost less.
Also, Cashell is tired of the city being criticized for over-studying certain things. I hope he isn't referring to the ReTRAC Master Plan, because I like the idea of having a guidebook on how to develop the 115+ acres along the trench.
A new multi-faceted way to communicate with the public will be rolled out this summer, which includes calendars, council meeting results, the cable access channel and more.
Here's a bit of news regarding our ole yellow pal on Third Street; the Kings Inn came up at the meeting, and could be the first major test of the city's new laws to deal with blight. I don't need to mention how fugly this building is, it seems to get worse every day, with broken windows, pigeon poop and various pieces falling off the building.
Under new city ordinances, the city could board up the windows and clean up the property if the owners don't, putting a lien on the property. Mark Lewis said such an effort would test how the relatively new city ordinances will work. Do it do it do it! Also unknown as the fate of the foreclosure process on the Kings Inn.

5/25/07 - DETAILS EMERGE ON KEYSTONE CASINO - Aha! After months of land acquisitions and a push to change zoning in the area, a new gaming company, Scodara, wants to build a 600-room hotel-casino at Keystone Avenue and Fifth Street, the Reno City Council learned Thursday in a planning workshop. Wow 600 rooms, that pretty much entails a nice-sized tower yes? To compare, Eldorado has 816. Councilman Dave Aiazzi and Mayor Bob Cashell said they would welcome a new casino on the block, because several former "crack houses" there are being demolished. Click to read full article.

5/24/07 - DOWNTOWN WALK - My dog walk today started out sunny, ended up rainy, and then just overcast. I caught pics of the State St. project construction, Wild River Grill's new signage, and Starbucks in the Palladio. Click here to see.

5/24/07 - FARMER'S MARKET APPROVED, COMING TO DOWNTOWN - The City of Reno entered into exclusive agreement with the Nevada Certified Farmers Market Association to bring an urban market to downtown Reno. Unlike the Sparks farmers market, this would be a more permanent fixture in downtown, and include a couple indoor restaurants, spaces for artists to sell things as well, and of course, groceries. This could be BETTER than a regular ole grocery store, and provide the much needed grocery source for current and future downtown residents. The Farmers Market is on the fast track, and should be open by this summer. There would be a common kitchen for farmers to prepare foods, and the Nevada Certified Farmers Market Association mention everything from fresh fish and salmon (yum) to produce, to jellies, produce, meats, etc. Last I was told, at least two locations were being considered, one being the Freight House area and the other being the bottom floor of Riverwalk Towers.

5/23/07 - AND THE CANOPY DRAMA CONTINUES - Two of the three developers being considered would like a 'clean slate' regarding the design of the canopy when they start the retail building aspect of the 10 North Virginia project, or at the very least have some say in the design. They would like the canopy design to conform to the retail building design (which I thought was already designed by Sheean Van Woert) and not vice versa. Of course the council agreed, and it was hinted any further design work on the canopy would be postponed until a developer is chosen in two months. The discussion became so involved council members almost forgot they were simply motioning to accept the three finalists for the project. What does this mean for the design work already done by Sheean Van Woert? Hundreds of thousands of dollars have been spent on that work. Sure, there's a good chance the reason two of the three developers would like a say in the canopy is so they can enhance it...but we have a canopy design approved by the public at meetings, approved by the design subcommittee, and given the green light by the council, and fits the budget allocated. I would love to get my readers' opinions on this. At least there was some mild comic relief in listening to the 'President of the United States' talk about the evils of newspapers and how newspaper racks are ruining downtown. The council as a whole today was unusually witty and energetic, making for quite an entertaining city council meeting.

5/23/07 - RENO METRO DEVELOPMENT BITS - Justin over at RENOvation has great updates and pics on the fancy new Peppermill Tuscan-inspired tower, the crop of non-gaming travelers' hotels being built around the airport area, and news regarding Park Lane Mall's set demo date, August 1. Check it out!

5/23/07 - TODAY/TOMORROW FULL OF MEETINGS - There's a Redevelopment Agency meeting at 2:00 today to discuss and hopefully select a developer to move forward with the retail building for 10 North Virginia. The meeting will be in City Council Chambers downtown. Also today/tomorrow are the meetings I posted in the center column of this page under 'essential meetings' Tab. Between the 9:00 a.m. 'special' meeting and the 2:00 p.m. 'special meeting', the Council/Redevelopment Board looks to spend all day focusing on the Transit Oriented Districts of South Virginia and 4th Street.

5/23/07 - PINE/VIRGINIA CONSTRUCTION WELL UNDER WAY - The new mixed use project going in directly south of Pioneer Theater on Pine and Virginia is really taking off. Looks like they are starting to dismantle the wedding chapel portion of the building, and the brick building next to it is undergoing a full gut-and-tear out. Much like the rendering shows below, it looks like they are keeping the brick building portion, and removing the chapel to make way for an 'add-on' to the brick structure.


5/18/07 - RIVER FESTIVAL ATTENDANCE ON UPSWING - The Reno River Festival attracted a record 32,800 people to downtown Reno last weekend, officials said today. That's 10,000 more than last year..
Nearly 95 percent of 943 surveyed at the event said they planned to return. Click here to read article. It seemed much larger when I went this year, and much more fun...the excitement and races seemed to be better timed and scheduled.

5/18/07 - OTHER PROPOSALS FOR 10 NORTH VIRGINIA POSTED - The other two remaining finalists for 10 North Virginia have been posted Below is a list of the development teams involved.
Union Property Capital, LLC
Todd S. Christman, Managing Director
Terry J. Sternberg, Managing Director
Martin B. Dalton, Managing Director
Sudhish Mohindoo, Retail Consultant

10 North Virginia, LLC
Fernando Leal, Managing Partner (Developer with L3 Development, LLC)
Joseph Antunovich, AIA (Architect with Antunovich Associates)
Edward K. Uhlir, FAIA (Urban Design Consultant)

Inverness Equities, LLC
John Pappas, Principal (Developer)
Thad Johnson (Project Manager with Inverness Equities, LLC)
John C, Gack, AIA (Architect with JG & A)

I should note these are RFQ's, and not actual proposals, so unless you want to learn more about the three finalists, there's not much need to read these. Once the Board approves these three, the three finalists will be asked to submit a brief proposal with architectural concepts etc, and within 45 days Staff will come back with a single finalist to enter into exclusive negotiating agreement with.

5/18/07 - L3 DEVELOPMENT ONE OF THREE BEING CONSIDERED FOR 10 NORTH VIRGINIA - L3 Development is one of three teams submitting their qualifications/bid/etc for the 10 North Virginia Retail project. Click here to read their documents submitted to the city. Note that the document is called 'Proposal 3', not sure if the first two proposals from other developers will be posted or if they already narrowed down to L3 Development. The May 23 agenda states 'there will be discussion of 3 finalists'. The Redevelopment Agency started with 5 solid proposals after they put out the project to bid again.

5/17/07 - DOWNTOWN WALK REVEALING - Well not super revealing, but I took some pics of the continuing work on the train trench pedestrian bridge, Longs Drugs, the fate of Ryder Homes' other downtown property, and a very busy Silver Peak. Click here to view.

5/17/07 - LONGS DRUGS: WHAT NOW? - So close to opening, and now so far away. A tipster reports all the signage for Longs Drugs downtown is covered up. I guess covered up is better than taken down, but geez, this is getting ridiculous. A couple of sources tell me this months-long delay is centered around Longs wanting to install slot machines and having some kind of trouble getting the gaming license. The project is nearly complete, yet has been stalled for months now. I'll get some pics this evening on my dog walk.



5/16/07 - HIGHLIGHTS OF UPCOMING CITY COUNCIL MEETING - Sounds like another motel downtown will bite the dust, a possible comedy club coming to downtown Reno, and paving the road for a new historic district downtown. Click here to get agenda.

5/15/07 - DOWNTOWN CASINO DOES SOMETHING INNOVATIVE - For the family who can't bear the thought of leaving Fido at home, Circus Circus has stepped up and introduced climate-controlled kennels. Each kennel has a storage shelf for toys, snacks etc, and video cam monitoring so guests can see their dogs from their hotel rooms. Nice! Click here to read full story.

5/15/07 - PALLADIO'S ROOF GOES ON TODAY, TOMORROW - Well I think this is it, the last exterior piece to the puzzle that is Palladio. If possible, avoid the area of First and Sierra, as traffic will be restricted both Tuesday and Wednesday for a large crane to lift roof pieces (pictures to come).

5/15/07 - MONTAGE GETS TALLER - What a difference two floors make. The Penthouse levels of the Montage were quickly added (below) and is now filling in. Also notice how many windows are in place in the lower floors.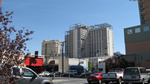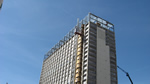 5/14/07 - SOME RIVER FESTIVAL PICS - What would a downtown-oriented site be without a few pics of the River Festival? I couldn't stay long because friends I was with were already sunburned and their outdoor time on Saturday was limited. Click here to see.

5/14/07 - AH, NOW I UNDERSTAND THE TERM 'BRIDGE TO NOWHERE' - On Renodiscontent.com a while back several posters talked about a pedestrian bridge to nowhere that was going to be built as part of Retrac. Now I know what they meant. Construction has started on a pedestrian bridge over the trench, between the walkway that goes under the bowling stadium parking garage, and the Train Station. Unless they have something future planned for this area, I don't understand the location of it, do you?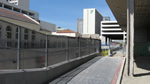 5/11/07 - GRANT'S LANDING SALES OFFICE NOW OPEN - Grant's Landing's sales office is now open. I plan on stopping by to see if they have any additional goodies for me. The obligatory flags are up guiding the way to the back of the property where the sales office is. Click here to check out the pics!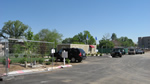 5/11/07 - 'MODERN ON CHENEY' PROJECT MOVES FORWARD; NEARLY SOLD OUT - Jack Hawkins and Baron Hershberger strike again. This 4-plex of architectual bliss will be in the alley between Cheney and Thoma at the 500 block, on the newer side of Wells Ave (newer meaning 1950's, 1960's homes). Only one unit is left for sale. This is first of hopefully many alleyway infill projects. Baron envisions a movement similar to what's happening in Savannah, GA, in making alleyways usable and inviting by creating alley-facing infill projects. Check out the massive windows. I will add this as a permanent project in my navigation as soon as I get back in town.





5/11/07 - WHAT IN THE WORLD? - Have you noticed the serious remodel going on at the motel on South Virginia between Thoma and Stewart, across the street from the senior apartments, and just south of Kokopellis and the new South Virginia Retail Plaza? They added accents to the entire top floor between the walkway posts, and every other door is now sealed off, and the rooms completely gutted, as if they were cutting the number of rooms in half, possibly making apartments instead? Not sure.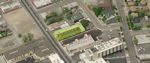 5/11/07 - VARIOUS RESTAURANT UPDATES - Spencer's Steakhouse, on Virginia and Liberty in the B of A building, has opened. I hope the Vinyl signs are temporary, a classy neon sign would look swank over the foyer entrance. Ceol's next to Starbucks on S Virginia and California Ave has opened. Go have a Guiness! The interior is cozy and Cheers-like. The expanded patio of the Wild River Grill looks great (below).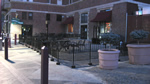 Luciano's on South Virginia, I thought it was going through a remodel but it seems more and more that they aren't coming back? Were they out-Italianed? Anyone have info on this?

5/11/07 - ANOTHER INTERESTING WATERFRONT TIDBIT - Channel 4 news at 5:00 did a short story on Wingfield Towers filing bankruptcy, and towards the end of that story, Sarah mentioned that the Waterfront Project, which originally was going to build the condo towers first and then the retail portion, has switched plans and will build the retail portion first, then the condo towers. Interesting!

5/11/07 - NEW BLOG! - One of Renodiscontent's and Downtownmakeover.com's more frequent and pleasant posters has started his own blog. Called RENOvation (clever), it will cover development in the greater Truckee Meadows area, and occasionally focus on downtown when a big story breaks. This fills in a much needed gap, because there is a LOT of development happening outside the downtown area, such as the Peppermill Expansion, the new 6-story Luxury Hyatt announced by the airport, Virginia Lake Crossing, the massive Legends at Sparks Marina and accompanying hotel/casino, everything Grand Sierra Resort is doing, District at Victorian Square, the new plans Sommersett has for the 4th Street Hot Springs resort, the Atlantis expansion, the Stations casinos going in. You're gonna be a busy blogger, Justin! Click here to check out his blog.

5/10/07 - GLIMPSE OF NEW PROJECT ACROSS THE STREET FROM PIONEER - What can I say? I love it. There will be 11 condominiums on top, and retail on the bottom. From this initial sketch, it looks like they are saving the Northern brick building, modifying it slightly with updated windows etc, leveling the chapel part of the two buildings and building an addition that matches the brick building. Nice! What are your thoughts? Here's the pdf flyer too.


5/10/07 - DEVELOPER OF WINGFIELD TOWERS FILES FOR CHAPTER 11 - I will give credit for this one to an anonymous tipster who told me this morning but I was too paranoid to post it without a backup source. So here's the backup source, just posted on RGJ.com. However, even in filing for Chapter 11, they still say they are breaking ground in October. This makes sense, considering I heard a rumor from another source that said they were approved for the funding of the project. We'll see what happens! At least the ground-breaking date is much closer than some of the other projects, so time will tell.

5/9/07 - ADDITIONAL PIC OF CANOPY - Here's another view from ground level of the canopy.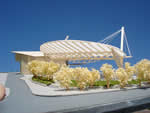 5/9/07 - COUNCIL APPROVES CANOPY PROJECT - The City Council approved the same design that was presented to the Citizens Advisory Committee meeting I went to last week. It's far better than the previous scaled back designs. Council members Jessica Sverazza and Dwight Dortch were fumed at the architects for increased design costs, and didn't understand how a canopy with a budget of $4,000,000 could have over $1,000,000 in architect fees. In the end I am glad the Canopy Subcommittee was formed and the vote initially delayed, or else we would have a much uglier canopy design than the one approved. Pic below. The final canopy isn't circular or Stridex-pad textured, it's actually a nice butterfly shape. If construction begins on schedule, completion of the project is anticipated in September of 2008. On a side note, the translucent poly carbonate material that will compose the canopy is some of the coolest material I have seen: it's transparent enough for colored backlighting, filters out UV rays, can withstand from arctic temperatures to a hot 500 degrees, never fades or yellows, and is certified for Hurricane force winds.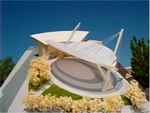 5/8/07 - INTERESTING WATERFRONT PROJECT TIDBIT - Sometimes you can run across interesting tidbits looking at the Minutes posted of previous meetings. In this February Ward 1 Neighborhood Advisory Board meeting minutes document is the most recent clue to the fate of the Waterfront Project, more recent than the previous news that it had stalled out. In the Public Official (Dan Gustin) report to the Board, Mr. Gustin noted that the Waterfront project is moving forward. So at least as of February, 3.5 months ago, the project is still moving forward according to Gustin. In that same discussion, Gustin reported that 'projects already in development will be finished, but others in the
planning stage will not be started because of the housing market.' Good news for the Waterfront, bad news for other certain unnamed projects.

5/8/07 - NEW PROJECT? - I am back! I had to make a trip to Southern California for moral support for my dad who is going in for cancer-related surgery. I hope you all didn't leave me while I was gone for 8 days, lol. Look what I found pinned up on the hideous brick building on Mill and Holcomb. Can you say super excited? I am, this is blocks from my office. Because now we'll have Grant's Landing on the North side of Mill, the cute Victorian on the southwest corner that recently was restored, a new townhouse project replacing at least the commercial building on Ryder's lot on Holcomb and Mill on the Southeast corner, and then Townhomes at Holcomb Place (which was supposed to break ground in April?) a short block to the South. Nice! If Ryder Homes is serious, couple with Grant's Landing it will completely transform the area. It's unknown whether Ryder will leave the old bungalow homes on the south end of their lot, which they recently cleaned up and rented. I hope they leave them and design the townhouses to match....they are cute 1920's brick homes in great condition.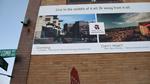 5/1/07 - CANOPY, RETAIL, AND MORE - The canopy is on a much faster track than I thought. The CAC is holding a special Meeting May 8 right before the council meeting on May 9. The subcommittee will present its final design to the CAC on May 8, and present the final design and budget to the Council on May 9. Also on the agenda for the Special CAC meeting, will be Staff recommendations for the developer choice for the 10 North Virginia retail building (the last developer interview is May 7), discussion of a Memorandum of Understanding with the Farmer's Market Association to operate in downtown Reno, and recommendation of a Memorandum of Understanding between RDA and the mysterious downtown casino owner who may cooperate to build a new parking structure downtown. Also Gillian will be repeating her Facade Improvement presentation, hopefully enough board members will show up to discuss and vote on it this time. So a lot of what I reported on before, but closer to fruition.

5/1/07 - PROJECT UPDATES PLUS A COUPLE OF SURPRISES - Here is my report from the Citizen's Advisory Meeting today. Lots of info about the 10 North Virginia Project, the Retail District, Post Office Project, Facade Improvement Program (those of you complaining Virginia St looks like a Circus will be happy about this), Parking Garage update and more. Click here to read!

4/30/07 - NEW CAL AVE CAFE GETS RAVE REVIEWS - Voila! Cafe & Catering Company. Jonathan Wright, RGJ's resident socialite and eatery blogger, posted a mouth-watering review of Voila. Me thinks I will go eat there today!

4/30/07 - KINGS INN MAY BECOME APARTMENTS - A tipster emailed me and told me the Kings Inn project is not entirely lost, and may be converted to apartments instead of condos.

4/28/07 - DEVELOPERS DOWNTOWN UPBEAT ABOUT CONDO SALES -
Despite the softening real estate market, condos are still selling downtown. 74 of the 92 Palladio units have sold (previously 62 had sold a month ago). 90% of the Riverwalk has sold with most of the residents living there, over half of Belvedere Towers is under contract (can't close until the roof of the two new floors is on), Montage sales are strong. Wingfield Towers has funding approved and plans to break ground this fall. Arterra's groundbreaking was postponed from Fall 2007 to Spring of 2008. Click to read.

4/27/07 - LINING UP THE DUCKS -
* The parcel (011-450-12) that lies just east of the fire station on 2nd St which is part of the Freight House proposal by the Siena folks, just sold (as of 4/9/07) to an entity called Freight House District LLC with a mailing address in Ventura, CA. Since the Thoma Lofts property is also owned by an LLC with a Ventura address (different one) I suspect that the Siena folks have indeed bought that privately owned parcel and that they are probably still on track to do the Freight House deal with the city.
* The investor group that purchased the old Woolworth bldg last November along with some riverfront parcels by the little park north of the police station) have now purchased the building to the north of Woolworth (parcel 011-061-07) that faces Virginia and currently houses a jewelry/ collectibles store. Wonder what they are up to?
* Also, another investor group has quietly been acquiring properties north of 5th Street between Lake and Virginia. I don't want to say which properties exactly because I don't want to jinx their plans, but if you go look at a parcel map you'll see what I am talking about.

4/26/07 - ESSENTIAL MEETING - Usually I just post meetings in the center column but this meeting is extra special, haha. May 1 at 3:00 in City Hall there is a Citizens Advisory Committee with updates on the 10 North Virginia Retail, 10 North Virginia Canopy, Facade Improvement Loans (downtown really needs this), the Post Office project, and the entertainment retail core. I will be there!

4/25/07 - SIERRA SPIRIT - The City Council today reluctantly agreed to fund the downtown system with $60,000, but complained that the city was funding a larger portion than they should, and that the beneficiaries of the bus, primarily businesses downtown and casinos, should hold some of the responsibility for funding it. Sharon Zadra felt is was absolutely essential for the service to continue downtown. I tend to agree. BUT, if you want to increase use of it, you have to make it sexy. Sexy for Las Vegas is the Deuce bus, a sleek double decker that travels up and down the strip much like our Sierra Spirit but in a larger capacity. It's extremely popular and successful, more successful than their monorail embarrassment. I feel sexy for Reno would be something similar to what the city of Davis, California uses for its inner-city metro line. Check these buses out! Perhaps if we switched out our yellow short buses out with retro red double decker buses, ridership would go up.

4/25/07 - EVENTS CENTER TO GO SOLAR - A massive 3,000 square foot solar panel will be installed on top of the Reno Events Center, and will provide 29.6 kilowatts of energy. Today the Reno City Council accepted a grant that will allow a $148,220 rebate from Sierra Pacific Power Company (SPPCo) for the purchase and installation of the photovoltaic solar system. The $250,000 solar project is already included in the Event Center budget.

4/25/07 - CENTER STREET ACTIVITY, RUMORS - As part of my route today I walked down to 8 On Center, on Center Street, and walked to downtown on Center Street. I must say, Center Street is really starting to take shape. The 8 On Center units look great at street level. Landscaping is done. A little birdie told me that the 8 On Center crew has plans brewing for the empty lot and beige house lot across the street from 8 On Center, including some kind of community square. Then, the white house on the west side of Center directly north from the beige house is getting a total restore, including new porch, new porch columns. Further north, several new businesses have cropped up, utilizing Center Street's quaint old homes as offices or store fronts or restaurants. The Carriage Stone Apartments for Seniors is a nice addition. The coming Children's Museum will help revitalize the north portion as well.

4/25/07 - CONSTRUCTION UPDATES - The Montage is now adding its two upper floors to the existing tower using a huge crane; the space on Second and Sierra (with the black boards over the windows) had their doors open today during construction, and I was impressed with what I saw peeking in, including exposed brick, intricate wood arches, booth seating being constructed tells me it could be a restaurant; Insanely wide sidewalks are being poured on the west side of Palladio, wide enough for outdoor seating for sure; the basic curb/street layout for Grant's Landing is complete, they should be pouring the streets any day now. And finally, peeked inside Ceols, next to Starbucks on Virginia and California, looks great with a large bar, several tables and classic bar decor with lots of wood and brass. On a side note, when I walked by City Hall today with my dog, Sharon Zadra was on her way inside and stopped to talk about German Shepherds with me for about five minutes. Even gave my dog a doggy treat. She's nice, my first time meeting her.

4/22/07 - DOWNTOWN IN PICTURES - Just a couple of pics on my downtown walk with the dog. Click here.

4/22/07 - GRANTS LANDING PIC UPDATE - Mill Street entrance is really starting to form with center median. And an on-site sales office is forming with curb poured in front of it near the back of the lot along the Truckee River. It looks like they are done with the extensive sewer and drain pipe work.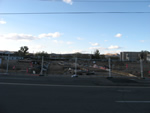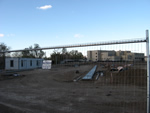 4/18/07 - SAVE THE CHEERLEADER, SAVE THE WORLD - Ok ok. I admit I get overzealous sometimes about downtown Reno, as was brought up to me by a poster on another blog I lurk around on. Sooo, to bring myself back down to cheerleader level and not manic-overly-positive cheerleader on 6 pints of sugar, I thought I would bring up some of the challenges downtown Reno faces in the coming few years, as plans, particularly the ReTRAC Master Plan, comes into play. Click here to read full story.

4/18/07 - UPDATED ESSENTIAL MEETINGS - I updated the essential meetings Tab to the left in my center column. LOTS of stuff coming up soon, including the South Virginia Corridor and West 4th Street Corridor Plans, street abandonment over by Lake Street and Evans, the 5-year Temporary Parking Lot item, the infamous 10 North Virginia Canopy, unrestricted Keystone District gaming and more.

4/18/07 - VIRGINIA LAKE CROSSING BEGINS TO FORM - The 270-unit community nestled between Virginia Lake and South Virginia Street across from Park Lane Mall is beginning to really take shape, as seen in this great pic from RGJ's article. The community features row-housing, detached single family homes and a commercial town center. On May 5 they will have the grand opening of their models.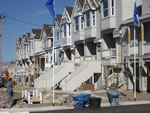 4/15/07 - SERIOUS RENOVATION GOING ON WHERE MR. O's TAVERN USED TO BE, CONSTRUCTION AT CEOL'S CONTINUES - I'll try to get pics next time I am down that way, but the white paint on the brick building where Mr. O's used to be on Virginia and Mt. Rose is painstakingly being removed to reveal that beautiful old original red brick. In other tavern news, Ceol's on Virginia and Cal Ave next to Starbucks, continues to look nicer and nicer inside. The space seems huge, wrapping around behind Starbucks allowing for a convenient entrance form the Starbuck's parking lot.

4/15/07 - DOWNTOWN IN PICTURES - Click here for pictures of downtown, including Collegiate Kayak festival, which I think I caught just as it was getting started, and the new and improved Virginia Street between 2nd and 3rd street, and more. One note, there's some serious asbestos abatement going on inside where La Bassola used to be.

4/14/07 - CABELLA'S NOT THE ONLY SPORT IN TOWN; TOO MUCH ADVENTURE? - Since all my comment posters seem to be in a bad mood today, I figure I'll join in and rant about something as well. Scheel's announced they are opening a store in Sparks. Click here to read. As a reader pointed out to me, do you know how big 248,000 sf is? Almost 6 acres - significantly more than two full downtown city blocks - or substantially larger than a Walmart Superstore - or bigger than the entire Olde Towne Mall including Burlington Coat Factory and everything else (243,000 sf). It's bigger than the soon-to-be Cabella's. Add a possible Bass Pro Shop into the mix too. Are there enough adventurers in Reno to support 3 outdoor mega stores as well as smaller and mid-size outfits like REI?

4/14/07 - PALLADIO VIRTUAL TOUR - Click here to see a completed Palladio unit. I think I'm in love.

4/12/07 - CASHELL TO GRAND SIERRA: USE NEVADA CONTRACTORS - Our mayor, before approving the measure to explore the possibility of a STAR bond, mentioned to GSR he wanted them to use local contractors as opposed to contractors from out of state, as part of their contract for the STAR bond. The City Council then unanimously approved a memorandum of understanding to begin initial studies on the water park and the STAR bonds.

4/12/07 - GRAND SIERRA RESORT CONSTRUCTION, WATER PARK AND RENDERING UPDATES - A friend of mine recently took a trip over to GSR and found LOTS going on. Much of the casino and restaurant area is a massive construction zone. I also have renderings of the Nikki Beach resort which will be built poolside and coincide with the water park construction. Click here to see and read details of the construction.

4/11/07 - COMMOTION ON CAL AVE - Several new businesses made Cal Ave their home in the past few weeks. Voila Catering and Personal Chef Services offers just that, catering, personal chef meal preparation, and in-house dining as well. Baboo opened up recently at 121 Cal Ave, and offers unique children's clothing you can't find anywhere else in Reno. There is also some serious construction going on in The Joseph Giraud House/Hardy House.

4/11/07 - NEW PIC OF TOWNHOUSES AT HOLCOMB PLACE PLUS UPDATE - Below is a new rendering of Townhouses at Holcomb Place. I am told construction should start this month.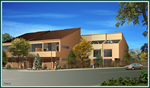 4/11/07 - GUY POSTS THE HARD NUMBERS - Guy over at Diane's Real Estate Blog posted the numbers for downtown condo prices. The bottom line? The prices are decreasing as prices fall throughout the home market. I am not exactly sure what all the numbers mean, but a lot of people anticipate them, so go check them out!

4/8/07 - FEW FEATURES I HAVE ADDED, IN CASE YOU DIDN'T NOTICE - I've added a few cool things to check out! The first is a Calendar, geared primarily for Downtown Reno. It's pretty cool, you can can submit you own event here. Second is a page where you can see the latest comments site-wide without having to go through the whole site to see them. Third is a little guide of my favorite places I am making, because I get tired of people saying 'there's nothing to do downtown. Phooey!

4/8/07 - HISTORIC RESOURCES COMMISSION MIGHT GET MORE POWER - This article kind of goes all over the place, from preserving history to creating design standards that include a historic look downtown. You want to see a Historic Commission with some teeth? Check these guys out, and the power they yield over design standards. Maybe too extreme for Reno, but our Historic Commission definitely needs to be somewhere between where it is now and Pasadena's. In Pasadena, the Commission actually issues 'Certificates of Appropriateness' for new buildings in areas deemed historic. And if you don't get one of those, you don't build or modify.

4/7/07 - STAFF REPORT LINKS POSTED FOR MEETING REGARDING GRAND SIERRA - It looks like the City or Reno and Grand Sierra MIGHT enter an agreement where they both do feasibility studies etc, and the end result is the City of Reno if possible and feasible might assist the Grand Sierra with possibly a STAR Bonds (as in Cabella's Case, or special district (that was my prediction) The expansion listed includes an indoor water park, Bellagio-style water show, exotic auto museum, professional health spa, and commercial retail facilities.



4/7/07 - THE BOUTIQUE HOTEL CONCEPT - I was actually planning this article for quite a while, and Fernando beat me to it. Anyway, I felt actually the concept could successfully be applied to some of the smaller motels downtown that currently serve as weekly motels. Click here to read.



4/6/07 - AHA! L3 DEVELOPMENT BUYS FITZ - As I predicted previously, L3 Development has bought the Fitz, and plans on revamp and remodel it into a boutique hotel. That is SO coincidental, because I was just about to do a story tonight on how downtown Reno could benefit from a boutique hotel/motel. Click here to read.

4/6/07 - GRAND SIERRA CHANGES CONTINUE - The Garage nightclub will be closing in the coming days to make way for one of Nikki Beach's new planned night clubs. Click to read article.




4/5/07 - HOUSES ON THE MOVE - The two Victorian homes on Riverside Drive are currently being moved over to their new home on Second St..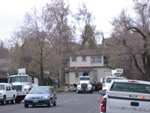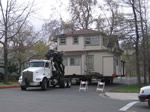 4/4/07 - MIZPAH TO BE USED FOR FIRE DRILLS BEFORE BEING DEMO'D MONDAY : The Mizpah is scheduled to be demo'd Monday, April 9, after being used for some final fire drills this week. Click here to read.

4/4/07 - POLL RESULTS: With 60.92% of the vote, the majority of you picked "Revitalization of Commercial Row with pedestrian amenities, on the block where the Amtrak Station is." - Interesting choice, with 52 of the 87 people who voted selecting Commercial Row as one of the more essential areas to revitalize. A new poll is up!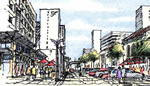 4/3/07 - AFFORDABLE DOWNTOWN HOUSING: A RADICAL PLAN WE CAN LEARN FROM: Affordable housing these days is clearly a hot topic, so here is a radical, risky plan another city is doing in hopes of evening out the balance of residents downtown. Click to read, and perhaps it will give our planners an idea or two.

3/31/07 - ESSENTIAL MEETINGS UPATED: Look at middle column to the left...added 4 new meetings of interest.
3/31/07 - WEDDING OR A FUNERAL? - I wonder what's going on with the property below? This is directly South of the Pioneer Theater on Virginia St, and north of the Wells Fargo Building. What's interesting, besides the fence up around the three buildings, is the three parcels facing Pine St., from Center Street to the unnamed street in between the memorial park and the wedding chapel, have requested an abandonment of part of Pine St. The reason for the abandonment? 'Future Development'. I wonder if the buildings being fenced off and the sign for restaurant/retail space available and the street abandonment are related? Is it a funeral for the wedding chapel and adjoining building? Or are they just being renovated? I have no idea, but we'll find out!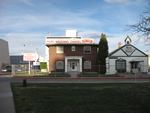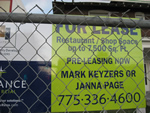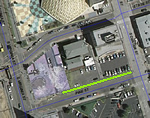 3/31/07 - BATTLE BORN DERBY DEMONS - A couple of weekends ago I took my parents out for dinner downtown at Silver Peak, and as we walked by the 10 North Virginia Plaza, we saw a group of women with skates and helmuts participating in roller derby. What a great way to utilize the Plaza. They are called the Battle Born Derby Demons, and they are in love with roller derby, and in love with the plaza, citing they love it more than the indoor rink. One of the girls, Royal Lush, told me there's a rumor City Council members saw them practicing and is interested in booking them as a summer event downtown on the plaza.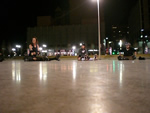 3/30/07 - PROGRESS REPORT ON DISCOVERY MUSEUM - I have a progress report back from Chris Riche and the Discovery Museum project. Things are going well! Click here to read and see new pics.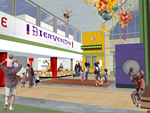 3/28/07 - WE'RE NOT THE ONLY DOWNTOWN WITHOUT GROCERIES - Occasionally I check in with my hometown of Los Angeles to see what's going on in their downtown. And guess what? They are set to get their FIRST DOWNTOWN GROCERY STORE, set to open June 2007. That's right, with a central core population of roughly 30,000 and 14 established districts, downtown L.A. is getting a Ralphs, originally set to open in 2004 but riddled with controversy and rising construction costs, will open this year. I found 8 condo projects that touted the fact a Ralphs was about to open nearby as one of their key marketing points. I will have a more in depth look at Los Angeles later tonight, and the ordinances they enacted to spur unprecedented redevelopment in their downtown. Maybe we can learn something!



3/28/07 - COUNCIL VOTES FOR NEW BRIDGE - The City Council voted to replace the Virginia St. Bridge. The Senior Project Manager with the Flood Control Project told Council the most recent model by the U-S Army Corps of Engineers shows a much wider "by-pass" channel would be necessary on the north side of the bridge to potentially offer protection against a 100 year flood event. The wider channel would require re-construction half of the Plaza at 10 North Virginia Street and require the demolition of the Masonic Building. On the south side, the by-pass design would also eliminate portions of the River walk and Post Office parking lot. See areas in blue line in photo below.


It is estimated the cost of a wider channel for the by-pass plan could potentially double the estimated $40 million dollars for restoration. The Council wasn't happy with the 2010 start date for construction, and asked Legal to see if there was a way they can start building the bridge sooner. Dan Gustin was the most reluctant one to concede the bridge should be torn down, while it was pretty much a no-brainer to Sverazza, Dortch, Zadra and Hascheff. Most of the slides shown showed a signature bridge style with support on the top side of the bridge, and all council members expressed concern with the replacement option and having to 'grade up' to the new bridge's higher level.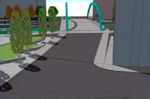 3/26/07 - 8 ON CENTER INTERIOR PHOTOS ADDED - Oh yeah. These are looking NICE. Click here to see the inside of these urban beauties.
3/24/07 - SOUTH VIRGINIA ST. LOOKING GOOD - Some of the new trees planted along the two new blocks of South Virginia St. are already blooming. Construction is almost complete, and the street is looking VERY revitalized. Click here for an article on how stoked businesses are it's almost complete.

3/24/07 - 10 NORTH VIRGINIA PLAZA TO GET LOTS OF USE DURING SUMMER - Even though it has no canopy or retail, the 10 North Virginia Plaza will get a lot of use this summer - The proposed calendar of events includes recurring items (e.g., Sunday Controlled Burn, Tuesday Municipal Band, Wednesday Blue Grass), as well as several stand alone events. A monthly "Reno Showcase" will be a headline attraction. Additional program ideas continue to be reviewed by staff. Click here to see proposed calendars.

3/22/07 - BELVEDERE TOWERS - Belvedere Towers has the street blocked off and is ready to install the steel superstructure (stacked on the street) for the two floors of new penthouses on the shorter tower (probably beginning today). According to the sales agent, they need to get the penthouse superstructure up, roofed and enclosed before they can begin closing on existing sales. They have about 95 contracts (out of 176 small tower residences) and hope to begin closing relatively soon on floors 1-3. They are offering some financing and closing cost incentives to try and sell out the rest of the lower floors

3/21/07 - HURTS TO LOOK AT IT - PARADISE DEL PICCIONE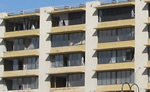 - Click here to find out why this is the ugliest building in downtown Reno, and why it needs to be developed or torn down ASAP.

3/21/07 - CONSTRUCTION HAPPENING IN BUILDING ON CORNER OF SIERRA, 2nd ST - As I was walking my dogs downtown today, I heard several simultaneous power tool sounds emitted from the corner building where the black-painted boards cover up all the windows, next to the West 2nd Street Bar. Anyone know what's going in here?

3/16//07 - FATE OF VIRGINIA ST BRIDGE DISCUSSED - So no decisions were made at tonight's meeting, but the Army Corps of Engineers outlined some issues with restoring the bridge, click here to read plus some great old pics of the majestic bridge.

3/16//07 - NEW PEDESTRIAN BRIDGE - The new pedestrian bridge is now installed.
3/16//07 - DOWNTOWN ANDERSON MAKEOVER - Welcome to Anderson, Alaska. They have 90 degree summer days, -60 below winter days, breathtaking views of McKinley and the northern lights, and tons of land. High school students there were exploring ways to attract residents and entrepreneurs, and came up with idea of giving away free land. So they approached their city council with the idea, got it approved, and built a web site to attract new residents. Hey, like me! The students' web site is so popular it often is suspended to do bandwidth restrictions, so here is the official City of Anderson link on the free land.

3/15//07 - TYING IT ALL TOGETHER: EAST DOWNTOWN - For a broader brush "east end revitalization summary" picture-map that goes beyond the Trench Study and examines the overall impact of 17 possible near-term and longer-term changes, Click here. The opportunity for redeveloping such a large swath of land, either mostly vacant, already planned for development, or already owned by the City rarely exists, and this entire east downtown area could see a revitalization of a gigantic magnitude. Click here to see.

3/15//07 - A TALE OF TWO MEETINGS: PART TWO: FTB RETRAC STUDY RECOMMENDATIONS - For the exciting major recommendations from the latest draft of the Freedman, Tung and Bottomley ReTRAC Corridor Study Click here

3/11/07 - THE $30 MILLION DOLLAR QUESTION - RGJ has an article regarding a recent DIA meeting and discussion with the Virginia St. Bridge. Replacing the bridge is $10 million, and restoring the bridge is $40 million. Replacing the bridge would later include a bike/pedestrian underpass under Virginia St if the bridge. The argument in favor of restoring the bridge, the historians tell me, is it stands up against a 100-year flood, whereas the replacement bridge would withstand a 90-year flood, and restoring the bridge would include a plan to build a step-down river access terrace, replacing the current north riverwall south of the Bruka Theater building. What do you think, restore or replace? Tell me your thoughts.Click here to view article.

3/11/07 - DOWNTOWN PROJECTS PUSH CITY'S EVOLUTION - RGJ has a great article out this morning on the various projects the city approved and is pushing forward at a rapid pace. It's great to see them get mainstream press. Click here to view article.

3/11/07 - IMPERIAL BAR AND LOUNGE OPENS TO GREAT FANFARE - Judging from the comments on Imperial Bar and Lounge's Myspace page, and by Myrna Minx's review, it's safe to say their grand opening night was a success. I have created a Imperial Bar and Lounge page, and will post pics when I make it down there in the next couple days.

3/11/07 - PONTE VECCHIO'S VICTORIAN HOMES READY TO GO - The two Victorian homes on the property where Ponte Vecchio is being built are jacked up and ready to move!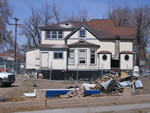 3/11/07 -THE COST OF DOIN' BUSINESS - This site has become insanely popular. I have created a beast, to say the least. Due in partial to my knowledge of search engine optimization, this site gets 350+ unique visitors and 1470+ hits per day, and people download over 1.5 gigabytes of 'stuff' a day from my site. That's right, one gig a day! So, you can imagine my hosting costs. Up to this point I just eat the costs, but it would sure be nice if I didn't have to. So I put up a little spot to the right for a couple ads. I purposefully isolated them from my content, so they wouldn't be a nuisance. I am not looking to make any money, just not lose any money. Plus it will help pay my programmer for all the time he has volunteered making comments, polls and other upcoming features.

3/8/07 - A TALE OF TWO MEETINGS: PART ONE: JOINT REDEVELOPMENT AGENCY RESULTS - On 3/7/07 were two significantly important meetings...the first being a Joint Redevelopment Meeting and the City Council, acting as the Redevelopment Agency, setting a concrete list of projects for the immediate future. The second, was a RETRAC meeting. First, the Joint Redevelopment meeting. Click here for details on the meeting. Lots of great information here on what's to come!

3/7/07 - DOWNTOWN RENO TO BE A 'DESTINATION RESORT' - Terry Hendry on Channel 2 - Discusses top plans for council ....interesting about acquiring the post office and converting it to retail. According to the article.... "We're gonna make them happen, we're gonna get shovels in the ground, get everybody hard hats and we're gonna get this stuff under construction." Click here for article and here for video.

3/7/07 - NEW! COMMENTS AREAS ADDED EVERYWHERE - I finally got around to adding a comments area for each project listed on my site. I also added comments to each news post in this column starting with the one below this post. So feel free to post both on the individual projects pages and/or these news posts...the more discussion we can get going the better!

3/5/07 - 10 NORTH VIRGINIA CANOPY: UPDATED PICS - NOW ON TOP 3 LIST OF CITY COUNCIL REDEVELOPMENT PROJECTS - Click here for some updated pics from the document both the City Council and Redevelopment Agency will jointly discuss March 7.

3/5/07 - NEW PROJECT ADDED! PONTE VECCHIO - Gorgeous high end condo project that fits in with the neighborhood. Project includes saving and moving two old Victorian-style homes, 11 condominiums, retail and restaurant space and a makeover of Lundsford Park, which includes a clock tower with water fountain base, benches, landscaping, and common areas. Click here to read.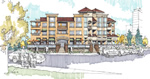 3/5/07 - EXTENDING THE WHITEWATER PARK TO LAKE ST - WHAT A GREAT IDEA - Given the success of the current water park, this idea would transform downtown even more and make us a truly unique urban destination. This plan made the top 7 Redevelopment priorities of the City Council, too. The basic plan would be a low-flow eco-channel extending down to Lake Street (Grant's Landing is building a kayak extraction point). What does that mean? I am not a geologist, but I think it means the river will be narrowed significantly, so it can be kayak and intertube friendly even in lower-flow conditions, but yet the banks of the river are still high enough and wide enough to accommodate a flood. The river would be about 62 feet wide, half its current width. It would essentially be a racecourse for kayakers, could substantially improve water quality as well. Here is a PDF outlining the details.
3/4/07 - PERSONAL THOUGHTS: SO WHO IS BUYING THE FITZ? - This is a purely speculative post, mostly because I am bored and like to play connect the dots. A few weeks back, a snappy commenter named 'Sara Lee' speculated on Renodiscontent.com that L3 Development and the Caranos were somehow linked together. If she is actually right, and not just flapping at the mouth, then that COULD be a sign of who might be behind the 4th offer on the Fitz. Why per say? On Nevada Newsmakers last year, Fernando Leal mentioned he had another major downtown project in the works, but could not yet reveal the details, but we would know in about six months. Well, its about about six months, so the timing is right. The Fitz is literally surrounded by both Carano and L3 Development property, so there is an obvious benefit to one and/or both owning the Fitz. It will be interesting to see who the buyer is! If Ms. Lee is correct, and L3 Development and Caranos ARE working together on something, the Fitz might make the ideal collaboration project.
3/3/07 - JC PENNEY BUILDING SPARKS NATIONAL INTEREST - The JC Penney Building downtown, which was recently bought is sparking interest in the available spaces for lease. This RGJ article outlines the details, click here.
3/1/07 - ESSENTIAL MEETING: Joint City Council and Redevelopment Agency Board Meeting - March 7, 2007 1:30 PM
Reno City Hall Chamber, One East First Street, Reno, Nevada
KEY ITEMS: B.1 Staff Report: Presentation of Priority Redevelopment Projects and potential direction to staff.
B.2 Staff Report: Discussion and Potential Direction to Staff Regarding the Updated Cost Estimate
for the 10 N. Virginia Street Plaza Canopy.
2/28/07 - THE FITZ MAY BE BOUGHT - Fitzgeralds hotel-casino downtown has a signed agreement with a buyer, an attorney for the property said Wednesday, marking the fourth formal proposal for the property since 2002 following its parent company's bankruptcy. Click here for Full Story.
2/28/07 - HORRIBLE LIVING CONDITIONS - For a detailed glance at living conditions at Lakemill Lodge, click here.

2/28/07 - LEAR THEATER WOULD BE MOVED TO BICENTENNIAL PARK PARK - Lear Theater Group is looking to move the theater 100 feet over to Bicentennial Park, although this has not been approved by the city yet. The argument is it's much easier to sell a vacant lot than a lot with a historical building on it. Duh! However, Fernando Leal of Montage/L3 Development feels their pricing is a bit high and hopes they pull it off, but has doubts with the aggressive pricing. Click here for article.
2/26/07 - REVISIT: LEAR THEATER PROJECT - I first broke this story on 2/7/07 for the record, and was about to fall off my news blurbs into the archives when suddenly it started getting more press in the mainstream, so I am reposting this post, because it has links to the pictures and plans of what the owner may do with the property. Here is the brochure for it. Once the project becomes more established and gets approved by the City I will put up a permanent page for it.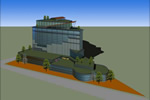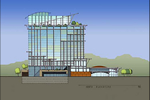 2/23/07 - DETAILS OF WELLS AVENUE MASTER PLAN POSTED - This has been one of the most exciting City processes that I have participated in. It's exciting to have a voice and say about your neighborhood, and then to see that people actually listened to your ideas. The City of Reno staff has posted details of this master plan, including proposed zoning, design guidelines and regulations, and a working draft. Look under 'Third Meeting' Click here to access. Thanks, Jessica, for making this happen and seeing the potential of this neighborhood! You are one kick ass councilwoman.
2/23/07 - CONSTRUCTION UPDATE: GRANT'S LANDING - After weeks and weeks of serious prep work, it looks like Grant's Landing is just about ready to start vertical construction. There are well-defined dirt roads where I think the real streets will be, and along the river are perfectly graded dirt slabs. Check out the pics below.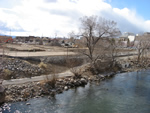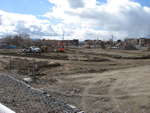 2/17/07 - RESIDENTS OF HISTORIC WELLS AVE AREA FORM DRAFT MASTER PLAN - It was months of hard work on all our parts who live in this area, and here it is! Our plan for the neighborhood. I am more impressed with this plan than the usual Master Plan, even the Downtown Regional Center Plan. Rather than listing generic common-sense goals, the planners really honed in on our neighborhood, addressing all the specific problems we wanted addressed. Click here to read summary!
2/17/07 - PARKING LOT PLAN ON PLANNING COMMISSION AGENDA - This requires more than the usual essential meeting post, because it's so completely asinine. This is for the Pioneer lot, currently fenced off and dirt. My beef with it? First, I don't consider 5 years to be 'temporary'. And because THEY consider 5 years 'temporary', they want to exclude (not include) provisions for 1) perimeter and interior parking lot landscaping; 2) streetscape standards including: a) tinted sidewalk; b) candy cane street lights; c) tree grates; d) terra cotta styled trash receptacles and planters; and e) cast iron benches; 3) a six foot wall and associated parking lot screening. So in other words, for five years we'll be looking at a paved parking lot with no landscaping, no decorative lighting, and no pedestrian improvements. Can't the Planning Commission do better than that? Click here to read.
2/15/07 - VIEW FROM PALLADIO'S PENTHOUSE - Ah, so THIS is what it looks when you look out over your penthouse deck on the Palladio. Nice. Thanks to a viewer and soon-to-be resident of the Palladio for emailing us his view.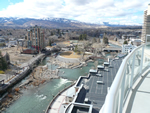 2/15/07 - PALLADIO SIGNS STARBUCKS AS FIRST RETAILER, RESIDENTS MOVE IN THIS SPRING - Here is an RGJ article mentioning Starbucks has signed on officially with the Palladio. Also, 68 of the 92 rooms are now under contract. Click for article.
2/14/07 - COUNCIL BACKS DOWN FROM GAMING ZONING CHANGES FOR NOW - Sharon Zadra asked the City Council to postpone any decisions regarding zoning changes to Park Lane AND the Keystone Square area, citing she wants more input from residents about it at the NAB (Neighborhood Advisory Board) meetings. This is a good decision, considering the barrage of negative comments at a previous Old Northwest Advisory Board meeting regarding Keystone Square zoning changes.
2/14/07 - BUZZ INCREASES FOR ELECTRONIC ESPRESSO - More and more people are discovering the joy of having wi-fi downtown. Electronic Espresso received a nice review from Guy over at Reno Realty Blog, and also in RGJ. I have been in there, lurking around a couple of times now. Anyone who hasnt been should go! Wi-fi, computer stations, Microsoft Certified computer help, AND coffee!
2/14/07 - AHA! POSSIBLE KEYSTONE AREA CASINO REVEALED: I have been reporting for a month now that 'things' have been going on in the Keystone area to open the doorway for a new hotel/casino to be put in at Keystone Square on Fifth and Keystone Ave, and now the RGJ reveals who has been buying up property in that area, and what they possibly plan to do with it. If built, it would be the first Casino/Hotel built downtown since 1995. Click here to read.
2/11/07 - NEW CONTRIBUTOR AT DIANE'S BLOG: Diane has a new contributor for the Central Reno area on her blog, and one of Guy's more in-depths posts on the 10th lays out the cost of living downtown. Surprised to see Riverwalk Tower's HOA fees rise 50% when the building was just completed barely a year ago. Click here to read.
2/9/07 - FLASHBACK 2005: Three Developers submit Proposals for 10 North Virginia Project. Interesting article. For the record, here was Mike Wiltshire's Proposal. Would that have been that bad? I wish the Council would have picked one of the two local developers instead of the out-of-towner. I bet they do too now. Myrna has a great poll on what to do with the canopy.
2/9/07 - GATEWAY ART GETS ANOTHER GLANCE - This was found in the February 14 Staff Links, Item J.4.....a revisit of the idea of Gateway Art and Landscaping placed in strategic locations around downtown. Ideas include dressing up the bridges over I-80 with fun glowy stuff and lights, lifesize bronze wolves charging towards UNR across the Virginia St. I-80 Bridge, and a giant book. Open the PDF by clicking here. It's a 2.5 meg download but it's worth it!
2/9/07 -TWO AFFORDABLE "DOWNTOWN" HOUSING PROJECTS BREAK GROUND - In recent weeks, two significant new projects have begun construction. Nightingale Manor is east of downtown near the river. Truckee River Townhomes is west of downtown on the river. While I don't yet have access to any nice artist's renderings to visually showcase either project, I think these projects are worth highlighting because access to affordable housing is so important to the successful revitalization of the greater downtown area. Both projects are being constructed in what has long been undervalued industrial locations that are now starting to transition into housing that normal working folks can still afford. Soon, 272 new residences will add vitality to not only these peripheral downtown areas but also to the heart of the downtown commercial district that lies directly between them.
< Read Full Article
2/8/07 - 8 ON CENTER GETS ITS GREEN ON - Great green! The Riddler from Batman would love the new ultra-bright ultra-cool green coat that went on the units yesterday.
2/8/07 - ESSENTIAL MEETINGS - I am now putting upcoming essential meetings in the center column of this site to the left, to more prominently display them. Sometimes I have so much news they get bumped down fairly quickly on the page.
2/7/07 - PLAN FOR KEYSTONE AREA GETS EVEN MORE INTERESTING - Another VERY interesting tidbit Tipster X just noticed is item 8C on the Feb 8 Old Northwest Agenda. Now that allowing gaming in this area is on the table, it appears also the last remaining big obstacle could be removed by obtaining title to the 1.65 acres of city right of way for 6th Street. We wonder how long it will take for the casino proposal to step forward Perhaps we'll find out something on March 7, when this is supposed to go before the City Council. Looks like the entire project might encompass 8.26 acres (Keystone Square parcels) + 1.64 acres (6th street R.O.W.) + .85 acres (other 4 parcels) = 10.75 acres, which is HUGE for downtown (equivalent to about 4 standard city blocks over by the "large" downtown casinos and RIGHT ON the first downtown offramp for tourists coming from California.
See thumbnail below.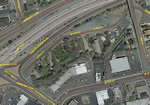 If you are unfamiliar with this plan to amend the Downtown Regional Center plan to allow unrestricted gaming in this area, click here.
2/7/07 - RESIDENTIAL REAL ESTATE MARKET MAY BE WEAK RIGHT NOW, BUT INDUSTRIAL IS KICKING BUTT - Often on this site I focus on the residential and commercial markets of downtown and Reno overall, but what's the industrial market up to? The industrial real estate market in Reno doesn't get too much press, it's not as glamorous I guess, however it's just as if not more important to our economy overall. So let's take a look! 2006 was a record year for industrial real estate, producing the lowest vacancy rate in a decade. Click here for the Northern Nevada Industrial Market Forecast Report.
2/7/07 - CITY CENTER WAREHOUSE, I MEAN PAVILLION, NOW GONE - I am happy to report that the City Center Pavilion is no more. I took my own pics yesterday but haven't had a chance to upload them yet, so here is the RGJ article.
2/7/07 - INTERESTING NEW PROJECT MAY TAKE OFF - Here's an interesting project to talk about. If it takes off, it could be one of the more striking projects downtown. Not without controversy, it involves the removal of the current Lear Theater on its' parcel. If built, a new theater would take its place, constructed by the current Lear Theater owner. Here is the brochure for it. Once the project becomes more established and gets approved by the City I will put up a permanent page for it.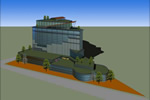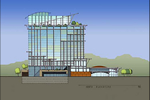 2/3/07 - GRAND PLANS FOR GRAND SIERRA RESORT - The Grand Sierra has been an interesting phenomenon lately. Up until a week ago, I was hearing pretty dismal predictions coming out of GSR, including low room occupancy rates, owner complaints about the units delivered so far, etc. But two recent RGJ articles seem to paint a rosier picture, which I truly hope is the case, because I want this project to succeed. Construction on the water park should start this year, when they get more funding from JP Morgan. Here is the RGJ article.
2/3/07 - NEW DETAILS ON TOWNHOUSES AT HOLCOMB PLACE - This project is nice, and will fill in a vacant lot on Holcomb Ave between Mill and Liberty Streets, which I am excited about since that's only about two blocks from me. I added a page for their project, you can reach by clicking here.
2/3/07 - ELECTRONIC ESPRESSO OPENING - Sorry guys! I know I am a week late, but I had no time to update my site until this weekend. Electronic Espresso has officially opened! Monday was their first day. I got a chance to peek inside on a recent dog walk, it's REALLY nice...kind of a lounge mixed with a bar mixed with some REALLY good coffee and free wi-fi They even have computer work stations with pre installed software you can rent out for super cheap. They also have a full menu and are open till 4 a.m. to cater to late-night coders (you know who you are).
2/3/07 - TRAIN TRENCH DECISION - Sorry for the late update on this, most of you probably already know the decision made at Wednesday's City Council meeting. Fernando Leal from L3 Development/the Montage, stepped in and asked the council to delay the decision to build only a partial plaza, citing he wants to work with Ed Uhlir, of the Millennium Plaza in Chicago, a $500 million plaza over a railroad station. I think this was a smart move, it means yes we'll have to wait a little longer, but it mans we COULD get our 2-block plaza after all. Click here to read full article.
1/31/07 - CITY COUNCIL MAKES PROJECTS A PRIORITY - Although it appears the City Council has added a sense of urgency to the 10 North Virginia canopy project and other redevelopment projects, it essentially dropped negotiations with REA, who has turned in plans for everything from a 2-story building to a 5-story building, and the Council is now seeking new proposals and designs for both the building and canopy.
1/29/07 - THOMA LOFTS - Recently there have been a couple posts doubting that Thoma Lofts will be built....so I decided to ask the developers themselves. Given that there is now fencing up around the lot where it's going, I had doubts anyway it was scrapped just yet, but here's his response. Also, new renderings! Click here to see all.
1/29/07 - DOWNTOWN SPEAKS: FAR EAST CORNER - Tucked away in the recently bustling Arlington Towers retail spaces, is the Far East Corner, a store specializing in imports from the Far East. I was curious to know how they were doing, given the fact La Bassola is leaving WeFi. Her store is doing good! Click here to read her response.
1/29/07 - DOWNTOWN SPEAKS: 210 NORTH - A few months back, there was quite a collective of negative vibes against the success of 210 North. So how are they doing now that the initial buzz has died sown a bit? Let's ask Jill: "The response has been phenomenal and continues to grow. I'm not sure what's going in downstairs but they have begun some remodel as well. We have plans to expand Divinity and add the balconies."
1/29/07 - NEW FEATURE: DOWNTOWN SPEAKS: I am starting a new feature, called Downtown Speaks, in which I will feature direct quotes from developers, downtown business owners, council members (if I can ever get them involved with this site), etc.
1/25/07 - The Urban Blog has a great rundown on Reno neighborhoods. Keep up the great work Ken, people like myself down here in Reno love your Reno-Seattle-Vegas hybrid combo reporting.

1/25/07 - BOB CASHELL ON NEVADA NEWSMAKERS: Bob you DEFINITELY need to get online more. He probably hasn't heard of my site either haha. Anyway, a very good interview can be watched online at Nevada Newsmakers (Thursdays episode is at the top). Myrna gets a major plug!
1/24/07 - ESSENTIAL UPCOMING MEETINGS:
City Council Meeting - January 31, 2007 10:00 AM - Reno City Council Chamber, One East First Street, Reno, Nevada -
G.1 Staff Report: Case No. LDC07-00113 Bill No. 6451 Rezoning a ±1.9 acre site located on the south side of Dickerson Road from CC (Community Commercial) to MF14 (Multifamily - 14 units per acre); (Kukulica/2222 Dickerson Road).
NOTE ON THIS: Interesting how this area is transforming from commercial to residential.
- J.5 Staff Report: Approval of Change Order #87 for Granite Construction Company in the Amount of $9,848,347.00 for design and construction of the ReTRAC Enhancement Project Phase IIb:
Pedestrian Plaza – Virginia Street to Sierra Street, and approval to exempt this amount from the aggregate limit calculation for the ReTRAC Design Build Task Force approval authority.
This item was continued from the January 17, 2007 City Council meeting.
J.6 Staff Report: Approval of a Construction Access Agreement between the City of Reno and Fitzgeralds pertaining to certain property adjacent to the existing north and south mainline tracks
of the Union Pacific Railroad for construction relating to the ReTRAC Enhancement Project Phase IIB: Pedestrian Plaza.
J.2 Oral Report on the Status of the Following Projects:
a. ReTRAC Enhancement
b. Municipal Court
c. Flood Control Project
d. Theater Corner
e. Palladio
f. Summit Sierra
1/25/07 - GRAND SIERRA UNVEILS NEW TOWER RESIDENCE PLANS: I received my first issue of Grand Sierra magazine, and have to say I am impressed with the quality and production. In the magazine, there is a 3-page spread on a residential tower project I didnt even know they were building on 5 acres of the property. Completion Date: 2009. 48 Stories tall, 2 towers of 350 units each. The designer is Kobi Karp, who has designed more than $10 billion in projects. Click images below to enlarge.
1/24/07 - DICKSON REALTY NAMED BROKER OF PALLADIO:
RGJ Reports that Dickson Realty has been named exclusive broker for the Palladio, which includes residential units. The good news is Dickson said 21 units are available, which means around 66 have sold...thats great news!
1/24/07 - ARE SPRAWL AND WEIGHT ISSUES CONNECTED?: Science News has a great article that consolidates about a dozen studies on the health and weight habits of city-center residents compared to suburban residents.
1/23/07 - 2006 BANNER YEAR FOR RETAIL DOWNTOWN: Here's a quick review of the retail that opened downtown in 2006. Compared to the previous 5 years, it was an amazing emergence of shops and dining downtown.
1/22/07 - JIM GIBBONS PLEDGES MONEY FOR NEVADA DISCOVERY MUSEUM: In his State of the State speech, Gibbons pledged a large chunk of money to the Nevada Discovery Museum.
1/22/07 - FENCES UP AROUND CITY CENTER PAVILLION: On my last drive through that area to the freeway I noticed fences up around the Pavillion, as well as some kind of work going on inside. This is the site of the Ballroom.
1/21/07 - POSSIBLE ACTION ON RYLAND/SINCLAIR LOT: A real-estate agent friend of mine was walking her dogs and passed by Holcomb and Willow sts., where Ryder Homes owns a huge chunk of land, and saw what must of been the developer and planners scurrying aroudn the lot inspecting it. Perhaps they are getting ready to do something with this piece of land?
1/19/07 - RTC MEANDERINGS: I had some free time this afternoon so I followed a tip from a tipster to have a look at some of the recent RTC Meeting Minutes. Much of this appeared in the May 2006 minutes.
* The latest estimate I saw for completion of the Reno 4th St Transit Station is 2010.
* RTC wants to sell the existing transit station parcel to the highest bidder (to get the most revenue) - a notion that Aiazzi did not share (since the city clearly wants the site - and NOT at a high price).
* RTC wants title to the piece of "Plaza St" that lies on the parcel that will become the new RTC station (owned by the city. Dave Aiazzi said the city would try to negotiate with "the Fongs" to buy a parcel they owned if they wished to sell.
Click here to read other comments of interest
1/19/07 - LITTLE BANGLA: ALMOST A GROCERY STORE - A great little store has popped up by me. It's on the corner of Moran and Virginia, called Little Bangla. You'll find an odd assortment of items which make them stand several notches above a typical mini-mart. They will get whatever you want if you frequent their store; I mentioned one day I like DIet Rockstar Energy Drinks, and a few days later there was a whole cooler full of them. Another customer mentioned they like carrots and celery, boom they have them. They also have an entire aisle dedicated to Indian food, and two freezers full of 20+ varieties of fish I can't pronounce.
1/17/07 - TRENCH DECISION DELAYED - The trench decision has been delayed so Bob can head to the big wigs in Washington and 'see where we are at'. Click here to read article.
1/17/07 - KEYSTONE SQAURE REZONING - Someone sure wants to build a casino bad in this part of town. In the newly published Jan 18 Planning Commission links document the proposed amendment reappears as item 7 and the staff report links make it very clear that a specific property owner (Keystone Square) does indeed seek to have the right to develop a casino on the large block that lies at the southeast corner of the Keystone - I80 freeway interchange. At the very end of the staff links there are NAB comments from both Ward 1 and the Old Northwest. As I would have expected, the NAB members are universally against the proposed change - citing among other things the loss of the "Wendys" that lies on the block in question and fearing the interaction of a new casino with the high school kids lunch hour. Both NABs were obviously presented with not only the general zoning change for a multi-block area but also with a POSSIBLE PENDING PROPOSAL for a NEW HOTEL CASINO on a SPECIFIC BLOCK within that larger area.
1/17/07 - TODAY IS BIG DAY FOR TRENCH DECISION - Be sure to watch the City Council meeting on Cable or ONline or better yet go in person, to see the outcome. Will we get one block or two? Will it be relocated?
1/17/07 - RGJ EXPANDS ARTICLE ON OUTSIDE INVESTMENT DOWNTOWN - I posted this info a week ago (see 1/10/06 post), and it's nice to see RGJ expanding on it a bit. Any publicity is good publicity for downtown. Click here for the article.
1/12/07 - TRENCH TROUBLES - Check out the Staff LInks Report for Wednesday's City Council meeting and you will get an unpleasant surprise. The proposed contract approval for the trench cover is not for the two block section from Virginia to West. Staff is recommending ONE BLOCK rather than two blocks - because of higher than expected costs and lower than expected federal matching funds. They are recommending doing the block from Virginia to Sierra and coming back a some later date to do the second block. I'm sure this doesn't fare well with L3 development, the developer of Montage. Click here to read.

1/12/07 - RENO GETS NATIONAL GEOGRAPHIC EXPOSURE - Click here to open PDF. Nice! This is what I like to see.
1/10/07 - ESSENTIAL MEETINGS -

- CITIZENS ADVISORY COMMITTEE OF THE REDEVELOPMENT AGENCY - January 16, 2007 3:00 PM
Conference Room 729, Reno City Hall, One E. First Street, Reno, NV
- Update on Freight House District Redevelopment Project.
- Update on RETRACT Master Plan process.
- RENO CITY COUNCIL MEETING - January 17, 2007 10:00 AM
Reno City Hall Chamber, One East First Street, Reno, Nevada - Click here for Agenda or read below for key items.
Applying for Cabaret License- Ceol Irish Pub, 538 South Virginia Street, Suite B. Can't wait for this place to open.
J-3 is an approval for the trench plaza contract with Granite Construction. Hope it passes :-)
F-1 is an owner request for a zoning change to MF-14 on a couple more acres south of Dickerson Road. Looks like another property owner is considering developing (or selling to someone who will) more condos, townhomes or apartments down in that area. The property is directly across the river from the southern end of Idlewild Park
F-2 will give 8 feet of right of way on Center Street to the new ballroom project. I presume it will eliminate parking on that side and hopefully not one of the traffic.

1/10/07 - OUT OF TOWN INVESTORS QUIETLY INVESTING DOWNTOWN - Sometimes when you connect the dots the overall picture can be interesting. Earlier this year a tipster noticed that an entity named "Lattitude Capital Partners" had purchased three downtown parcels (012-015-03, 012-015-06 and 012-016-11) that lie within the "triangle" bounded by Kuenzli, Wells and the Truckee River (Northeast of the police station). The parcels did not seem sufficiently contiguous to develop - without acquiring additional property - so he made a mental note to check back from time to time to see if additional properties within that triangle were changing hands. Yesterday he checked again and nothing else had changed hands, but something about the LLC's mailing address (210 Atherton Ave, Atherton CA) seemed familiar. The entity that just bought the old Woolworth building (101 North Virginia, LLC) used the same "210 Atherton Ave" mailing address - which appears on Google Earth to be a mansion-style residence near Stanford. Then I did some google searches and it appears that (dba McNeil Realty Partners, dba McNeil Realty Management, dba a long list of other partnership names) might be starting to quietly invest in downtown Reno. Though they recently sold many of their numerous real estate holdings to Goldman Sachs, they apparently remain active.
1/10/07 - SILVERSTAR COMMUNITIES DOMINATES WITH 4 INNER CITY PROJECTS - the final warehouse on the Renown parcels has been demolished and is now being removed. I also noted that all the parcels that are supposed to be part of the Renown Condo project are now held in the name of "EAST SECOND STREET VILLAGE LLC" with SilverStar's mailing address. So, a SilverStar entity now apparently has title to all the properties that were formerly held by various private parties or by Renown.
It also looks like the models for SilverStar's Virginia Lake Crossing project will open by spring (at the latest) as they are all painted and apparently just awaiting the completion of the street connection to Lymberry so that potential buyers can get to them.
SilverStar is also actively feverishly working on all the site prep at Grants Landing, next to the automobile museum on Mill Street.
1/3/07 - MONTAGE SECURES RECORD LOAN FOR PROJECT - Looks like this will fund Montage's project through to completion. Nice! Click here to read.
1/2/07 - MORE DETAILED INFO ON 8 ON CENTER - Well I was promised a model tour as soon as it is done and I can't wait. I posted new features and amenities about this cutting edge project. Click here to read.
12/26/06 - NEW STREET BEAUTIFICATION PAGE - Reno crews did it so fast, and so well, I figured it deserved its own permanent page, since the beautification isn't over yet, and begins again January 1.
12/26/06 - NEW BALLROOM PAGE - Clark and Sullivan trucks have been seen looming around the new Downtown Ballroom project, so I figured it was time for an official page.
12/26/06 - NEW RETAIL PROJECT! - 100 North Sierra will include two-level health club and large amounts of retail space, and exterior/interior renovation.
12/26/06 - ADDED TRAIN TRENCH COVER PAGE - Added a train trench cover project page to the public spaces projects. Construction on this should start very soon.
12/26/06 - PALLADIO CRANES COME DOWN - Palladio's crane has been disassembled. The scaffolding has been removed, and the framework for the remainder of the pitched roof is being constructed.
12/16/06 - WATERFRONT - A reliable source informed me that the guy from Portland running the Waterfront project has put his fancy smancy Sommersett home up for sale. Is he skipping town? Or just unhappy living in the Northwest? The optimist in me that you've seen post hopeful rants about the Waterfront is quickly leaving, being replaced by skepticism. I have received quite a few emails from folks who feel as duped as I do, that the city of Reno would go through all the trouble of pretending the project was moving forward just for the League of Cities. Oh well. The Waterfront folks should sell the property instead of sitting on it, if they aren't going to build; and turn that half-complete sales office into a nice diner, or perhaps a museum for projects that never get built.
12/14/06 - ESSENTIAL MEETINGS! -
- Mizpah will be demolished - The Mizpah will be demolished as soon as their insurance company issues the money for it to be demolished, and asbestos abatement is done. Several developers have already shown interest in the lot, so hopefully it won't remain empty too long.
12/8/06 - ESSENTIAL MEETINGS! -
- Redevelopment Agency Citizens Advisory Committee - December 13 - 3:00 PM
Conference Room 709, Reno City Hall, One E. First Street, Reno, NV - Two exciting items on this agenda. First, a 20 minute presentation by Grand Sierra Resort, which must mean they are getting ready for their next phase. Second, and more importantly for downtown, discussion of the RETAIL aspect of 10 North Virginia St. We've been bickering about the canopy so much we all almost forgot there's a retail building going on this lot as well. Click here for agenda.
12/7/06 - ESSENTIAL MEETINGS! -
- Historic Resources Commission - December 14 - 3:00 p.m. - McKinley Park School Arts and Culture Center Conference Room, 925 Riverside Drive, Reno, Nevada - This is the meeting the Demolition Certificate will be or will not be issued to the Mizpah owner to demo the remaining South Section of the building. Click here for agenda.
- City Council Meeting - December 13, 2006 10:00 a.m. - Reno City Council Chamber, One East First Street, Reno, Nevada. - J.5 - J.7Staff Reports: Approval of Construction Access Agreement between the City and Fitzgeralds for the purpose of design and construction of the ReTRAC Enhancement Project Phase IIb: Pedestrian Plaza, and approval of change order for Granite Construction. This item was continued from the December 4, 2006 City Council meeting. Come on people let's get this thing approved already! Also on the agenda of interest - Staff Report: Approval of Bid Award for the Reno Ballroom Project to Clark and Sullivan in an amount not to exceed $19,183,185.00. Does anybody have any renderings of the proposed ballroom? Email to me, thanks! Click here for agenda.
- Redevelopment Agency Meeting - December 13, 2006 2:00 PM - Reno City Hall, One East First Street, Reno, Nevada - Approval of First Amendment to Exclusive Negotiating Rights Agreement between the Agency and Siena Communities LLC regarding extension of term. This is most likekly to do with the Freight House property, to extend the negotiating agreement between the developer and the Agency. Click here for Agenda.
12/5/06 - NEW CONSTRUCTION PHOTOS! - More construction pics for the viewing. Taken just today. Photos include Grant's Landing, Waterfront Towers property, Widened Virginia St., Longs Drugs, West St., and Nevada Discovery Museum. Click here to view. First St has more permanent barriers blocking it off now from 2nd Street and Lake.
12/5/06 - CITY POSTPONES VOTE ON TRAIN TRENCH CANOPY - Just when we thought we'd get SOME kind of canopy downtown, this one has been postponed too. It comes down to what it ALWAYS seems to come down to...parking...valet parking this time. Dan Gustin is so frustrated he is considering moving the trench cover. LOL where would you move it? We only have four real blocks downtown worth covering the trench for and building the plaza; I suppose you could move it one block west so it would cover it from Sierra St. to Arlington, but that's kind of moving it out of downtown. To the East, you have the ugly parking garage, which already covers it kind of, and then the amtrak station. Click here to read article.
12/4/06 - HOLY CONSTRUCTION BATMAN! - I took my dogs for a mid-day walk today, and the entire downtown area was one giant construction zone.....it was great! An update on quite a few things...
West Street Median - first go check out the nearly-done median on West Street right off First Street. The light poles in the median is great, and the plants and trees add a bit of quaintness to the street.
Virginia Street Improvements - Kudos to the City for the Virginia St improvements. The naysayers can say what they want, but it's a heck of a lot easier to walk your dogs downtown with widened sidewalks! The Cobblestone-brick design of the intersection of Second and Virginia is beautiful. Up North a bit, the Reno Arch for the first time is visible from both sides without any traffic lights or train gates blocking the view. Narrowing Virginia St. under the Arch seems to bring it out more as well. The Rainbow Bridge really needs to go. The new trees are great.
Lights in Alleyways - Wow this happened fast. Old Fashioned lights are now in the alleyways. ALL the alleyways downtown.
Freight House District Project - There is now a 'Making It Great' Reno sign in front of the Freight House, and as I mentioned in another update, I was told by Siena Communities they are in talks with the City of Reno. Looks like 2009 is the target completion date.
Longs Drugs - Tell-tale retail fluorescent lights are up inside the Longs Drugs, along with 'Drive-Through Pharmacy' signs, automatic front doors, and landscaping.
Waterfront Project Area - Now, I know that Dave Aizzi told me he believed work being done here was to clean up the lots for the League of Cities conference, but the work being done there is seeming to go way beyond just cleaning up the lots? Today I saw a 'Reno Making it Great Sign' with the Waterfront project right on the sign, sitting on the sidewalk of First Street, and First Street was CLOSED completely. Yet still no visible work on the sales office. A mystery. I think tomorrow I am going to be brave and walk up and ask the Flagger Girl what's going on.
Motel Demolition - A few properties East of the Waterfront Lot, on 2nd Street, a motel has recently been boarded up, and all the windows removed.
12/4/06 - NEW PICS OF ELECTRONIC ESPRESSO - New pics of Electronic Espresso posted. Electronic Espresso downtown will be a hub for anything electronic and coffee-oriented. Free wireless, sleek computer stations and great coffee are in the mix. Click here to see.


12/3/06 - DOLCE ENOTECA E RISTORANTE - Looks like the Hollywood-famed restaurant inside the Grand Sierra Resort will be getting its business license in the December 4 council meeting. Click here for details.
12/3/06 - DOWNTOWN RETRAC PLAN STUDIES RELEASED - Catch the Reno Gazette article here for the features. I like the idea of townhouses along the trench. But I have to agree with Myrna the high rise office buildings in Keystone Square seem a bit far-fetched for the retail that's already there. Click here to read the article.
12/1/06 - VIRGINIA STREET REDO - Wow I didn't expect this project to turn out so nice. I knew they were narrowing Virginia Street but they made the intersections downright amazing. Click here to look at picture.
12/1/06 - WATERFRONT PROJECT CONSTRUCTION - A Daytime dog walk revealed A LOT of work going on around the Waterfront lot on Second, Lake and First Streets. The asphalt parking lot that used to be right across from La Famiglia is now gone, and temporary onsite parking has been set up for La Famiglia. The entire lot is now dirt, and flat. The parking meters that used to line First Street in the diagonal portion are now gone as well, and two very big bulldozers are ripping up the parking lot in the triangle lot that is bordered by First, Second and Lake streets. First street, from Lake to Second St looks like it will close any time now. Yet, no work has been done on the Sales Office across the street..the interior still has no walls and no equipment is on site. Strange? Check out the pics by clicking here.
12/1/06 - NOT JUST A LOUNGE, BUT AN ULTRA LOUNGE - Anybody notice the signs up next to Coldstones in the Theater Retail Annex on Sierra and First st? I managed to find these sites on it. Official Site and Myspace Site. I am so longing for a REAL lounge-lizard type lounge downtown, that plays this kind of music. Paris has the REAL lounges. Anybody who hasn't checked out the Hotel Costes cd compilation series, I am seriously addicted to them, all nine. Steeped in electric pianos and mellow flute riffs and French singers...it's what I envision when I hear the term Ultralounge. Love Hotel Costes? Email me and tell me about it.
11/30/06 - CONSTRUCTION EQUIPMENT IN WATERFRONT LOT!?!? - Here is something interesting. I was taking my dogs out for a walk tonight, and noticed construction cones all up and down the diagonal part of First Street that was/is supposed to close for the Waterfront Tower project. AND, in the empty lot where the Waterfront is going, were quite a few pieces of heavy duty construction vehicles. And it doesn't look like they were stored there as leftovers from the Mitzpah demo..there were definitely dirt piles and ground moved around. Perhaps the project is back on? Anyone have info on this? Email me.
11/30/06 - GRANITE CONSTRUCTION APPROVAL FOR TRAIN TRENCH COVER - $15,550,000 is the change order approval item for the train trench cover downtown. Click here for details of the December 4 City Council meeting. At least we'll be getting ONE kind of canopy construction going.
11/30/06 - DOWNTOWN IRISH PUB GOES BEFORE PLANNING COMMISSION - I was sad when High Sierra Cabinets left the space next to Starbucks, but was pleasantly surprised when the space became occupied again so quickly, by an Irish Pub opening soon. I reported a week or so ago I spotted a business license sticker for an Irish Pub on their door, and now it's confirmed..going before the Planning Commission for a special permit. Great location for it, and complements Starbucks. After all, Bailey's and coffee and made for each other, right?
11/28/06 - CENTER STREET BLOCK OF HOMES BEING DEMOLISHED TODAY - The row of homes on Center St., between Moran and Stewart, are being demolished today. Today's the big day. 5 homes, some cute and some not so cute. I would take some pictures but it's to dang cold outside and I have a cold.
11/25/06 - DETAILS OF TRAFFIC PLAN UNVEILED - The City shelled out some considerable money for a traffic and parking study for downtown. I think this is a smart idea, as it is actually planning in advance for further downtown development, rather than develop all these projects then say 'Whoops! I guess people can't get around downtown anymore!'. Here are some of the details of the study
-Making Kuenzli Street a two-way street to downtown. Two-way traffic also would be continued downtown on Second Street.
- Purchasing land to extend Holcomb Avenue north to Second Street, creating a new north-south route to the heart of downtown. Holcomb now dead ends at Mill Street. What a surprise! This problem would have been solved with better planning for Grant's Landing, by making a through-street, much like Urban Blog's Circle Square idea. Now, this will be much more difficult, considering one of Reno's most historic homes is in the way. It was owned by the daughter of one of the founders of Reno, Myrna Lake. It looks like they MIGHT be able to make Holcomb go through without tearing it down, if they go right to the property line.
- Buying and demolishing a small office tower at the northwest corner of Virginia Street and California Avenue to extend California to Stewart Street, creating a new east-west route. I like this idea, except Stewart St. is extremely offset from California Ave. The 'One California Building' is kind of ugly, and I wouldn't miss it. A better idea would be to tear down the Ponderosa Motel, and extend California to Moran.
- The city might have to pay for giving away a block of Mill Street to the Siena resort for its parking lot. The report proposes State Street, one block to the south, become the new east-west route. State Street would be bulldozed through a block of buildings to link with Mill Street near Holcomb. That could mean taking out Bertha Miranda's Mexican Restaurant. Take out Bertha Miranda's Restaurant? I like that building. A better idea is to make Mill St. a street again, encourage the Siena to a parking garage on their current parking lot, and build a walkway over Mill St. to access the Siena.
- Converting Third Street to a one-way street heading west.
- Restriping First Street between Ralston and Arlington to reduce it to two lanes and create angled parking.
- Eliminate parking along Second Street near Virginia Street to create space for left-turn lanes.
- Evans Street controls: New roundabout at Evans and 9th Street, traffic signals at Evans and Sixth and Fourth streets.
- A roundabout where Second and Kuenzli come together just after crossing the Truckee River near the Reno main fire station.
Read the full article here.
11/24/06 - NEW PEDESTRIAN BRIDGE EYED - I was going through open bids on the City of Reno's web site, and found this item. Looks like downtown will be getting a new pedestrian bridge. In their own words...."Constructing a reinforced concrete abutment on the north bank of the Truckee River in Bicentennial Park along 1st Street, procuring and installing a pre-fabricated steel and wood pedestrian bridge across the north channel of the river to an existing abutment on the south bank. In addition, the contract calls for ADA compliant concrete ramps to finish the connection from the bridge to the existing sidewalks on both
sides of the river."
11/24/06 - RANDOM CONSTRUCTION PHOTOS - I think I mentioned several tiems that I walk through downtown nearly every day at random times for an extended dog walk. Sometimes I take a camera along. Check out these random construction photos, (and my doggies!)

11/17/06 - RIVERSIDE CONDOMINIUMS RESSURECTED - An inside source I'll call Racer X, told me that the group that once tried to build Riverside Drive Condominiums, at the terminus of Riverside Drive, is about to submit new plans that should make everyone happy. At the 11/15/06 City Council Meeting, Davanti Investments (property owner and developer) applied for and was approved to combine 6 lots into one. The lots in question can be seen by clicking here. The original Riverside Drive condos were scrapped, because of fierce, FIERCE opposition by the neighboring condo tower there, both from right-of-way access to the river, and the project being so close to the current condo tower there. The right-of-way issue was resolved when the developer purchased additional land, and a new design in a V shape instead of a U shape should solve the proximity issues. So, looks like this project is back on! You can view a history of documents and the huge fight for and against this project by clicking here.
11/16/06 - IRISH PUB GOING IN NEXT TO STARBUCKS - I took a peek at the business license approval posted on the back door of where High Sierra Cabinets used to be, next to Starbucks on California and Virginia Street. It looks like it will be an Irish Pub.
11/16/06 - VIRGINIA IMPROVEMENT AHEAD OF SCHEDULE - The Reno Gazette has an article on their front page about the Virginia St. improvement project being ahead of schedule. That's great news. However I think everyone's being a bit too dramatic when it comes to complaints about 'the maze of barricades and obstacles'. I walk my dogs through that area every night, and all the sidewalks except the direct block they are working on are open; the barricades block the sidewalk from Virginia St for several blocks, but all the sidewalks are easily accessible at the intersections of Virginia and 1st and 2nd Streets. This is the slowest time of year typically for downtown, so it's the best time to do a project like this, whether you approve of the project or hate it. So far, I like it, the trees are a nice addition. Not sure about the black traffic light scheme, which you can see on Virginia and 1st. Maybe it will grow on me.
11/15/06 - WINGFIELD TOWERS - CITY COUNCIL UPHOLDS PLANNING COMMISSION DECISION - The City council, in tonight's meeting has approved Wingfield Towers and upholds the Planning Commission's initial approval. Yippee! In the City Council meeting, it all came down to two main issues, traffic and ice. It seemed there were more people FOR the project at the meeting than against it. No one was outright against it, those who opposed it just had concerns about the scale. The developers, and developers' representatives, however were very good at addressing each of the issues. Sharon Zadra was impressed at the environmentally progressive design of the project. The main concerns came from Dan Gustin, as they should since it's his district. But ultimately, he upheld the decision of the planning commission.
11/15/06 - VIRGINIA ST IMPROVEMENT GALLERY - RGJ has a really nice gallery of the South Virginia St. rehab. What does everyone think of the new trees planted and the widened sidewalks?
11/10/06 - DENOVO'S REVISED PLANS GO BEFORE NAB - Denovo's revised plans, which includes an additional tower, goes before the Ward 1 Neighborhood Advisory Board, Tuesday, November 16 at 6:00 p.m. Denovo is the converted King's Inn project. Click here for Meeting Agenda and Location.

11/9/06 - PALLADIO BLUNDERS, WEST STREET IMPROVEMENTS - Myrna reports that a median is being built on West St., as well as a Kolo TV report that the Palladio was almost in jeapordy.
11/9/06 - MIZPAH DEMOLITION - Demo crews began knocking down walls of the north side of the Mitzpah building today. It is unknown yet if the South Side of the Mizpah can be saved.
11/9/06 - OH CHRISTMAS TREE - The City Christmas Tree is up, next to the ice rink in front of City Hall. I think this is a better place for it...more visible to the public, in front of our City Hall, and will add some ambience to ice skating downtown.
11/8/06 - ESSENTIAL MEETINGS - UPDATED
RENO CITY COUNCIL Wednesday, November 15, 2006 10:00 A.M.
RENO CITY COUNCIL CHAMBER, ONE EAST FIRST STREET, RENO, NEVADA 89501
Hot Topics
- SOUTH VIRGINIA LIGHTS - I love it when my Councilwoman has good taste in lights. Jessica Sferrazza wants to explore a preliminary test of Sternberg Lights on a couple of blocks of South Virginia St, continuing her quest to turn South Virginia st. into a 'lamplight district'. I hope they pick real gaslamps, like these.
- WINGFIELD TOWERS decision and STATIONS CASINO decision.
Case No. LDC06-00321 Request for: (1) a tentative map to develop a 499 unit
residential condominium subdivision (In addition to the residential condominium units, ±19,817 square feet of retail space and ±20,603 square feet of office space will be located within the two towers which are ±492 and ±374 feet tall, respectively from Court Street); (2) special use permits to allow: (a) hillside development; (b) cuts of 20 feet or more, (c) modification to the building setback envelope for a building within the South Esplanade Frontage; and (d) 100 or more condominium units; and (3) a variance to allow the buildings to cast a shadow on a public park between the hours of 10 a.m. and 2 p.m. on December 21st. This item was appealed by a resident in the area, so it must now go before the City Council.

11/6/06 - PROPERTY MUSINGS - I was walking over by Willow and High St., because a real-estate agent friend of mine mentioned a bunch of homes were due to be torn down over there, and suggested I go check them out since I am on the lookout for an old wood door to replace my non-Craftsman-like steel entry door. Lo-and-behold, all the homes were empty, their yards in horrible condition (google maps shows once green yards for all these properties). Come to find out one entity owns this entire block, including two large shabby looking commercial buildings. I wonder what they plan to do with this property? Also, the entity that owns the homes being dismantled on Center St. also owns all of the properties on that block facing Sinclair. Are all these homes due to be demolished? The property block is right across the street from the proposed Children's Museum. Click here for images and more info.
11/6/06 - Project H.O.M.E. to raise cash for permanent housing for former Mizpah residents. Emergency drive to collect cash, check or gift certificates dedicated to placing former Mizpah residents in permanent housing. Working-class folks, veterans, retirees and disabled persons were left homeless after the deadly Mizpah fire. They have income or pensions and only need a hand up, not a hand out. (Please, no clothing, furnishings, etc.). Over 60 affordable housing units are needed as of this time but they expect this number may grow. Wednesday, November 08, 6:00am-6:00pm, Grand Sierra Resort, South entrance motor coach porte-cochere. Supported by community leaders: Reno Mayor Bob Cashell, Sparks Mayor Geno Martini, Reno and Sparks Fire and Police and leaders from virtually every industry plus UNR student organizations. Click here for flyer.

11/4/06 - WATERFRONT BACK ON? - Myrna over at Discontents has heard gossip that the Waterfront Project will be moving forward after all. Let's hope!
11/4/06 - NEW PROJECT BY JACK HAWKINS - Cedar Dwellings. I love the smell of cedar. This project will be Southeast of UNR, start at $345,000, and has many envirochic features like geothermal heat. Click here to read.
11/4/06 - DEMOLITION BEGINS ON 5 HOMES CENTER STREET BLOCK - A while back in a meeting with Jessica S., she mentioned that the entire area between Stewart, Moran, Sinclair and Center Sts. were due to be demolished, and a high rise of sort sort built there. The block mostly contains run-down old homes, and the Motel 500 facing Stewart and Center St. The houses are cute, and would look nice refurbished, but the properties are run down, neglected, and need to go. Click here for a picture.
11/4/06 -VILLAGE AT IDLEWILD MODEL ADDED - Village at Idlewild sent me some pics of their newly opened model. Check it out! NIce, open floor plans.


11/1/06 - MIZPAH - It was surreal last night as I walked my dogs downtown on my usual night walk, and the Mizpah was ablaze, casting an orange glow around the neighborhood. Six people killed, 31 injured, and after walking by the north section of the building (The building is like a big U shape) I don't see how the north section could be salvaged; A foot or two of brick is missing from the structure from when the roof collapsed. I am hoping the South side of the building can be saved, there are no initial reports yet. This is the largest most deadly fire in Reno since the early 1960's. Read more here. This was a big fire for Reno, and the Reno Fire Department should be commended for saving as many people as they did, along with some brave traffic light workers who used their pneumatic people lifter to help people out of second-story windows. The traffic light workers happened to be changing light bulbs in the Lake/First St. traffic lights.
10/31/06 - WINGFIELD TOWERS - I am excited to tell you all that I was contacted by the group developing Wingfield Towers, and the project is NOT for sale, and the ad has been pulled from loopnet. It was mistakenly entered into Loopnet. They are moving forward as planned. Exciting news, I am a big fan of this project. Nice to hear!
10/30/06 - ESSENTIAL MEETINGS:
RENO REDEVELOPMENT AGENCY - 11/1/06 - November 1, 2006 11:45 a.m. - City Council Chambers, Reno City Hall, 1 East First Street, Reno, NV - Appointment of a subcommittee to formulate recommendations related to the construction of a canopy at the 10 N. Virginia Plaza and the proposed retail development on the east end of the plaza. Click here for meeting details.
RENO PLANNING COMMISSION - 11/2/06 - November 2, 2006 6:00 PM - City Council Chambers, Reno City Hall, 1 East First Street, Reno, NV - South Virginia Street Transit Oriented Development Corridor Plan Planning for intense uses along South Virginia to encourage rapid transit. A quarter-mile width on each side of Virginia Street would be rezoned for mixed uses, covering a total of 1,428 acres. Click here for meeting details. Click here for Draft Proposal.
BALLROOM CONSTRUCTION REVIEW COMMITTEE - 11/2/06 - November 2, 2006 - 3:00 PM - City Council Chambers, Reno City Hall, 1 East First Street, Reno, NV - Discussion of the bid received for the Ballroom Project and potential direction to staff regarding additional funding resources or other alternatives regarding the construction of the project. Click here for meeting details.
10/29/06 - WINGFIELD TOWERS PROJECT FOR SALE? A reader/tipster just emailed this gem; I wonder if this is a normal part of the project process or are they trying to unload the project? Maybe financing fell through? I was advised by a broker that "sometimes developers will shop a deal around just to see what kind of response they get. Other times companies are specifically tailored to designing "paper maps" or developments that have all the entitlements and are ready to build to turn a quick profit. It also could just be that they bit off more than they could chew, with construction prices soaring as they have lately."
10/29/06 - CONDO SALES STILL STRONG: Four articles in the Reno Gazette focusing on downtown. Towering Over Downtown, Condo Market Could Stay Stronger Than Other Markets, New, Exciting Retailers, and Numbers Still Don't Support Grocery Store (arrg!)
10/25/06 - THE DRAMA CONTINUES, CANOPY DECISION POSTPONED - Well, no progress in store for the 10 North Plaza Canopy. I think the Train Trench Cover will be built before this thing. Both the rink cover and REA building deal were carried over to the first week in December after a lot of contentious bickering about costs on both projects. The council is VERY unhappy over the huge cost escalations on the entire 10 North deal. So, they are going to have two members Gustin and Aiazzi conduct meetings with both parties in coming weeks and hammer away on the details before bringing both issues back to the full council. In the Council's defense, The REA group is really bad at continually going back for more concessions and creating more escape loopholes, and the entire council is livid. We all just want a canopy! Maybe it's time other people enter the bidding process....
10/25/06 - VILLAGE AT THE RIVER GROUNDBREAKING - Great news! Village on the River, now known officially as Grant's Landing, breaks ground next Wednesday! Whew, I was beginning to think this project was as dead as the Waterfront. I love love love Silverstar Communities' other in-town projects...from the porch-laden Brighton Manor on Plumas to the San Francisco-esque Virginia Lake Crossing across from soon-to-be-gone Park Lane Mall, their projects seem to carry much more character and unique qualities.
10/25/06 -LIGHTS, SOUND, METAL OR TRANSCLUSCENT - That is the question of today's joint Redevelopment/City Council meeting. For those that are interested in exactly what they are deciding, click here for a detailed PDF which includes the four options to choose from, cost breakdown, etc.
10/22/06 - SOUTH VIRGINIA TOD CORRIDOR - This doesn't affect downtown too much because it's northern border starts at the southern border of the Downtown Regional Center. This is fresh, newly created on Oct 16, 2006. What this does affect directly is my neighborhood, encouraging dense residential and commercial right to the West Side of Holcomb Ave. Read the document here. The Pros? Mostly slum lord properties exist between Holcomb and Virginia; would slowly get redeveloped. The cons: If the dense residential include mostly apartments and not townhouses/condos, it could drastically increase the amount of crime in this area and create high-density slum, rather than single-family slum. There is a meeting November 2, 2006 at 6:00 City Hall Council Chambers to discuss.
10/20/06 - STATIONS CASINO A GO - Stations Casino, which will be on the corner of Mt. Rose Highway and 395, was approved by the Reno Planning Commission. Initial phase will include 22-story tower.
10/19/06 -ARTERRA- Arterra has officially been approved by the Reno Planning Commission. Congrats to Arterra! I like this project, hope it goes through. I wish it's artist component was a bit more robust than a bunch of metal flaps flapping in the wind, but I like the architecture of the building.
10/18/06 - ESSENTIAL MEETINGS:
- Virginia Street Subcommittee, October 23 - Discussion and potential direction to staff regarding moving the Park Lane Mall clock downtown on Virginia St. Click here for Agenda.
- Joint Reno Development and City of Reno, October 25 - Ok downtowners for those of you who care what's going over the Ice Rink/Skate Park THIS IS THE MEETING NOT TO MISS: Wed, October 25, 2:00 p.m., they will discuss the 10 North Virginia project and what to do with the revised cost of the canopy. Click here to open Agenda. Also, Staff Report: Purchase and sale agreement between the City of Reno, the Redevelopment Agency and Fitzgeralds regarding 44 West Commercial Row, APN 011-051-02 (the "Old Reno").
- Reno City Council , October 25 - A couple of interesting notes; Bryan over at Hookava on 207 East Second (Mitzpah) is applying for Biz License; the lounge will be a Moroccan theme Hookah lounge, with emphasis in Kava drinks. Sounds unique enough to be successful. Case No. LDC07-00002 Request for a Master Plan amendment from Public Facility to Mixed Residential (YMCA of the Sierra). The YMCA closing is controversial to some. Also, Case No. LDC07-00076 Request for annexation of ±7.93 acres located on the south side of Mt. Rose Highway ±0.5 mile west of its intersection with South Virginia Street (Mt. Rose Station Annexation). The Mt. Rose Station casino is controversial to some residents. And last but not least, J.2 Staff Report: Discussion and potential direction to staff regarding Options for the 2006 Holiday Tree Location. Are they moving our Holiday Tree? Click here to open Agenda.
10/15/06 - 210 NORTH - Jill over at 210 North was gracious enough to let me wander around and take some pics of the transforming interior, and talk with her a bit about the club. I can tell you this; she is all about the restrooms; those are her 'babies' as she calls them. That's when I knew this place would be different. What other club owner in that locale worried about making extravagant restrooms? None that I can think of. See the new pics by clicking here. Also added are new renderings, and a write up on the details of the club.
10/15/06 - REMINDER OF HOW BEAUTIFUL DOWNTOWN RENO IS - Jwaters943 Took some GREAT photos of downtown Reno, both of landmark buildings and projects under construction. Check them out by clicking here. We may not have the prettiest downtown in the country, but I've been to NYC, grew up in Los Angeles and Orange County, and been to SF and Seattle....our downtown holds its own in regards to beauty, art and architecture.
10/14/06 - MONTAGE FLOOR PLANS - It's been a while since I have been to the Montage web site, so forgive me if this is old news, but they have all of their official floor plans online now. I like the concept of 5 distinct residence types. I am partial to the Rowhouses, although that's probably a bad term to describe them, they are more like street-level access condominiums. When I think of Rowhouses I think of SF or Brooklyn. The Lofts, with their 13+ foot ceilings also seem enticing. Click to view.
10/13/06 - UNOFFICIALLY DEAD: The Waterfront - Ok I am going to be the brave one and be the first to call the Waterfront project dead. I walked by their sales office mid-day today, and mid-day yesterday. Not one person working on it, no construction equipment on premises, and the sales office interior doesn't even have drywall. And it's been that way for a while. I HOPE in time someone corrects me, because I really love this project, as do many others like the Minx.
10/13/06 - BALL ROOM IDEA STILL ALIVE - I noticed on the City of Reno's Bid Page that they were accepting bids to construct a ballroom up until October 14. I wonder if they received any substantial bids?
10/13/06 - ESSENTIAL MEETINGS
- Reno Planning Commission, October 18 - This meeting doesn't really effect Downtown Reno too much, but it's certainly controversial for Galena residents. Planning Commission will decide on Mt. Rose Station casino, increasing the tower height to 225 feet. Project is located on Mt. Rose HIghway and 395.
- Reno Arts and Culture Commission, October 18, 2006 - Discussion and approval of Palladio art component.
10/13/06 - WINGFIELD TOWERS, WATERFRONT, VILLAGE AT RIVER -
Wingfield Towers - The folks at Wingfield Towers are excited. They are in the appeal phase right now, and baring any appeals from residents, they will go into the construction planning/land clearing phase, and start building the guts of it in about a year.
Waterfront - Things don't look good right now for this project. Construction on the Sales Office has halted in the past few weeks, I walk by it every day and don't see any progress or people constructing or moving about. Nobody from the City is commenting on the project when asked, and land work was supposed to begin months ago. Hmmm...
Village on the River - This one has seemed to stall out too. The glimmer of hope for this project is the developers bought the land for 6.288 million, and they have to pay the City of Reno $400,000 if they don't start construction by next-coming Summer. I am excited about this project because it features significant riverwalk improvements, including a kayak extraction point.
So out of the 13 or so residential projects going on in Downtown Reno, only 2 have stalled out so far. Not bad! Considering the Condo Collapse going on in Vegas right now.

10/12/06 - TRAIN TRENCH PLAZA MOVES FORWARD - At yesterday's meeting the City of Reno finalized negotiations with Fitzgeralds on the details of the train trench project, and the removal of the rainbow bridge spanning the trench. Read the article here. This plaza will be great!
10/10/06 - PROGRESS AT PALLADIO - Diane Cohn went on a hard hat tour of the Palladio to check out what going on under that green tarp. Read her tour by clicking here. I am routing for the Port of Subs.
10/09/06 - NEW ARTERRA IMAGE - Click here - This building keeps looking better and better. I hope this one gets past the interest collecting stage.
10/08/06 - SAY GOODBYE TO RAINBOW BRIDGE - October 11 Redevelopment Meeting - Acquisition and demolition/removal of Rainbow Bridge (in anticipation for the Trench Plazas.)
10/05/06 - WINGFIELD TOWERS - Moves forward! Planning Commission approved Wingfield Towers and it's tentative map. I tend to agree that shadowing the river partially during the day in the winter is a small sacrifice for the benefits this project will bring downtown.
10/01/06 - FINALLY, A DOWNTOWN CLOCK - In a very cool maneuver, Park Lane Mall is donating the clock in Park Lane Mall back to the City, and the clock will sit downtown near its original location, between first and second streets on Virginia. Nice! That will be a nice touch with the expanded sidewalks and upgraded decor happening on Virginia St. Here is the article.
9/29/06 - WINGFIELD TOWERS - A big step for Wingfield Towers is coming up on the October 4 Reno Planning Commission Meeting. - LDC06-00321 (Wingfield Towers) – This is a request for: (1) a tentative map to develop a 499 unit residential condominium subdivision; (2) special use permits to allow: (a) hillside development; (b) cuts of 20 feet or more, (c) modification to the building setback envelope for a building within the South Esplanade Frontage; and (d) 100 or more condominium units; and (3) a variance to allow the buildings to cast a shadow on a public park between the hours of 10 a.m. and 2 p.m. on December 21st. In addition to the condominium units, ±19,817 square feet of retail space and ±20,603 square feet of office space will be located within two towers which are ±492 and ±374 feet tall, respectively from Court Street. The ±1.36 acre site is located on the south side of Island Avenue ±200 feet east of Arlington Avenue and north of Court Street in the MU/DRRC (Mixed Use/Downtown Reno Regional Center Plan) zones. vak [Ward 1]
9/29/06 - REALITY REALTY CHECK - I am addicted to this blog. It has amazing stats on the local real estate market, the author, Diane, is really cool, and the topics are hotly debated. When I first started visiting this blog, in March of this year, it had a happy-go-lucky, kind of fun tone. Now, like a circa 1980's John Carpenter movie, things are getting more dark and ominous with every post. In fact, it's downright concerning. Or is it? Get engaged in the debate over at Diane's blog.
9/28/06 - PLAZA TRENCH COVER - Check out this large image of the project that the developer gave me. If it turns out this way, it will definitely be an exciting thing to have, a plaza two blocks long with public art, and artsy lighting. Everyone I talk to says this project is on the fast track. The council loved the design.
9/28/06 - VIRGINIA STREET NARROWING - Wow this sure happened quick. One minute Virginia is open, the next, bam! Did everyone see how fast they ripped out those imported tiles? In some areas of the construction site it looks like they were the first things ripped out. The City a little sour from being sued a couple times because of those tiles? I wouldn't blame them. Drivers are frustrated, but it will just take some getting used to, kind of like the roundabout in Fernley. It shouldn't be a surprise to motorists though, a full schedule of construction was published in RGJ a couple of times, as well as on this site.
9/28/06 - BELVEDERE TOWER REHAB - It turns out this rehab is turning into more like a full-blown construction project. It's strange looking when you drive by and see completely gutted rooms down to the steel inside. It will all be much nicer than originally planned. What originally started as a rehab as turned into a full blown demo of the interior, and with the housing market plunging like it is, that's a smart decision, as a fully reconstructed condo will most likely seem more appealing than just a rehab of an old hotel room. A fan of the site encouraged me to stop by Belvedere Tower's office for a look. Click here to read more information on this update.
9/28/06 - SOMERSET TO REVIVE RESORT - Gimmy some geo-thermal hot springs! I always wondered what this building was when driving up 4th street. Apparently it was a resort 28 years ago, complete with hot springs. Somerset plans to develop it, completely with refurbishing the hot springs. The project also would involve a launch area for rafts and kayakers similar to the River Ranch resort at Tahoe City, and a pedestrian bridge over the river west of the casino to extend the Truckee River bike path. This could mean more tourists for the downtown area, which would undoubtedly serve as an extraction point. Click here to read.
9/20/06 - ESSENTIAL MEETINGS - City Council Meeting, September 27, 2006, 10:00 a.m. - Interesting downtown items on the agenda include Item J8, Discussion and Potential Direction to staff regarding proceeding with design and construction of a Pedestrian Plaza covering the ReTRAC Trench between Virginia Street and West Street, and J9, Virginia Street Improvements between 2nd and 4th Streets and a Walkway Across the Trench at the Historic Train Depot, C.9 Staff Report: Approval of the FY 2006 Bureau of Justice Assistance Congressional Mandated Award in the amount of $78,978.00 for the purchase of a self-contained graffiti abatement truck, F.3 Staff Report: Case No. LDC06-00327 and Case No. AT-1-06 Request for: (1) an amendment to the City of Reno Master Plan to adopt the West 4th Street Transit Oriented Development.
9/18/06 - WELLS AVENUE NEIGHBORHOOD MASTER PLAN UPDATE -While this doesn't concern downtowners too much, it's very exciting for us Wells Avenue folk! The first meeting of the Wells Avenue Neighborhood Master Plan went well. A lot of people showed up, and every resident there had something to say, ideas to give, and all wanted to improve this neighborhood and keep it from ascending into ghetto-status. Everyone there but one person liked the idea of declaring a portion of the Master Plan a historic landmark district, including Jessica Sferrazza, so I think this neighborhood is about to get a lot better! Oh and check out the Story Channel 8 will be doing on Friday at their 5:00, 5:30 or 6:30 broadcast on the Wells Avenue Neighborhood.
Virginia Street Improvement Project Subcommittee, September 26, 3:00 p.m. - Discussion and potential direction to staff regarding planter boxes to be used as a part
of the Virginia Street Improvement Project. Walking Tour of the Virginia Street Improvement Project Area from the Truckee River to Fourth Street and potential direction to staff. (Tour begins in front of City Hall at the Virginia Street entrance).
9/13/06 - BREAKING NEWS - The Project Manager for the developer of Denovo, which is the King's Inn building downtown, notified me today. The project, which many of you have been asking about, is moving forward. And it's growing to twice its original size! Click here to read the exciting details. Also, if anybody has any news on the Reno Arts and Culture Commission meeting regarding the Waterfront and Palladio art discussions, please email me so the masses can know!
9/10/06 - ESSENTIAL MEETINGS
- September 11, 2006 5:00 PM -- Reno Arts and Culture Commission - Review and Approve Artist selected by the Palladio Project for their Public Art Component, Consideration of Waterfront Plaza Public Art Request, Consider Request by Arts District Committee to Commission a Mural for the Woolworth's Building Windows, RTC Public Art for New Reno Transit Center; Bridge Lighting Project; South Downtown Plan Sidewalk Stamp Project; Wells Avenue Public Art Components; Municipal Courthouse Public Art; 10 North Virginia Project; Temporary Installations of Public Art in Arts District, Public Art in Parks Program and West Street Plaza.
- September 12, 2006 6:00 PM - Ward One Advisory Board, City Hall - Informational update on Phase I and future phase opportunities of the Waterfront Condominium Project – Cynthia Albright, Stantec, Dickerson Road Neighborhood Plan – Participation in discussing and reviewing the Dickerson Road Plan – Julee Olander, Associate Planner, Arterra project will be requesting a tentative map to develop an 18 story mixed use condominium project containing 185 residential and 5 live/work/commercial office units and 4,000 square feet of retail commercial space; and (2) a special use permit to increase the building height from 45 feet to +177 feet. The +.81 acre site is located on the northwest corner of the Liberty Street and Sierra Street intersection in the MU/DRRC (Mixed Use/Downtown Reno Regional Center Plan Overlay) zones. MEETING DATE: Planning Commission – September 20, 2006.
8/30/06 - DETAILS ON VIRGINIA ST. REDO - Virginia St. is slated to start it's conversion from 4 to 3 lanes soon. Here's the details and schedule:
Sept. 25-Oct. 20: Replace asphalt on the street with concrete and build bigger sidewalks with stamped concrete on the first block of Virginia north of the Truckee River bridge.
Shoring: Before the work starts, the bridge itself will be shored up after being damaged in the New Year's Eve flood; two lanes for traffic will remain open.
Oct. 9-Dec. 1: Working day and night, Virginia between First and Second streets would be rebuilt.
January-February: Virginia and Second street intersection would be closed four weeks while being rebuilt.
In addition, a Pedestrian-Only traffic light mode will be added to 2nd and 4th street intersections, so pedestrians won't have to compete with vehicles trying to turn left onto 4th from Virginia, or turning left on Second from Virginia. Click here for article.
For beautification, anything that is currently cherry red (traffic lights, newspaper stands, trash bins) will be painted black, candycane style lights will be added with hanging flower pots. Click here for more info.
8/30/06 - SOHO Color Scheme beginning to go up for Sundowner/Belvedere Towers. Construction on the Sundowner is moving at a nice pace, if you drive by you can see new colors going up! Thanks to 'Reader X' as I call him for pointing this out.
8/30/06 - AFFORDABLE CONDOS - Colonial Garden Court made front page business news with their affordable condo conversion project. Click here to read feature.
8/30/06 - CONSTRUCTION ON WASHOE MED PROJECT - Over by Kuenzli and Girioux Lane (spelling?) a new development will begin construction within 30-45 days of San Francisco style row-housing as part of a plan to give Washoe Med employees a crack at affordable housing and living within walking distance. What a concept! I don't have a page up about this project yet, but you can click here to see what the units will look like. If you are riding on the bike path East toward Sparks, and you ride right past the Gazette Journal's office, and come upon a large blank lot across the street from Kuenzli, that's where this project is going.
8/30/06 - RUMORED - A fan of Downtownmakeover.com whom I communicate closely with talked with a consultant who is associated with the downtown sidewalks reconstruction. He thinks that the City Council will give final approval to the trench covers next month and that construction of the two covers between Virginia and West will begin in November. If true, that will be GREAT for downtown.
8/25/06 - EAST AND SOUTH DOWNTOWN NEWS - Added 210 North, a high end night club and retail renovation, Added Freight House rendering, more info on Thoma Street Lofts including renderings. Stay tuned for info on a Hookah Lounge opening in the Mitzpah Hotel that will serve different variations of Kava drinks. The businesses opening downtown keep getting more and more interesting!
8/25/06 - SMALL BUT NOT FORGOTTEN - A smaller but extremely affordable project downtown could help fill in the gap of much-needed affordable condos. Click here to read info about the Garden Court Condominiums.
8/25/06 - The start of something BIG. A reader told me a huge rumor about an area north of Second Street on Lake Street. Something that would transform the entire district, coupled with the Waterfront Project. At its 8-23-06 the Agency Board approved entering into an Exclusive Negotiating Agreement (ENA) with Siena Communities LLC. It does not approve of transferring of city or ReTRAC properties or any funds. An ENA is an agreement to negotiate exclusively and in good faith for a period up to 90-120 days to work out details of a Disposition & Development Agreement (DDA), which would be brought back to the Agency Board for approval..
8/18/06 - ESSENTIAL MEETING: Click here to open meeting agenda. - Discussion of widening North Virginia Street, approval of a new Wells Study, extension of 4th St. lighting to Montello.
8/18/06 - YUM - Kokopelli Fresh Mexican Grill, J. David Wuest, 555 South Virginia Street will be opening up soon in a newly finished retail complex that will also include an ice cream shop.
8/18/06 - VARIOUS UPDATES - A dedicated reader pointed out the following item to me:
- Demolition work at 210 North Sierra st. Back in July this business applied for a gaming and cabaret license, and a reader pointed out some significant demo work this week. Anyone know what's going in here? Email me and let us know, thanks!
- Demolition and planning is moving forward for the Downtown Transit Center on the property directly East of the bowling stadium.
- New project announced! I got an email from someone who is developing a live/work project on the blank lot on Thoma and Virginia St. Will have more info shortly.
- Things are well under way at Kueznli and Giroux (spelling?) sts where Silverstar Communities is building San Fran style rowhouses, partially for Washoe Med staff to buy and own.
- The 10 North Virginia Plaza installed it's art elements, large glowing pylons that look like they are from the future, with details of Reno's History. I will get pictures as soon as I can, but go check it out!
08/08/06 - COUPLE OF INTERESTING MEETING 8/09/06 - I am a big fan of sidewalk vendors. Whether it's hot dogs, lemonade, falafels, tacos or pretzels, I love the concept of vendors out amongst the public. To me it adds a sense of community. Woody's hot dog cart downtown is the perfect example. You don't just have a hot dog from Woody, you converse about the latest headlines or downtown controversy. Well I found out there's actually a committee for sidewalk vendors, and they are meeting to approve two new street vendors, **Hot Diggity Dog (from Reno), will sell Hot dogs, Polish Sausage, Italian Sausage, Chips, Sodas, Water Vending hours = 7:00 a.m. – 10:00 p.m. 7 days/week. Proposed secondary location - Northwest corner of Commercial Row at Virginia Street.
**Silver Express, (Sacramento), will sell Hot Dogs, Nachos, Sodas, Water, Chips. Vending hours = 7:00 a.m. – 10:00 p.m. 7 days/week. Proposed primary location – North East corner of Third Street at Sierra Street, Proposed secondary location - South East corner of Center Street at Plaza Street. Here is the meeting schedule.
Also on 8/10/06 will be a Historical Society meeting where they will discuss the historic aspects of the public art components of 10 North Virginia St. (Mapes Plaza). Click here for schedule. It would be cool to see homage paid to the once mighty-and-chic Mapes.
08/04/06 - JAM PACKED ART MEETING 8/07/06 - Update on RETRAC Public Art Components; RTC Public Art for New Reno Transit Center; Bridge Lighting Project; South Downtown Plan Sidewalk Stamp Project; Wells Avenue Public Art Components; Municipal Courthouse Public Art; 10 North Virginia Project; Temporary Installations of Public Art in Arts District, Public Art in Parks Program and West Street Plaza. Click here for details, location, time etc.
08/02/06 - VARIOUS TIDBITS -
- Park Lane Mall is slated to close operations by January 2007, and be demolished to make way for a new mall. Tenants were given 30 day notice to vacate, unless they wanted to pay 6 months rent up front to stay until December.
- Piezon's Old World Deli will be opening in the Museum Tower (Porsche Building) on Liberty ...replacing the current deli that had a short life. Also, where the former Harley space was, a cafe will be going in tentatively.
- In the last Redevelopment Advisory Meeting, an attendee mentioned a 6-month delay in the Waterfront Project which we're in the midst of, while they figure out how to lower construction costs. I am going to assume at this point the project is being built still, considering their sales office construction has not halted.
8/02/06 - VARIOUS UPDATES - Added Electronic Espresso Coffee House, opening soon on 2nd st. Click here to check it out.
8/01/06 - UPDATE ON ARTERRA PROJECT - More project updates via their presentation at the Redevelopment Agency's Citizen Advisory Board. Click here to read.
7/31/06 - ARTERRA RELEASES MORE INFORMATION - Project will cost an estimated $90,000,000, developer is Capstone, who also acquired the Porsche Building/Museum Towers and developing Village at Idlewild. 191 units, including live/work units similar to 8 on Center's concept I assume. Click here to read more.
7/30/06 - RENO CONDO PROJECTS IN LINE WITH WHAT PEOPLE CAN AFFORD - Check out this AP Article Which talks about the 'luxury condo' market coming to a near standstill in several cities. In cities like Philadelphia, Boston, San Diego, Las Vegas, Seattle, Chicago, Orlando, Fla., Washington, D.C., and Manhattan, developers are delaying or stopping condo projects. It's no wonder! In Miami, 25,000 units are under construction, with another 50,000 on the books, and most of the units sell for over $700,000! This should be a guide for Reno developers: Build slow but steady, keep prices in the $250,000-$450,000 range, and Reno's urban transformation should be shielded from the slow-down in the housing market. In fact, high home prices are making Condos a viable option for some buyers.
7/26/06 - NEW PROJECT IN ARTS / BUSINESS DISTRICT - Reno Real Estate found this project being slated for the corner of Liberty and Sierra. Click here to check it out. It's ideal to tie the Arts and Business Districts together. Plus it's only two blocks away from my office down Liberty. Now only if the plethora of office space for lease in that district starts moving that would be great!
7/22/06 - DOWNTOWNMAKEOVER.COM GETS A LITTLE PRESS! - News 2 called me and felt downtownmakeover.com was actually newsworthy, to my surprise. Check out the clip here. I was glad to give downtown Reno some extra air time. Any publicity is good publicity.
7/22/06 - SIGNIFICANT INCREASE IN PRICE FOR RETRAC ART PROJECT - There have been a lot of rumors flying around about the cost of the public art components for the RETRAC project (train trench for those of you new to Reno). Residents have told me the leaves on each bridge cost anywhere from $4,000 per leaf to $12,000 per leaf. I am not sure in this PDF what the 'Gate Component' of RETRAC is, but it's cost is increasing significantly. The meeting is July 24, Click here for the PDF and location.
7/22/06 - NEW PICTURES ADDED FOR WATERFRONT TOWERS, ADDED MASTER PLAN - Click here to view. Just a note, in the master plan they note two areas which will be 'meadows' until the second phase of the project and second tower is built. I hope when they say 'meadow' they don't mean dirt lot, however I doubt that would be the case.
7/22/06 - BRIDGE LIGHTING PROJECT FOR DOWNTOWN RENO - Check out this great bridge lighting project that will dramatically change how downtown Reno is lit at night. Check out the project by clicking here.
7/22/06 - ADDED RENO DISCONTENT BLOG TO DOWNTOWN WORLD - There is a great blog that encompasses all that is Downtown Reno, including breaking news, projects, and links to all the hip downtown businesses. We have been mutually sharing info for while regarding downtown development, and I have been meaning to link to her, so go check out her blog it's great and filled with lots of opinion and scandalous downtown happenings.
7/17/06 - BASIN STREET PROPERTIES BUYS ANOTHER LARGE BANK BUILDING - Basin Street Properties, who not long ago bought the Bank of America building on Virginia and Liberty for $34 million, has now purchased the Wells Fargo building for $18.6 million. That makes $54 million in less than 7 months that Basin Street Properties has invested in our financial district. Click here to read. Want to know what they are up to? Basin Street has a knack for snatching up entire districts and turning them into success stories.
7/17/06 - FIRST STREET ABANDONMENT CONTINUES FOR WATERFRONT PROJECT - Backtracking a bit, in the previous City Council meeting, the council agreed to let Vero move forward with the First Street Abandonment, which includes removal of 29 parking spaces. The issue was whether Vero should find alternative parking spaces immediately and hold up the project, or let it move forward by having Vero pay an in-lieu fee for each parking space lost.
7/17/06 - ESSENTIAL MEETINGS TO CATCH THE WEEK OF 7/17/06 -
On 7/19/06 City Arts Meeting - Topics include 10 North Virginia Plaza Public Art Components; Wells Avenue Public Art Components, PRCS Parks Art Components, Rose Garden Gates Project, City Hall Exterior Renovation Project and maintenance schedule for Public Art and Historic Markers
- 6/30/06 - BCN's PITCHY PITCH FOR A NON-PITCHED ROOF FAILED - On a positive note for the City Council, THANK YOU for not giving in to BCN's request for a flat roof. BCN will have to build the originally-proposed pitched roof for the Palladio instead of a less appealing flat roof. See the pitched roof here, and the flat roof here.
- 6/29/06 - COUNCIL QUESTIONS CANOPY FOR ICE RINK - As a designer, I realize that designs are apt to change as time goes on; however, questioning building the very design element that WILL PUT THE ICE RINK ON THE MAP AS A LANDMARK is basically thumbing your nose at the citizens who were behind the project this whole time, like myself. Read the Article here. Come on council people, stand behind the design you presented to the public for the former Mapes site. Corrugated steel cover for the ice rink? Almost had to laugh at that. Garwoods laughed too, and might withdraw from the project completely if the canopy is not built. Surely there can be a way to build this if we put our collective heads together. Let's all remind ourselves of how amazing it would look by clicking here to view the rendering.
- 6/28/06 - IMAGES ADDED FOR VILLAGE AT IDLEWILD - This project will be really cute across the street from the park. Click here to check the new images out!
-6/27/06 - IMAGES ADDED FOR WINGFIELD TOWERS - OK this is what a lot of you have been waiting for! I put an image gallery AND a high-rez fly through up for Wingfield Towers, the newest landmark in our Reno
Skyline for Downtown Reno. Click here to check it out!
-6/22/06 - SIERRA SPIRIT NOW HAS WI-FI - I just got a tip from an official over at RTC that Sierra Spirit now has Wi-fi. Nice! That's quite innovative for a city of 200,000. I take Sierra Spirit down to Walgreens and Downtown Marketplace quite often (easier than Cone Dodging), now I can take my Tablet PC along with me for the ride.
- 6/15/06 - UPDATE ON WINGFIELD TOWERS - I had a nice conversation with the developer of the project going in next to Park Towers, and was able to clear up all the rumors flying around, plus get some nice details. Read about it here.
- 6/3/06 - Added Far East Corner, Arlington Towers
- 5/29/06 - Added Staff Grocery Store Study (pdf)
- 5/27/06 - Added Bungalow District - Let's make it happen!